Comfort food with a fall twist — pumpkin cinnamon raisin bread is studded with raisins with a swirl of cinnamon, butter and brown sugar.
Welcome to Day 4 of #PumpkinWeek, hosted by Terri of Love and Confections! After you check out my pumpkin cinnamon raisin bread, don't forget to scroll down to the bottom of the post for links to more pumpkin-filled recipes by other bloggers.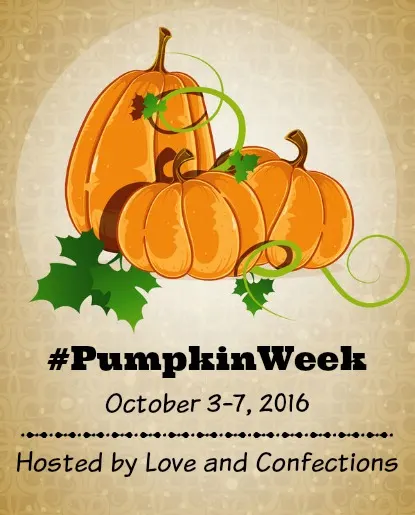 Comfort food means different things to different people. For some, it's a big dish of mac and cheese. For others, it's a warm bowl of soup. For me, it's bread. Even better, cinnamon raisin bread, toasted, with butter.
On a chilly fall night, while some might curl up with a mug of hot chocolate, I make myself some toast. I can't explain why it's comforting. For me, it just is.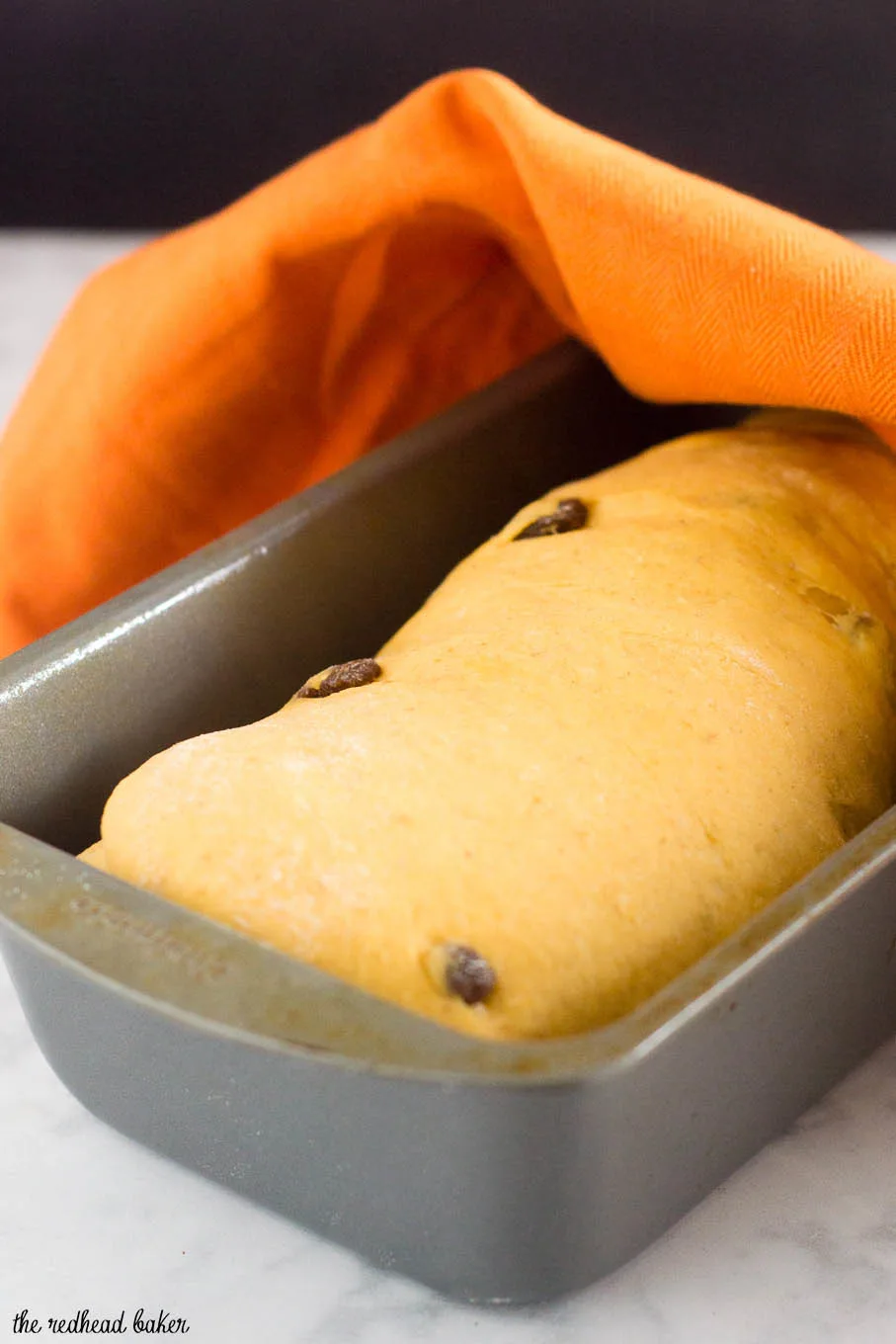 This bread is flavored with pumpkin and the usual complementary spices of cinnamon, ginger, nutmeg, cloves and allspice. As a shortcut, you can substitute 1 teaspoon of pumpkin pie spice mix, if you have it on hand. Raisins are kneaded right into the bread dough.
Then there's the delicious cinnamon sugar swirl. Cinnamon and yeast do not get along. That is the reason for using a full tablespoonful of yeast rather than the standard package size of 2 ¼ teaspoons, and for adding the remaining cinnamon in the swirl instead of straight into the bread dough.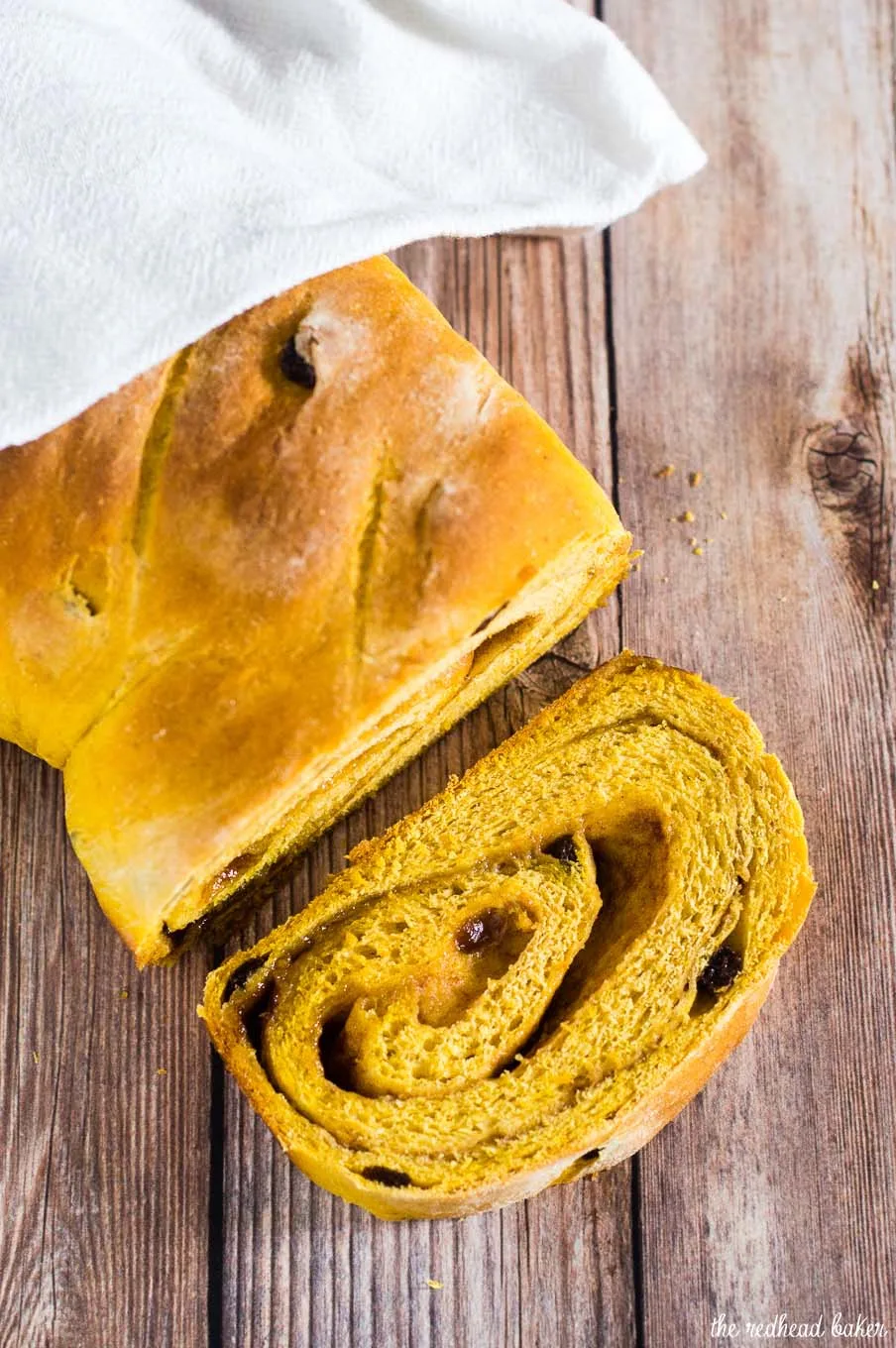 As I mentioned in Tuesday's cinnamon rolls recipe post, there's no need to be intimidated by yeast. Get yourself a food thermometer to temp your liquid to ensure it's not too hot or too cold, and get tips in that post to learn how to tell when your dough is properly kneaded.
This bread makes delicious toast with a light smear of butter or cream cheese. Double the recipe to make one loaf to keep and one to give away. Wrap it up in a food-safe plastic bag tied with baker's twine and give as a hostess gift on Thanksgiving.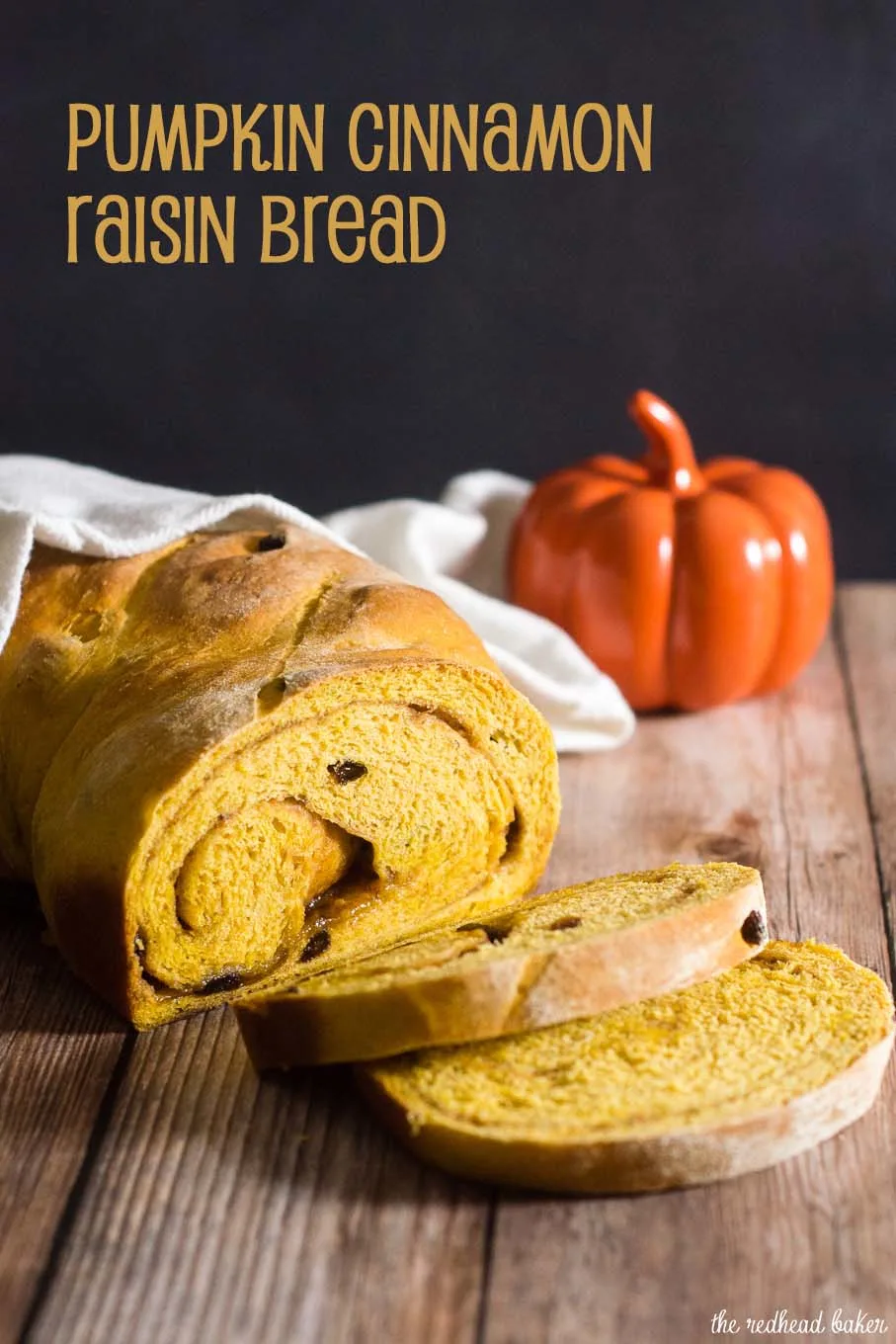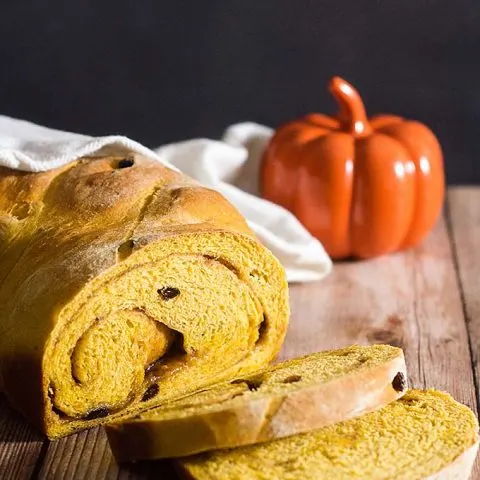 Pumpkin Cinnamon Raisin Bread #PumpkinWeek
Prep Time:
2 hours
15 minutes
Total Time:
2 hours
45 minutes
You'll need two ¼-oz packages of instant or active dry yeast to get a tablespoonful, as one packet is only equal to 2 ¼ teaspoon of yeast.
Ingredients
For the bread:
1 tablespoon active dry yeast
¼ cup warm milk, 90 to 100 degrees F
3 ¼ cups all-purpose flour, plus more for dusting
¼ cup light brown sugar, packed
1 ¼ teaspoons salt
1 teaspoon pumpkin pie spice
1 large egg
¾ cups pure pumpkin puree, not pumpkin pie filling
1 tablespoon canola or vegetable oil
¼ cup raisins
For the cinnamon swirl:
2 tablespoon butter, softened
¼ cup light brown sugar, packed
½ teaspoon cinnamon
Instructions
Sprinkle the yeast over the warm milk, stir gently, and set aside for 5 minutes.
In the bowl of a stand mixer with the paddle attachment, combine the flour, brown sugar, salt and pumpkin pie spice. Add the milk/yeast mixture, the egg, pumpkin and oil and mix just until the dough comes together.
Switch to the dough hook. Knead on low speed for 5 minutes, until the dough is soft and smooth. During the last minute of kneading, sprinkle the raisins into the bowl.
Oil a large bowl with nonstick spray. Form the dough into a ball and place in the bowl. Spray the top of the dough with nonstick spray, cover with plastic wrap and a clean kitchen towel. Set in a draft-free area to rise for 1 hour to 1 hour 15 minutes, until doubled in size.
Dust a clean surface with flour. Punch down the dough and form into a rough rectangle on the floured surface. Roll out to a 9-inch by 9-inch square.
Combine the filling ingredients in a small bowl until evenly mixed. Spread in an even layer over the rolled-out dough, leaving a ½-inch border on all sides.
Starting with the edge farthest from you, roll the dough into a tight log. Once finished, crimp the end to the log to seal. Use your fingers to push the ends inside the log.
Place in a 9x5 loaf pan sprayed with nonstick spray. Cover with plastic wrap and a clean kitchen towel and set aside to rise for 45 minutes.
During the last 15 to 30 minutes, preheat your oven to 350 degrees.
Once fully rising, use a very sharp knife to gently make 3 shallow cuts across the top of the loaf. Bake the loaf for 30 to 35 minutes, until dark golden brown.
Remove from the baking pan and set on a wire rack to cool completely. Store, wrapped well, at room temperature for several days.
Adapted from King Arthur Flour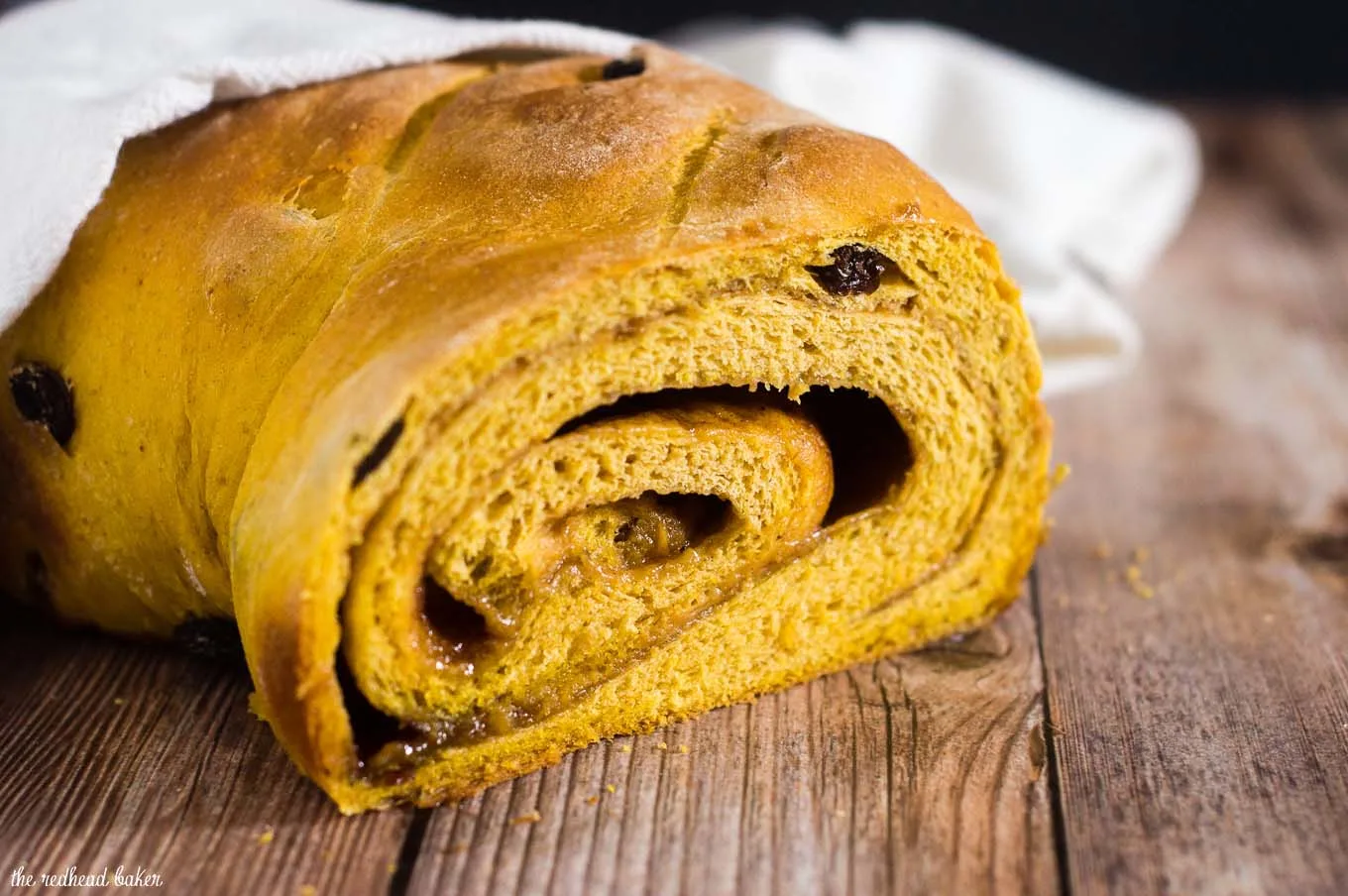 Discover more #PumpkinWeek recipes!
Disclaimer: this post contains affiliate links.