Pumpkin crepes are very thin dessert pancakes, folded over sweetened cream cheese filling and drizzled with dulce de leche.
Welcome to Day 3 of #PumpkinWeek, hosted by Terri of Love and Confections! After you check out my pumpkin crepes, don't forget to scroll down to the bottom of the post for links to more pumpkin-filled recipes by other bloggers.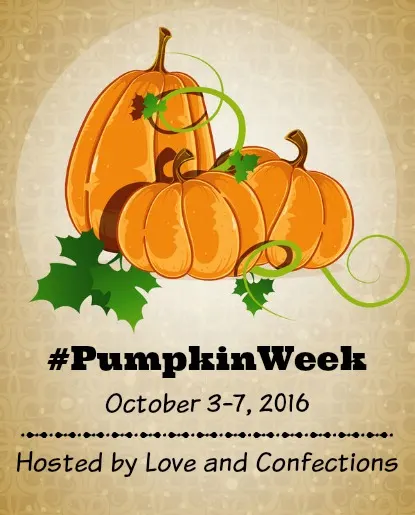 If you're unfamiliar with crepes, let me catch you up. Crepes are a French dish of very thin pancakes, originating in the Brittany region, though now they're made all over France. Most often sweet, but sometimes savory, they can either be folded over or rolled around a filling. The filling can be simple, such as a sprinkle of sugar, or elaborate, such as Crepes Suzette, which is when liquor is poured over the crepes and set on fire.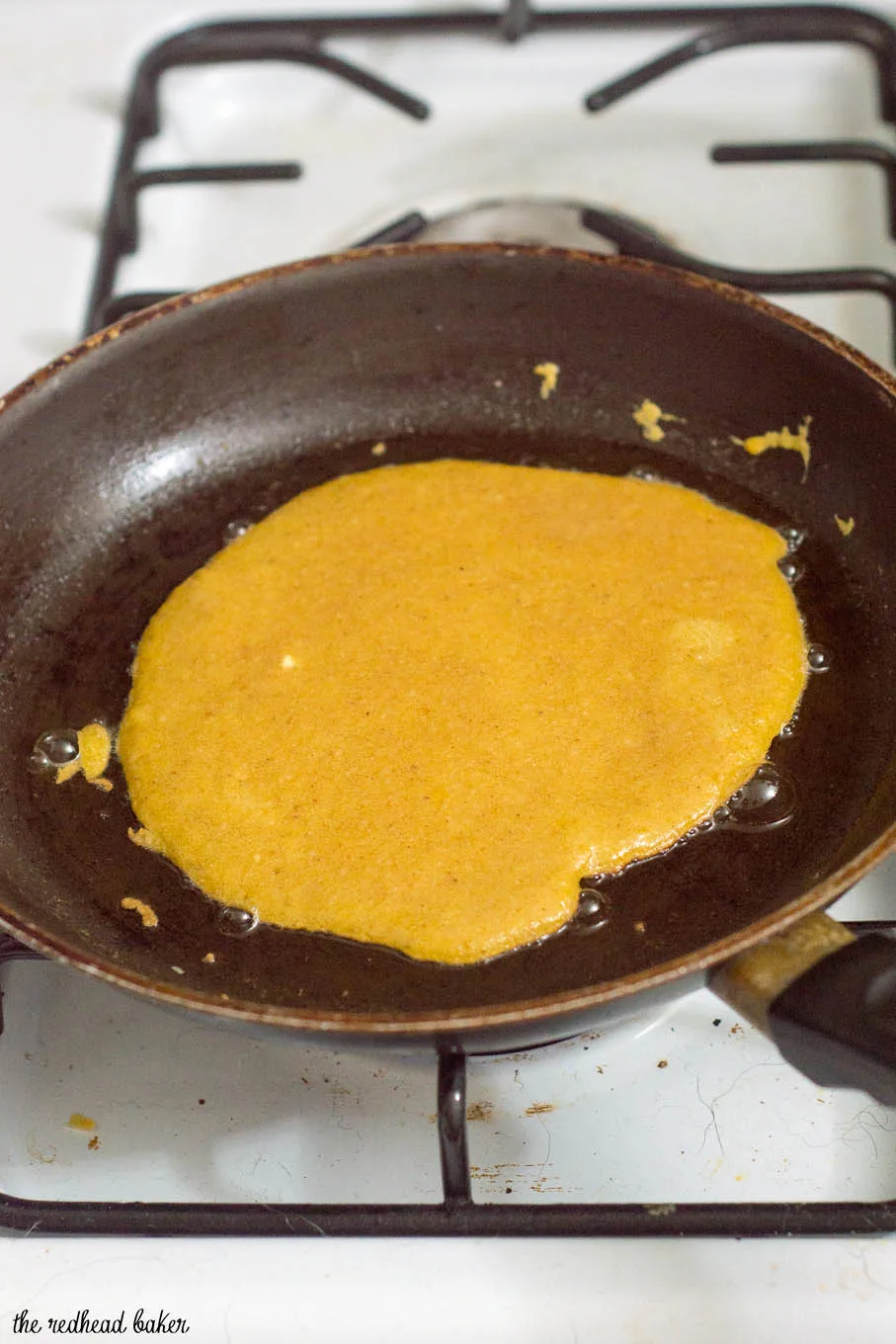 There are specialty pans for cooking crepes, but you can get by with a simple nonstick skillet. I use a small one, which I more often use for cooking scrambled eggs or omelets. The goal is to lubricate the pan with enough butter so the crepe doesn't stick, but not too much that the crepe becomes deep-fried; to make a very thin batter; and to pour just enough into the pan to coat the bottom in an even layer.
Crepes are extremely fragile and tear easily, so flipping them is a bit of a challenge. I recommend a very thin spatula, getting it as close to the center as possible, and lifting the crepe only as high as needed to flip it. If your crepe slides around easily (which means a well-oiled pan), you can try the professional chef pan-flippy method (it's a technical term).
When I worked at a fine-dining restaurant, and crepes were on the menu, we planned in advance to make double the amount we needed, because we wouldn't serve torn crepes to a customer. At home, it's up to you whether to serve or toss the torn crepes. Personally, I'd serve them (with the torn part on the bottom). They still taste great, after all!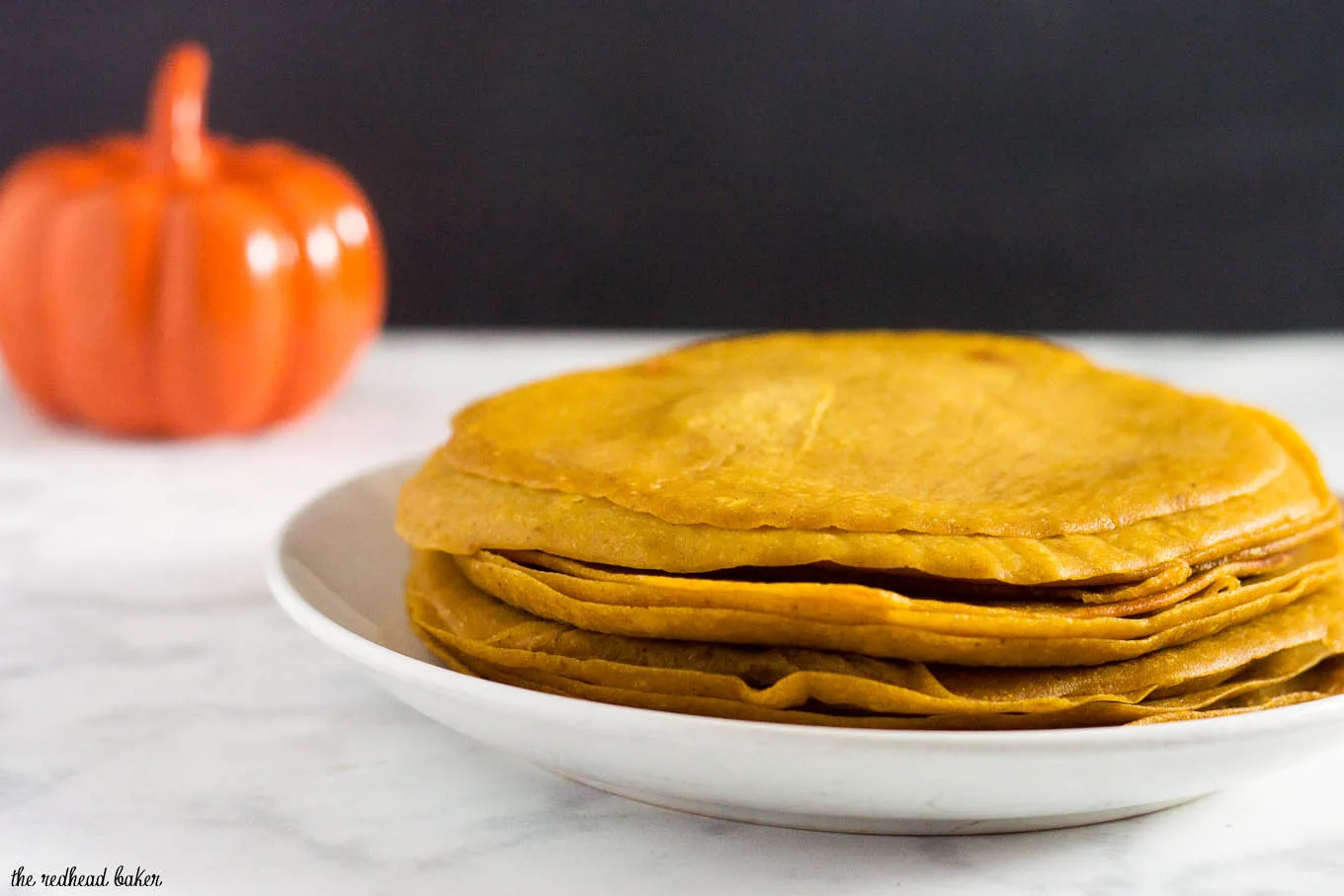 I made a simple sweetened cream cheese filling for my pumpkin crepes, but you can choose another filling if you'd like: maple cream cheese; Nutella; cinnamon sugar; crushed gingersnaps; apple pie filling; the list could go on and on! Same goes for the topping. I chose dulce de leche, but you can simply dust them with powdered sugar, or drizzle with Nutella, chocolate sauce, etc.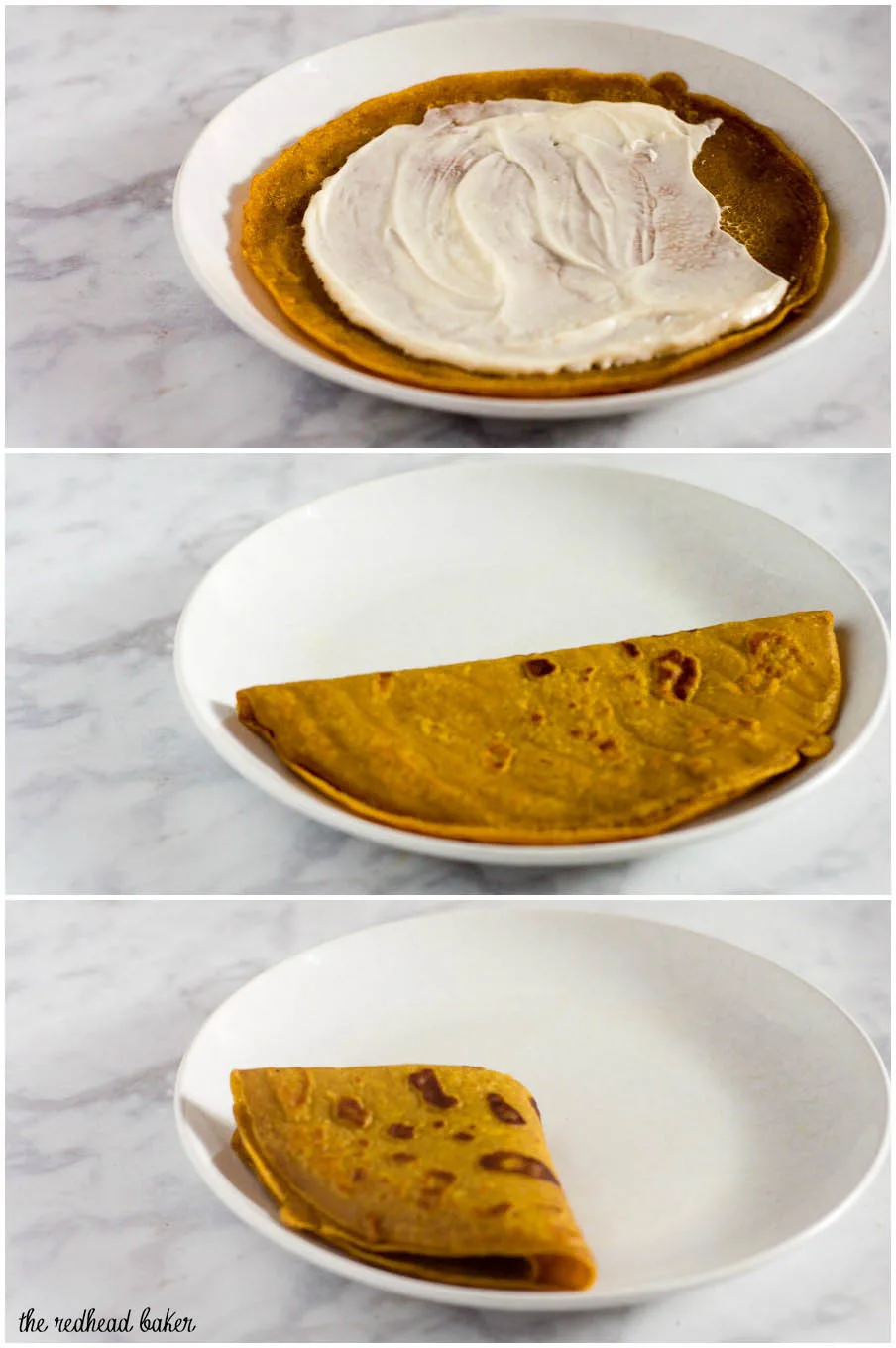 These would make an impressive dessert for Thanksgiving, and the best part is that all of the components can be made ahead of time. The crepes will keep for a day or two in the refrigerator, or you can freeze them for up to two months. The filling can be chilled in the refrigerator for up to 2 days. I do recommend warming the crepes before serving, because they can take on a gummy texture if they get too cold.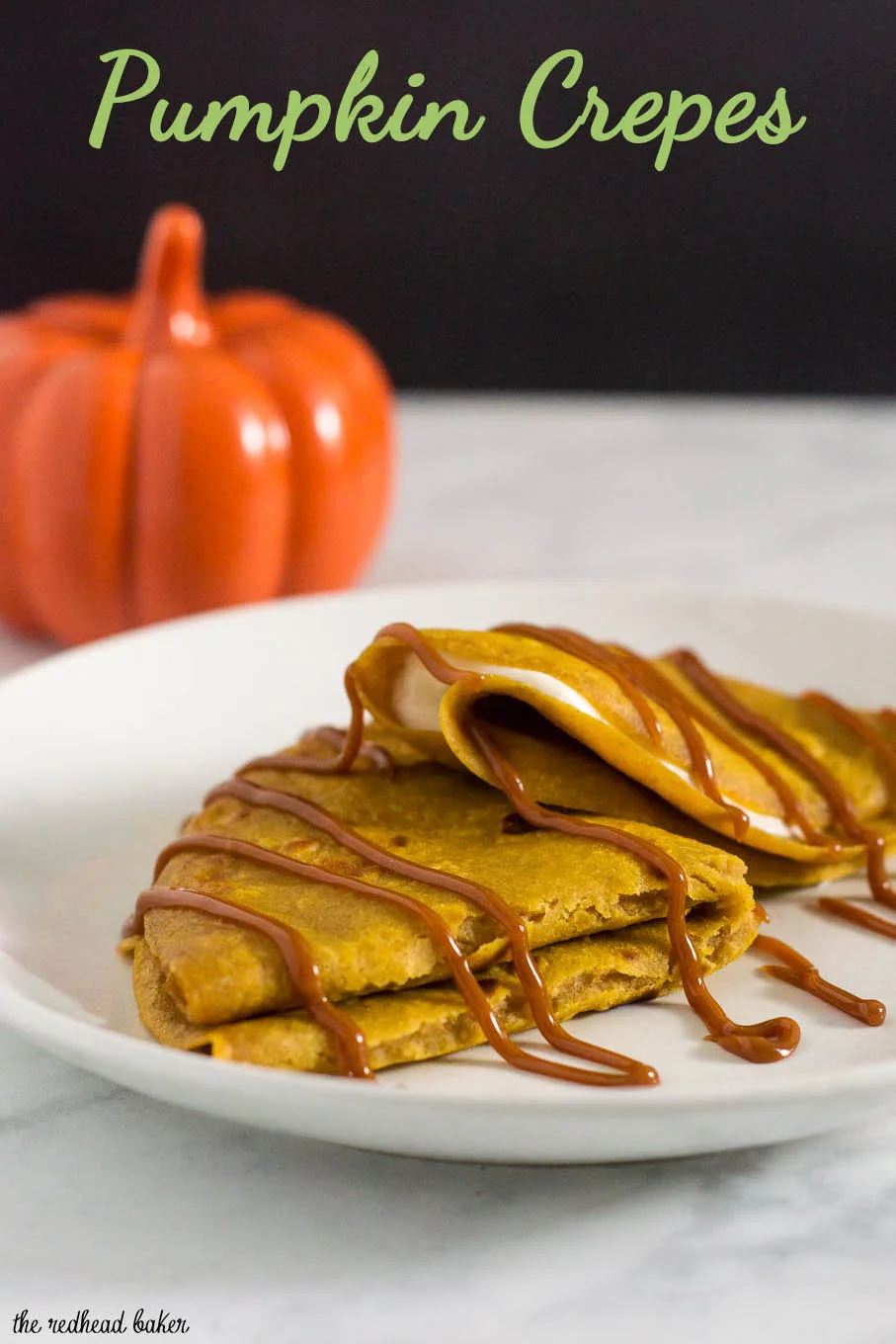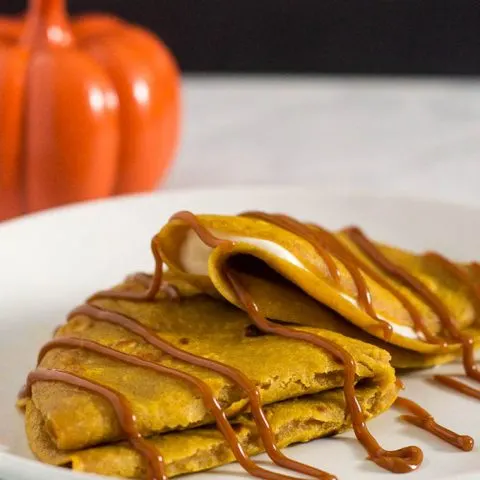 Pumpkin Crepes #PumpkinWeek
Yield:
8 (2-crepe) servings
Ingredients
For the crepes:
2 large eggs
¾ cup pumpkin puree, 7 oz, not pie filling
1 cup milk
¾ cup water, plus more as needed
6 tablespoons butter, melted, divided
1 ½ teaspoon vanilla
2 cups flour, 8.5 oz
½ cup brown sugar, packed, 3.75 oz
½ teaspoon salt
1 teaspoon ground cinnamon
¼ teaspoon ground nutmeg
¼ teaspoon ground cloves
¼ teaspoon ground ginger
For the filling:
8 oz cream cheese, softened
½ cup confectioners sugar
½ teaspoon vanilla extract
Ideas for topping:
Dulce de leche
Chocolate sauce
Powdered sugar
Cocoa powder
Instructions
Place the two eggs in a large mixing bowl. Lightly beat them with a whisk. Add the pumpkin, milk, ¾ cup water, 2 tablespoon of the melted butter and the vanilla. Whisk until thoroughly combined.
In a separate bowl, stir together the flour, sugar, salt, and the spices. Add to the wet ingredients and stir just until combined. The batter should resemble very thin pancake batter. Refrigerate the batter for at least one hour to let the batter rest (this makes for lighter crepes).
Heat a small nonstick skillet over medium-low heat. Place the remaining 4 tablespoon of melted butter in a small dish next to the stovetop. Use a pastry brush to brush a very thin layer of butter in the heated pan. Spoon ¼ cup of the crepe batter into the pan and tilt the pan to evenly cover the surface. Cook for 1 minutes on each side, then remove to a sheet pan lined with a wire rack.
If the batter is so thick that it doesn't run easily when spooned into the hot pan, add more water, a tablespoonful at a time, and stir until it reaches the right consistency.
Repeat with the remaining batter until it's gone. Place a layer of wax or parchment paper over the cooked crepes on the wire rack and continue piling them up.
Make the filing: beat together the cream cheese, sugar and vanilla.
Place a tablespoonful of the filling in the center of each filled crepe and spread it around to cover the surface. Fold the crepe in half so the filling is inside, then fold in half again.
Place two crepes on a plate, and drizzle or sprinkle with your preferred topping.
Slightly adapted from Carlsbad Cravings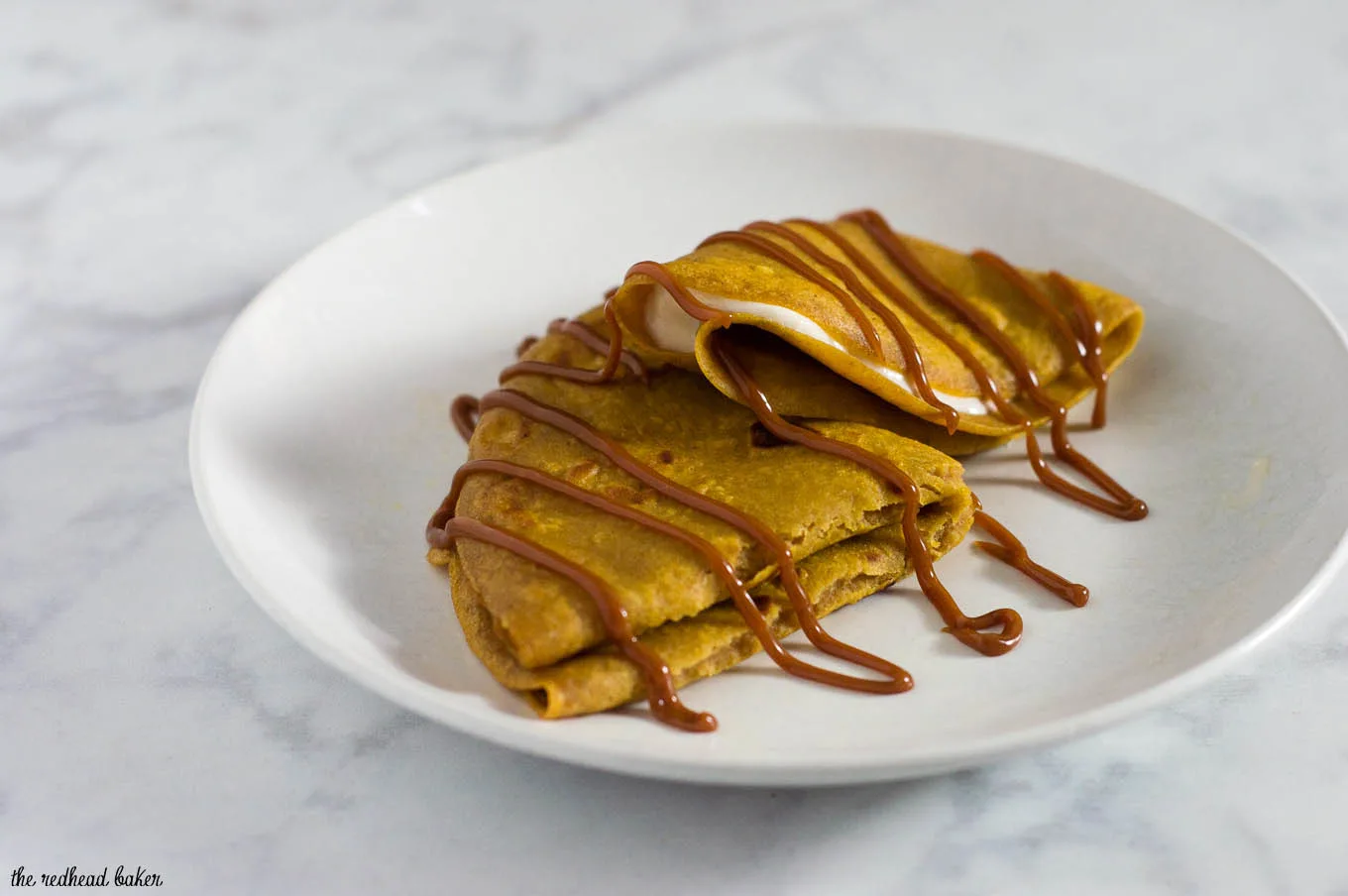 Discover more #PumpkinWeek recipes!
Disclaimer: this post contains affiliate links.