Pumpkin churros are a fall twist on a sweet treat. Sweet pumpkin dough is deep fried, rolled in pumpkin-spiced sugar and dipped in decadent dulce de leche.
Welcome to Day 5 of #PumpkinWeek, the final day, hosted by Terri of Love and Confections! After you check out my pumpkin churros, don't forget to scroll down to the bottom of the post for links to more pumpkin-filled recipes by other bloggers.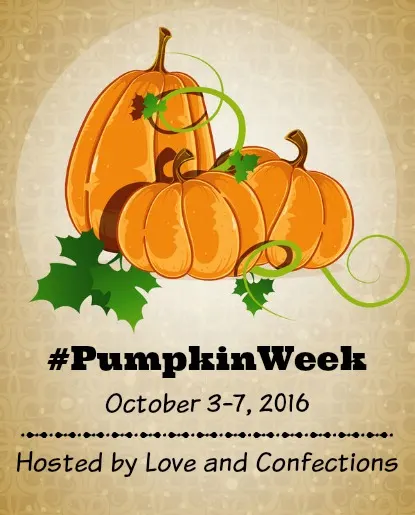 If you've never had a churro, your life is incomplete. A churro is a fried pastry, similar to America's doughnuts, except it's straight rather than round. After it's fried, it's rolled in sugar, then typically served with a sweet dipping sauce. The churros origins are unclear, some say they originated in Portugal, others say Spain. You will often find them at Latin American street festivals or restaurants.
You don't need a special deep fryer to make these at home, as long as you have a heavy-duty Dutch oven (which every kitchen should have!), a deep-fry or candy thermometer, and a skimmer or slotted spoon. Below, you'll see the deep-fry station I set up on my stovetop whenever I fry anything. My candy thermometer clips to the side of my Dutch oven so I can maintain the proper oil temperature, and I have a wire rack set over several layers of paper towels inside a baking sheet for draining excess oil.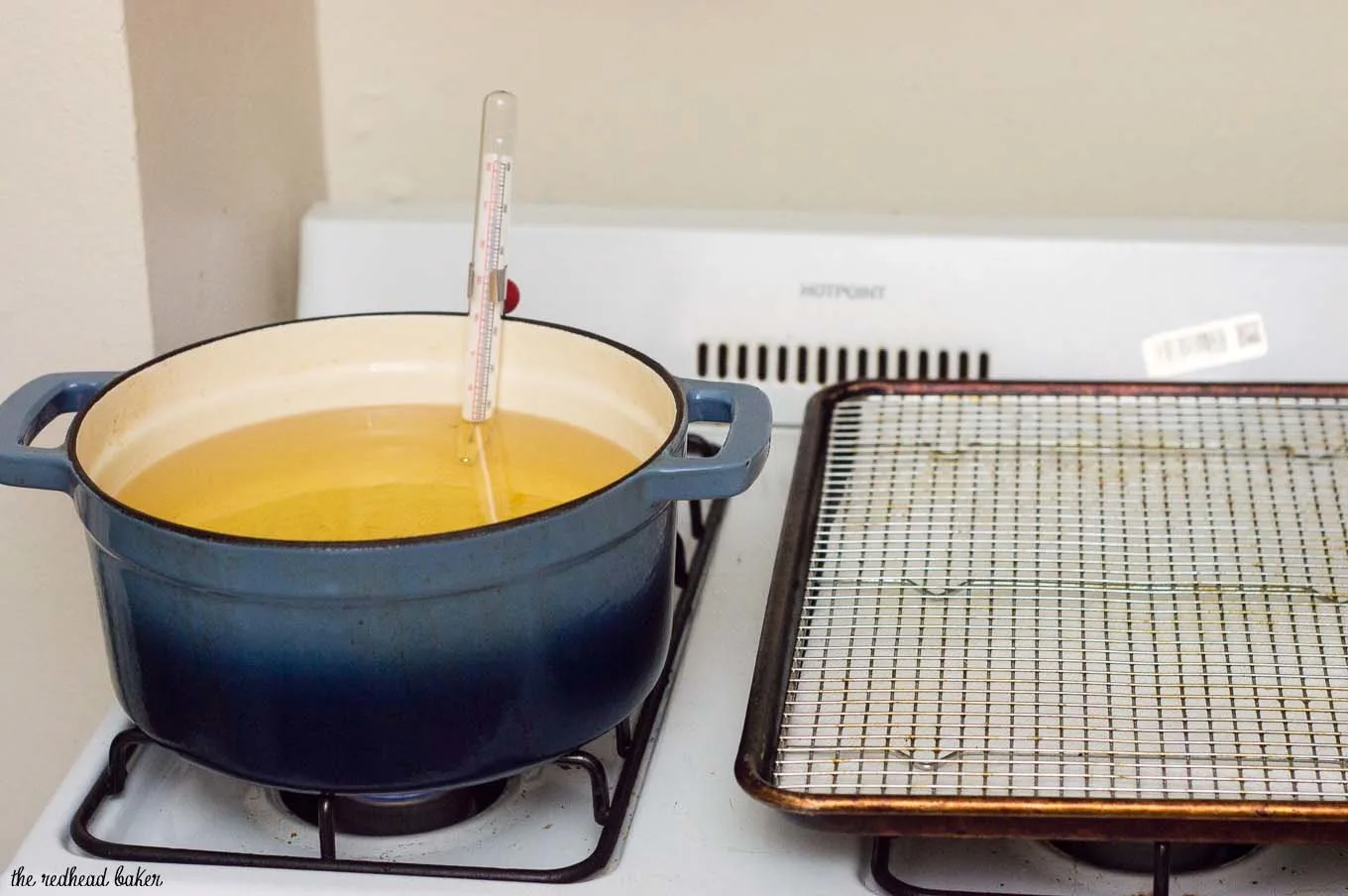 I typically use vegetable or canola oil for frying. Other good frying oils include peanut oil and grapeseed oil, but these aren't as ubiquitous at grocery stores as vegetable or canola. Once you've finished frying your churros, let the oil sit in the pan until completely cooled. Then, you can either dispose of it, or save it to use again. Depending on the type of oil and what kind of food you fried, you can use the oil or potentially two more times.
If you're going to dispose of the oil, pour it into a container with a tight seal (I usually use the original container), and put it our with your trash, or find a place near you to recycle it. If you want to save it to use again, set a fine-mesh sieve over a container with a spout. Place a layer or two of cheesecloth in the sieve. Pour the oil through the sieve, then pour the strained oil back into the original container, and store in a cool, dark place. No matter what, never ever pour it down your drain.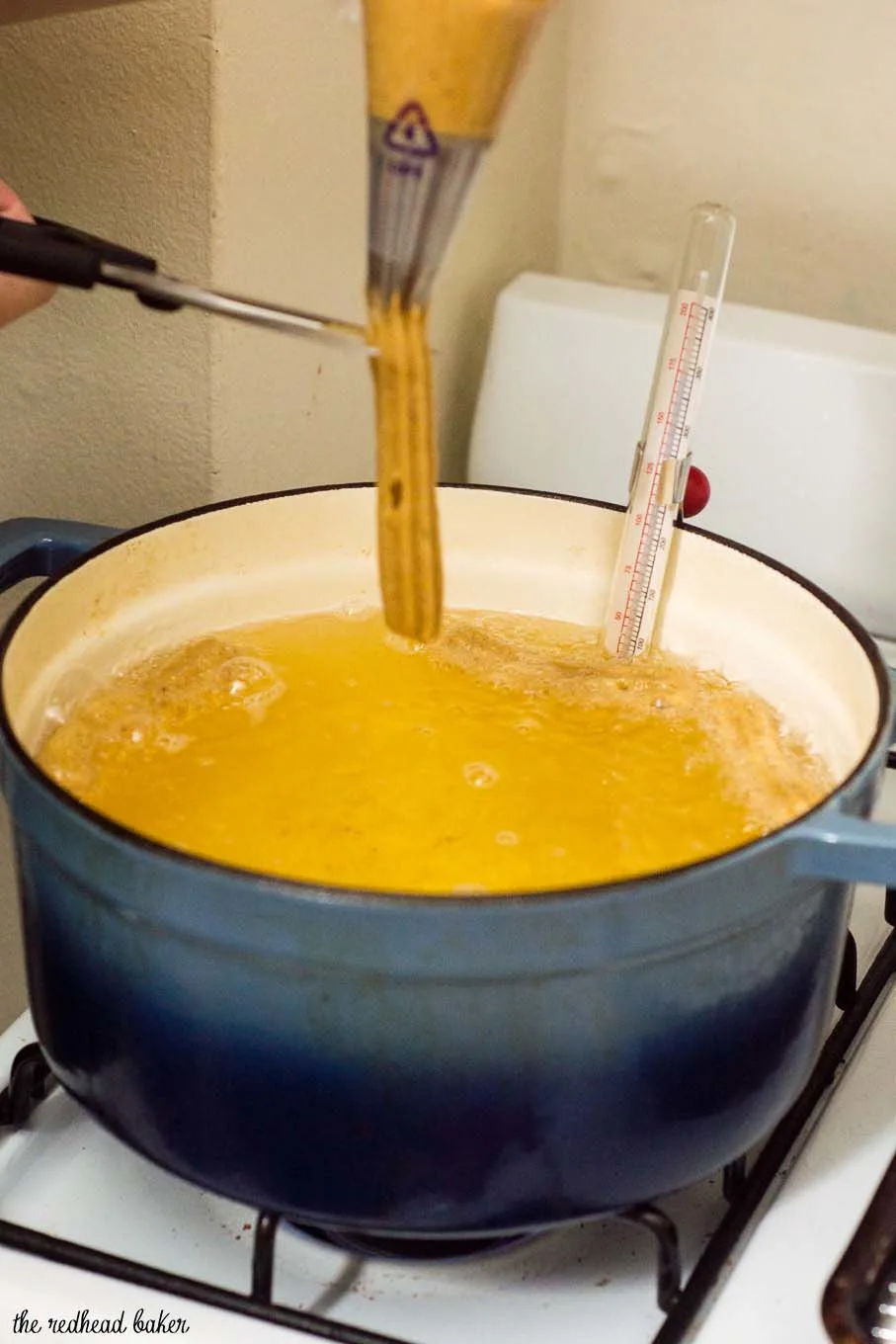 If you want your homemade churros to have their characteristic ridged shape, you'll need a pastry bag and an open star tip. If you're new to working with pastry bags, first, you want to place the tip inside the bag. Hold the bag near the tip, and fold the open end down over your hand. Fill the bag halfway with churro dough, then twist just above the dough to close off the bag. Never fill your bag more than halfway because as you squeeze dough out of the tip, dough will also squeeze out of the back end of the bag.
When your oil is up to temperature and you're ready to begin frying, use scissors or kitchen shears to cut off the plastic tips, about a quarter inch above the pointed end of the piping tip. When you're not using the bag, make sure the wide end is twisted shut, and folded under the bag of dough. This will keep dough from sliding out the back, and will also angle the tip slightly upwards to keep dough from sliding out from that end.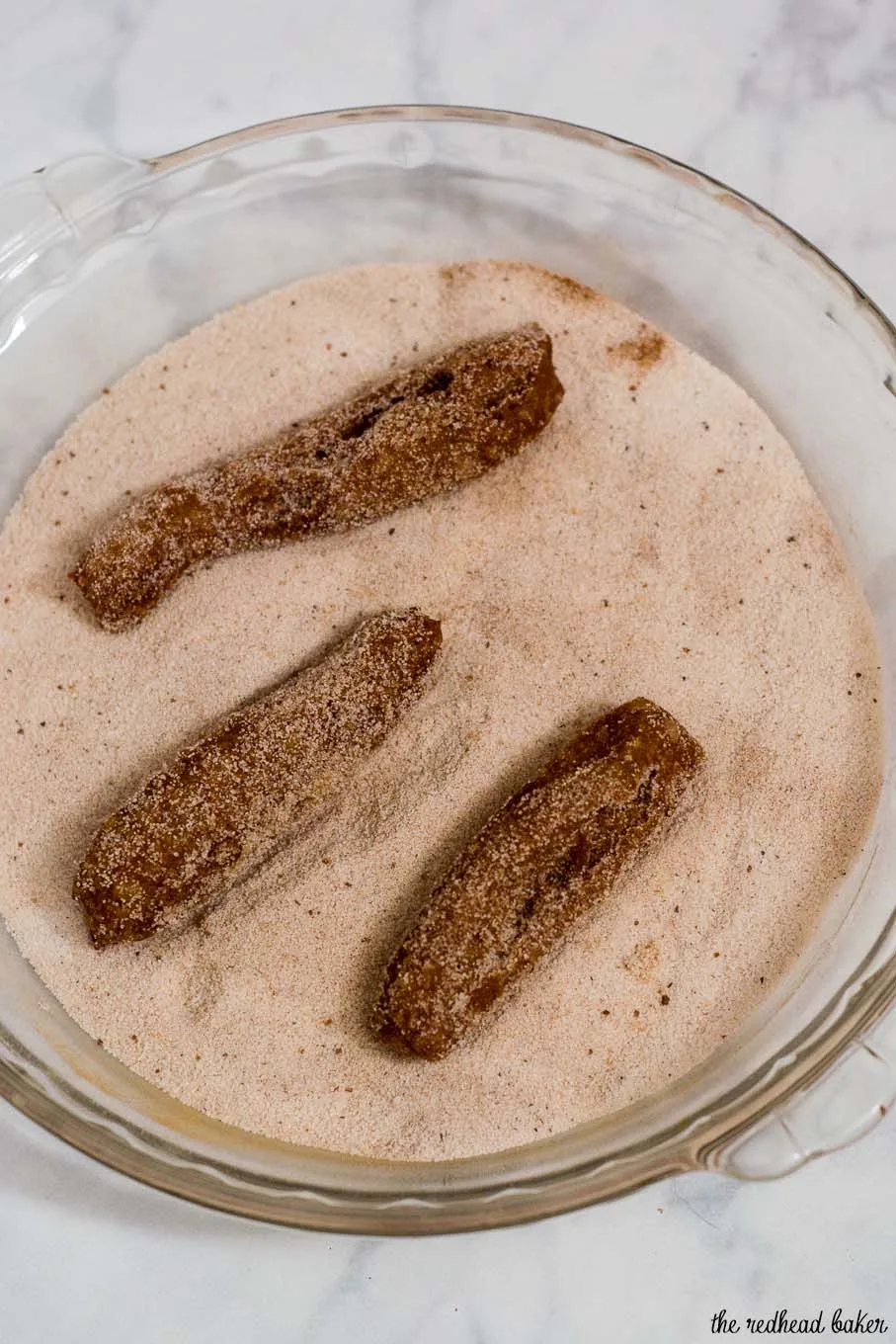 As soon as the dough is done frying, transfer it to the wire rack just long enough to drain any excess oil, then transfer it to the spiced sugar mixture. The sugar mixture will not stick to the churros if you wait for them to cool off.
Finally, the churros are best when they are served immediately. They lose their crunch if you make them ahead of time. The dough itself can be made ahead of time and refrigerated for up to a day, but the fried churros should be eaten immediately, preferably with a side of dulce de leche or chocolate sauce. Enjoy!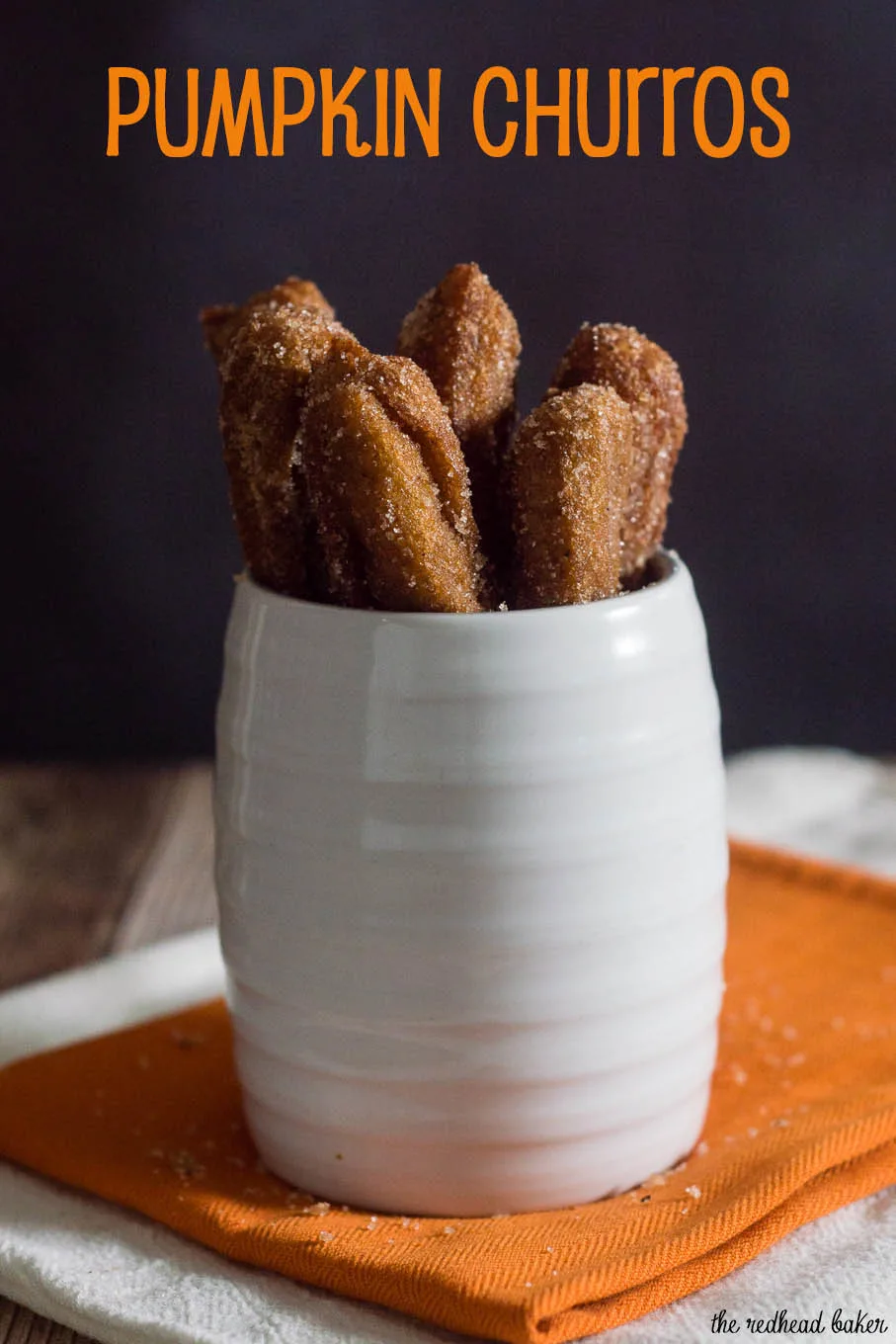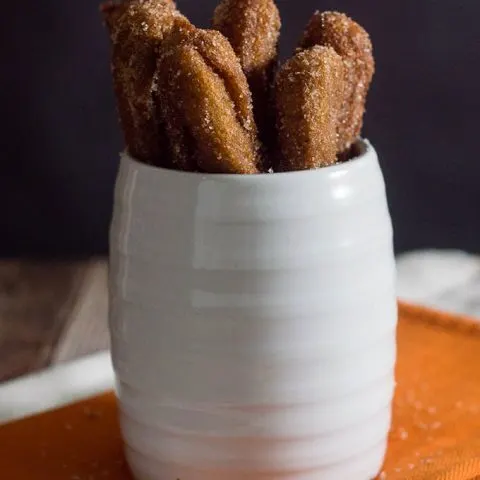 Pumpkin Churros #PumpkinWeek
Yield:
36 (4-inch) churros
Ingredients
For frying:
Vegetable or peanut oil, amount will depend on the size of the pan you use to fry
For the churros:
1 ¼ cups all-purpse flour
1 teaspoon ground cinnamon
¼ teaspoon ground ginger
⅛ teaspoon ground cloves
⅛ teaspoon ground nutmeg
¾ cup water
¼ cup pumpkin puree, not pumpkin pie filling
8 tablespoon unsalted butter
1 ½ tablespoon light brown sugar
½ teaspoon salt
1 teaspoon vanilla extract
4 large eggs
For the coating:
¾ cup granulated sugar
1 teaspoon ground cinnamon
¼ teaspoon ground ginger
⅛ teaspoon ground cloves
⅛ teaspoon ground nutmeg
Options for dipping:
Dulce de leche
Chocolate sauce
Instructions
Place enough frying oil in a large Dutch oven to measure 2 inches in depth. Heat the oil to 350 degrees F.
In a small bowl, stir together the flour and spices; set aside.
Place the water, pumpkin, butter, brown sugar, salt, and vanilla in a large saucepan. Set over medium-high heat and bring to a boil, stirring frequently to combine the ingredients. Once the mixture boils, add the flour mixture all at once and stir vigorously to combine. The mixture will become a thick ball of dough that leaves a film on the bottom of the pan. Once that happens, remove the pan from the heat and transfer the mixture to the bowl of a stand mixer. Let sit for about 15 minutes to cool.
Add the eggs, one at a time, beating until combined before adding the next one. Once all the eggs are incorporated and the mixture is smooth, prepare a pastry bag. Place a large open-star tip at the bottom, then fill the bag halfway with churro dough. You will likely still have some dough left in the bowl.
Prepare your fry station: place a rimmed baking sheet next to the Dutch oven of oil. Line it with 2 or 3 layers of paper towels, then place a wire rack on top.
Mix together the coating ingredients in a shallow dish or pie plate. Keep it near your fry station.
Once the oil reaches 350 degrees, you can begin frying. Hold your pastry bag, tip-down, at a perpendicular angle over the hot oil, about four inches above the oil. Squeeze out about four inches of dough, then cut with a pair of scissors or kitchen shears. Repeat two or three more times. Don't crowd the pot. Fry the churros for about 4 minutes, until deep golden brown, flipping once halfway through.
Remove the churros from the oil with a skimmer or slotted spoon. Place on the wire rack to drain off any excess oil, then immediately toss in the sugar mixture to coat.
Repeat with the remaining churro dough, refilling your pastry bag as needed, until all of it is fried. Keep an eye on your oil temperature, and adjust the burner to keep the oil as close as possible to 350 degrees.
The churros are best served immediately with dulce de leche, caramel or chocolate sauce for dipping.
Adapted from King Arthur Flour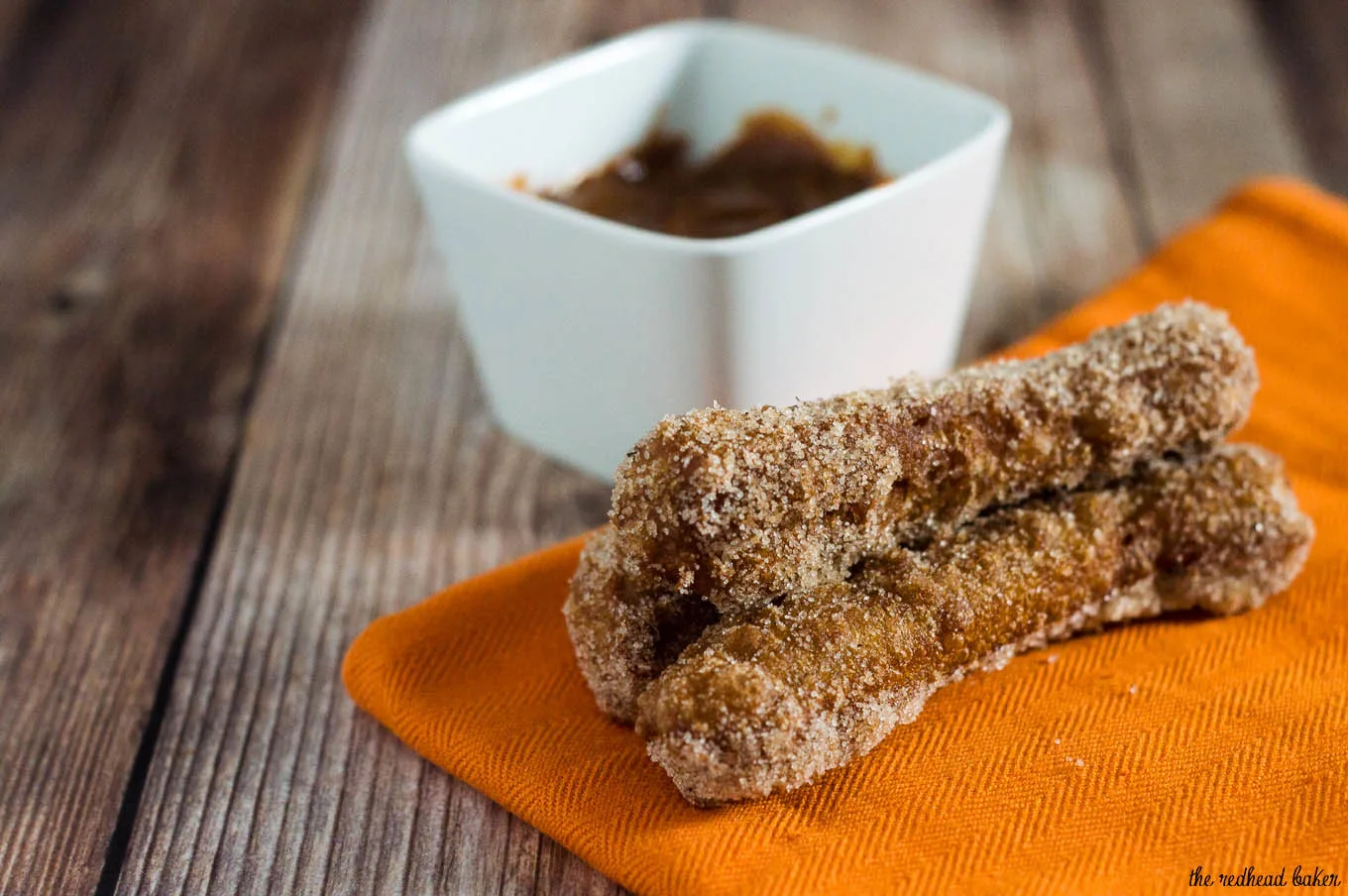 Discover more #PumpkinWeek recipes!
Disclaimer: this post contains affiliate links.