Autumn means apples are in season. Enjoy them in these easy-to-make quintessential fall breakfast muffins: caramel apple streusel muffins.
As much as I love summer -- warm weather, ice cream, fresh summer produce, and flip flops -- I also love fall. I love hoodie weather, skinny jeans with scarves, and fall flavors, including pumpkin EVERYTHING. I have a whole weeks' worth of pumpkin recipes coming up, so for today's fall-themed Sunday Supper, I chose an apple recipe.
Muffins are so very easy to make, even for the most novice baker. Stir the dry ingredients, cream the wet ingredients, then stir everything together. Muffins should be dense, but still tender. The key is not over-mixing the ingredients. Mix just until you no longer see dry flour. Don't worry about getting out the lumps (as you would do for cupcakes). Lumps will dissolve during baking. Muffins keep well at room temperature, or can be frozen and reheated. If you prefer freshly-baked muffins, you can mix up the batter, refrigerate it, and bake as needed. Unbaked batter will keep for up to a week in the refrigerator. Refrigerate the streusel topping separately.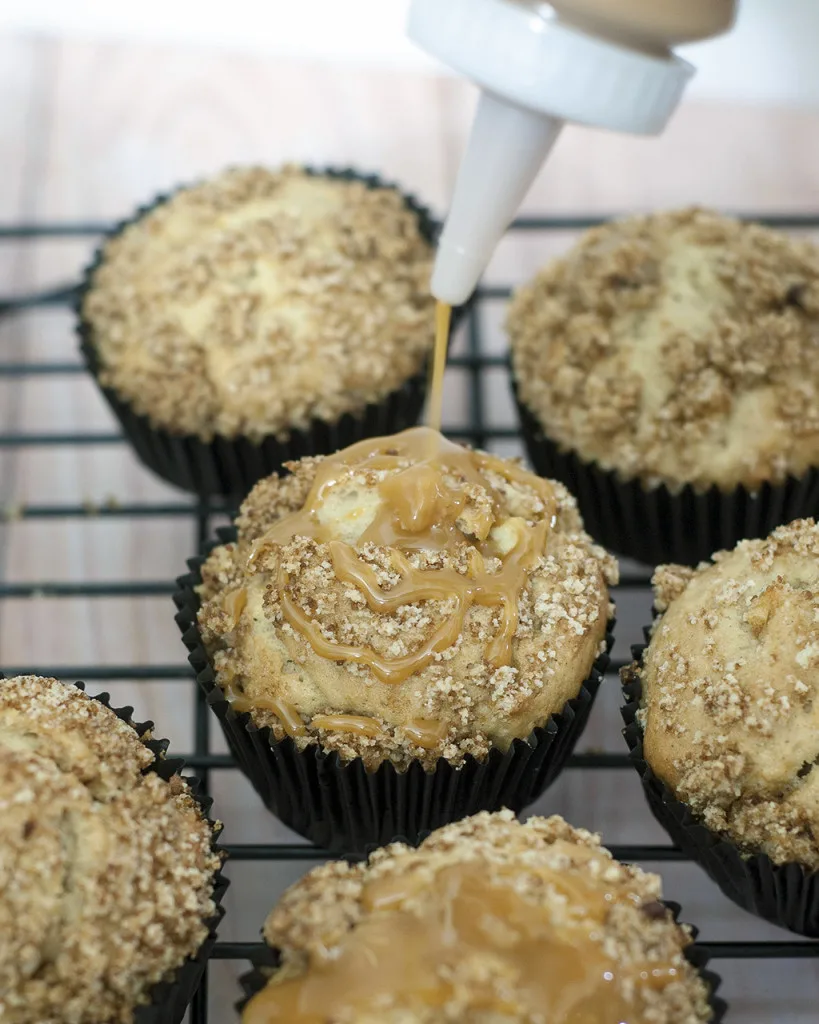 I love heading down the farmers market on a Sunday morning and seeing all of the apple varieties. My favorite apples to eat out of hand are Granny Smith and Honeycrisp. Honeycrisp aren't quite at their peak near me yet, so I decided up a nice, tart Granny Smith and put them into my favorite muffin recipe.
The best kind of muffins, in my book at least, are decadent muffins. Full-fat, streusel-topped, glazed muffins. I mean, if you're going to indulge yourself for breakfast, go all-in, right? Sour cream makes these muffins extra moist, the topping gives a nice textural crunch, and the creamy caramel sauce complements the apple filling. If you make one fall-flavored thing this season, make it these caramel apple streusel muffins.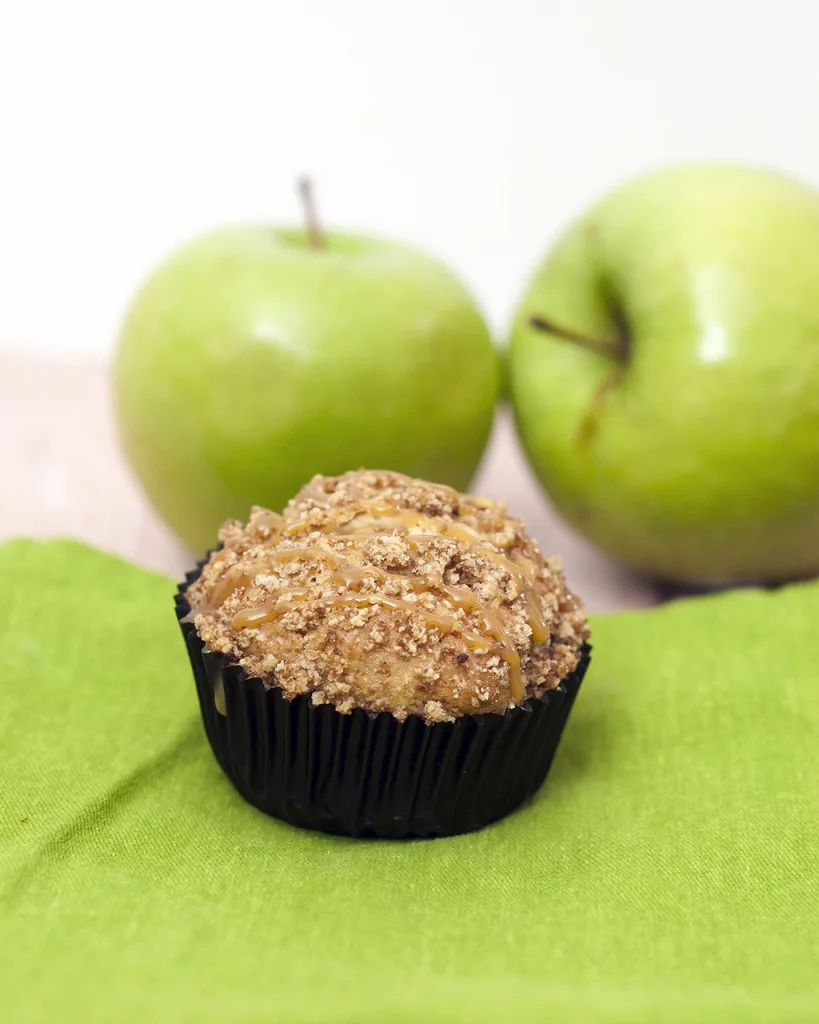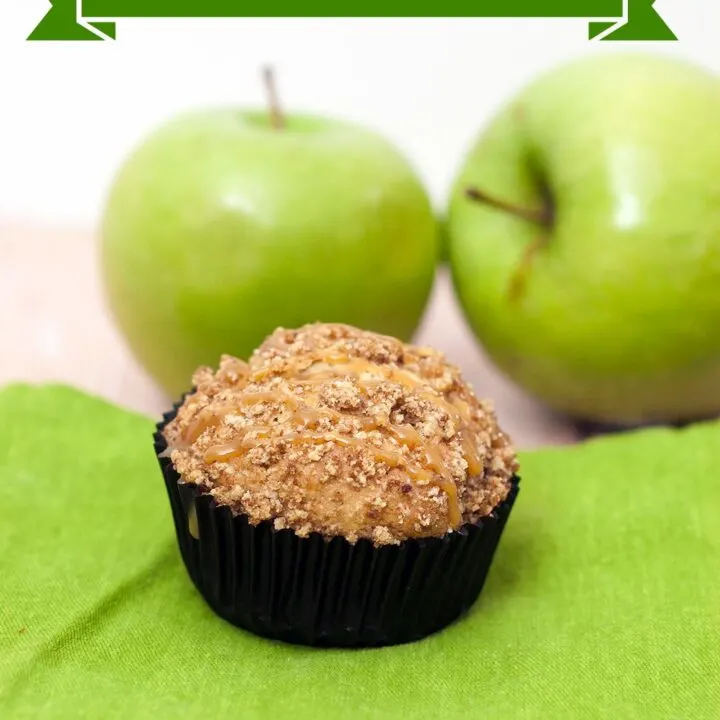 Caramel Apple Streusel Muffins
Yield:
24 standard-size muffins
Ingredients
For the muffins:
3 ½ cups all-purpose flour, 14 ¾ oz
1 tablespoon cinnamon
2 teaspoon baking powder
½ teaspoon baking soda
1 teaspoon salt
8 oz unsalted butter, softened
1 cup sugar
3 large eggs
2 teaspoon vanilla extract
8 oz sour cream, 1 cup
1 Granny Smith apple, peeled, cored and cut into small dice
For the streusel topping:
4 tablespoon unsalted butter, cold
¼ cup light brown sugar
⅔ cup all-purpose flour
For the caramel sauce:
¼ cup unsalted butter
1 cup light brown sugar
½ cup heavy cream
½ teaspoon vanilla
Instructions
Preheat oven to 400 degrees. Line two 12-well muffin tin with paper liners.
In a large mixing bowl, stir together the flour, cinnamon, baking powder, baking soda and salt. Set aside.
In the bowl of a stand mixer, cream together the butter and sugar until fluffy and very light in color. Add the eggs, one at a time, beating scraping down the sides of the bowl in between additions.
Beat in the sour cream and vanilla.
Add the dry ingredients and mix in on low speed, just until incorporated. Take the mixing bowl off of the stand mixer, and use a spatula to fold in the diced apples. Portion the batter into the paper liners.
In a mini food processor, pulse together the streusel topping ingredients just until they resemble coarse crumbs. Scoop a scant tablespoonful onto the top of each mound of muffin batter. Gently press the crumbs into the batter.
Bake the muffins for 18 to 20 minutes, until fully risen and golden brown. Let the muffins cool in the tins for 5 minutes, then remove the muffins to wire racks to cool completely.
Make the caramel sauce: place the butter in a microwave-safe measuring cup. Cook on HIGH for 30 seconds to 1 minute, until fully melted.
Take the measuring glass out of the microwave; whisk in the light brown sugar and heavy cream. Return to the microwave and cook on HIGH for 2 minutes. Stir the mixture with a whisk and then microwave for an additional 2-3 minutes. Carefully remove the measuring cup with oven mitts or a kitchen towel, and allow the caramel sauce to cool until you can handle it.
When cool enough to handle (but still warm), pour the caramel into a kitchen squeeze bottle and drizzle over the muffins.
Adapted from the King Arthur Flour Baker's Companion
Check out this week's recipe collection:
Breakfast
Appetizers and Sides
Main Dishes
Desserts and Cocktails