This incredibly rich and creamy white chocolate raspberry cheesecake has swirls of raspberry preserves — it looks difficult, but is to easy to make. It'll be as showstopper whenever it's served!
Today is National Grandparents Day! This holiday isn't really celebrated in Southeastern Pennsylvania (I'd never even heard of it until a few years ago), but I will happily make a recipe dedicated to my grandparents nonetheless.
This recipe is more specifically dedicated to my grandmother (my mother's mother). Her name was Rebecca, but everyone called her Ruby. She was born in Scotland, and moved to the U.S. with her husband and their daughter (my mom) in the early 1970s. My grandmother loved to cook. It wasn't a meal unless there was enough food to feed 20, even if only there were 8 of us for dinner.
But the reason I made a cheesecake in honor of her is that my grandmother loved dessert. If we had enough food for 20, we had enough dessert for 30. One of our family's funniest memories is when my grandmother asked for a "small" slice of cheesecake, so my aunt gave her a very thin slice. My grandmother held the plate up to her face, and proclaimed that the slice was so thin, she could practically see through it!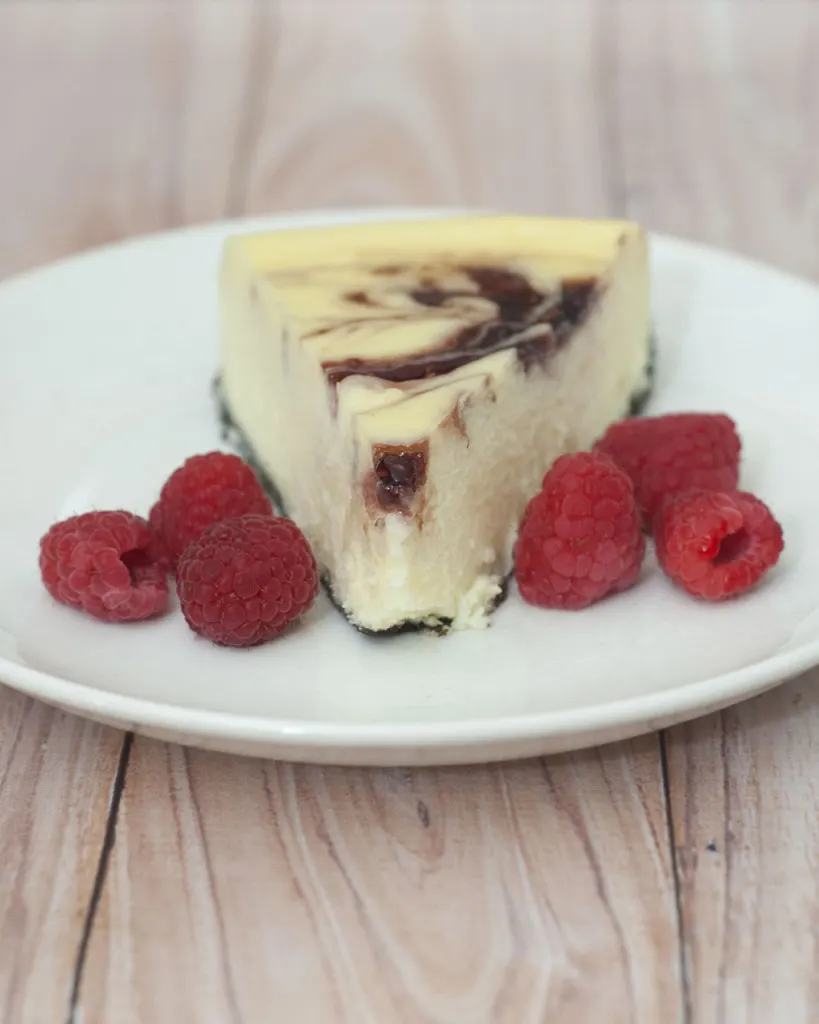 This white chocolate cheesecake is pretty much my "signature dessert" among my friends and family. It's been a huge hit since the first time I made it, and it's been requested quite often ever since. I change it up by using a plain graham cracker crust and different flavors of preserves, but chocolate and raspberry has always been my favorite combination.
The secrets to a perfect cheesecake are (1) have ALL of your ingredients at room temperature before you begin mixing; (2) scrape, scrape, scrape the bowl every step of the way, and (3) it might be a pain, but use a water bath. The water bath helps ensure the cheesecake cooks evenly throughout, and an evenly baked cheesecake is less likely to crack.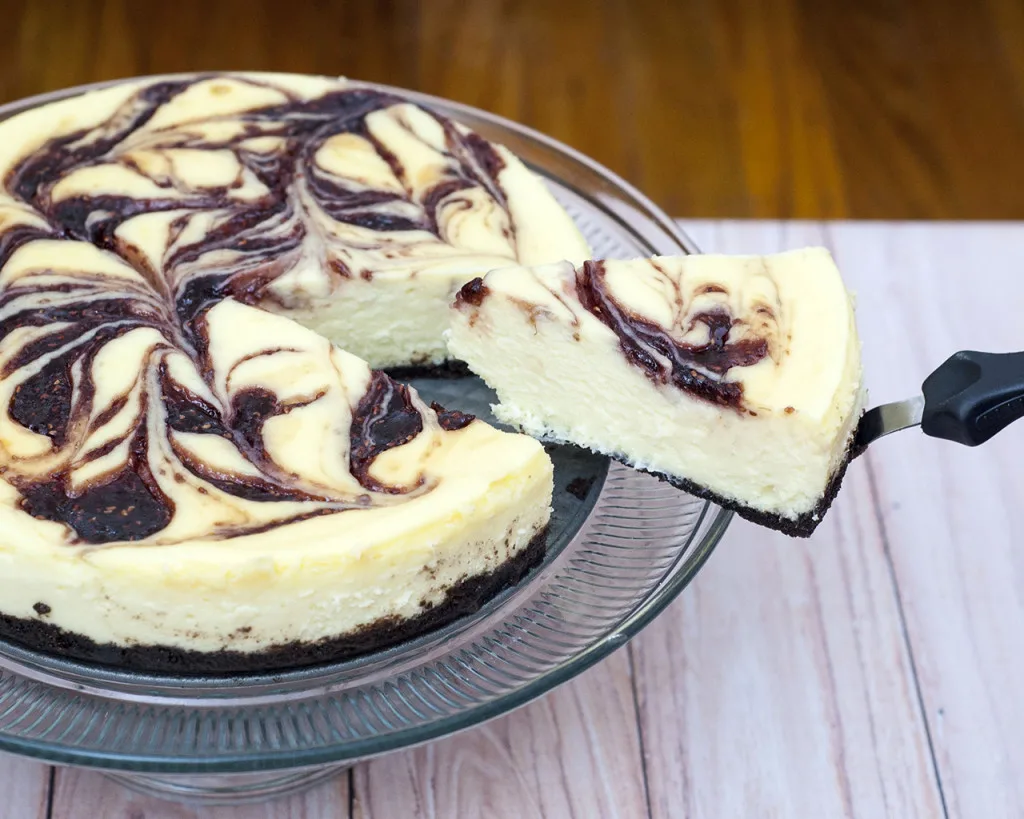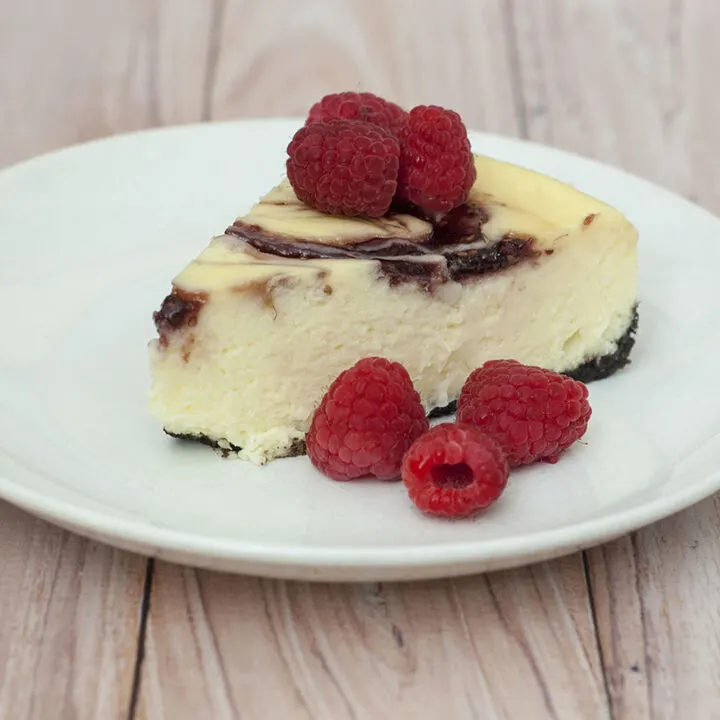 White Chocolate Raspberry Cheesecake
Ingredients
For the crust:
8 to 9 full-size sheets chocolate graham crackers
3 tablespoon sugar
¼ cup unsalted butter, melted
For the filling:
24 oz cream cheese, at room temperature
½ cup sugar
3 eggs, at room temperature
⅓ cup sour cream, at room temperature
1 teaspoon vanilla extract
12 oz white chocolate chips, melted and cooled slightly
¼ cup raspberry preserves, melted and cooled slightly, seedless preferred
Equipment needed:
9- inch springform pan
12- inch cake pan
A kettle of boiling water
Instructions
Preheat oven to 325 degrees. Line a 9-inch springform pan with two layers of tin foil.
Pulse the graham crackers and sugar in a food processor until reduced to fine crumbs. Slowly stream in the butter while continuing to pulse, until the crumbs form clumps.
Scrape the crumbs into the prepared springform pan, and tamp down to form a crust all over the bottom and slightly up the edges.
In the bowl of a stand mixer, beat the cream cheese until smooth. Gradually add the sugar and beat until fully incorporated. Scrape down the sides of the bowl.
Add the eggs one at a time, beating until fully incorporated and scraping down the bowl between each addition.
Add the sour cream and vanilla extract. Beat until well-mixed, and scrape down the bowl.
Add the white chocolate and beat another 30 seconds. Scrape the filling into the prepared springform pan.
Drop the melted raspberry preserves by the teaspoonful in spots all over the top of the filling. Use a thin knife to swirl the preserves into the batter.
Place the springform pan inside the 12-inch cake pan, slightly off to one side. Pull the rack slightly out of your oven, and place the 12-inch cake pan on it, with the cheesecake at the back. Very carefully pour the boiling water from the kettle into the cake pan, ensuring no water splashes into the springform pan.Center the springform pan in the cake pan, and slide the rack all the way into the oven.
Bake for 1 hour 20 minutes, or until the edges are set but them middle is still slightly jiggly. Use oven mitts to remove the springform pan from the cake pan and set it on a wire rack to cool to room temperature.
Once cool, run a thin knife around the edges of the springform pan to loosen the cheesecake from the pan. Chill the cheesecake in the refrigerator for at least 4 hours, or overnight.
Take the cheesecake out of the fridge at least 30 minutes before you plan to serve it. For clean slices, run a chef's knife until very hot water for a few seconds, wipe dry with a kitchen towel, then slice. Repeat with more hot water and wiping dry between every cut.
Nutrition Information:
Yield:

10
Serving Size:

1
Amount Per Serving:
Calories:

608
Total Fat:

43g
Saturated Fat:

25g
Trans Fat:

0g
Unsaturated Fat:

14g
Cholesterol:

153mg
Sodium:

299mg
Carbohydrates:

49g
Fiber:

0g
Sugar:

44g
Protein:

9g
I am not a certified nutritionist. This nutrition information is automatically calculated by third party software and is meant as a guideline only.
Adapted from AllRecipes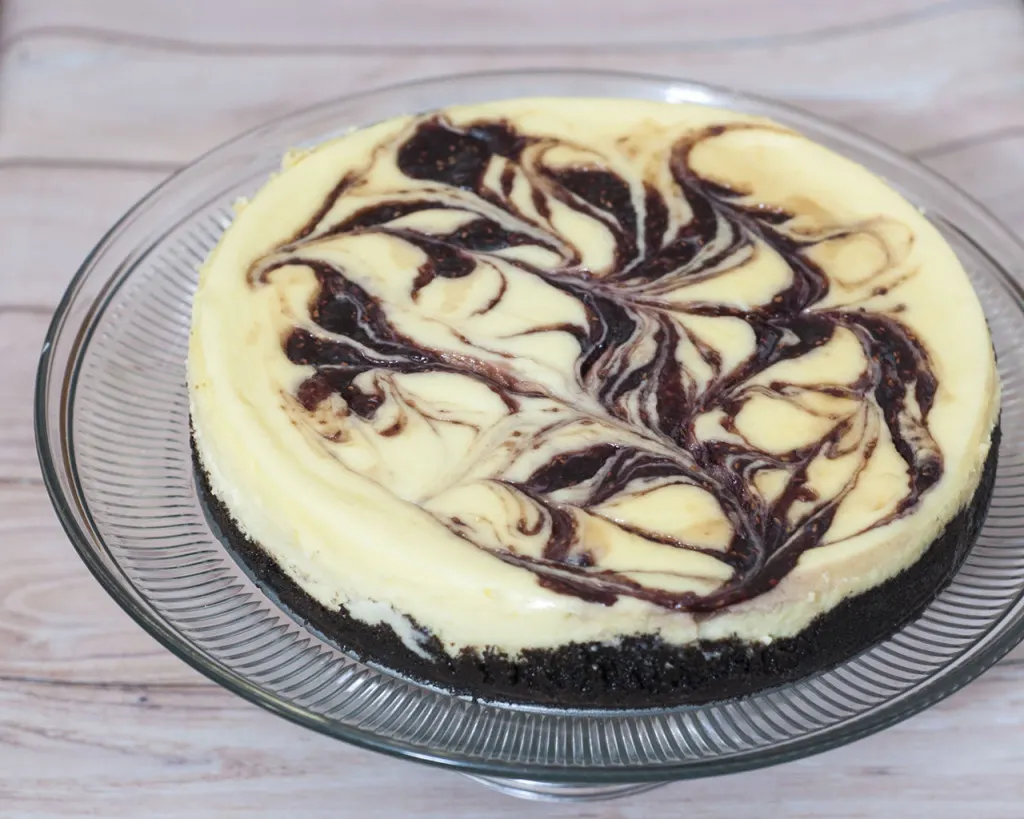 Get more Grandparents Day recipes from these #SundaySupper bloggers:
Sweets that are the Sweetest
Savory Meals with Special Memories