I have something I need to confess: I have an addiction. I am addicted to Walkers Shortbread.
Walkers is a Scottish company (shortbread is a Scottish Christmas cookie). I remember when I was growing up, you could only get Walkers in the U.S. around Christmastime. Since I had family living in Scotland, and relatives were always traveling over there, or visiting here, they would bring Walkers shortbread (and other delicious goodies you can't regularly find in the U.S., like Curly Wurlies, Wispa bars, Flake bars, and my favorite, Crunchie bars).
I've started to notice Walkers becoming available year-round, and Trader Joe's sells boxes of their pure butter shortbread cookies. No lie, I can eat an entire box in one sitting. And unfortunately, that habit was starting to get expensive.
I've been searching for a decent homemade shortbread, and started with this one. Like most Scottish cookies, traditional shortbread is a dry, crumbly biscuit. The recipe I made came out much more moist, though was very crumbly.
Although these were not comparable to Walkers Shortbread, they're still a good cookie, and would make a nice base for flavored shortbread — add some citrus zest, some espresso powder, or even some fresh herbs.
They'd probably also work well as the base of a tart, or bar cookie (like the caramel shortbread bars I made last year).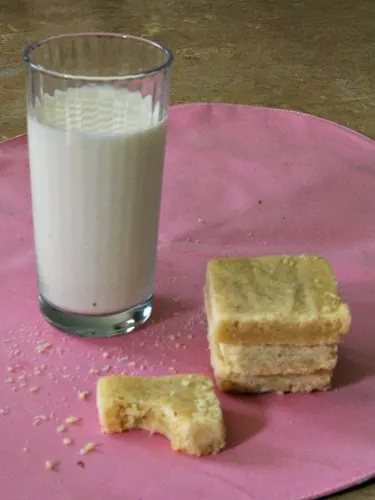 Vanilla Bean Shortbread Cookies
Adapted from Sweet Lavender Bake Shoppe
Ingredients
2 cups (8 ½ oz) all-purpose flour
½ teaspoon salt
2 sticks (8 oz) unsalted butter, room temperature
½ cup (2 oz) confectioners sugar
1 vanilla bean, split and scraped (save pod for another use)
Directions
In a medium mixing bowl, sift together the flour and the salt.
In the bowl of a stand mixer, cream together the butter, confectioners sugar and the scrapings from the vanilla bean.
Add the flour/salt mixture to the butter, and stir just until all the dry ingredients are moistened.
Line an 8x8 baking pan with parchment paper, and press the shortbread dough into the pan. Spread a layer of plastic wrap over the surface of the dough, and press down with another baking pan. Leave the plastic wrap in place, and chill the dough for at least ten minutes.
Preheat your oven to 325 degrees.
Bake the shortbread for 25 to 30 minutes, just until golden brown around the edges.
Let cool in the pan on a wire rack for 10 minutes. Loosen the edges with an offset spatula, then gently flip the pan over and ease the cookies out. Let cool another 10 minutes.
Cut into shapes with a pizza cutter and let cool completely before storing.