Hello, readers! Did you have a good Labor Day? We had dinner with my family on Saturday. Got to see the new addition on my parents' house, and their amazing new kitchen. TONS of cabinet space, TONS of counter space — seriously, they have a new kitchen island that my dad calls "the aircraft carrier."
On Sunday, I took Liam to a friend's house for a toddler playdate. He had so much fun, got to play with some new-to-him toys, and passed out asleep in the car on the way home.
It was for that playdate that I made these strawberry-Nutella hand pies. Hand pies are an awesome snack for casual parties and get-togethers. They are super easy to make, and you can even make a variety of flavors with one batch of pie dough.
Don't over-fill these, or else the filling will spill out during baking, making a huge mess.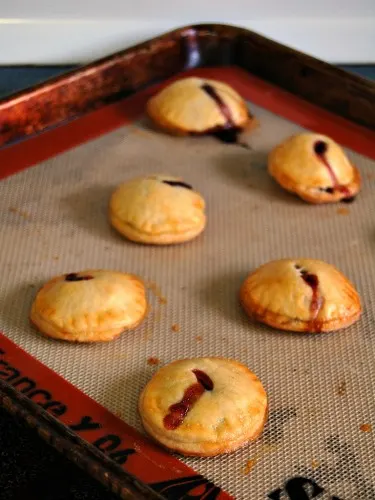 Strawberry-Nutella Hand Pies
Barely adapted from Bran Appetit
Ingredients
1 ¼ cups (5 ⅜ oz) all-purpose flour
½ teaspoon salt
½ teaspoon sugar
1 stick (4 oz) unsalted butter, cut into cubes and frozen
6 to 8 tablespoon ice-cold water
3 to 4 strawberries, tops removed and cut into thin slices
About ¼ cup Nutella
One egg (optional, for egg wash)
Directions
Place the flour, salt and sugar in a food processor and pulse a few times to combine and aerate.
Add the frozen cubes of butter and process until the mixture resembles coarse crumbs.
Add 6 tablespoon of the water and process until all mixture is moist and forms large clumps, adding another tablespoon or two of water if needed.
Scrape the mixture onto a clean work surface, gather into a ball and press into a disc. Wrap in plastic wrap and chill for at least 30 minutes.
Preheat your oven to 375 degrees.
After 30 minutes, take the dough out and roll into a large circle ⅛ of an inch thick. Use a circle cutter about 3 inches in diameter to cut an even number of circles of pie dough.
Place half of the circles on a sheet pan lined with parchment paper or a silicone baking mat.
Place a dollop (about half a teaspoonful) of Nutella on each circle. Place a strawberry slice on each. Top with a second pie dough circle.
Seal each circle by pressing down around the edges with the tines of a fork.
Crack the egg into a small bowl and beat with two tablespoons of water. Use a pastry brush to brush the top of each circle with a thin layer of the egg.
Bake for 20 to 30 minutes, until golden brown on top.