I was so excited when I went to the farmers market the last Saturday in August — honeycrisp apples were back! If you've never had this newer variety of apple, you're really missing out. They are both tart, and sweet with a honey-like flavor.
Aside from eating them out-of-hand, honeycrisps are also excellent baking apples! They hold their shape well for pies and strudels, yet also cook down well for applesauce. This recipe takes advantage of both of those qualities.
This is called a breakfast pastry, and appears in the "breakfast pastry" section of the cookbook where it was originally published (The Professional Pastry Chef by Bo Friburg), but in the years I've been making it, I've never actually eaten it for breakfast. It's always been served as a sweet snack or dessert at many different kinds of get-togethers, from a work potluck lunch to a post-funeral reception.
In the past, I've made this with Granny Smith apples; Empire, Gala, and McIntosh apples would also work well.
One other plus to these pastries is that they are freezer-friendly. Follow the recipe up until you fold the dough strips over the apple filling, then place on a baking sheet and freeze until solid, then wrap in a double-layer of plastic wrap, and freeze for up to 3 months. When ready to bake, thaw at room temperature for 30 minutes, then bake as directed.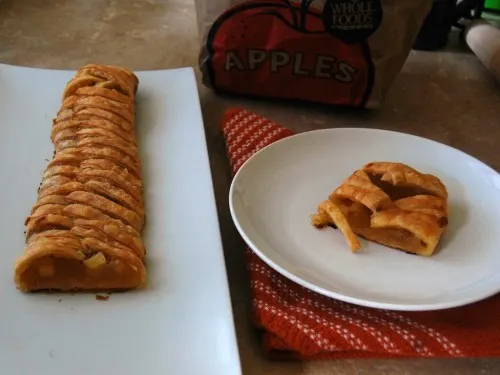 Honeycrisp Apple Breakfast Pastry
Adapted from The Professional Pastry Chef by Bo Friburg
Ingredients
1 sheet frozen puff pastry dough, thawed
1 ½ pounds Honeycrisp apples
⅔ cup sugar
2 teaspoon lemon juice
2 tablespoon water
Egg wash (optional)
Simple icing (optional)
Directions
Peel and core the apples. Chop ⅔ of the apples into ½-inch cubes. Chop the remaining apples into ¼-inch cubes.
Place the ½-inch apple cubes in a medium saucepan, and add the sugar, lemon juice and water. Stir to combine. Set over medium heat, and cook until the apples begin to break down and the juices begin to thicken, about 20 minutes.
Add the ¼-inch apple cubes and cook another 5 minutes, until the smaller chunks are soft. Pour the mixture into a storage container and set aside to cool, or refrigerate until needed. Can be made a day ahead.
Preheat your oven to 375 degrees. Place one sheet pan on top of another, and line the top one with a sheet of parchment paper.
On a floured surface, roll the puff pastry out to 13 inches long by 8 inches wide. Slide the rectangle onto the prepared baking sheet.
Gently fold the dough in half. Do not press down. Using a pizza cutter, cut strips about ¼ to a ½-inch wide and 2 inches long (stay at least 2 inches away from the fold). Gently unfold the pastry. You should have a solid strip of pastry down the middle with "fringe" on each side.
Spoon the filling down the center of the pastry. You may not need all of it.
Take a strip from each side of the filling, and fold one, then the other, on top of the filling, slightly at an angle, so that they meet and just barely overlap in the center. Alternate with the remaining strips, all the way down the pastry (see photo below).
If you'd like a shiny finish, beat one egg with two tablespoons of water, and use a pastry brush to apply a thin layer of the egg wash to the top of the pastry.
Bake for 35 minutes, until golden brown and the pastry is fully baked.
Remove from the oven and cool to room temperature.
If you choose, before serving, place ½ a cup of powdered sugar in a small mixing bowl.
In a small cup, mix together 2 ¼ teaspoon corn syrup with 2 tablespoon hot water. Pour the liquid over the powdered sugar and mix until you have a drizzle-able consistency, adding more powdered sugar if too thin; more water if too thick. Drizzle over the breakfast pastry.