If my first (food) love is chocolate, my second love is cheese. It started during my trip to France with my culinary school in 2007. We had a tour each morning, and a four- or five-course meal every night. In between our entree and dessert, we'd always have a cheese course. I tried to suggest structuring our family meals the same way once I got home, but it never caught on.
Living in Philadelphia, I'm lucky to be able to visit DiBruno Brothers when I need cheese.
I don't even remember the first time I visited DiBruno Brothers. The store was opened as a grocery store in 1939 by two Italian immigrant brothers, Danny and Joe DiBruno. As larger supermarket chains took business away from their store, they decided to focus on cheese.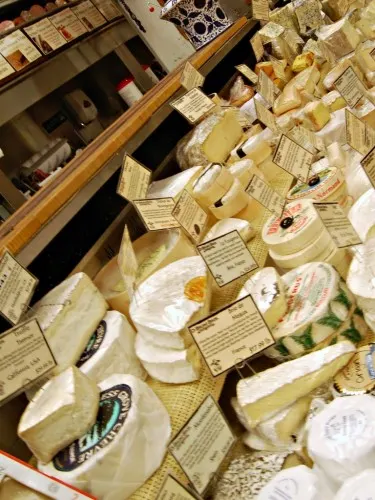 It's been 75 years, and DiBruno Brothers has opened four other locations, and have over 10 times the employees they started with in 1939. But they are still as customer-oriented as they were in the beginning. Every employee I've ever encountered is knowledgeable and helpful. I went in to one location asking for cotija cheese. They didn't carry it, but after asking what I planned to do with it, they were able to suggest a cheese with a similar texture and flavor (ricotta salata). When I told them my favorite cheese was Brie, but wanted to try something new, they gave me a German soft cheese called Anton's Red Love. YUM.
Why all the DiBruno Brothers love today? Well, because I have a copy of the new cookbook "DiBruno Brothers House of Cheese" by Tenaya Darlington, courtesy of Running Press, to give away.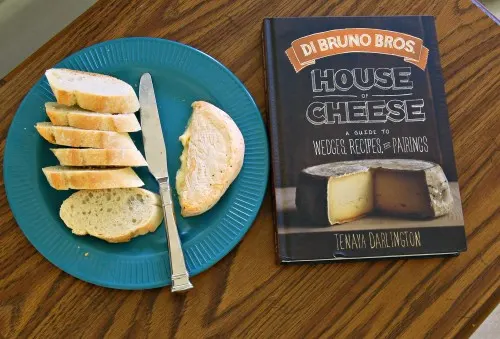 Tenaya is a fellow DiBruno Brothers customer, and writes the blog Madame Fromage. She worked with the cheesemongers of DiBruno Brothers to put together a complete "how to" guide on cheese. The book contains ideas for cheese plates; beverage pairings (more than just wine); recipes (some that use cheese, and some for foods and drinks to serve with cheese); how to buy, serve and store cheese; and tasting notes on 170 different kinds of cheese. I love her descriptions of each cheese's personality: "feisty but comforting, like the perfect mother-in-law" (Ardrahan); "a sexy librarian's cheese – all horn rims and whispers" (Harbison). This book is educational, but truly entertaining as well.
But wait! There's more!
The winner will also receive a gift box courtesy of DiBruno Brothers! The gift box contains four different kinds of cheese spreads (Abbruzze; Roasted Garlic and Herb; Port Wine; and Provolone & Chianti), a package of DiBruno's own twice-baked olive oil crostini, and 2 spreading knives. These cheese spreads can be used in recipes, or eaten on their own.
If you're not the lucky winner of this giveaway, head over to DiBruno Brothers' website, www.dibruno.com, and sign up for their mailing list -- they'll email you a coupon code for $15 off a $60 online purchase.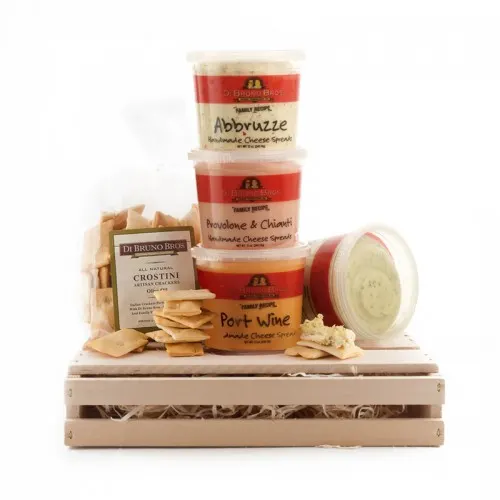 Below is one of the fantastic recipes from the book. It's a simple yet delicious appetizer: toasted baguette slices are topped with a smear of goat cheese and topped with sliced dried figs, thyme, pepper and honey. Ms. Darlington suggests pairing these with Prosecco (yum), wheat beer (my favorite!) or Mojitos. Can I just take one of each?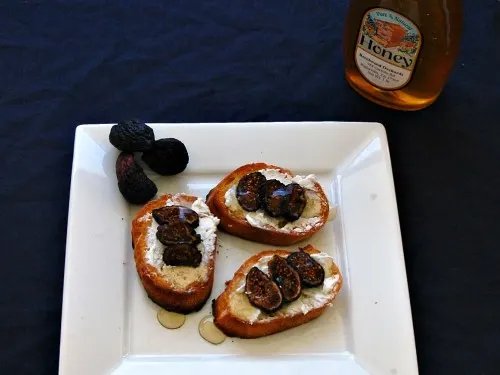 Below the recipe is the Rafflecopter giveaway widget. The only required entry is a comment on this blog post; all other entries are optional. The giveaway will remain open until 11:59 p.m. (Eastern Time) on Saturday, September 14, 2013. Please see the sweepstakes rules at the bottom of this post. Good luck!
Fig and Goat Cheese Crostini
Barely adapted from DiBruno Brothers House of Cheese cookbook
Ingredients
1 baguette, cut into ½-inch slices
4 tablespoon extra-virgin olive oil
8 ounces goat cheese
Honey, for drizzling
1 pound dried mission figs, sliced
Fresh thyme, for garnish
Freshly ground black pepper
Directions
Preheat your broiler on high.
Place the baguette rounds on a baking sheet. Use a pastry brush to spread a little olive oil on each slice. Slide under the broiler for 3 to 5 minutes, just until golden brown around the edges.
Remove the sheet from the oven, and use a pair of tongs to flip each baguette slice over. Brush the second side of each with olive oil, and place back under the broiler for another minute or two.
Spread a little goat cheese on each crostini. Sprinkle with fresh thyme leaves and black pepper, then arrange a few fig slices over top. Finally, drizzle with honey and serve.
Number of servings (yield): 8
Terms & Conditions
* Odds of winning depend on total number of entries received
* Giveaway ends at 11:59 p.m. Eastern Time on Saturday, September 14, 2013
* Winner will be selected at random by the Rafflecopter widget
* Winners will receive one (1) copy of "DiBruno Brothers House of Cheese" by Tenaya Darlington (valued at $24.99) and one (1) cheese spread gift basket (valued at $34.99)
* Prize must be claimed within 7 days or it will be forfeited
* Prize can only be shipped to a US address
* Prizes will ship separately
* Official giveaway rules can be found here