Give your wallet a break and make your own pumpkin spice latte at home with this DIY pumpkin spice syrup!
Labor Day is over. There is not a 90-degree high temperature in the forecast all this week. While autumn may not officially start until Sunday, let's be real: it's fall.
I'm not sad about it. Summer 2013 in Philly was either HOT or WET (sometimes both). It's nice to wake up to a crisp, sunny, fall morning and pull on a cozy hoodie and jeans. Yes, it's getting darker earlier, but I'm happy to not get drenched in sweat 5 seconds after stepping outside.
Best of all? Pumpkin spice latte season. I've already had, oh, 6 already. Combine my love of pumpkin spice lattes with the fact that Starbucks has the best croissants, and those coffee shops are a dangerous place for my wallet.
So, I looked around and saw that many have made pumpkin spice syrup at home. "But I don't have an espresso machine!" you might say. Neither do I. There are other means of making espresso at home, from instant granules to a stovetop percolator. There are milk-foaming gadgets, or you can do it manually with a whisk. But this post is just about the pumpkin spice syrup.
Not only does this syrup taste great, it smells AMAZING while it is simmering. Like potpourri for the whole house. I added a tablespoon of it to my morning cup of regular coffee, along with a little sweet-cream-flavored creamer, and it was the perfect beverage for a chilly, almost-autumn morning.
If you like the concept of pumpkin spice lattes, but store-bought ones are too strong or too sweet, you can tweak this recipe to suit your tastes. Add less syrup, decrease the sugar, etc.
Kept in an airtight container in the refrigerator, this syrup will last about a month.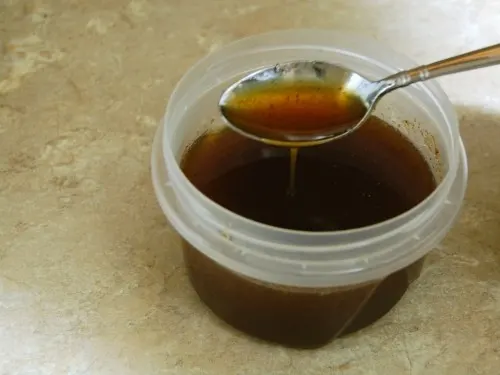 Pumpkin Spice Syrup
Slightly adapted from Cheerios and Lattes
Ingredients
1 ½ cups water
1 ½ cups sugar
4 (3-inch) cinnamon sticks
½ teaspoon ground cloves
½ teaspoon ground ginger
½ teaspoon ground nutmeg
2 tablespoon pumpkin puree (not pie filling)
Directions
In a medium saucepan, bring the water and sugar to a simmer over medium heat. Simmer until sugar dissolves (should not feel gritty if you dip two fingers in it and rub them together).
Add the cinnamon sticks, cloves, ginger, nutmeg, and pumpkin puree, and whisk to combine. Simmer over medium heat for 8 minutes.
Take the saucepan off the heat and let cool to room temperature. At first, the mixture will look thin. It will thicken as it cools.
Strain the syrup through a fine-mesh sieve into a storage container, and store in the refrigerator.