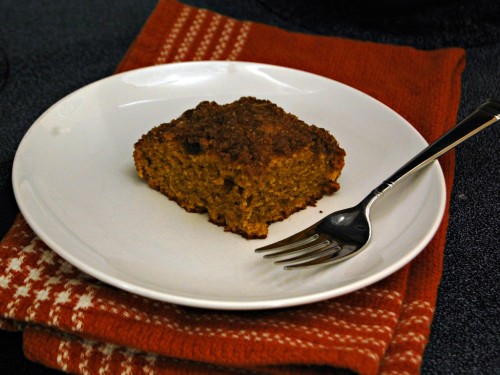 I'm a bad blogger. I haven't been posting as much as usual, and I promise, I have a good reason. I hope to be able to tell you next week.
I'm also a bad blogger, because the latest recipe swap (hosted by A Taste of Home Cooking) due date totally snuck up on me, mostly because of the secret referenced above. It's completely consumed my life. This recipe swap was a Blogger's Choice, and I was assigned Dawn's blog, Simple Gourmet Cooking. I've been reading Dawn's blog for about two years, and I love her recipes and photographs. I needed something fast, so I went to her breakfast tag. The second recipe that came up was a pumpkin coffee cake with streusel topping. Pumpkin?! Perfect!
So I find myself here, at nearly 10 p.m. on Thursday night, baking a breakfast cake, photographing it, and writing up this post.
Don't get me wrong, I love baking. I love breakfast cake (an excuse to eat cake for breakfast!). I love pumpkin. Therefore, this cake was worth it. The cake is soft and moist, with a nice crunchy topping for some texture. I was just sad that I ran out of butter and powdered sugar (how the hell does that happen???) and wasn't able to make the icing drizzle.
It's very fast to put together, making it easy for last-minute potlucks and get-togethers, though it does take an hour to bake. But like I said, it's worth it!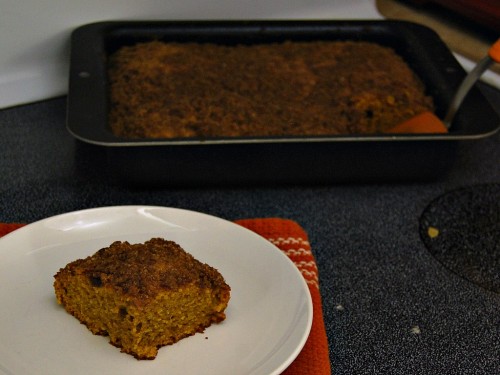 Pumpkin Breakfast Cake
Recipe source: Simple Gourmet Cooking
Ingredients
For the Cake
½ cup (1 stick) unsalted butter, softened
1 ½ cups (10 ½ oz) sugar
15 ounces pumpkin puree
3 large eggs
2 ½ cups (10 ⅝ oz) all-purpose flour
2 teaspoon baking powder
2 tablespoon pumpkin pie spice
½ teaspoon kosher salt
For the Streusel Topping:
¼ cup (1 oz) flour
¼ cup (1 ¾ oz) sugar
¼ cup (1 ⅞ oz) light brown sugar, packed
½ teaspoon cinnamon
2 tablespoon butter, melted
Directions
Preheat oven to 350 degrees. Grease a 10x10 baking pan.
In the bowl of a stand mixer, cream together the butter and the sugar. Add the pumpkin and the eggs, and beat until well-incorporated.
In a small bowl, whisk together the flour, baking powder, pumpkin pie spice and kosher salt.
Add the dry ingredients to the stand mixer bowl, and mix just until incorporated.
Make the streusel: In a small bowl, whisk together the flour, flour, sugar, brown sugar, and cinnamon. Add the melted butter and mix until all ingredients are moistened and the mixture looks crumbly.
Scrape the cake batter into the prepared baking pan and spread into an even layer. Sprinkle the streusel topping over the cake batter.
Bake for 50 to 60 minutes, until cake springs back when touched and a cake tester comes out clean when inserted in the middle of the cake.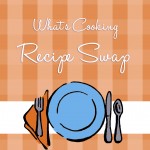 To see more recipes from the swap, click the thumbnails below!