Pumpkin spice Rice Krispie Treats take on seasonal flavor with pumpkin puree, cinnamon, nutmeg, and cloves. Then they're finished with a drizzle of white chocolate.
Hello, Redhead Baker readers! I'm so sorry that the site was down all last week. I underestimated the difficulty of switching hosting sites. Oops...
Anyway, can you believe that tomorrow is nearly October?? I have at least two fun things planned on the blog in October, the first is coming up later this week. I hope you like bell peppers!
In the meantime, I have pumpkin on the brain, BIG TIME. There are 15 different brands of pumpkin beer in my refrigerator. Yes, 15. There were 16, but I drank one already. And there's still two or three more I want to buy.
I also still have yet to make my favorite fall soup, cream of pumpkin. And just about every recipe pinned on my All the Pumpkin Things! Pinterest board.
Well, every recipe except one — because I already made it. They announced a rather last-minute potluck at work, so I wanted something seasonal yet easy and approachable. As I was scrolling down the Pinterest board, I saw the Pumpkin Spice Rice Krispie Treats I had pinned from The Comfort of Cooking. Familiar. Easy. Seasonal. Perfect!
They were a huge hit, I'm glad I made a double batch! It's like Rice Krispies wrapped in pumpkin pie flavor!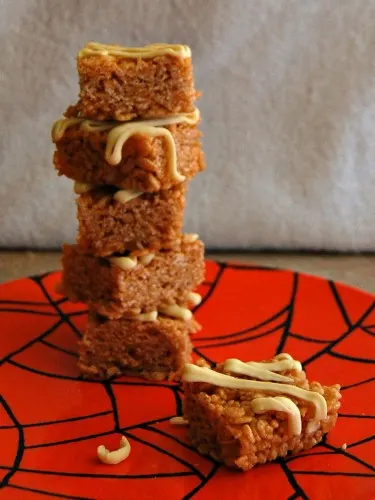 Pumpkin Spice Rice Krispie Treats
Recipe from The Comfort of Cooking
Ingredients
Nonstick cooking spray
3 tablespoon unsalted butter
¼ cup pumpkin puree
1 (10 oz.) bag mini marshmallows
¼ teaspoon vanilla extract
½ teaspoon ground cinnamon
¼ teaspoon ground nutmeg
⅛ teaspoon ground cloves
⅛ teaspoon salt
6 cups (6 oz) crispy rice cereal
2 oz. white chocolate, melted (optional)
Directions
Spray a 9x9 baking pan with nonstick cooking spray, then line with wax paper, letting it hang over the edges. Set aside.
In a large saucepan, melt butter over medium heat. Stir in the pumpkin puree and cook until warmed through. Add in the marshmallows, stirring frequently until melted. Remove from heat and stir in vanilla, cinnamon, nutmeg, cloves and salt.
Let the marshmallow mixture cool at room temperature for 20 minutes. Add the rice cereal and gently stir until combined.
Pour the mixture into prepared baking pan, cover with another layer of wax paper, and use another baking pan to evenly press the mixture into the pan (or moisten your clean hands and press the mixture evenly into the pan). Refrigerate to set for at least 1 hour. Cut into squares and drizzle with melted white chocolate, if you choose.
Store in an airtight container for up to a week.