Creamy pumpkin soup with hints of cinnamon and ginger is my favorite comfort food on a chilly night.
Though fall officially began a little over 3 weeks ago, we've only recently had "real" fall weather: cooler temps, lower humidity. Jeans-and-hoodie weather. Hearty, delicious soup weather.
I only recently have come to love soup. Growing up, I was a chicken-noodle-soup-and-nothing-else girl. I've branched out more. Bisques, chowders, creamy soups . . . I'll almost anything once.
While planning to host my first Thanksgiving in 2008, I decided I wanted to serve soup as a first course. About two months before, I had tasted squash-and-pumpkin soup for the first time, and really enjoyed it. I found a highly-rated recipe for cream of pumpkin soup on AllRecipes.com. I served it as my first course, and everyone loved it! I blogged about it almost two years ago, and it's always been the first soup recipe I make each autumn.
Each time I cook it, I make a few modifications to make it even better, so I've decided to share it with you again. As written below, the recipe makes 6 main-course servings, or 8 first-course servings. I always double the recipe, and freeze some to eat later. If doubling, you'll need a large stockpot to accommodate cooking the soup. I usually serve it with a loaf of warm, crusty French bread.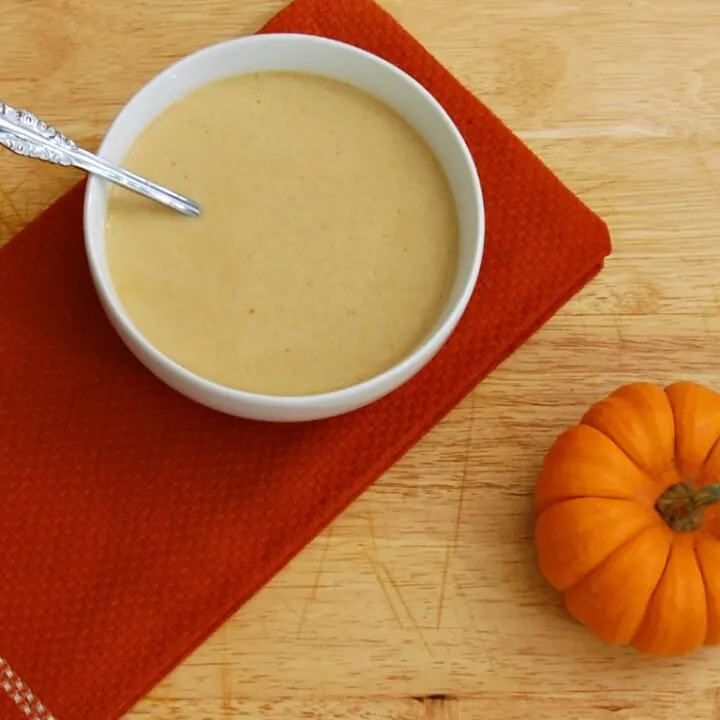 Pumpkin Soup
Ingredients
1 cup finely chopped yellow onion, half of a medium onion
2 tablespoon unsalted butter
29 oz low-sodium chicken broth, two 14 ½-oz cans
15 oz pumpkin puree
½ teaspoon salt
¾ teaspoon ground cinnamon
½ teaspoon ginger
⅛ teaspoon ground nutmeg
⅛ teaspoon ground allspice
⅛ teaspoon ground pepper
⅛ teaspoon cayenne pepper
¼ cup brown sugar, packed
½ cup half-and-half
½ cup 2% milk
Instructions
In a large saucepan or stock pot, melt the butter over medium-high heat, and saute the chopped onion for 2 to 3 minutes, until tender. Add one of the cans of chicken broth, stir well, and bring to a boil. Once it reaches a boil, cover the saucepan, reduce the heat to low, and simmer for 15 minutes.
Remove saucepan from heat, and puree the onions and broth until smooth with an immersion blender. Alternately, cool the broth to room temperature before transferring, in batches, if necessary to a blender and pureeing until smooth. Return the mixture to the saucepan.
Add the remaining can of broth, and the pumpkin, salt, cinnamon, ginger, nutmeg, allspice, black pepper, cayenne, and brown sugar. Stir until all ingredients are blended and the sugar melts. Bring the mixture to a boil. Cover, and reduce the heat to low, and simmer for 10 minutes, stirring occasionally.
Remove the saucepan from the heat and stir in the heavy cream until fully incorporated. Ladle into individual soup bowls. Serve with crusty French bread, if desired.
Adapted from AllRecipes.com