Back in August, I saw a tweet from Cook the Story, asking for bloggers to join her in a "pepper party" — a series of bell-pepper themed posts, sponsored by Divemex. I got excited, because, raw or cooked, I love bell peppers! Raw bell pepper strips dipped in hummus is one of my favorite snacks. Did you know that bell peppers are a good source of Vitamin A, important for vision and immune health, and supports cell growth?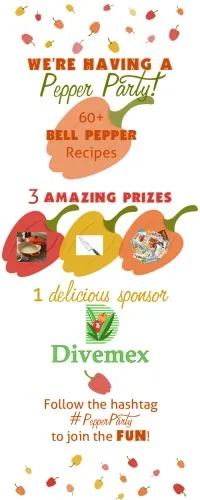 The growers of Divemex specialize in greenhouse grown peppers in state of the art facilities that facilitate the production of the highest quality peppers in some of the safest facilities anywhere. But most importantly, as a Fair Trade Certified company, they have an unwavering commitment to social responsibility that puts workers first. That's a company I'm happy to support.
And to help us celebrate bell peppers, Divemex is offering three amazing prizes, each worth at least $200! Today's prize is a Le Creuset 3 ½ quart signature braiser, retail value of $240. To enter to win, scroll to the bottom of the post, and enter with the RaffleCopter widget.
PLUS, join us for a Twitter Party from 8 p.m. to 9 p.m. Eastern Time, and you could win more prizes! Include the hashtag #PepperParty in your tweet, and you could win one of 10 Divemex pepper corers or 2 veggie grill racks!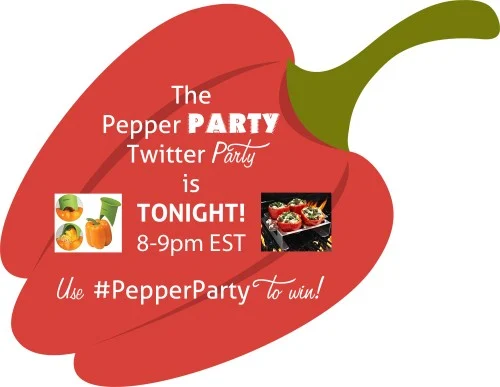 As autumn temperatures settle in, I knew that I wanted my first recipe to be a soup. As soon as I found this recipe for roasted bell pepper bisque, I stopped looking. I love the smoky flavor imparted by roasting bell peppers!
The recipe includes instructions for roasting your own bell peppers. Peeling and seeding the roasted peppers is a little time-consuming, so you can use jarred roasted peppers instead, just rinse off the brine first.
Aside from the peeling and seeding, this is a fast and easy soup to make. You can use any color (or mix of colors) peppers. If you really want to impress, divide the soup base before adding the chopped roasted peppers and pureeing. Pour the different-colored soups into opposite sides of the serving bowl at the same time. Swirl with a toothpick and serve!
This soup is very thick and hearty. It tastes almost creamy, yet there's no cream in the soup. This is all thanks to the potato. The original recipe was listed as serving 4, however, I was full after eating only half of my bowl.
Before we get to the recipe, don't forget to check out the other #PepperParty posts!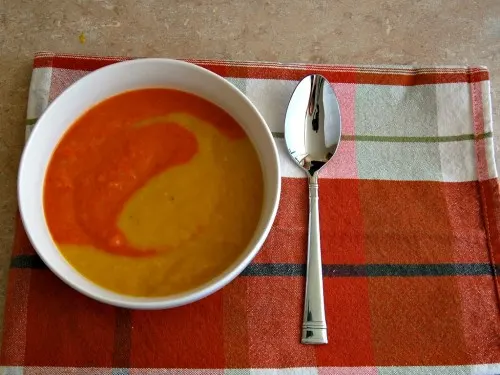 Red and Yellow Bell Pepper Soup
Slightly adapted from The Huffington Post
Ingredients
4 medium-sized red peppers
4 medium-sized yellow peppers
2 tablespoon unsalted butter
1 leek, white parts only, diced
2 medium russet potatoes, peeled and cut into ½-inch dice, about 2 cups
3 ½ cups unsalted chicken stock
2 sprigs fresh thyme
1 teaspoon kosher salt
1 tablespoon apple cider vinegar
Directions
Preheat your oven to 350 degrees and line a baking pan with tinfoil.
Lay the bell peppers on their sides on the baking pan. Roast the peppers for 40 minutes, turning once with tongs halfway through.
Once roasted, transfer the peppers to a large bowl and cover the bowl with plastic wrap. Let sit for 30 minutes. The steam will help loosen the skin.
Peel the waxy skin from the peppers (be careful, they will still be hot). Pull the stems from the center and shake out what seeds you can, and discard. Split the peppers in half to get out the remaining seeds. Chop the peppers. Set aside.
In a large saucepan or stockpot, melt the butter over medium heat. Add the sliced shallots and saute until soft, about 4 minutes. Add the potatoes, chicken stock, thyme and salt. Increase the heat slightly, until the stock comes to a simmer. Cook at a simmer, uncovered, for 20 minutes.
Remove the thyme sprigs, and stir in the cider vinegar. Puree the mixture with an immersion blender (or cool the mixture and puree in a blender or food processor).
Divide the soup base in half, and add the red peppers to one half and the yellow peppers to the other. Puree each half separately.
Number of servings (yield): 4 to 6