It's Day 2 of the Pepper Party, sponsored by Divemex! I loved looking at all of Monday's pepper posts, and I hope you did, too! What was your favorite? I can't wait to try the Tri-Pepper Quesadillas with Creamy Chipotle Sauce by Mom's Test Kitchen!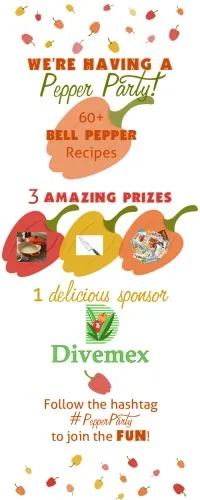 The growers of Divemex specialize in greenhouse grown peppers in state of the art facilities that facilitate the production of the highest quality peppers in some of the safest facilities anywhere. But most importantly, as a Fair Trade Certified company, they have an unwavering commitment to social responsibility that puts workers first.
In addition to more bell pepper recipes, we also have a new giveaway prize: a Wusthof Classic 8" Chef's Knife, valued at $190. A good chef's knife is essential in the kitchen, as it can do 90% of all the chopping, slicing and dicing you need to do. Scroll down to the bottom of the post to the Rafflecopter widget to enter to win!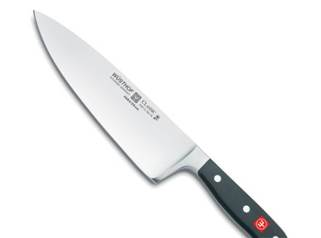 My recipe today is an appetizer, and a really easy one to make. As written, it servers 4 to 6 people, but it's very easy to double or triple to serve more.
And let me tell you, thanks to all the herbs and spices, this smells amazing while cooking! Definitely allow the mixture to cool to room temperature as directed — this allows the flavors all the herbs and spices to steep into the oil.
The softness of the sauteed peppers contrasts with the crunchiness of the baguette toasts. The original recipe calls for toasted pine nuts, which I omitted, but I think they would have added more crunch and more flavor, so I encourage you to include them.
Before I get to the recipe, don't forget to check out all of the other Pepper Party posts!

Goat Cheese with Bell Pepper Spread
Adapted from What's Cooking America
Ingredients
4 tablespoon extra-virgin olive oil, divided
¼ cup red bell pepper, diced (about a quarter of a medium pepper)
¼ cup yellow bell pepper, diced (about a quarter of a medium pepper)
¼ cup orange bell pepper, diced (about a quarter of a medium pepper)
2 large garlic cloves, peeled
2 teaspoon chopped fresh rosemary
½ teaspoon coriander seeds
¼ teaspoon fennel seeds
¼ teaspoon coarsely-ground pepper
¾ teaspoon fresh thyme leaves
1 bay leaf
Coarse salt to taste
8 ounces chilled goat cheese, cut into 8 slices
Baguette bread slices, toasted
Directions
In a medium skillet, heat 1 tablespoon of the oil over medium heat. Add the diced bell peppers and sauté for 5 minutes or until softened.
While the peppers are cooking, place the coriander and fennel seeds in a small plastic resealable bag. Seal, and place on a cutting board. Use a heavy skillet or book to smash the bag three or four times to crush the seeds.
Reduce the heat under the skillet to medium-low. Use a microplane to grate the garlic into the skillet, then add the rosemary, coriander, fennel, pepper, thyme, bay leaf, and remaining 3 tablespoons olive oil. Stir, and simmer the mixture for 5 minutes, to blend the flavors. Remove from heat.
Season to taste with coarse salt. Let cool to room temperature.
Remove the bay leaf and discard.
Arrange goat cheese on platter; spoon prepared dressing over the top of them. Serve with baguette slices.
Number of servings (yield): 4