We're wrapping up the Pepper Party today with one more recipe, and one more giveaway! Thanks so much to Divemex for sponsoring this series, and providing these great prizes! I've found some great recipes to try, and I hope you did, too.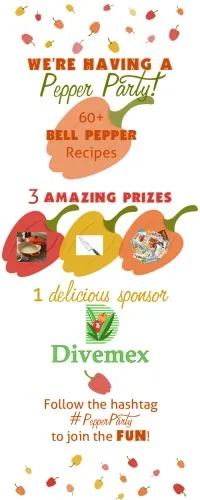 The growers of Divemex specialize in greenhouse grown peppers in state of the art facilities that facilitate the production of the highest quality peppers in some of the safest facilities anywhere. But most importantly, as a Fair Trade Certified company, they have an unwavering commitment to social responsibility that puts workers first.
The final prize (which I wish I could enter to win myself!) is $200 worth of food magazine subscriptions — winner's choice! That's right, you get to choose which food-themed magazines to which you subscribe. Scroll down to the bottom of this post to enter through the Rafflecopter widget.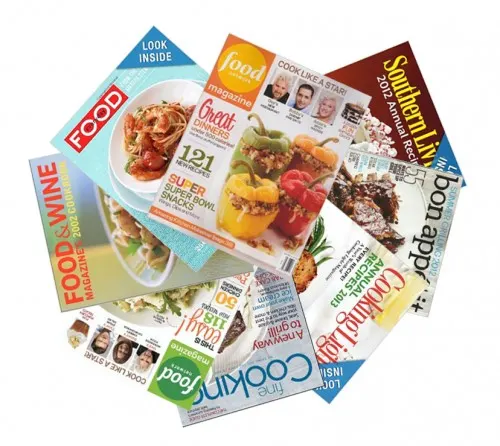 PLUS, join this evening's PinChatLive on Cook the Story's Bell Pepper Recipes Pinterest board for a chance to win one of 10 bell pepper corers, or a subscription to Food Network Magazine! The PinChatLive starts at 8 p.m. Eastern Time. Once you have the Pinterest board open at 8 p.m. ET, a YouTube video window will open up. Watch the live stream, answer the questions by typing in the comment section, and you could win!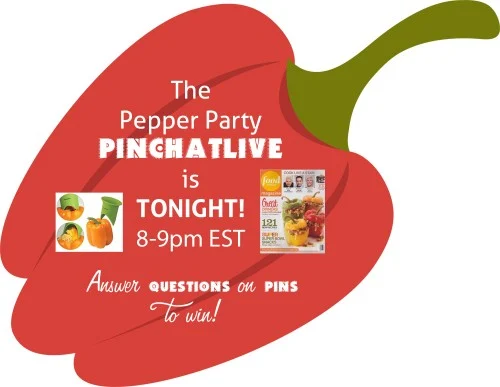 So, for my final recipe, I searched long and hard for a unique bell pepper recipe. I came across a recipe for bell pepper slaw on FoodNetwork.com, so I decided to adapt it slightly to use what I had on hand.
I'm not a fan of traditional coleslaw, but I do like broccoli slaw. It's a slightly more unusual side for burgers, pulled pork sandwiches, or other barbecue fare. I love raw bell peppers, so adding very thinly sliced peppers added even more flavor and crunch!
If you have a food processor with a shredding blade, this recipe is very easy to make. Alternatively, you can use a box grater. Or for an even easier route, see if your grocery store sells bagged broccoli slaw veggies (it's just a bag of shredded veggies — you add the dressing).
This isn't a very creamy coleslaw. If that's more your style, increase the amount of mayo to suit your tastes.
This recipe can be made up to a day ahead of time, and can be stored, tightly covered, in the refrigerator until ready to serve.
Before turning to my recipe, don't forget to check out the links to the recipes from the other Pepper Party bloggers today!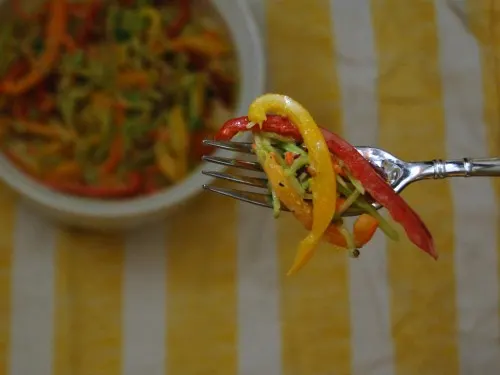 Bell Pepper Broccoli Slaw
Adapted from Food Network
Ingredients
3 tablespoon sugar
Kosher salt
½ cup apple cider vinegar
1 teaspoon celery salt
1 ½ teaspoon mustard seeds
Freshly ground pepper
3 medium bell peppers (1 each red, orange and yellow), cut into very thin strips
2 scallions, chopped
2 heads broccoli, shredded with food proccessor or box grater
2 carrots, peeled and shredded
3 tablespoon whole-grain Dijon mustard
½ cup mayonnaise
Directions
In a medium mixing bowl, combine the sugar, 2 teaspoon Kosher salt and apple cider vinegar. Whisk until sugar dissolves.
Add the celery salt, mustard seeds, ½ teaspoon ground pepper, and whisk.
Add the peppers, scallions, shredded broccoli and shredded carrots and toss with tongs until coated. Refrigerate for at least 1 hour, up to 24 hours.
In a small bowl, whisk together the Dijon mustard and mayo. Toss with the vegetable mixture and refrigerate until ready to serve.
Number of servings (yield): 8