This post is sponsored by Melissa's Produce. All opinions are my own.
Delicata squash and apple stacks are a unique way to enjoy this fall produce. Seasoned with cinnamon and thyme, they blend sweet and savory flavors.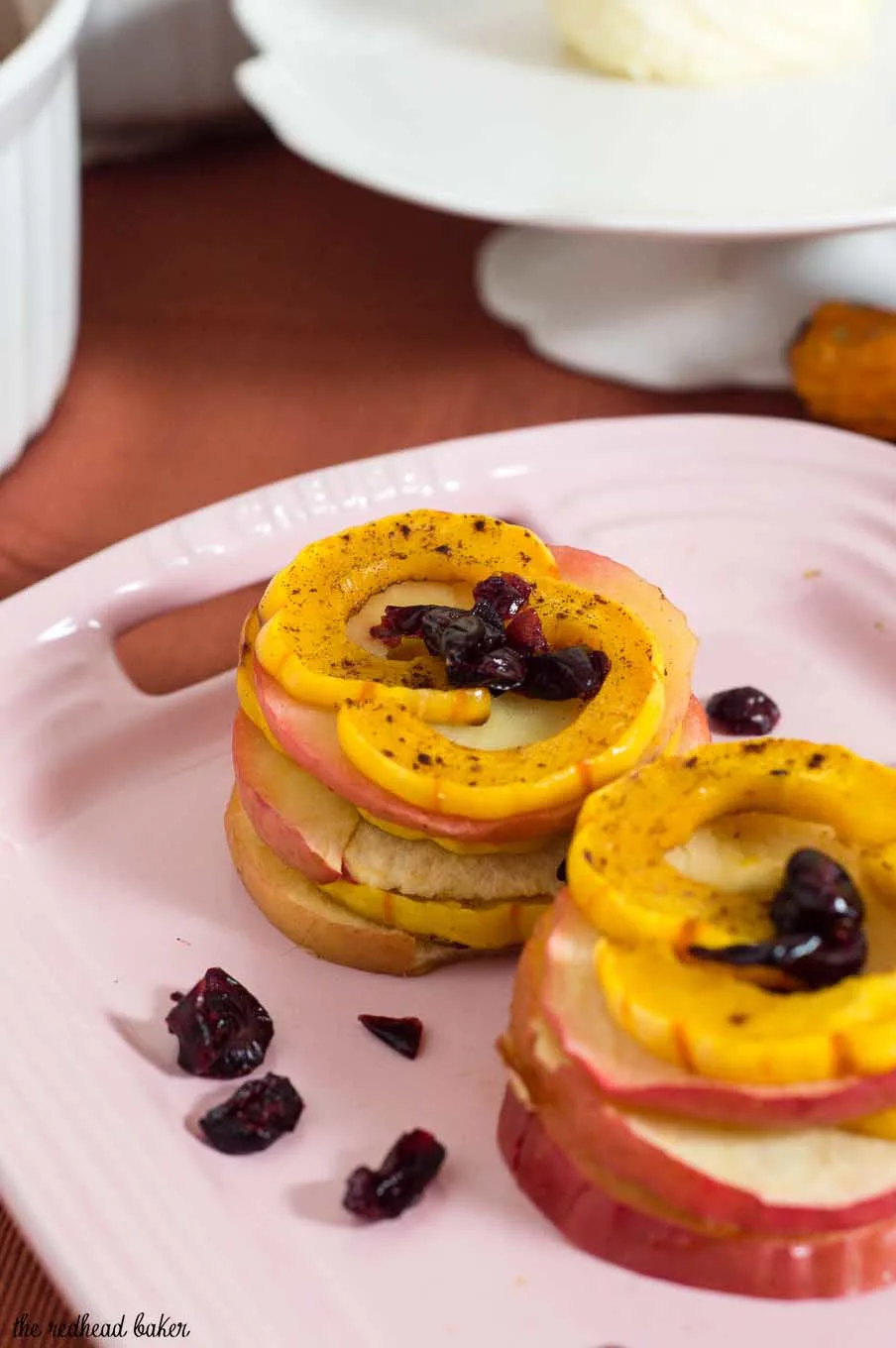 While Spring produce seems to get the lion's share of attention — think pea shoots and fiddlehead ferns — Fall's fabulous produce is sandwiched between the glut of pumpkin recipes for Halloween and the sweets-heavy holiday season. So, this year, a dozen food bloggers have gathered to share recipes and ideas that celebrate the #FabulousFallBounty. Many thanks to our event sponsors: Silpat for a handy silicone mat; Le Creuset for a lovely serving platter; and Melissa's Produce for providing the bloggers with a beautiful box of goodies.
We hope you enjoy our creations using fingerling potatoes; delicata, butternut, and acorn squashes; garlic and shallots; roasted chestnut and steamed beets; fennel and celery root; pears and so much more! Keep an eye on these blogs (in addition to my own!) for inspiration as we rush towards Thanksgiving…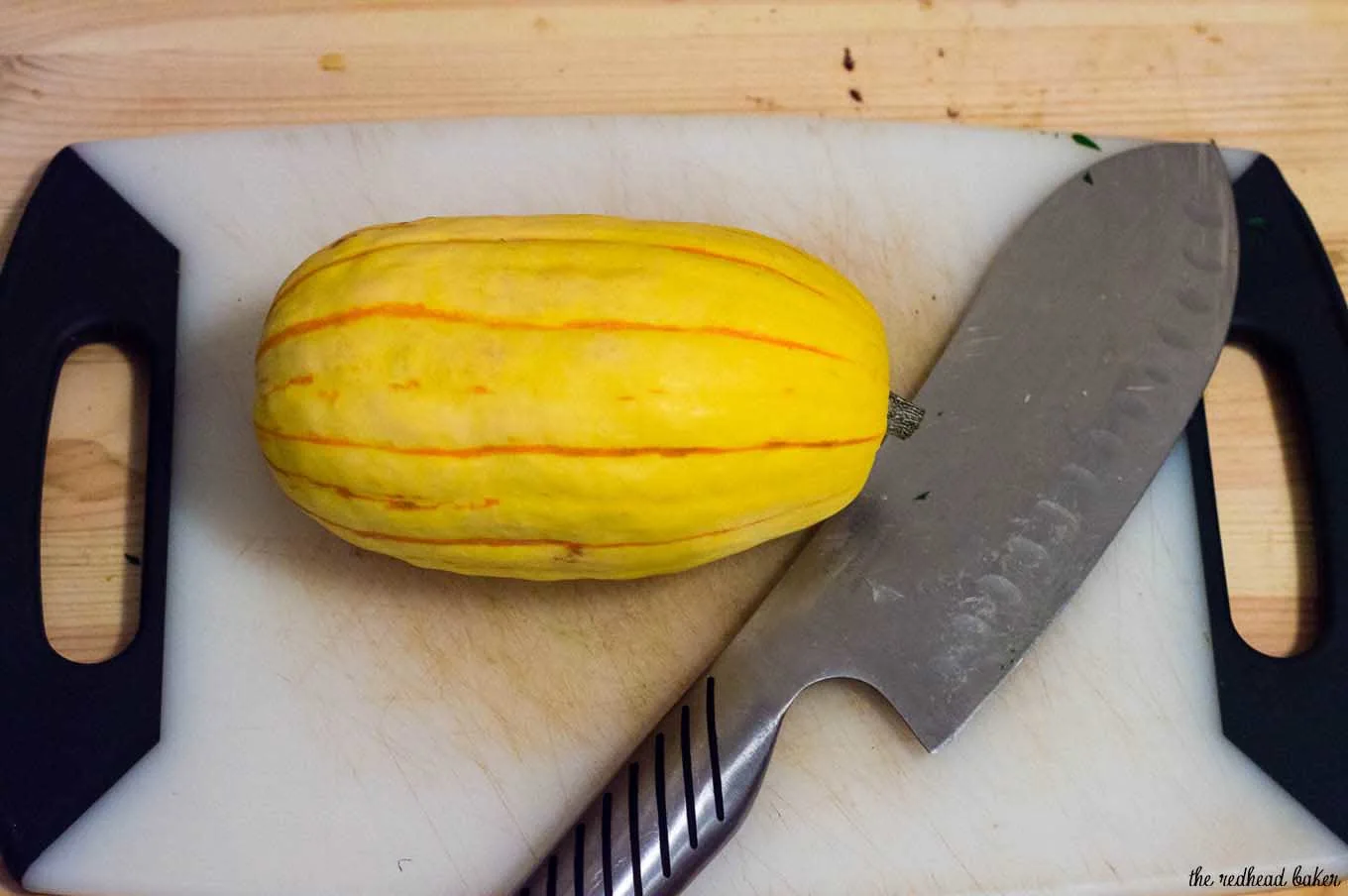 Winter squash is one of my favorite vegetables. Pumpkin, butternut squash, acorn squash ... and this delicata squash. All of these kinds of squash pair well with apples, but as the delicata squash I received from Melissa's Produce were about the same size as an apple, they worked particularly well in these stacks.
Like most kinds of squash, delicata needs to have its seeds scooped out before cooking. Unlike some other varieties, however, it does not need to be peeled, which cuts down on some of the prep work.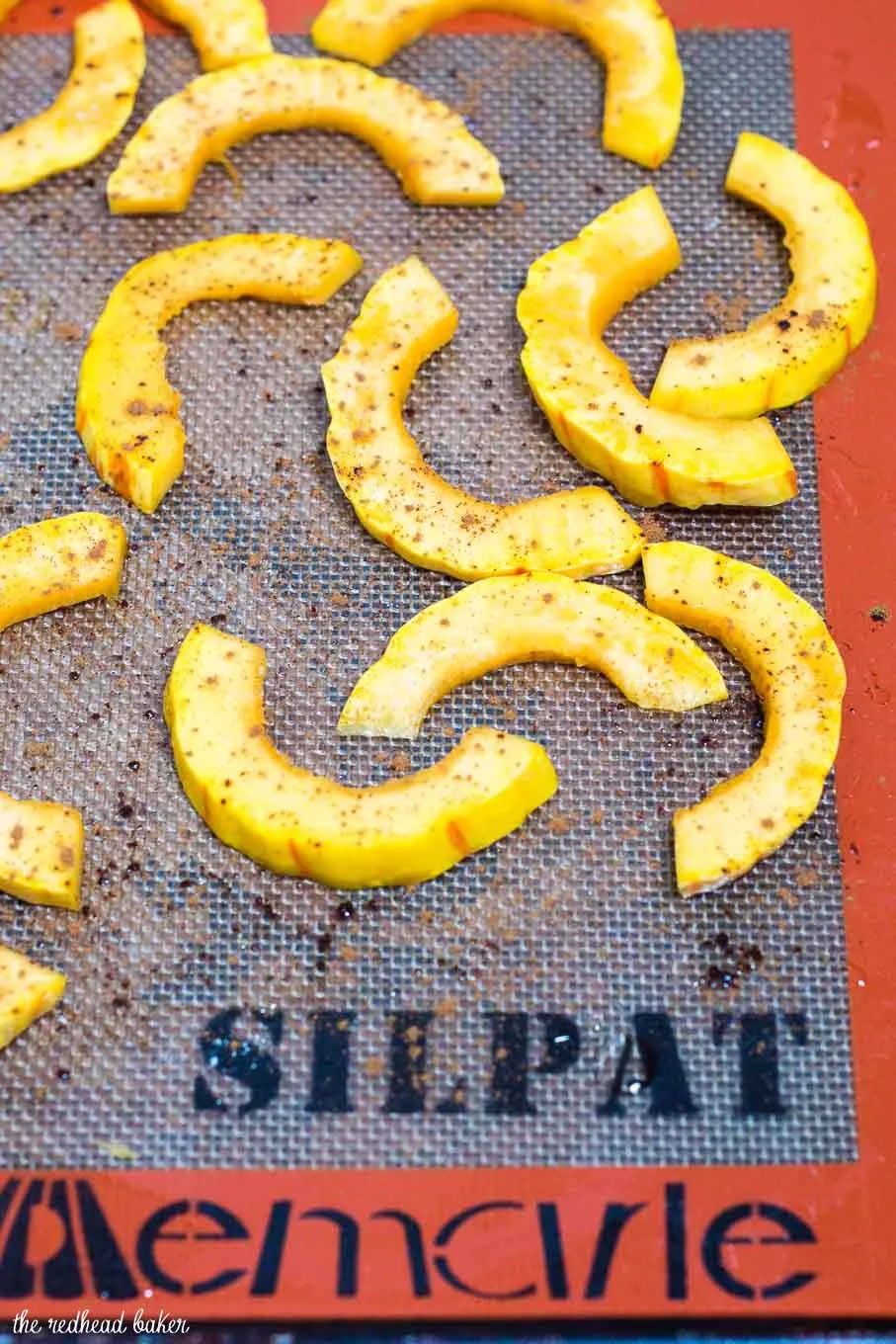 In order to evenly cook both the squash and the apples, I highly recommend using a sturdy mandoline. I've tried several models, and the only one I've been satisfied with has been OXO's Chef's Mandoline, linked in the carousel below. Cutting the squash and the apples to about ¼ of an inch is thin enough that they will roast pretty quickly, but just thick enough that they won't disintegrate when lifted from the baking mat.
These stacks are a fun, unique side dish at Thanksgiving, and a delicious way to enjoy a type of squash you may not have tried before. If you want to add some more textural interest, add some toasted chopped pecans or walnuts with the dried cranberries.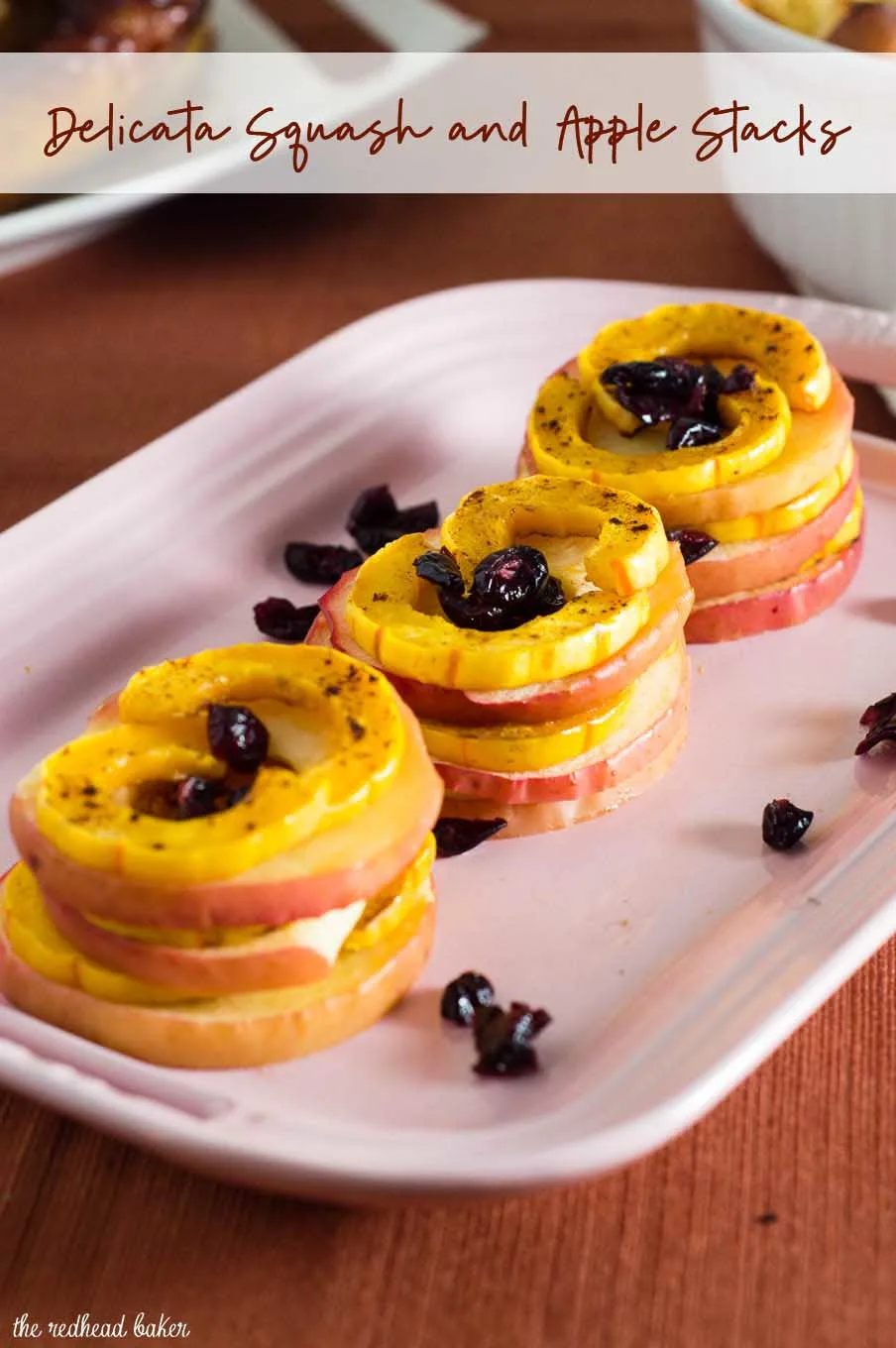 [amazon_link asins='B000G0KJG4,B00Y5VO7F4,B000JPVCYE,B003L0OP1G' template='ProductCarousel' store='theredheadbak-20' marketplace='US' link_id='de846071-c2a1-11e7-9fd7-3d52c1a02988']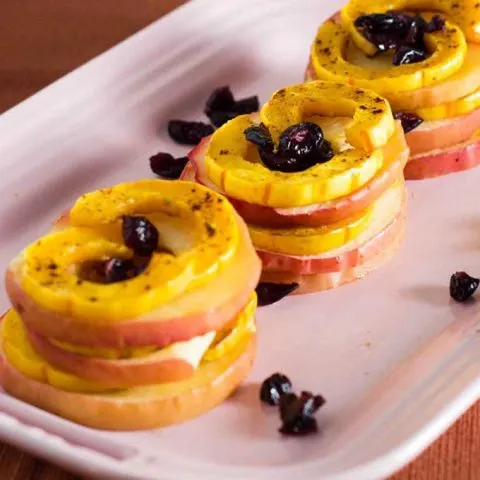 Delicata Squash and Apple Stacks
Ingredients
2 delicata squash, about 10 oz each
4 medium apples, I used Honeycrisp, but any firm baking apple will work
cinnamon
2 tablespoon fresh thyme leaves
¼ cup dried cranberries
honey
Instructions
Preheat oven to 350 F. Line two baking sheets with Silpat silicone baking mats (or line with foil sprayed generously with nonstick spray). Place two oven racks as close as possible to the center of the oven.
Cut tops and bottoms off each squash. Slice squash in half lengthwise and scoop out seeds. Use a mandoline to slice each squash half into half-moons ¼-inch thick.
Arrange the squash pieces in a single layer on one of the baking sheets. Sprinkle with cinnamon and ½ tablespoon of the thyme leaves. Flip rings over and repeat sprinkling with cinnamon and ½ tablespoon of thyme leaves.
Cover the baking sheet with foil and bake for 30 minutes, flipping rings halfway through cooking.
While squash is cooking, core the apples and slice into rings ¼-inch thick with a mandoline.
Arrange apple rings in a single layer on the other baking sheet. Sprinkle with cinnamon and ½ tablespoon of thyme leaves, then flip and repeat.
Bake apples uncovered for 20 minutes, flipping halfway through cooking.
Divide into 6 stacks, alternating rings of squash and apples. Sprinkle with dried cranberries, drizzle with honey, and enjoy!
Blogger