This post is sponsored by Melissa's Produce. All opinions are my own.
Cranberry Chestnut Brioche Stuffing is a flavorful side dish for your Thanksgiving table. Rich brioche bread is dotted with cranberries and chestnuts.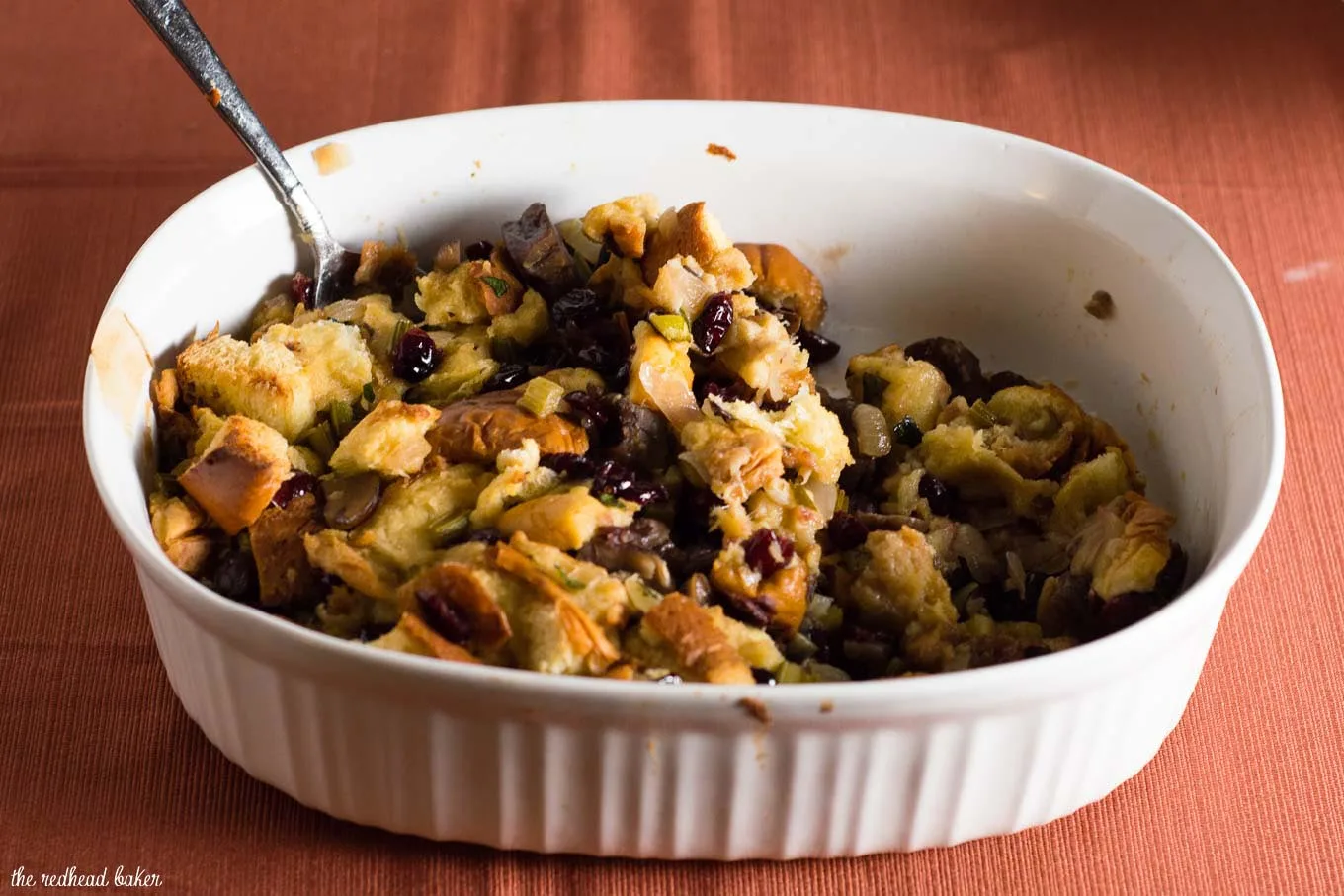 While Spring produce seems to get the lion's share of attention — think pea shoots and fiddlehead ferns — Fall's fabulous produce is sandwiched between the glut of pumpkin recipes for Halloween and the sweets-heavy holiday season. So, this year, a dozen food bloggers have gathered to share recipes and ideas that celebrate the #FabulousFallBounty. Many thanks to our event sponsors: Silpat for a handy silicone mat; Le Creuset for a lovely serving platter; and Melissa's Produce for providing the bloggers with a beautiful box of goodies.
We hope you enjoy our creations using fingerling potatoes; delicata, butternut, and acorn squashes; garlic and shallots; roasted chestnut and steamed beets; fennel and celery root; pears and so much more! Keep an eye on these blogs (in addition to my own!) for inspiration as we rush towards Thanksgiving...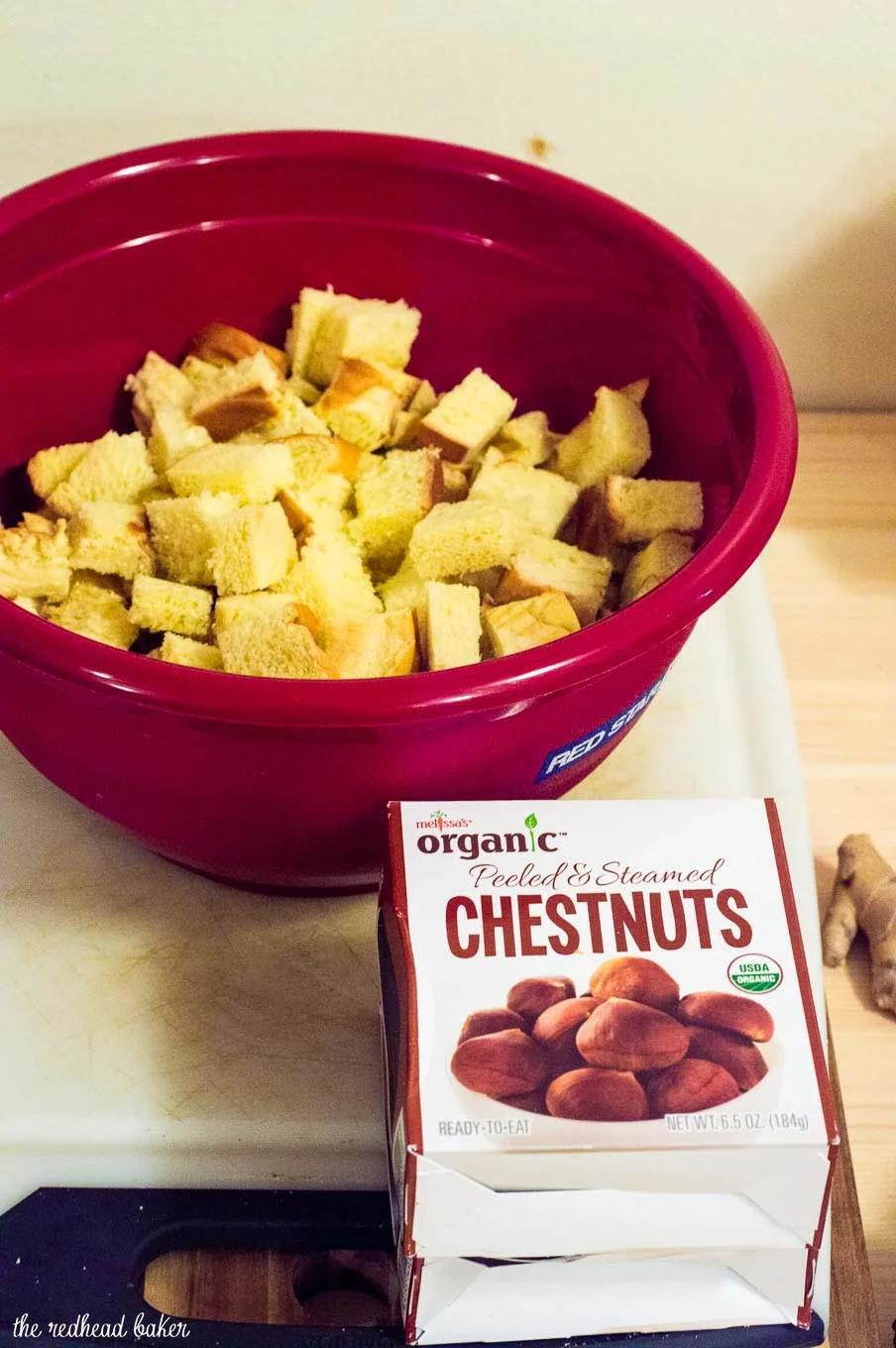 Stuffing is by far my favorite dish at Thanksgiving. All the flavors and textures in one dish! And there's so many varieties. One year, I used a variety of fresh herbs. Another year, sausage and apples. White bread. Sourdough bread. Cornbread. The possibilities are endless.
Off all the variations I've made to date, this brioche stuffing is my favorite. Brioche is a rich, buttery bread enriched with eggs. It's delicious eaten on its own, and it also makes a delicious French toast, or bread pudding.
It also makes a delicious stuffing. It's flavored with dried cranberries, herbs and chestnuts. Melissa's Produce sells already-peeled and steamed chestnuts, which saves you a lot of time and effort. The sweet, nutty flavor pairs well with the rest of the dish.
If you want to add some more savoriness to this dish, add some crumbled cooked sausage, or add some of the drippings from your turkey to the pan as you cook your stuffing.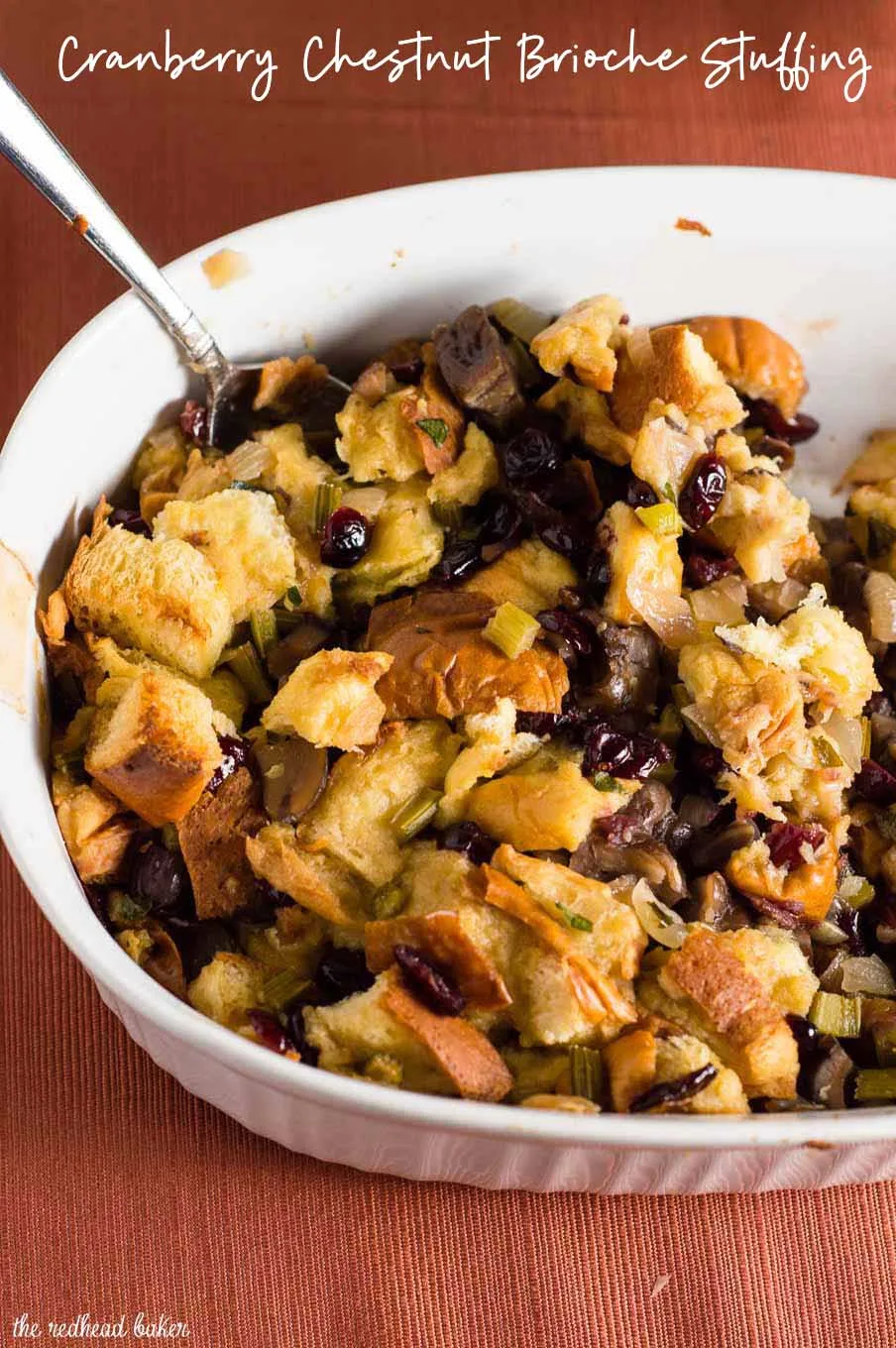 [amazon_link asins='B000N501BK,B005PP9ACY,B0000YDY7W' template='ProductCarousel' store='theredheadbak-20' marketplace='US' link_id='5a91e99a-c29f-11e7-8231-e1eebb3a9c44']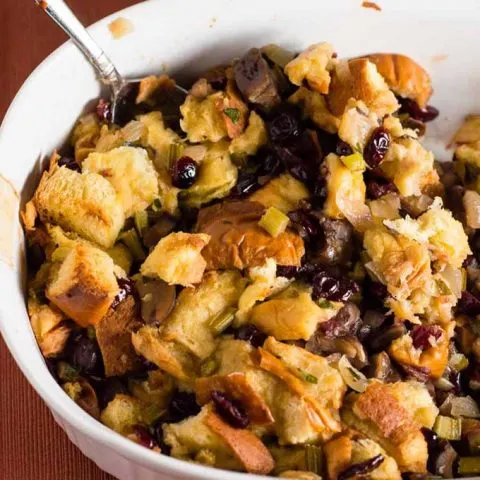 Cranberry Chestnut Brioche Stuffing
Ingredients
2 tablespoon olive oil
1 large yellow onion, chopped
4 stalks celery, chopped
6.5 oz Melissa's organic peeled and steamed chestnuts
2 cups dried cranberries
4 tablespoon chopped fresh sage
2 tablespoons chopped fresh parsley
1 tablespoon chopped fresh thyme
8 cups ½-inch cubed stale brioche
2 cups chicken stock
Kosher salt and freshly ground black pepper
Instructions
Preheat oven to 400 F. Lightly grease a 2.75-quart baking dish with nonstick cooking spray and set aside.
Heat olive oil in a large dutch oven over medium high heat. Sauté the onion and celery for 8 to 10 minutes. Add chestnuts, cranberries, sage, thyme and parsley and cook 2 minutes more. Remove from the heat.
Stir in brioche, then soak the mixture with chicken stock, and season with salt and pepper.
Transfer stuffing to the prepared baking dish and cover with foil. Bake for 30 minutes. Remove the foil and bake 10 minutes more or until lightly browned and slightly crisped on top.