This post is sponsored by St Pierre Bakery. All opinions are my own.
Pumpkin chocolate chip brioche bread pudding is a warm, comforting fall dessert, perfect for the holidays or any chilly night. Top with vanilla ice cream or caramel sauce.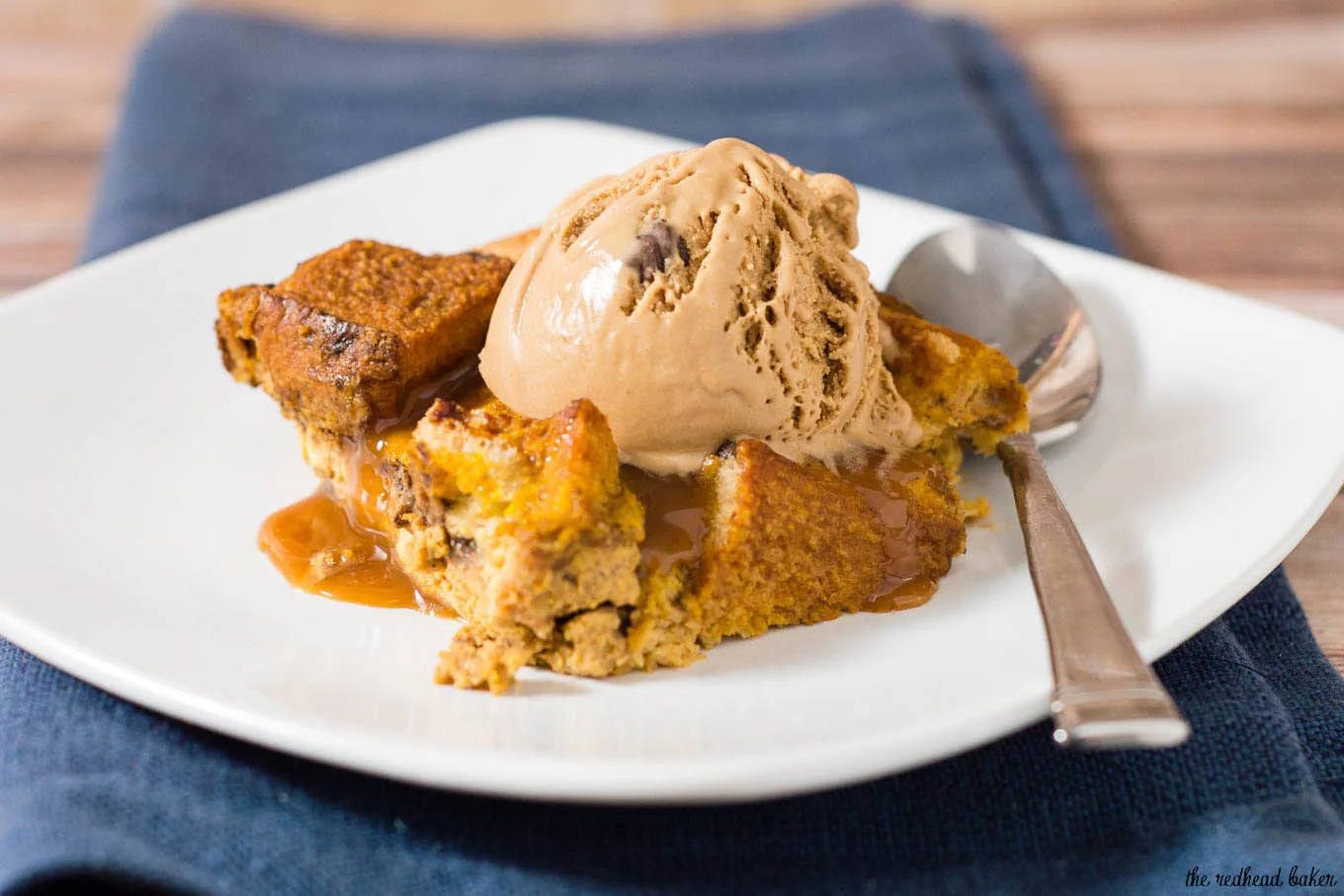 I love brioche. It's so rich and delicious, whether eaten by itself, used in savory dishes like stuffing, or sweet ones like French toast or this pumpkin chocolate chip brioche bread pudding.
Bread pudding originated as a way to use up stale bread. There are variations in cuisines from all over the world. The bread is cut or torn into cubes, then soaked in custard, sometimes dried fruit or other flavorings are mixed in, and finally baked. It's often served with a sauce poured over top.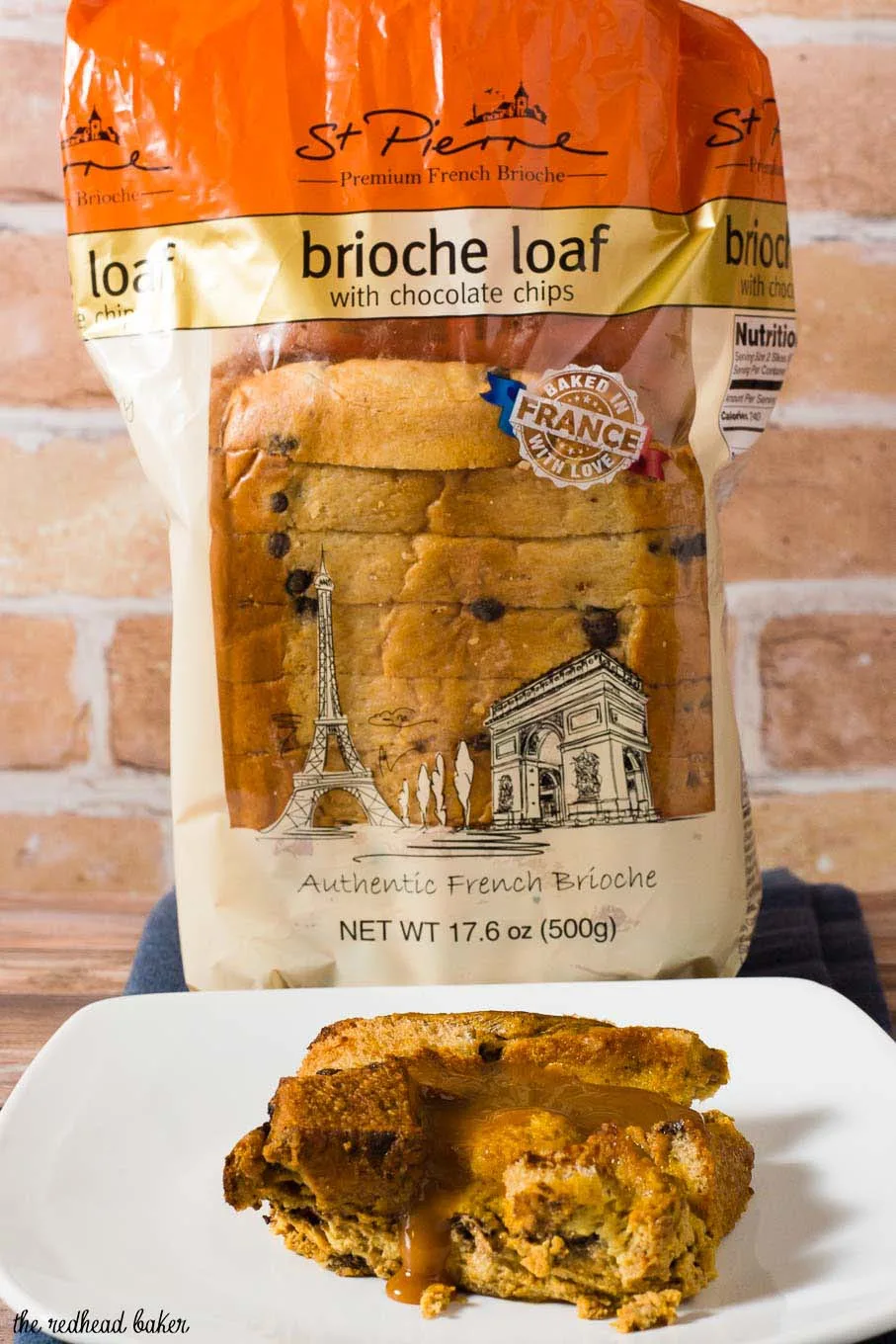 This chocolate chip brioche loaf from St. Pierre Bakery is loaded with little chocolate chips, which add to the flavor of the bread pudding. St. Pierre Bakery are baked in France, using authentic French recipes, to give you a taste of the continent right in your own home. Their bread never contains GMOs, hydrogenated oils or high fructose corn syrup. It's almost a shame to let the delicious slices sit out to intentionally get stale, but the final dessert is really worth it.
The custard is a blend of eggs, milk, cream, pumpkin, vanilla and spices. It's a really simple dessert to make! It can be made up to a day ahead of time, then reheated in the oven to be served warm, which is a real bonus on holidays like Thanksgiving, where oven real estate is at a premium.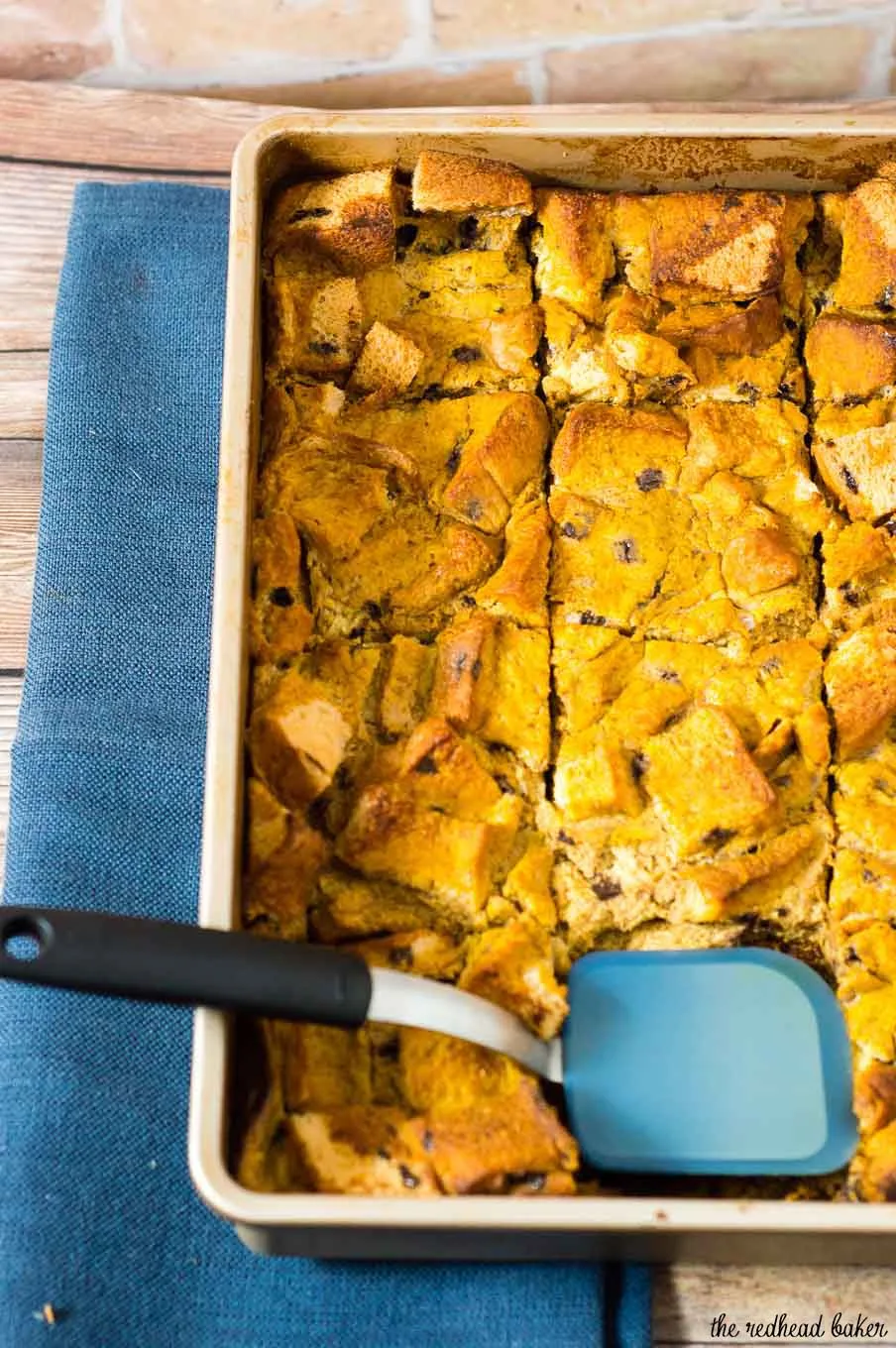 There are many sauces that would complement this bread pudding: caramel sauce, creme anglaise (traditional or flavored with hazelnut liqueur), but I think my favorite topping is caramel gelato. When served on top of warm bread pudding, it quickly melts into a delicious sauce that moistens the crispy edges of the bread pudding.
Want to make this delicious brioche bread pudding for yourself? Look up where to buy St. Pierre Bakery bakery products near you! In addition to this tender, buttery brioche, they also make chocolate-and-hazelnut-filled crepes, croissants (both plain and chocolate-filled) and waffles.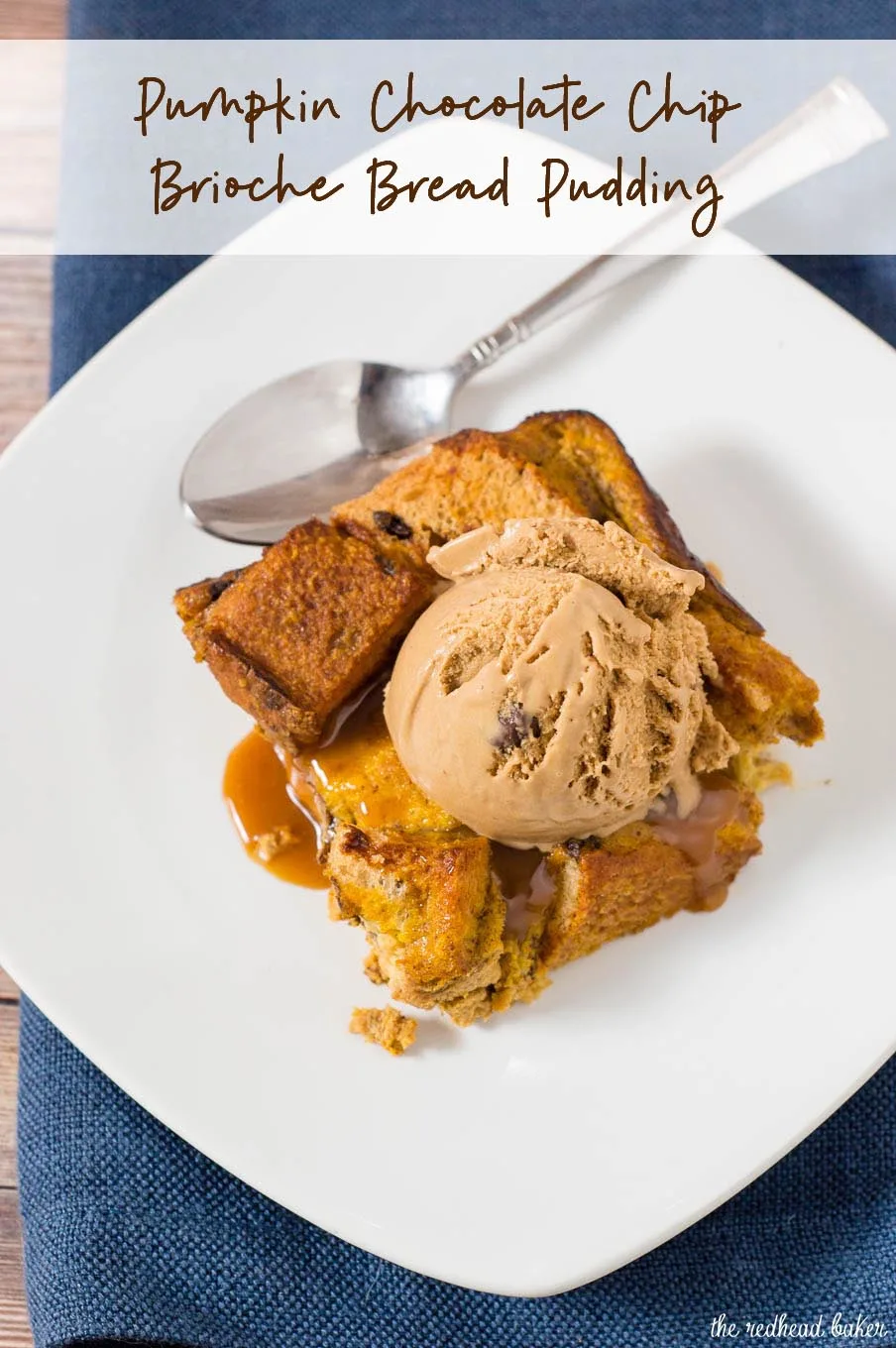 [amazon_link asins='B001715PN8,B00004OCNS,B00004OCJ6,B01MU0C1F5,B01M7QMRJN' template='ProductCarousel' store='theredheadbak-20' marketplace='US' link_id='8f3bd98c-c9bf-11e7-ba89-d371eded54f2']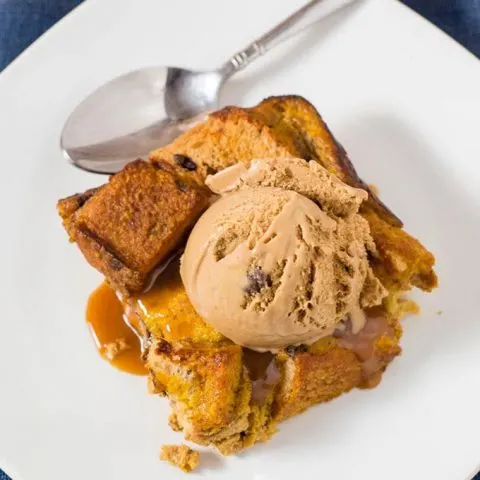 Pumpkin Chocolate Chip Brioche Bread Pudding
Total Time:
1 hour
10 minutes
Suggested toppings: vanilla ice cream, caramel sauce, or a simple icing of confectioners sugar and milk.
Ingredients
16 oz loaf of St Pierre Bakery chocolate chip broiche bread, sliced, stale
4 large eggs
2 cups whole milk
2 cups heavy cream
1 teaspoon vanilla
1 ½ teaspoon cinnamon
½ teaspoon ginger
⅛ teaspoon nutmeg
⅛ teaspoon ground cloves
15 oz pumpkin puree
Instructions
Preheat oven to 350 degrees.
In a large bowl, whisk the eggs, milk, cream, vanilla extract, spices and pumpkin purée. Set aside.
Cut the stale bread into cubes, and spread in a layer in a greased 9x13 baking dish.
Pour the pumpkin mixture over the bread cubes.
Bake uncovered for 45 to 60 minutes. The bread pudding will puff up and should spring back when lightly pushed.