This post is sponsored by Keller's Creamery, all opinions are my own.
Roasted brussels sprouts are tender and sweet, and tossing them with a cranberry brown butter sauce adds a savory-sweet flavor.
Now begins my favorite time of year: Thanksgiving. I love everything about this time of the year: the colors, the sounds, the smells, the generous spirit. I love Thanksgiving because it's just all about the food.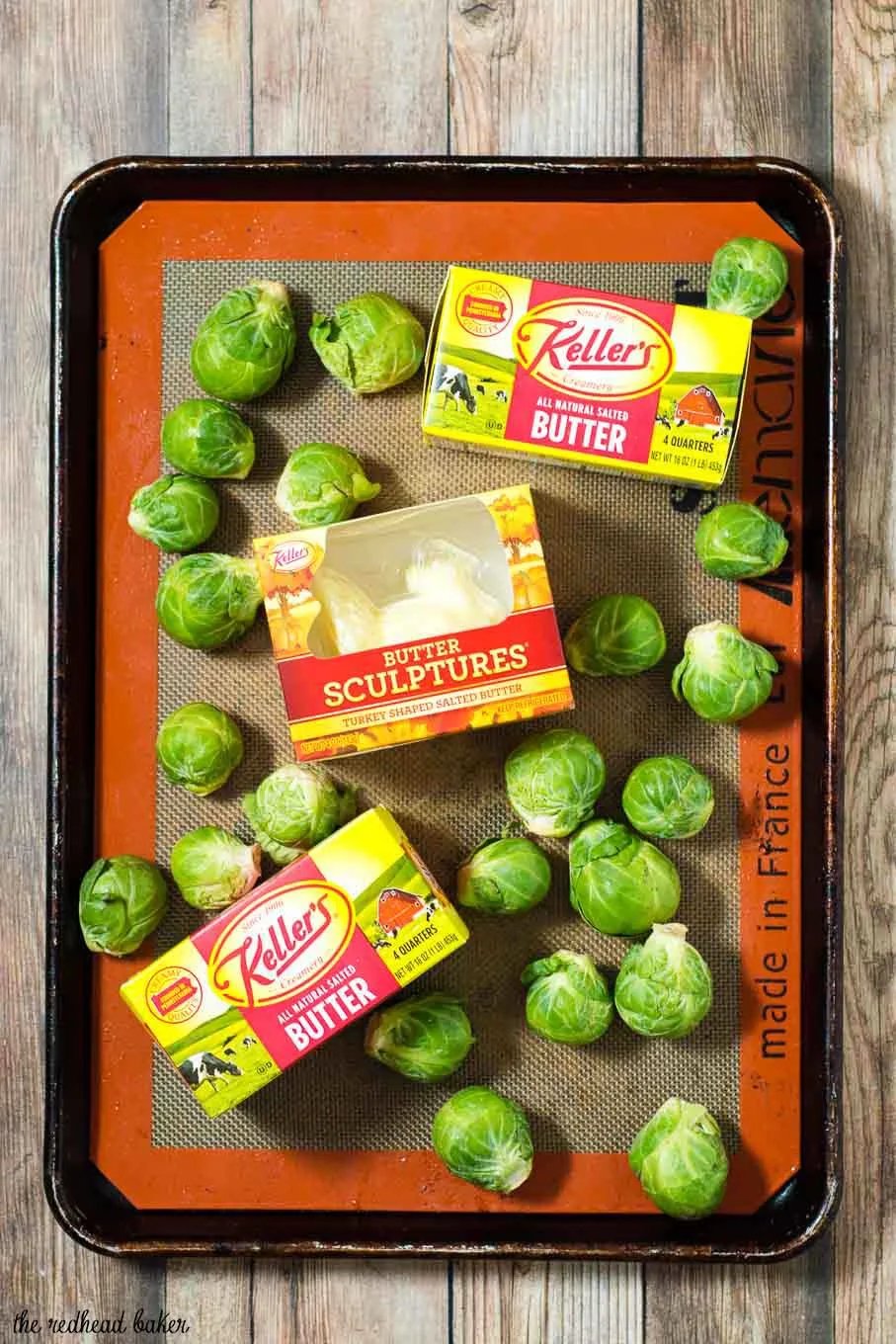 Thanksgiving is "my" holiday. I cook every year, whether for my family or my husband's family. I love doing everything from planning the menu, to shopping, to decorating, to cooking. I have come up with my own planner, which I'm sharing with you! Click here to download my planning kit, which includes a menu planner, shopping list, schedule, and recipe note pages, which help you ensure you have enough pots and pans for cooking and bowls for serving!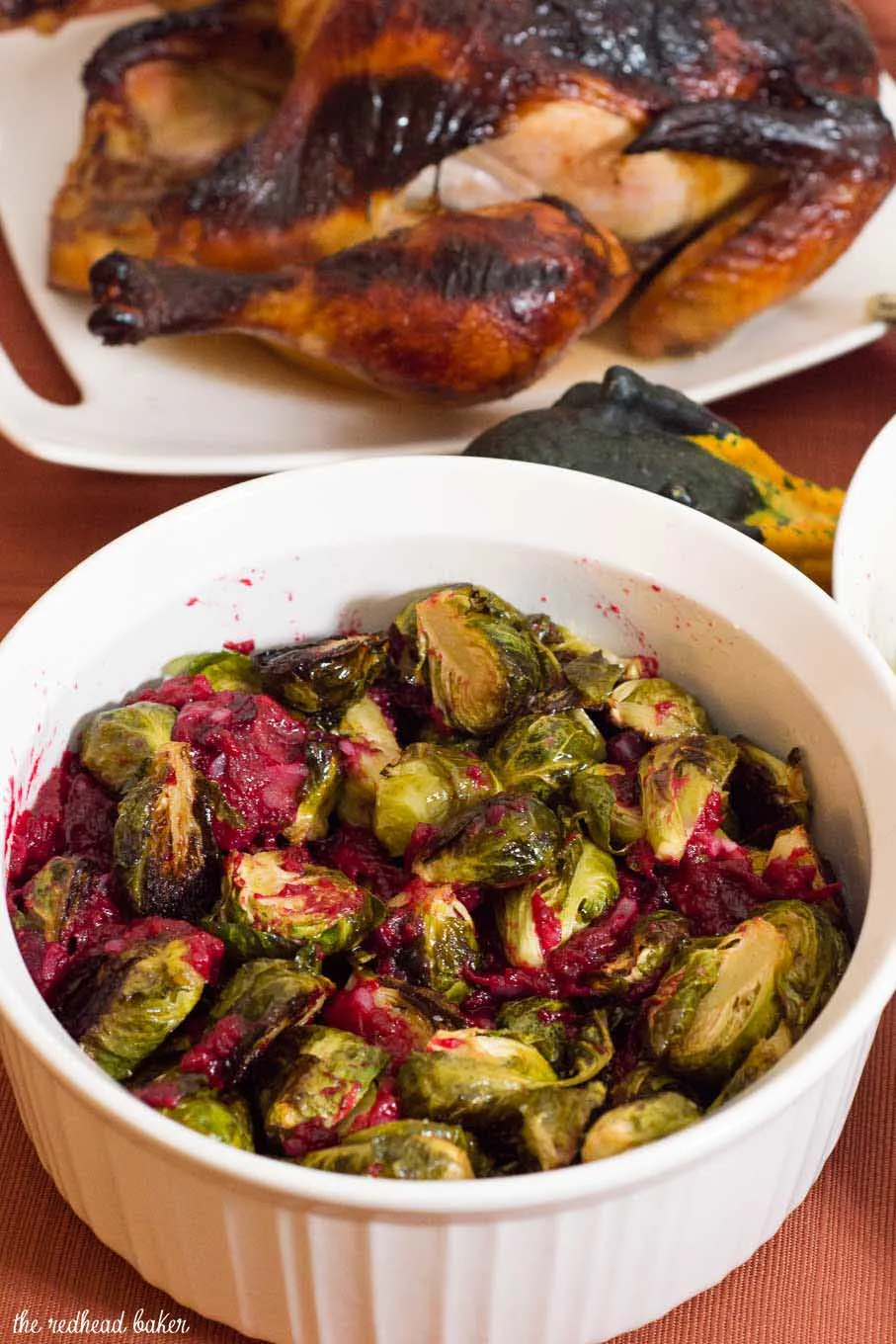 Don't forget to make sure you have an adequate supply of things like salt, pepper and butter for the Thanksgiving table. Keller's Creamery has you covered with an adorable turkey butter sculpture as well as sticks of both salted and unsalted butter for your holiday cooking and baking, available at your local Shop Rite, Stop & Shop and Weis markets.
Keller's has been part of our holiday traditions for years, and part of the traditions of families in Philadelphia since 1906. Butter just makes things better, so it's no surprise to me that about 55% of Philadelphians would rather give up watching Eagles football than have a Thanksgiving meal with no butter!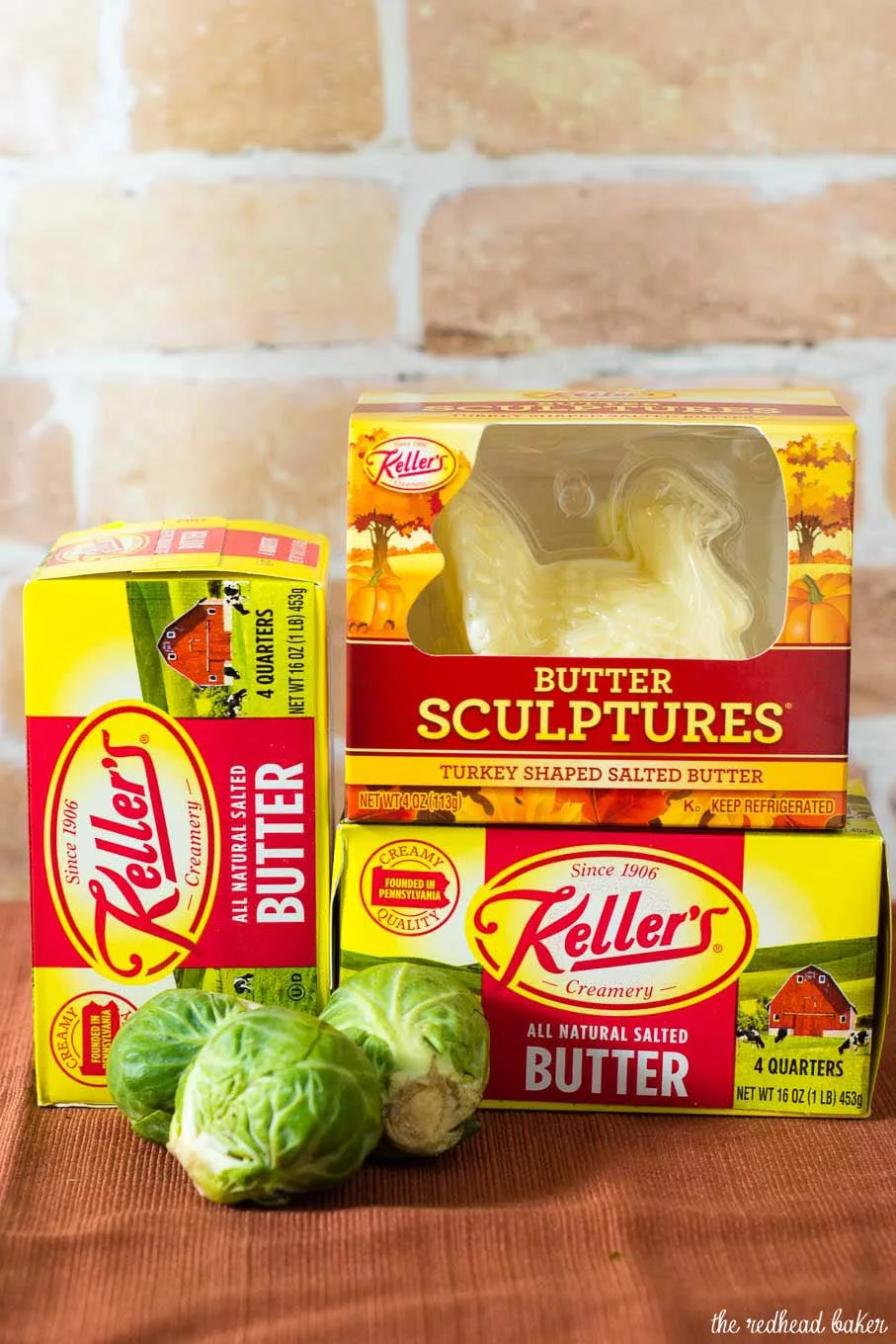 I still follow some of the same traditions I did as a child, although now I do the cooking, instead of just helping my mom peel carrots and potatoes. According to November 2016 industry data, Philadelphians bought more than 10 million sticks of butter, and at least 12 of those went into my Thanksgiving dishes. Laid end to end, those sticks of butter would span the Benjamin Franklin bridge 292 times!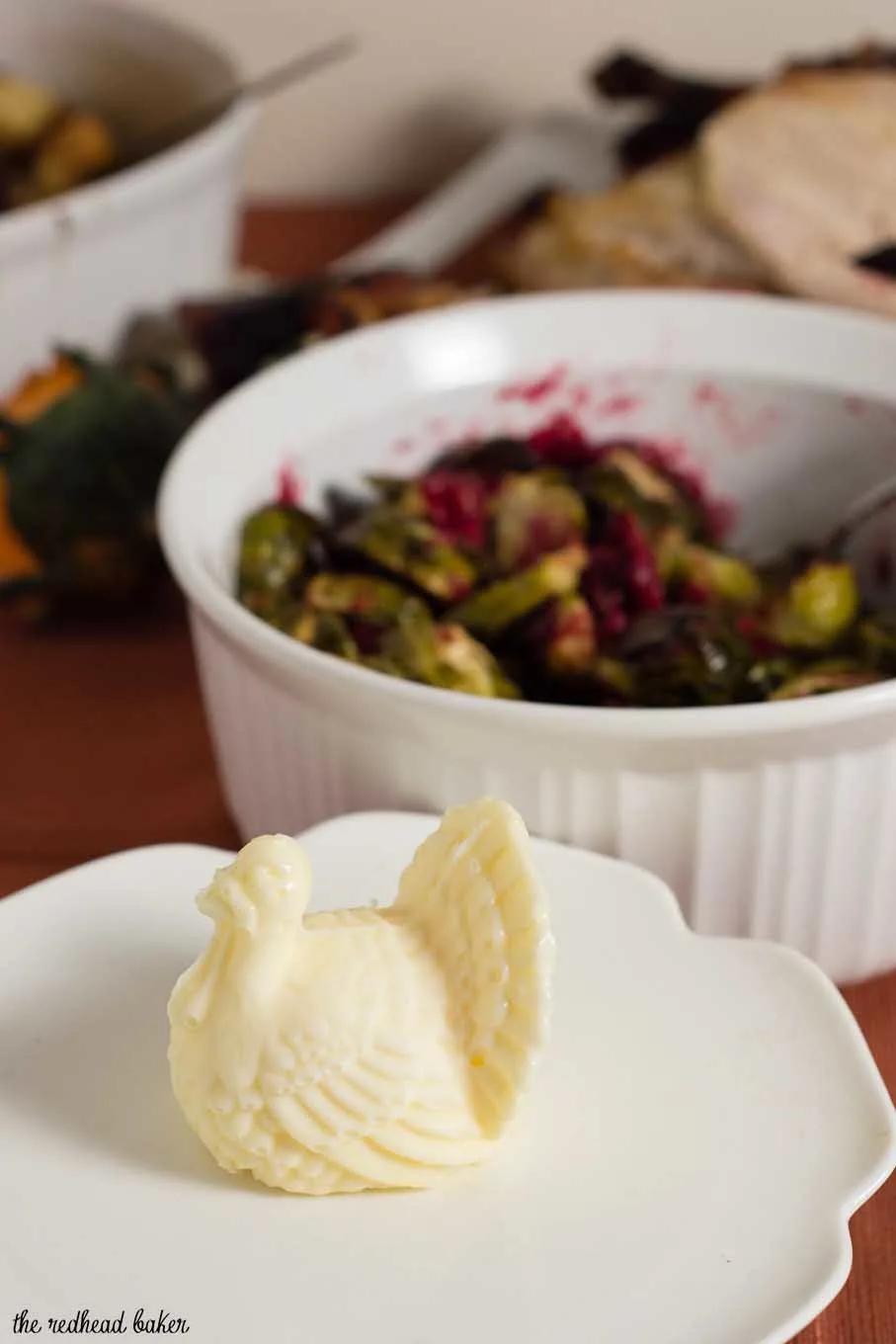 My traditional Thanksgiving starts early. I get the coffee going, and put cinnamon rolls in the oven for breakfast. At 8:30 am, I turn on the Philadelphia Thanksgiving Day Parade, the oldest continuously running parade in the country. This year is the 98th year! I start my oven preheating for the turkey, and then thanks to my make-ahead dishes and my prepared cooking schedule, I can relax with my coffee and a cinnamon roll and watch most of the parade. Watching Santa run up the steps to the art museum almost always brings tears to my eyes in excitement of the coming holiday season.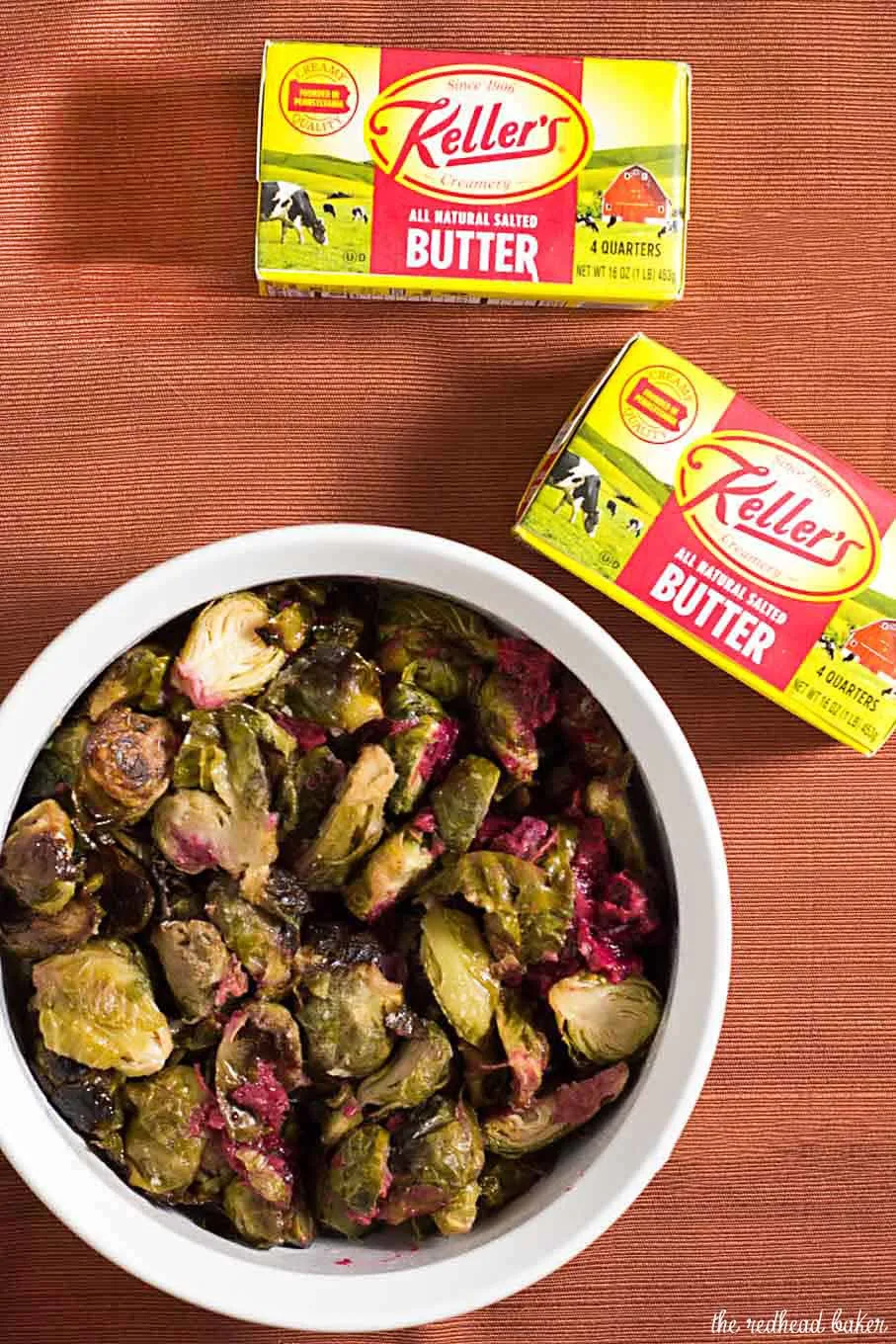 My family starts coming over around 2 or 3, and I have cocktails and light appetizers waiting. No one wants to fill up before the big meal. Football gets turned on, and I get started on the side dishes. Once dinner is served, we turn on some background music and enjoy our feast.
I'm thankful that my family loves to eat, and is willing to try to the traditional Thanksgiving foods in different ways: turkey brined in apple cider, buttery and cheesy gratin potatoes instead of mashed, pumpkin brioche instead of biscuits from a can, and these roasted brussels sprouts instead of the same old green bean casserole.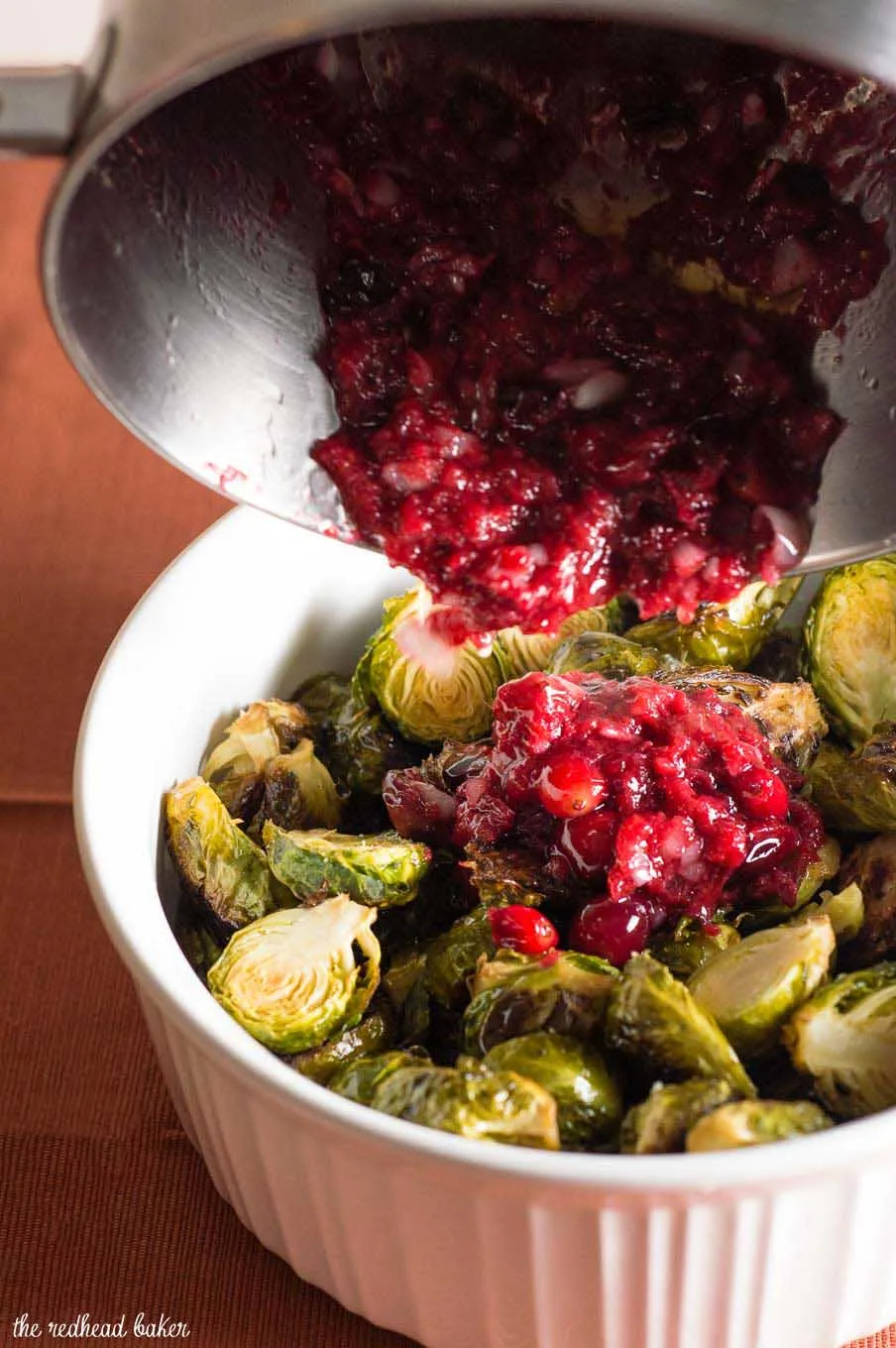 Brussels sprouts get a bad reputation among vegetables, but if you think you don't like them, you need to try this recipe. Roasting brings out a sweet complex flavor that you don't get from other cooking methods. The cranberry brown butter topping adds a complementary sweet-and-savory flavor. If you like some textural interest, add some toasted chopped pecans or walnuts on top.
I like making a dish like this on Thanksgiving because the cooking is mostly hands-off. The sprouts roast in the oven while you can attend to other dishes that need active attention. The brussels sprouts can be washed, trimmed and cut a day ahead of time, and stored in an airtight container in the refrigerator. The cranberry-brown butter topping can also be prepared a day ahead of time and refrigerated. Simply warm it up on the stove top or in the microwave before tossing with the roasted brussels sprouts.
Stock up on Keller's Creamery butter for your holiday cooking and baking, and save with a coupon for $1.00 off two packages of Keller's butter.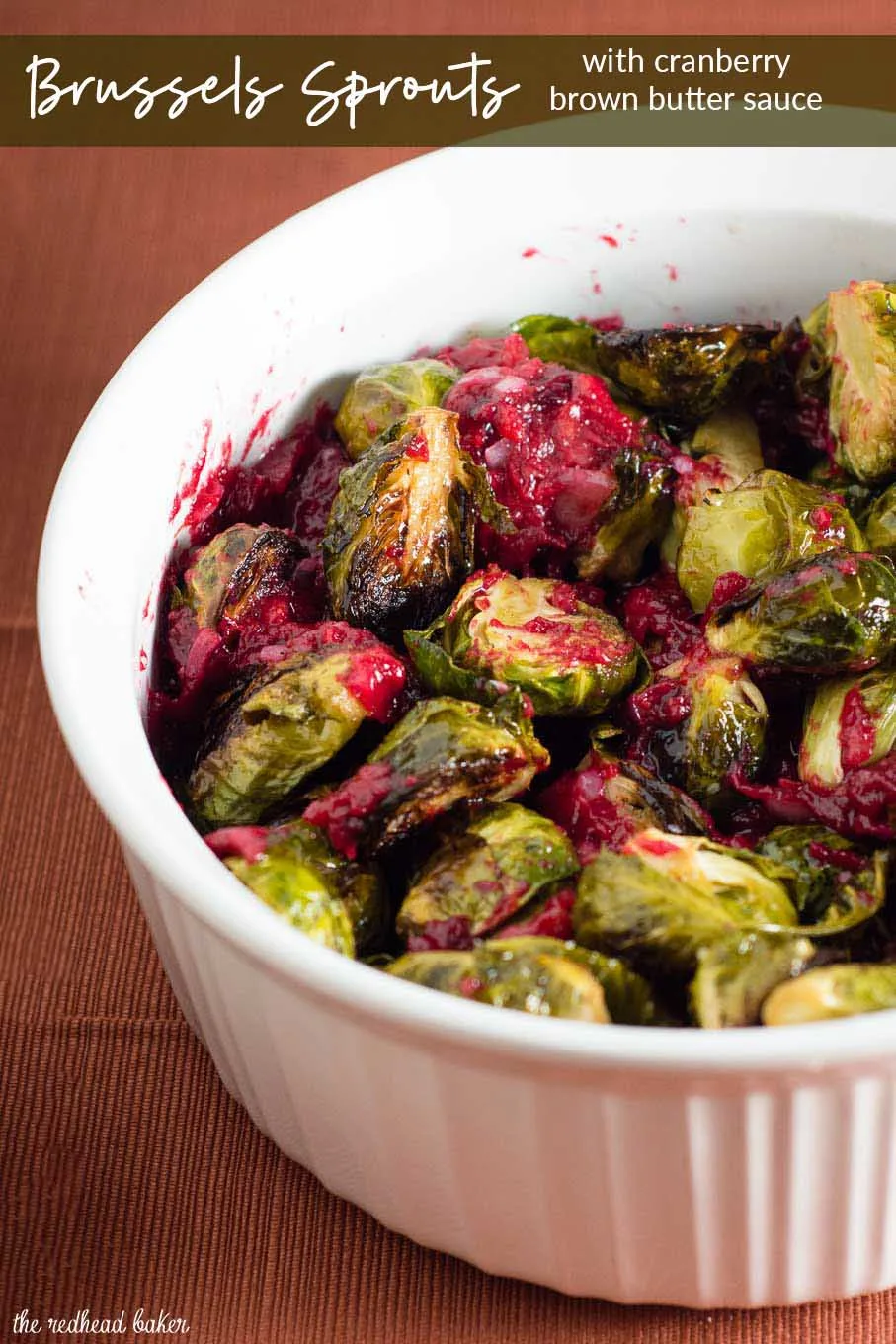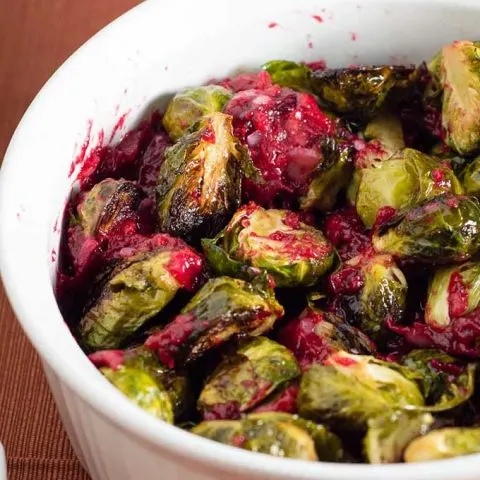 Roasted Brussels Sprouts with Cranberry Brown-Butter Sauce
Roasted brussels sprouts are tender and sweet, and tossing them with a cranberry brown butter sauce adds a savory-sweet flavor.
Ingredients
2 pounds fresh brussels sprouts, stems and yellow leaves trimmed, halved lengthwise
Olive oil
Kosher salt and freshly ground pepper
1 cup (4 oz) fresh cranberries
2 tablespoon honey
½ tablespoon grated fresh ginger
1 teaspoon fresh orange zest, about ¼ of a small orange
¼ cup (4 tbsp, or half a stick) Keller's unsalted butter
1 small shallot, finely minced
Instructions
Preheat your oven to 400 degrees F. Line a baking sheet with a silicone baking mat or tinfoil.
Toss the brussels sprouts with a generous amount of olive oil, then season with salt and pepper. Spread in a single layer on the prepared baking sheet (use two baking sheets, if necessary).
Roast the brussels sprouts for 40 minutes, tossing halfway through for even roasting.
While the sprouts are roasting, in a medium saucepan, cook the cranberries, honey, ginger, and orange zest over medium heat, stirring frequently, for approximately 10 minutes, or until the cranberries break down. Set aside.
In a small white saucepan, melt the butter over medium heat. Continue cooking, watching carefully, until the butter solids begin to turn golden brown. Turn off the heat, quickly add the minced shallot and stir, then add to the cranberry sauce.
Remove the roasted brussels sprouts to a serving dish, then pour the cranberry brown butter sauce over top and toss to coat. Season with more salt and pepper if necessary. Serve warm.
Recommended Products
As an Amazon Associate and member of other affiliate programs, I earn a small percentage from qualifying purchases.
Nutrition Information:
Yield:

8 servings
Serving Size:

1 serving
Amount Per Serving:
Calories:

90
Total Fat:

3g
Saturated Fat:

1g
Trans Fat:

0g
Unsaturated Fat:

2g
Cholesterol:

2mg
Sodium:

62mg
Carbohydrates:

15g
Fiber:

4g
Sugar:

8g
Protein:

3g
I am not a certified nutritionist. This nutrition information is automatically calculated by third party software and is meant as a guideline only.
NOTE: Nutrition information is determined using an online recipe calculator, and is an estimation only. For more accurate nutrition information, consult a registered dietitian.