This post is sponsored by Melissa's Produce. All opinions are my own.
Fennel is often-overlooked fall vegetable with a slight licorice flavor. Cream-braised fennel and potatoes is a decadent side dish perfect for Thanksgiving.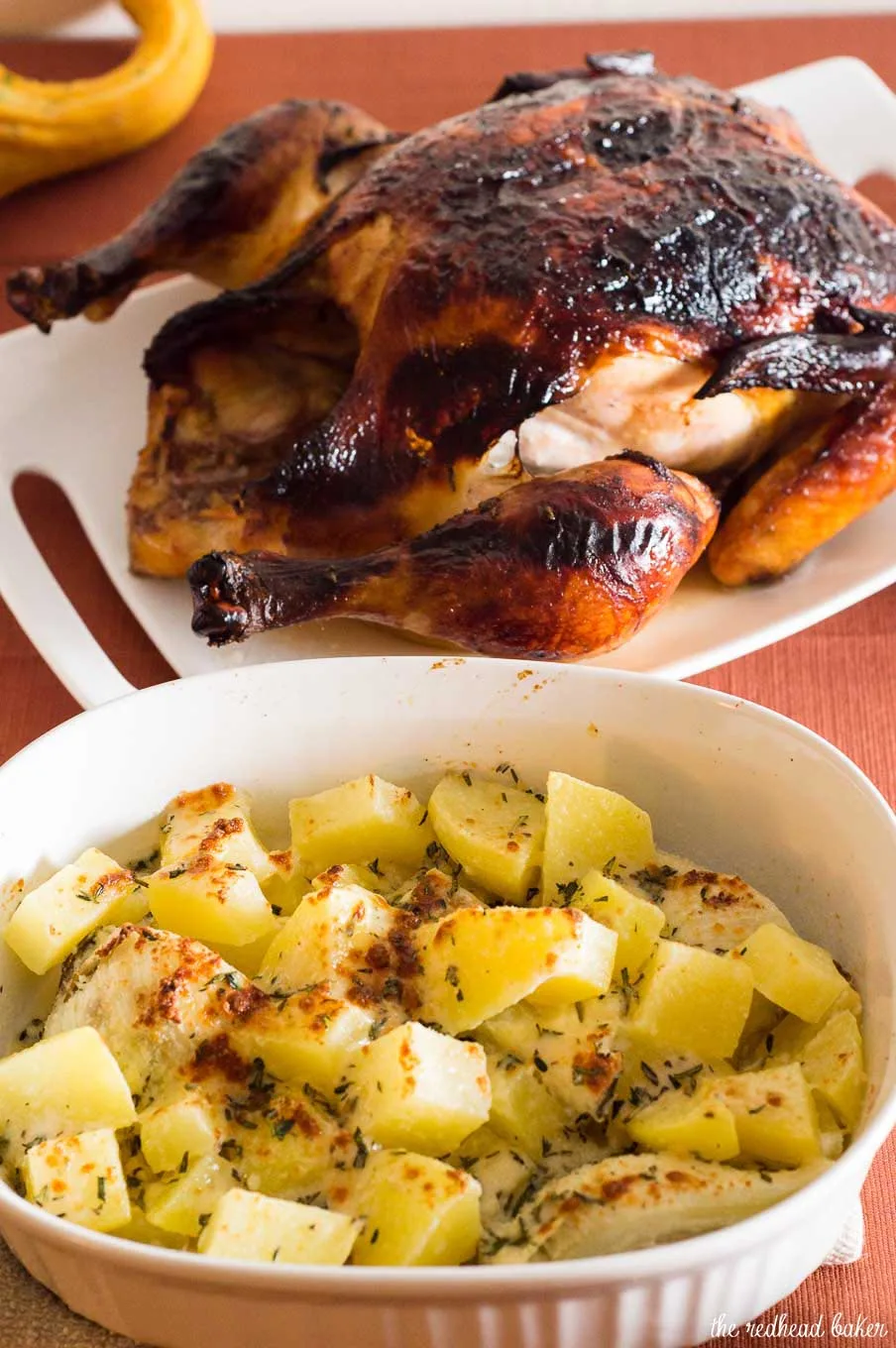 While Spring produce seems to get the lion's share of attention — think pea shoots and fiddlehead ferns — Fall's fabulous produce is sandwiched between the glut of pumpkin recipes for Halloween and the sweets-heavy holiday season. So, this year, a dozen food bloggers have gathered to share recipes and ideas that celebrate the #FabulousFallBounty. Many thanks to our event sponsors: Silpat for a handy silicone mat; Le Creuset for a lovely serving platter; and Melissa's Produce for providing the bloggers with a beautiful box of goodies.
We hope you enjoy our creations using fingerling potatoes; delicata, butternut, and acorn squashes; garlic and shallots; roasted chestnut and steamed beets; fennel and celery root; pears and so much more! Keep an eye on these blogs (in addition to my own!) for inspiration as we rush towards Thanksgiving...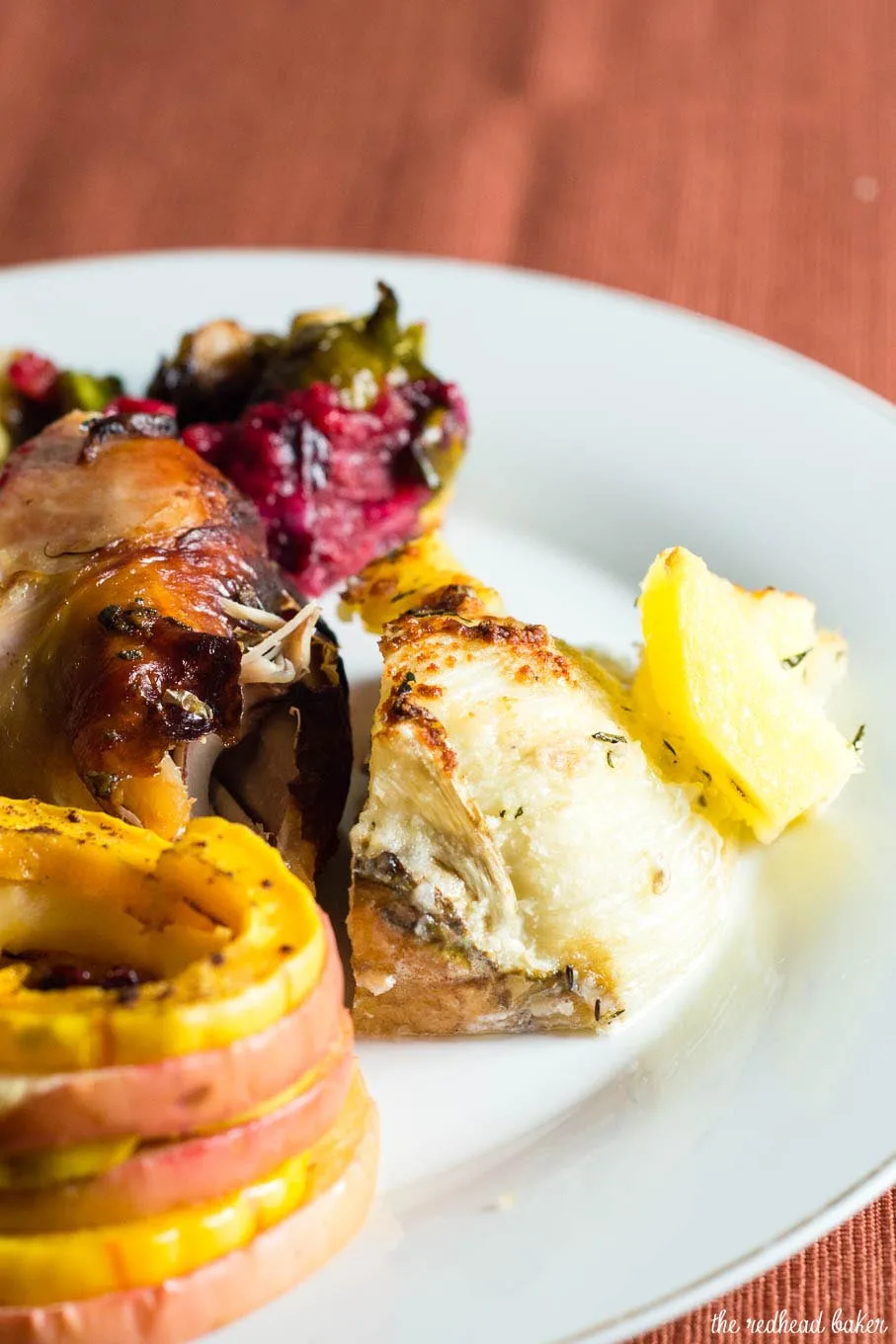 Fennel is an often-overlooked vegetable. It has a mild licorice taste. It's often found in the produce section near the fresh broccoli, leeks, and other green vegetables. It has a bulbous root, and three to four stalks growing out of the top that end in feathery leaves. It's actually in the same family as carrots.
The seeds of the fennel are frequently used in Afghan, Iranian and other Middle Eastern cuisines. It's also one of the ingredients in Chinese five-spice powder. It is a rich source of protein, fiber, B vitamins, calcium and iron.
In this recipe, this bulb of the fennel is quartered and cooked in cream alongside Yukon Gold potatoes. After the vegetables are cooked, they are sprinkled with a mixture of cheese and herbs, then given a quick broil to crisp up the tops. The final dish is a fabulous combination of flavors and textures. If you're bored with the same old side dishes at the holidays, give this recipe a try.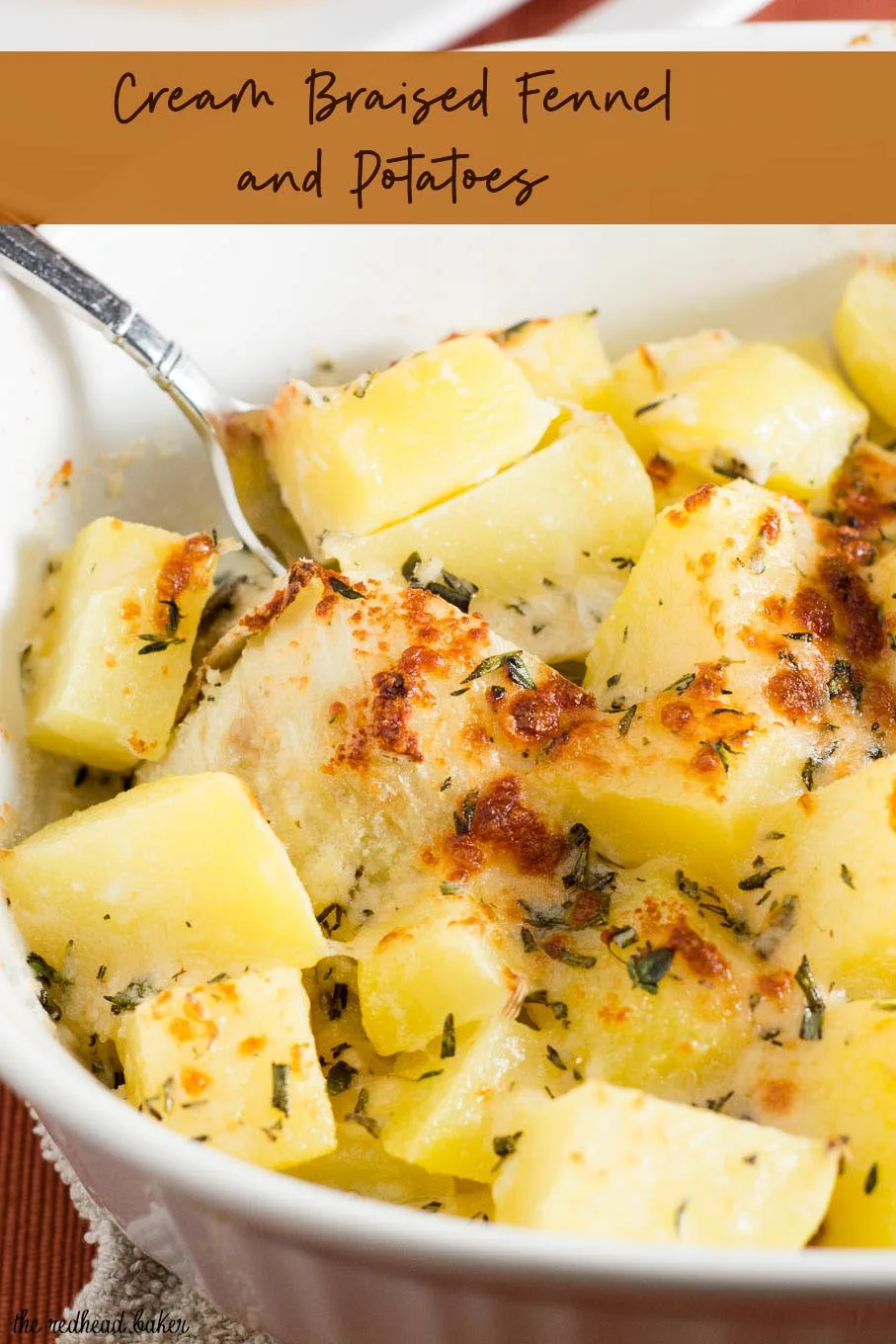 [amazon_link asins='B000N501BK,B005PP9ACY,B001HSO1ZY,B00005B8JM' template='ProductCarousel' store='theredheadbak-20' marketplace='US' link_id='44223ac0-c29c-11e7-83a1-099471c40ade']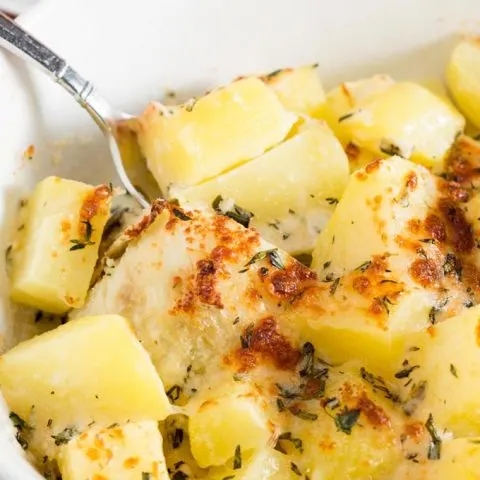 Cream-Braised Fennel and Potatoes
Ingredients
3 yukon gold potatoes (about 1.5 lbs total), peeled and cut into irregular 1.5" to 2" chunks
2 fennel bulbs (about 1.5 lbs total), trimmed (with tough or bruised outer layers removed), then cut lengthwise into wedges about 1.5" wide (leaving core intact)
2 cups half-and-half or cream, plus more as needed to cover vegetables
1 bay leaf
¼ teaspoon fennel seed
Kosher salt + freshly ground black pepper
3 large sprigs of thyme, leaves removed and finely chopped
1 large leafy sprig of rosemary, leaves removed and finely chopped
¼ cup finely grated parmesan cheese
olive oil
Instructions
Place the potatoes, fennel wedges, bay leaf, and fennel seed in a 3 to 4 quart Dutch oven. Add enough half-and-half to fully cover the potatoes and fennel. Season generously with kosher salt and freshly ground black pepper.
Turn the flame on to medium-high heat, and bring the half-and-half to a simmer. Lower the heat to just maintain the simmer, and cook until the potatoes and fennel are soft and tender, stirring occasionally, about 20 minutes. Remove the Dutch oven from the heat. The potatoes and fennel should be fork-tender at this point.
While potatoes and fennel are braising, preheat broiler to medium-high. In a small bowl, combine rosemary, thyme, and parmesan cheese.
Generously coat the bottom of a gratin or casserole dish with olive oil. Remove the potatoes and fennel wedges from the half-and-half with a spider or slotted spoon, and transfer them to the oiled dish. Leave any clinging cream attached to the vegetables. Season with additional salt and pepper, if needed.
Drizzle another tablespoonful of olive oil over the top of the vegetables, then sprinkle on the herb-cheese mixture; toss to coat. Arrange the potatoes and fennel wedges in a single layer to promote even browning.
Place the casserole dish under the broiler (about 6 inches away from the source of heat). Broil for about 3 to 5 minutes, or until the potatoes and fennel are caramelized and crispy around the edges. Serve immediately.
Slightly adapted from Food52
See more #FabulousFallBounty Recipes