Pumpkin season isn't over yet! This Thanksgiving, serve pumpkin buttermilk biscuits spiced with cinnamon, ginger and nutmeg alongside your turkey.
Halloween is over, which means my Thanksgiving planning is in full force! I'm pricing turkeys, planning recipes, and pinning table settings. I love Thanksgiving because it's ALL about the food, and it's the kickoff of the Christmas season.
This month's Twelve Loaves theme is Thanksgiving biscuits and rolls. Last year, I made pumpkin brioche rolls, which were quite tasty, but time consuming. I had my eye on these pumpkin biscuits from Cooking Light, but thought two pumpkin breads would be too much.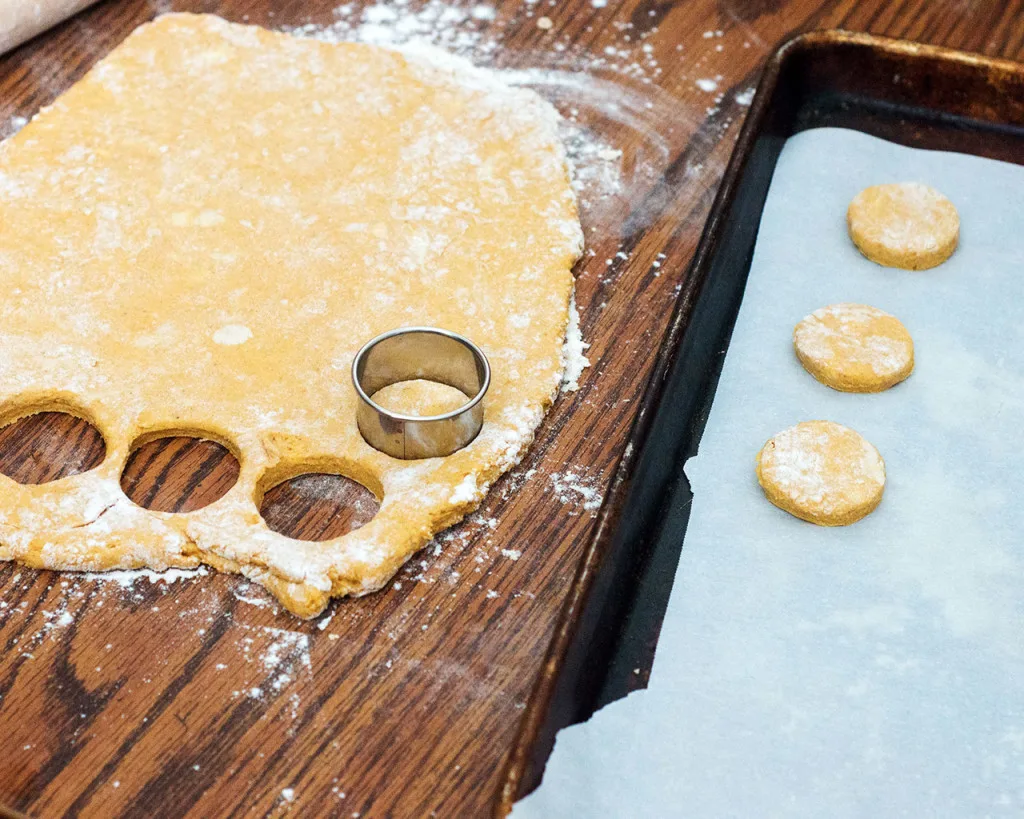 These biscuits are quite easy to make. I adapted the original recipe to use a food processor, since I am just hopeless at using two forks to cut butter into flour. Using the food processor makes the process easier AND quicker.
Doing the "business letter" fold makes the biscuits flakier and layered. Don't skip this step! Visually divide the dough into thirds. Take one outer third, either the right or the left, and fold it in toward the middle, then fold the other outer third in toward the middle, on top of the first folded third. Pat everything down and roll it out again, then repeat.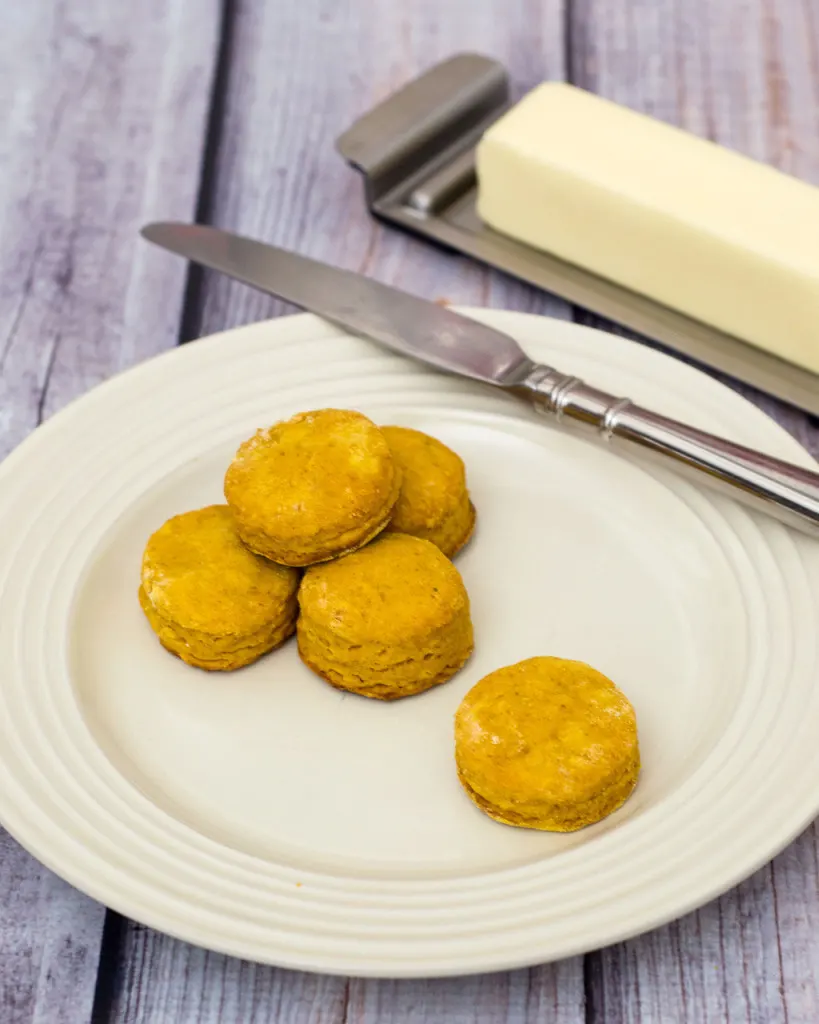 I made this biscuits with a 1.5-inch cutter, which is actually rather small. These are more like mini biscuits. If I were to make these again to serve at Thanksgiving, I would use a cutter at least 3 inches in diameter. This of course would cut down on the recipe yield, and would likely require a longer baking time.
The pumpkin flavor in these is actually rather mild, though I think that helps the spice flavors to not get lost. The texture of these is a bit on the drier side, like a scone. These biscuits also freeze beautifully, so you can make a batch now and serve them on Thanksgiving!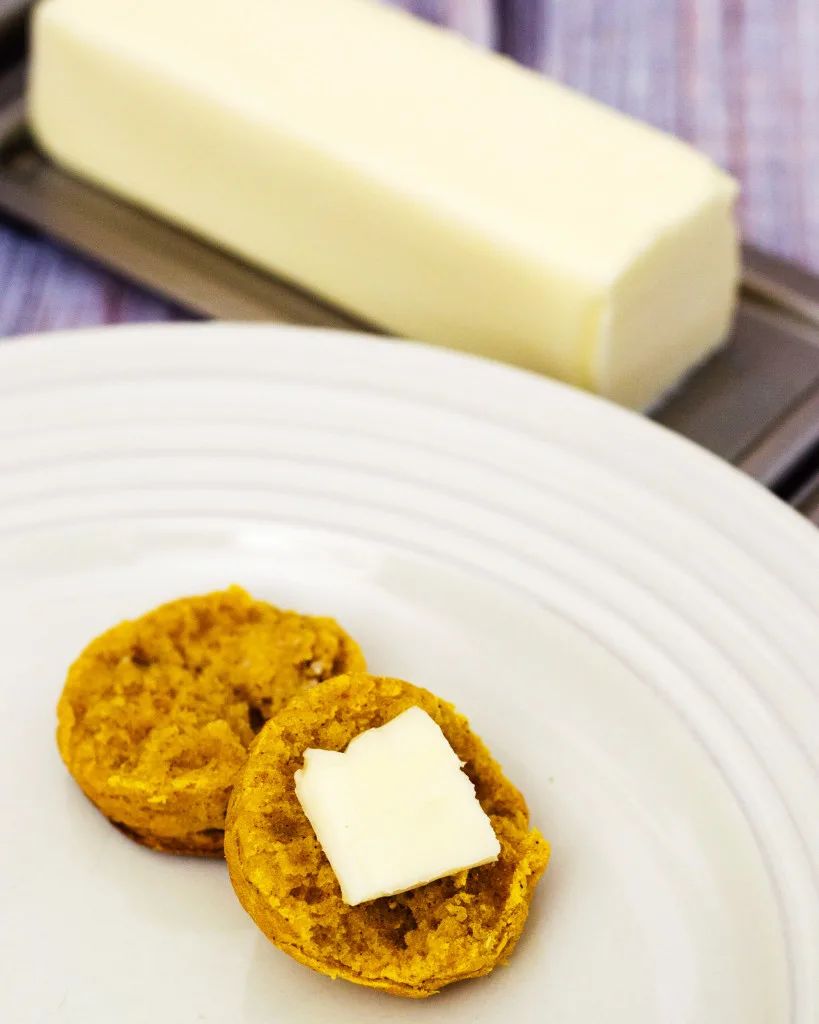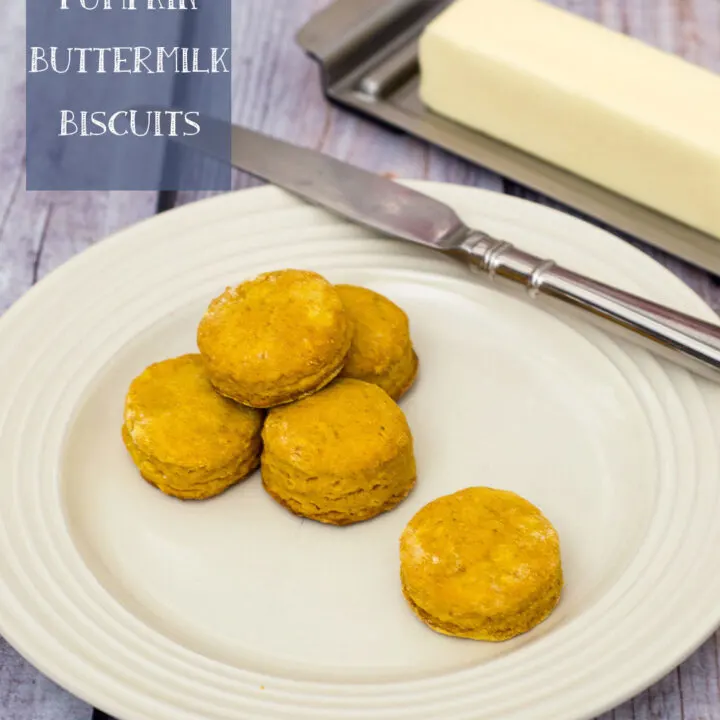 Pumpkin Buttermilk Biscuits #TwelveLoaves
Yield:
30 (1.5-inch) biscuits
Ingredients
2 cups slightly rounded all-purpose flour, 9 oz
2 ½ teaspoon baking powder
¾ teaspoon cinnamon
¼ teaspoon ground ginger
⅛ teaspoon ground nutmeg
⅛ teaspoon ground cloves
½ teaspoon salt
5 tablespoon chilled unsalted butter, cut into cubes
⅓ cup fat-free buttermilk
¾ cup canned pumpkin puree
3 tablespoons pure maple syrup
Instructions
Preheat oven to 400 degrees.
Place the flour, baking powder, spices and salt in the bowl of a food processor. Pulse a few times to combine.
Add the butter and pulse a few times, until the mixture resembles coarse crumbs. Place the food processor bowl in the refrigerator to chill for 10 minutes.
In a small mixing bowl, whisk together the buttermilk, pumpkin and maple syrup. Stream it into the food processor while pulsing, just until the mixture forms a ball.
Turn the dough onto a lightly floured work surface. Dust the top of the dough with flour, and roll out into a 9x15 rectangle. Fold one third of the dough in toward the center, then fold the other third in toward the center, like you're folding a business letter. Dust the dough lightly with flour and roll into another 9x15 circle.
Repeat folding the dough like a letter and roll to a ¾-inch thickness. Use a 1.5-inch round cookie cutter to cut circles of dough and place them one inch apart on a baking sheet lined with parchment paper.
Bake for about 14 minutes, until the biscuits are dry and golden brown on top. Cool two minutes on the baking sheet, then remove to a wire rack to cool completely.
Gather scraps and knead four times. Let dough rest for 10 minutes, then roll out to ¾-inch thickness and cut and bake more biscuits.
Recipe barely adapted from Cooking Light
#TwelveLoaves was a monthly bread baking party created by Lora from Cake Duchess with the help of Heather of All Roads Lead to the Kitchen, and the rest of our fabulous bakers.
This month we are baking Biscuits and Rolls that would fit in nicely at any Thanksgiving table. For more bread recipes, visit the #TwelveLoaves Pinterest board, or check out last month's inspiring selection of #TwelveLoaves Crackers, Crisps, and Flatbreads!
Barley Malt Pull-Apart Loaves from Cake Duchess
Buttermilk-Black Garlic Biscuits from Culinary Adventures with Camilla
Buttermilk Pan Rolls from All Roads Lead to the Kitchen
Crusty European-Style Hard Rolls from A Shaggy Dough Story
Herb-Topped Sweet Potato Biscuits from Hostess At Heart
Parker House Rolls from Karen's Kitchen Stories
Pumpkin Buttermilk Biscuits from The Redhead Baker
If you'd like to bake along with us this month, share your Thanksgiving Biscuits and Rolls using hashtag #TwelveLoaves!