This versatile pasta salad combines roasted asparagus and tomatoes with penne and spinach, dressed in a low-calorie lemon vinaigrette. Serve as a side, or add grilled pork or chicken for a healthy lunch or light dinner.
I only just started eating asparagus in my adult years, but it's become one of my favorite vegetables. My favorite way to prepare it is simply to roast it, coated in olive oil and kosher salt. When I saw this salad recipe on Cooking Light's website among a gallery of spring recipes, I had to try it right away.
I omitted the olives, as I'm not a fan. I also used baby spinach instead of arugula, again, not a fan. I do recommend using the Dijon, even if you don't like mustard. You don't taste it by itself, and it adds a nice tang to the vinaigrette.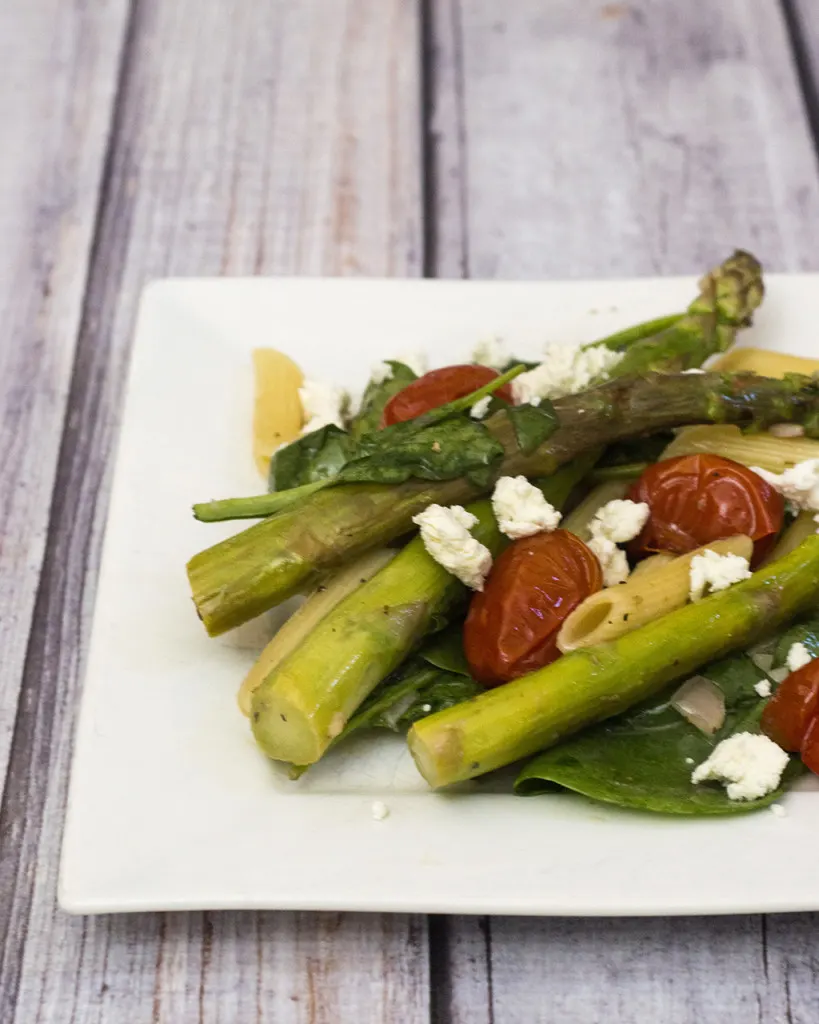 I first served this salad alongside pan-seared pork chops for dinner. Dinner was on the table in 20 minutes! After dinner, I sliced up the leftover pork and added it to the leftover salad for work lunches the next day. The salad was equally delicious cold as it was warm the night before.
One thing I might do differently next time is (A) use whole-wheat pasta for extra fiber, and (B) reduce the amount of pasta in the recipe by half. I thought the amount of pasta was a bit much, given all of the other ingredients in the salad.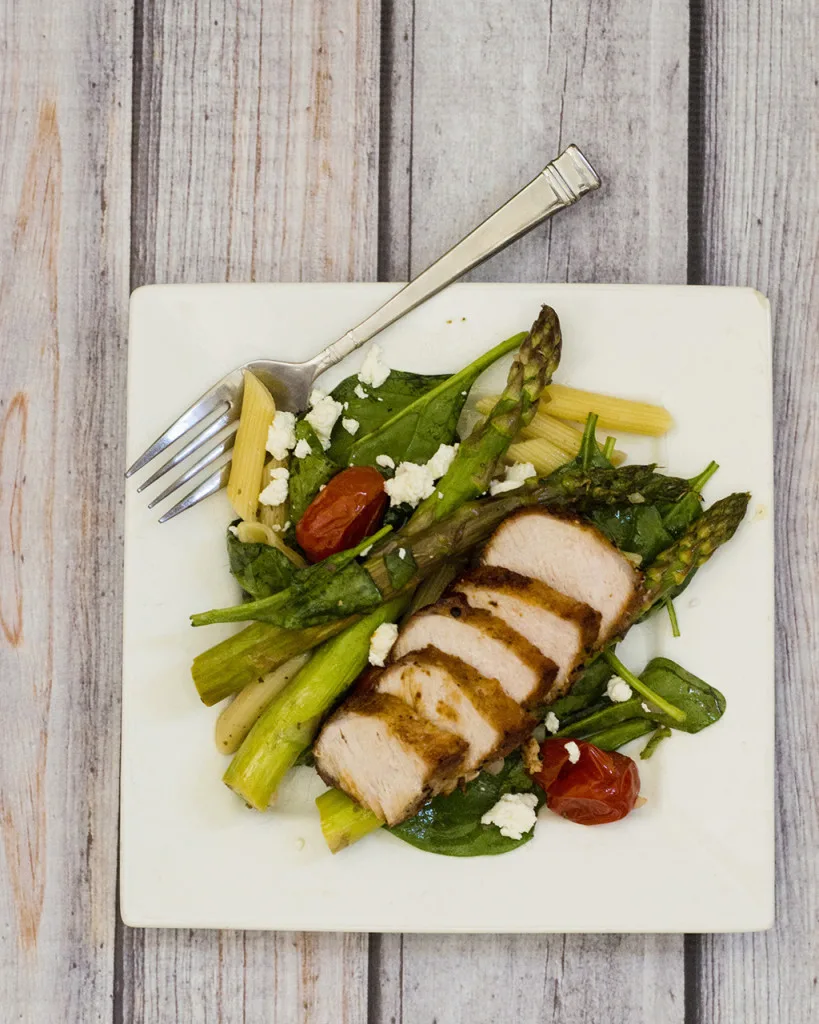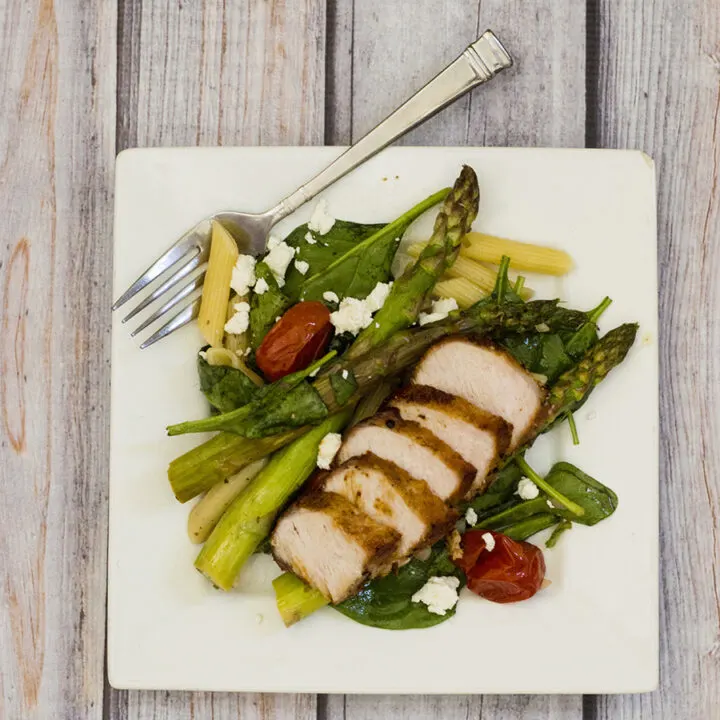 Asparagus and Tomato Spinach Pasta Salad
If you don't have a pre-made herbes de Provence blend, combine 3 tablespoons dried thyme, 2 tablespoons dried savory, 1 tablespoon dried oregano, 3 teaspoons dried rosemary, and 2 teaspoons dried marjoram in a container with a tight-fitting lid. Shake well to combine. Measure out 1 teaspoon for this recipe and store the rest for another use.
Ingredients
2 cups uncooked penne or other short tube-shaped pasta
12 asparagus spears, woody ends trimmed
12 grape tomatoes
4 tablespoon extra-virgin olive oil, divided
Kosher salt and black pepper
½ tablespoon medium shallot, minced (about 1 )
2 tablespoon fresh lemon juice
1 tablespoon Dijon mustard
1 teaspoon dried herbes de Provence
1 ½ teaspoon honey
2 cups baby spinach
½ cup crumbled goat cheese, 2 ounces
Instructions
Preheat oven to 400.
Cook the pasta according to package directions for al dente. Drain and set aside.
Line a baking sheet with tinfoil. Place the asparagus and tomatoes on the pan and drizzle with tablespoon of the extra-virgin olive oil, then season to taste with kosher salt and pepper. Toss gently to coat. Roast for 6 minutes or until asparagus is crisp-tender. Remove the asparagus to a plate, set aside. Place pan back in oven, and roast tomatoes an additional 4 minutes. Remove tomatoes from pan; let asparagus and tomatoes stand 10 minutes.
In a small bowl, whisk together the minced shallots, lemon juice, Dijon mustard, herbes de Provence and honey. Gradually drizzle in the remaining 3 tablespoons extra-virgin olive oil, stirring constantly with a whisk. Season to taste with kosher salt and pepper.
Place pasta, asparagus, tomato, and spinach in a large bowl; toss to combine. Drizzle the lemon vinaigrette over the salad, toss to coat.
Divide salad between 4 plates, and crumble 2 tablespoon of cheese over each plate.
Slightly adapted from Cooking Light