Loukoumades are light, airy puffs of dough are fried, then coated in a sweet honey syrup. Greeks traditionally served these fritters as dessert, but they're equally delicious at breakfast!
In celebration of the release of My Big, Fat Greek Wedding 2, today's Sunday Supper is themed Greek recipes! What a fun challenge! I don't often eat Greek food. I have a weird issue with nuts. I'm not allergic, but I can't eat most whole nuts, as it causes stomach upset. Nut butters and nut oils don't cause any issues.
But I did love the original movie My Big, Fat Greek Wedding. I saw it twice in theaters, and bought it on DVD the second it was available. I think it's a hilarious movie. So, as you can imagine, I'm really excited to see the sequel.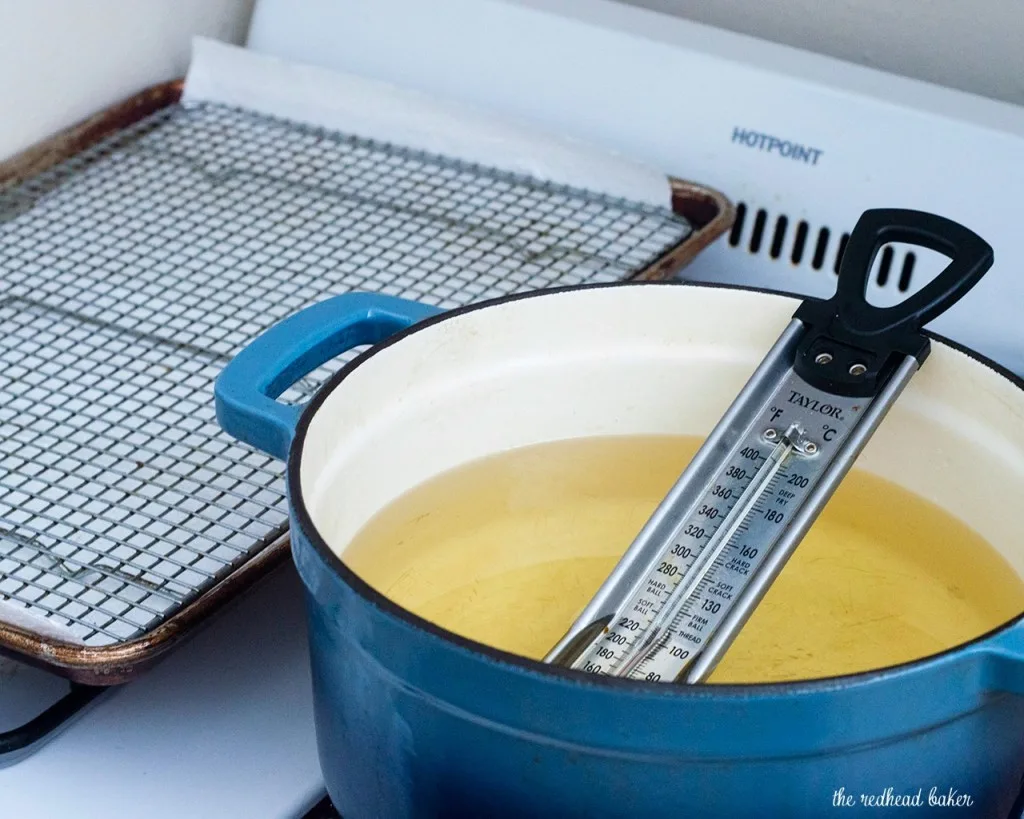 For my Greek dish, I chose a fried pastry called "loukoumades." The dough is very simple, consisting of water, yeast, milk, flour, sugar, and salt. After the batter is mixed and the dough rises, you portion it by the scoopful and fry it in oil, then, coat it in a sweetened honey syrup. Delicious!
To start, you'll need a deep, heavy pot, such as an enameled cast iron Dutch oven, as seen in the photo above. You'll also need a deep-fat-fry thermometer or a candy thermometer. If your oil is not hot enough, your dough won't cook through, and if it's too hot, your dough will burn. On the side, you'll need a baking sheet pan lined with a few layers of paper towel, and a wire cooling rack laid over top.
The batter is not like typical yeast bread dough. It's very loose and foamy, almost like very thick pancake batter. Dip a medium-sized cookie scoop in some water, then scoop out some batter. The water will prevent most of the batter from sticking to your scoop.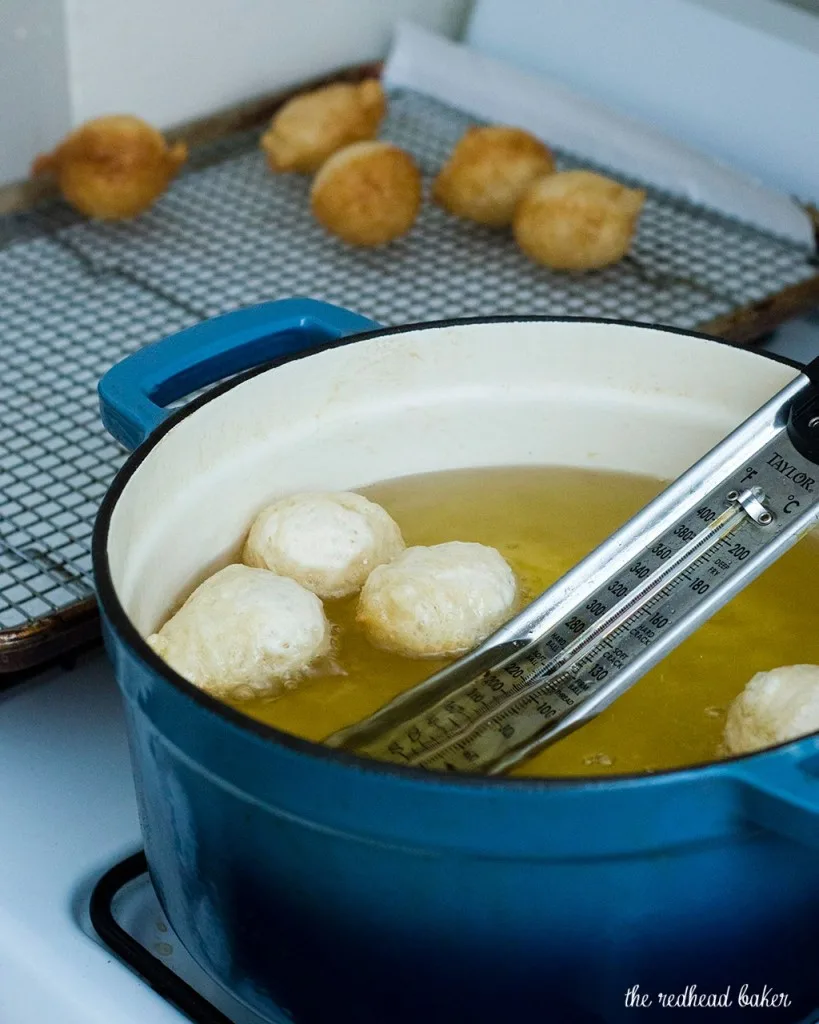 Depending on the size of your pot, you'll need at least 4 cups of canola oil, or more if you have a bigger pot. You need at least 2 inches of oil in your pot. Food that's being deep-fried needs plenty of room. Despite my large pot, I only fried four or five fritters at a time. In addition, overcrowding the fryer can lead to a big drop in your oil's temperature, meaning your fritters won't cook through.
When cooking your honey syrup, watch it carefully. As it boils, it will bubble up vigorously. Use at least a medium-size saucepan to give it room without bubbling over. Pour it over the fritters immediately, as it will thicken and harden as it cools. If you choose to use walnuts as garnish, sprinkle them on immediately after your pour on the syrup, so they stick before the syrup hardens.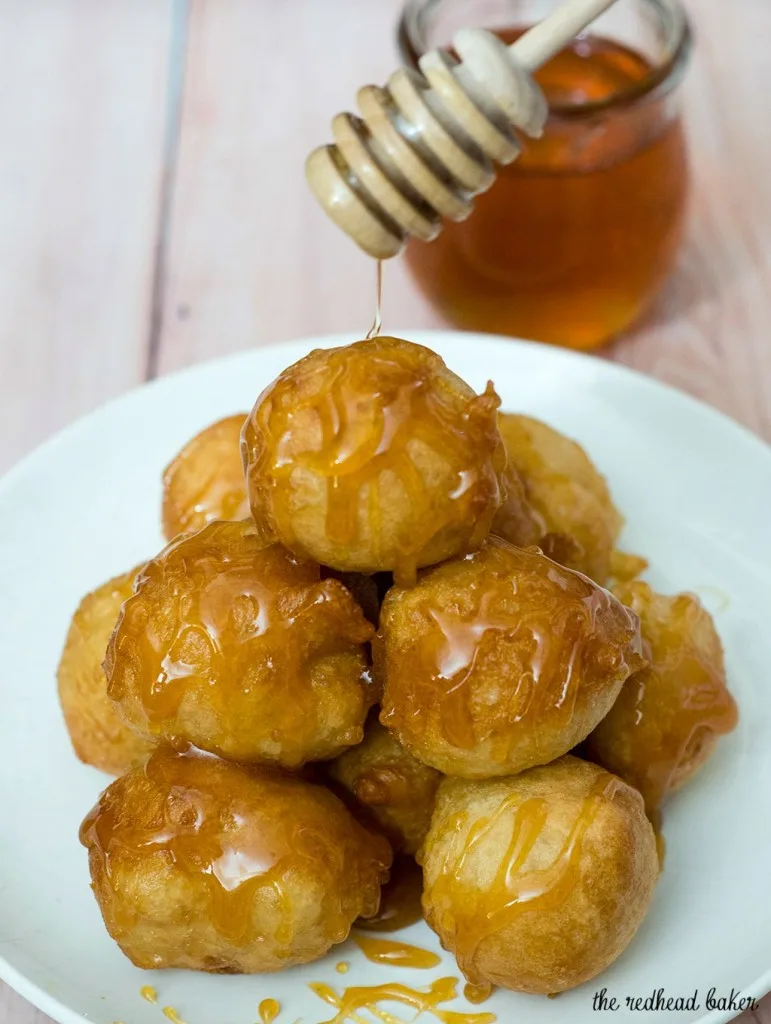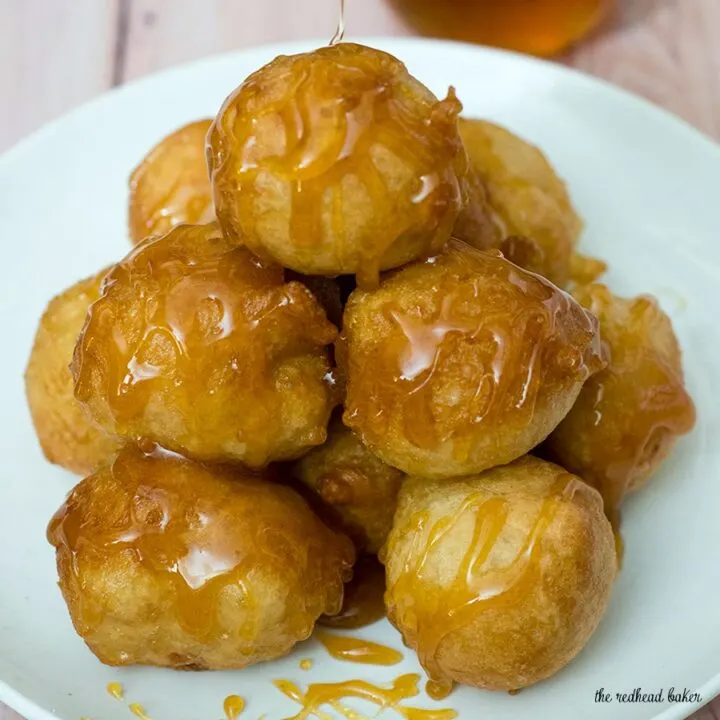 Loukoumades (Greek Honey Fritters)
Ingredients
For the loukoumades:
½ cup of water, 100 to 110 degrees F
¼ oz active dry yeast
1 ½ cups all-purpose flour
1 tablespoon sugar
½ teaspoon salt
½ cup room-temperature milk
4 cups canola oil (at least), for frying
For the honey syrup:
¼ cup water
¼ cup honey
¼ cup sugar
3-inch cinnamon stick
Instructions
Pour the water in the bowl of a stand mixer. Sprinkle the yeast over top, and stir with a fork until well-combined. Let stand for 5 minutes.
Add the remaining ingredients, and beat on medium-high speed with the paddle attachment for 2 minutes.
Cover the mixing bowl with plastic wrap and clean kitchen towel, and set aside to rise for at least 1 hour.
Pour the frying oil into a deep, heavy pot. Heat to 350 degrees. Line a baking sheet with paper towels and place a wire cooling rack over top.
Using a medium-size cookie scoop, portion three to five balls of dough (depending on the size of your pot) into the hot oil and fry on all sides until light golden brown. Remove with a slotted spoon to the prepared cooling rack. Repeat until all the batter is fried.
Combined the syrup ingredients in a medium saucepan. Bring to a boil over medium-high heat. Boil for 2 minutes, until the mixture thickens. Discard the cinnamon stick, then immediately pour over the fritters. Serve immediately.
Slightly adapted from My Greek Dish
Discover more delicious Greek recipes!
Greek Appetizers:
Greek Soups:
Greek Breakfast:
Baklava French Toast with Cinnamon Honey Syrup by A Mind Full Mom
Greek Main Dishes:
Greek Side Dishes:
Greek Desserts:
Greek Beverages: