Turn your favorite cupcake recipe into these adorable Easter Basket Cupcakes, topped with BUTTERFINGER® NestEggs! Kids of all ages will love them! This shop has been compensated by Collective Bias, Inc. and its advertiser. All opinions are mine alone. #EggcellentTreats #CollectiveBias
It's almost Easter time! Yes, already! It's super early this year, which has left me scrambling for Easter basket treats, scheduling Easter egg hunts, and prepping for the big Easter meal.
March is already a busy month in my family, with NINE family birthdays (mine included!), plus St. Patrick's Day ... I'm worn out, and we haven't even gotten to Easter yet!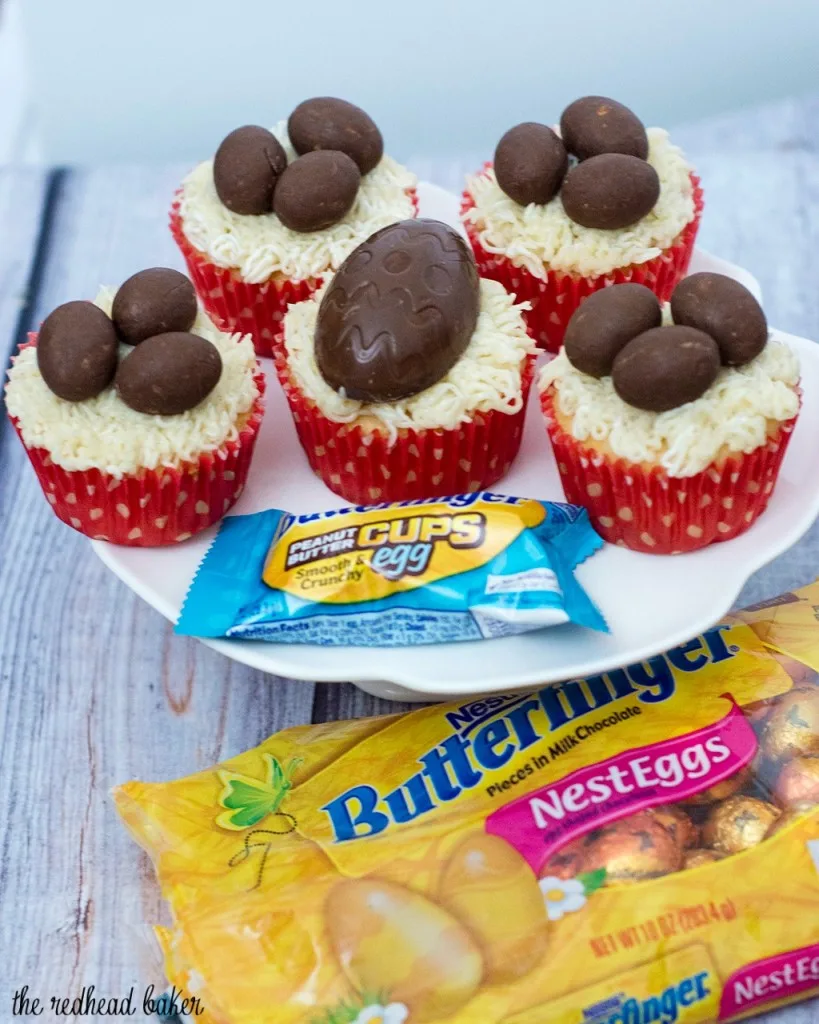 Since March is a busy month already, I plan to keep Easter simple, with a make-ahead ham recipe, steamed frozen veggies for side dishes, and these adorable cupcakes. You can use your favorite home-baked recipe (I've included mine below), or you can use a boxed mix. I do prefer a homemade frosting for these, since those tubs of store-bought frosting aren't stiff enough to hold a piped shape.
I topped my Easter Egg Cupcakes with NESTLÉ® BUTTERFINGER® Cup Eggs from the 6-pack package. They are available along with BUTTERFINGER® NestEggs at your local Walmart. They contain no artificial colors and flavors; added colors come from natural sources. For that reason, I feel comfortable letting my son have them as an occasional treat.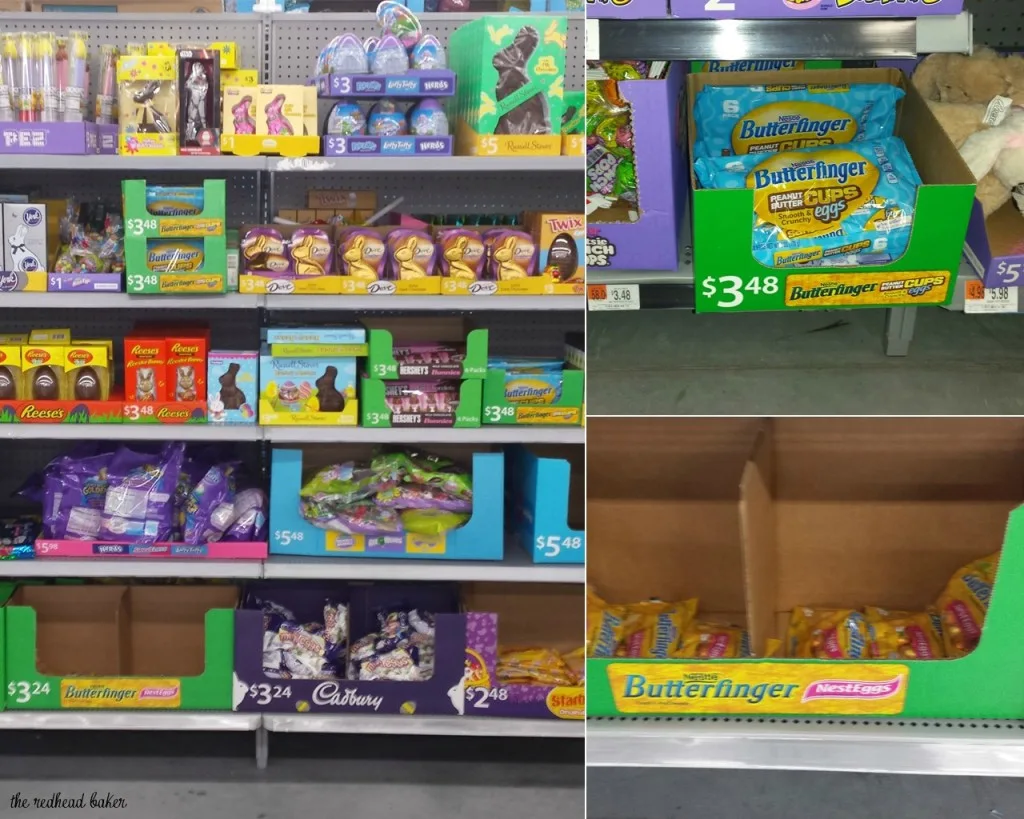 For that same reason, I did not use food coloring to dye my icing green like real grass. If you wanted to do it naturally, you could add 1 very ripe mashed avocado to 1 to 3 cups of icing -- avocado has a very mild flavor and will be almost undetectable in the icing. If you don't have to contend with nut allergies, soak pistachios in water, then grind into a paste and mix with the icing. Both will lend a faint green tint to the icing, reminiscent of that plastic Easter grass that lined our Easter baskets as children.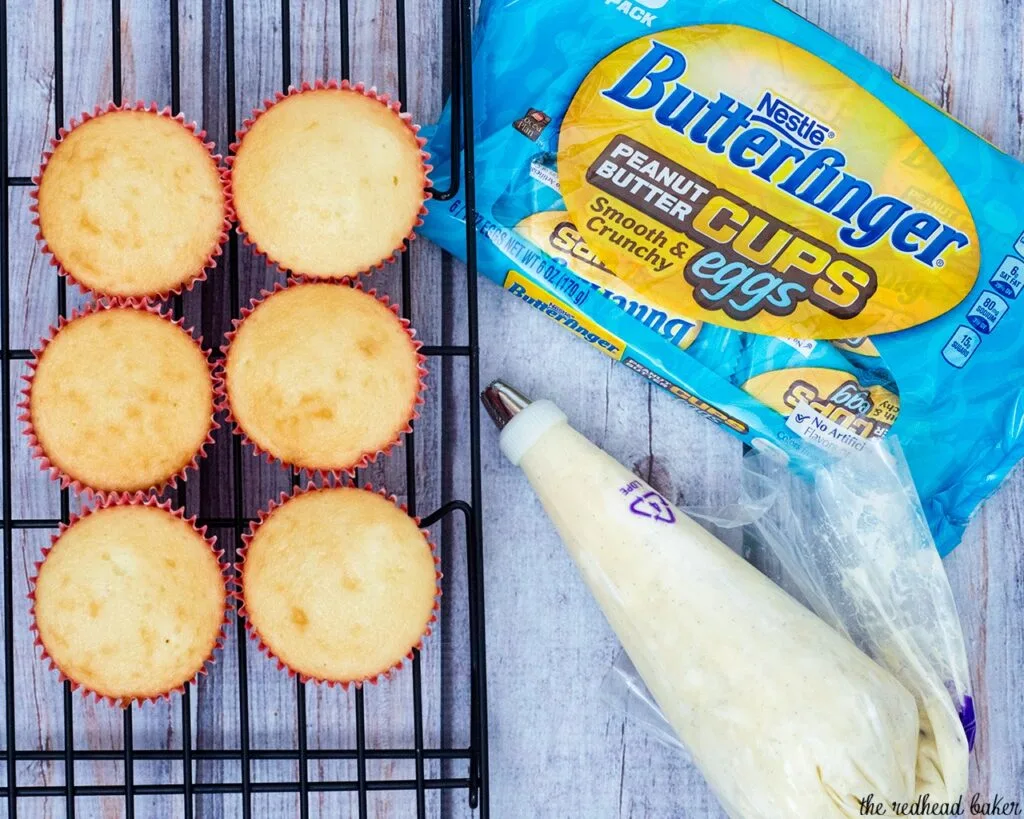 Even if you're not an experienced cake decorator, these cupcakes are very easy. You just need a few inexpensive tools from the local craft store: a disposable piping bag, and a "grass" decorating tip #233. Quick hint: this tip can also be used to pipe icing "fur" onto cake or cupcake animals for adorable children's birthday cakes.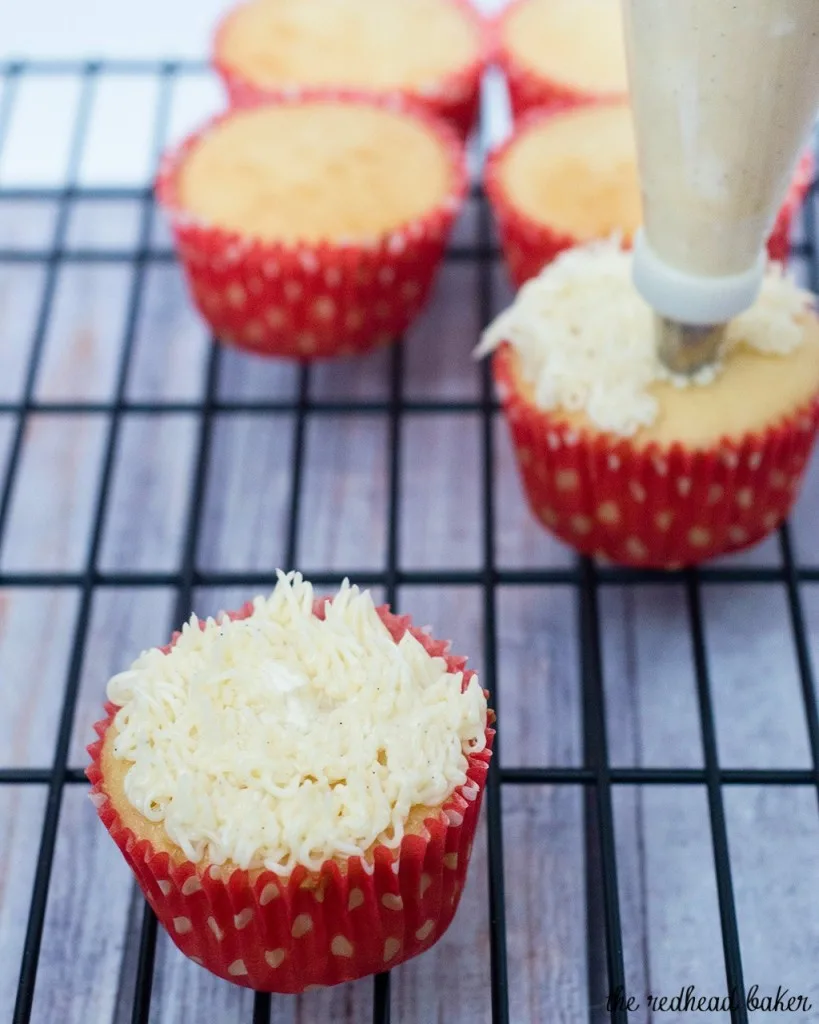 When you're ready to pipe, fill your bag halfway with icing, twist the end closed, and start from the middle. Gently squeeze out a dollop of icing, release the pressure, and pull the tip away from the cupcake. Gently press a BUTTERFINGER® Cup Egg into the center, and you're done!
Want more ideas for easy Easter treats? Visit the Flavorful Moments Pinterest Board.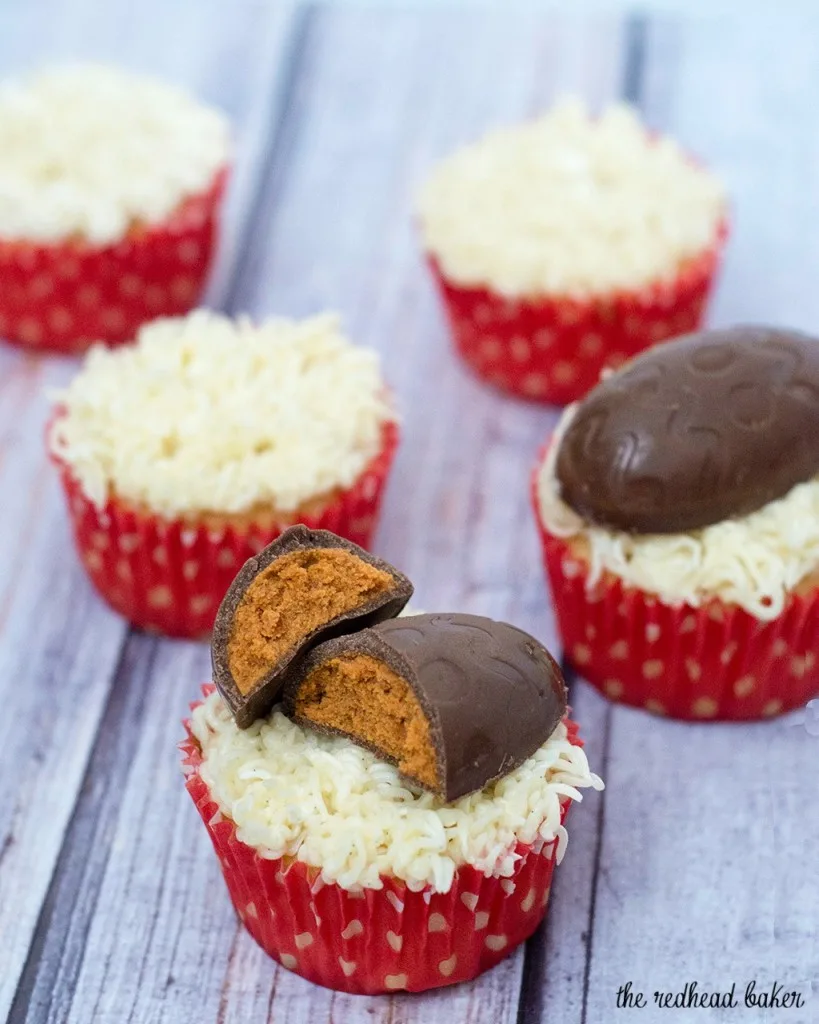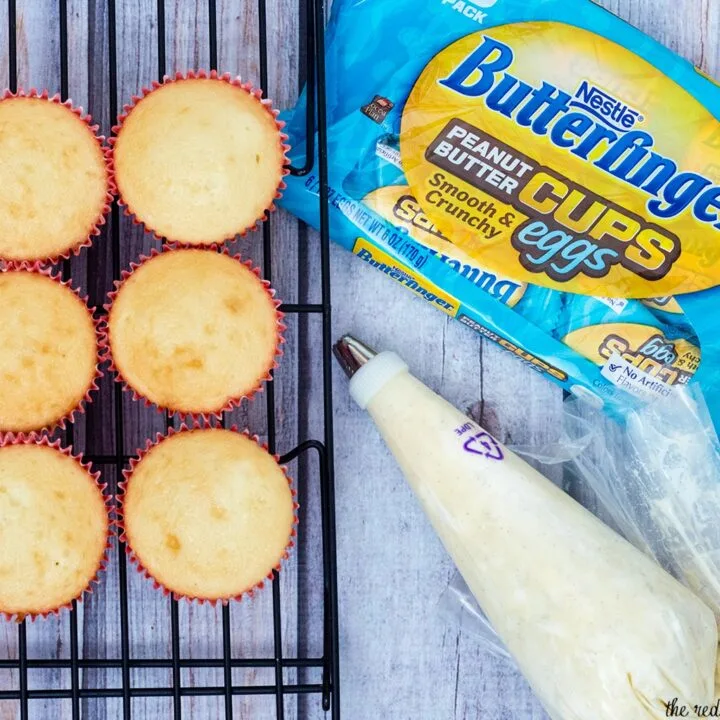 Easter Basket Cupcakes #EggcellentTreats
Ingredients
For the cupcakes:
2¼ cups cake flour, 9 ounces
1 cup whole milk, at room temperature
6 cup large egg whites, at room temperature, ¾
2 teaspoon almond extract
1 teaspoon vanilla extract
1¾ cups sugar, 12¼ ounces
4 teaspoon baking powder
1 teaspoon salt
12 tablespoon unsalted butter, softened, 1½ sticks
For the frosting:
20 tablespoon unsalted butter, softened, 2 ½ sticks
2 ½ cups confectioners' sugar, sifted
⅛ teaspoon salt
2 teaspoon vanilla extract
2 tablespoon heavy cream
For topping:
2 Cup BUTTERFINGER® Eggs 6-packs
Instructions
Preheat your oven to 350 degrees. Line a 12-well muffin tin with paper liners.
In a medium mixing bowl, whisk together the milk, egg whites, and extracts until evenly blended.
In the bowl of a stand mixer fitted with the paddle attachment, stir together the cake flour, sugar, baking powder, and salt on low speed. Gradually add the butter; continue beating at slow speed until the mixture resembles moist crumbs, with no powdery streaks remaining.
Add ¾ of the milk mixture to the flour/butter mixture in the bowl and beat at medium speed for 1½ minutes. Add the remaining milk mixture and beat 30 seconds more. Stop the mixer and scrape the sides of the bowl with a spatula. Return mixer to medium speed and beat 20 seconds longer.
Divide the batter evenly among the paper liners (I recommend using a large scoop). Bake until thin skewer or toothpick inserted in the center comes out clean, 14 to 17 minutes.
Let the cupcakes rest in the pan for 3 minutes, then remove from the muffin tin and transfer to a wire rack to cool completely.
For the frosting: In standing mixer fitted with whisk attachment, beat the butter at medium-high speed until smooth, about 20 seconds.
Add confectioners' sugar and salt; beat at medium-low speed until most of the sugar is moistened, about 45 seconds. Scrape down bowl and beat at medium speed until mixture is fully combined, about 15 seconds; scrape bowl, add vanilla and heavy cream, and beat at medium speed until incorporated, about 10 seconds, then increase speed to medium-high and beat until light and fluffy, about 4 minutes, scraping down bowl once or twice.
Place the grass piping tip in the disposable piping bag. Fill the bag halfway with icing, and twist the end closed. Applying gentle pressure, squeeze a dollop of icing onto the center of a cooled cupcake. Release pressure, and pull the piping bag away. Repeat over the entire surface of each cupcake.
Place a BUTTERFINGER® Cup Egg in the center of each cupcake. Store loosely covered until ready to serve (refrigerate if not serving that day).
Cake and frosting recipes from Cooks Illustrated, as seen on The Way the Cookie Crumbles