In an effort to eat more fruits and veggies, I've realized that I need to make COMPLETE meal plans.
In the past, I've sought out dinner recipes, and that's pretty much it. Sometimes those dinner recipes are complete meals, but more often, it's just a protein. And about five minutes before the protein is ready, I'll remember that we need a side, and throw a bag of frozen veggies in the microwave to steam. Now, I love me some steamed carrots or broccoli, but night after night . . . it gets old.
I have the same problem with lunch. I'm not a huge deli-meat-sandwich fan, and especially not five days a week. I plan out our dinners, but when it comes to lunch, I wander around the grocery store, looking for something appealing, easy to take along, and won't take forever to cook in the microwave.
So when I saw down to make my meal plan for the first week in July, I chose to make simple pan-sauteed sirloin steaks with garlic butter, and chose a simple tomato salad as a side.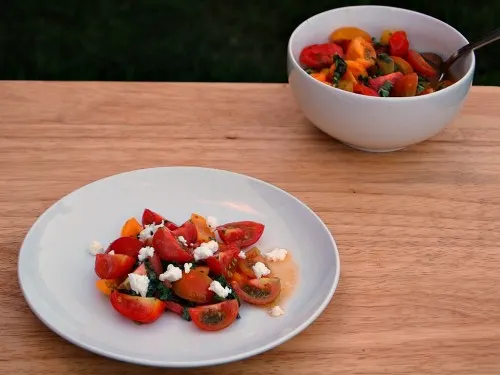 The original recipe called for heirloom tomatoes cut into wedges, but all I could find were mini heirloom tomatoes. They were a beautiful mix of red, yellow and orange with tints of green. Combined with deep green basil and flecks of white goat cheese, it made for a colorful side dish. This salad was also super-fast to prepare, just some quick chopping.
And the FLAVOR! I am not normally a tomato fan. I've gotten over my childhood phase when I refused to eat them AT ALL (seriously, I didn't eat pizza because of the tomato sauce), but I've never been a fan of things like marinara sauce or tomato soup. But I could've eaten the entire six servings of this salad.
And the leftovers (surprising that there were any leftovers!) were even better the next day, after the tomatoes had time to marinate in the dressing.
Trust me, your summer will not be complete until you taste this salad!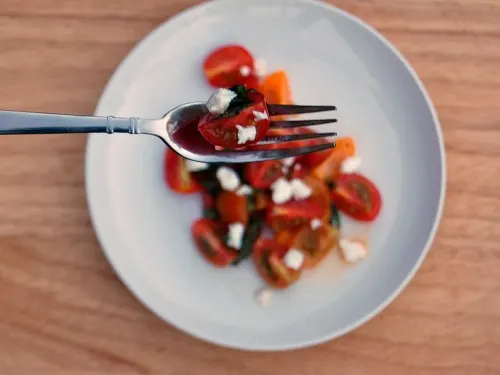 Recipe: Heirloom Tomato Salad
Barely adapted from Cooking Light
Ingredients
3 tablespoon extra-virgin olive oil
1 ½ tablespoon white wine vinegar
½ teaspoon kosher salt
¼ teaspoon freshly ground black pepper
1 garlic clove
2 tablespoon chopped fresh basil
2 lbs mini heirloom tomatoes, quartered
2 oz goat cheese, crumbled (about ½ cup)
Directions
In a medium mixing bowl, whisk together the olive oil and vinegar. Grate the garlic into the mixture using a microplane, and add the kosher salt and pepper. Whisk to combine.
Add the basil and tomato quarters; toss to coat. Cover and let stand for 1 hour, tossing occasionally.
Divide into bowls, top each bowl with some of the goat cheese (about 1 ½ tbsp) and serve.
Number of servings (yield): 6