I'm sure you're all familiar with the Philly Cheesesteak: a sandwich with lots of thinly sliced rib-eye beef and melted cheese (American, Provolone or Cheez Whiz) on a long roll. If, when ordering one, you're asked, "Wit or witout?" that means they want to know if you want onions on your cheesesteak. Sometimes you have the option of adding mushrooms or bell peppers.
In Philadelphia, these sandwiches are sold in just about every sandwich and pizza shop. Other restaurants put their own twist on them, like the Philly Cheesesteak spring rolls at the New Wave Cafe in my much-missed old neighborhood of Queen Village, or the Philly Cheesesteak Burger at Carl's Jr.
I looooooove cheesesteaks. I prefer my steak with American cheese, occasionally "wit" onions, but usually "witout." And always with lots of ketchup.
So when I saw this Philly Cheesesteak Pizza on Cooking Light's website, I had to make it (also because I had 8 ounces of flank steak in my freezer, left over from the steak fajitas). It's a pizza crust loaded with the typical Philly steak ingredients: thinly sliced steak (in this case, flank steak), onions, peppers, and a homemade "Cheez Whiz" sauce.
It was a lot of fun to make, and really tasty — and messy!
Because this was a rather last-minute addition to our dinner menu, we used a store-bought pizza crust from Trader Joe's. If you have the time and the inclination to make your own pizza crust from scratch, I highly recommend this one from The Way the Cookie Crumbles.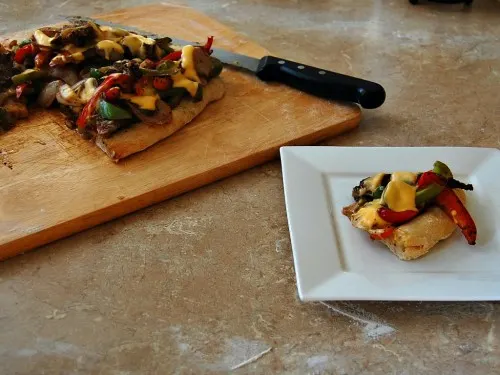 Philly Cheesesteak Pizza
Adapted from Cooking Light
Ingredients
8 oz flank steak, halved lengthwise
1 teaspoon black pepper, divided
Cooking spray
12 to 16 oz raw pizza dough, store-bought or homemade
1 tablespoon cornmeal
2 teaspoon olive oil
1 large white onion, sliced vertically
1 green bell pepper, seeded and cut into strips
1 red bell pepper, seeded and cut into strips
5 garlic cloves, thinly sliced
1 ½ teaspoon soy sauce
½ cup milk
1 tablespoon all-purpose flour
2 oz (½ cup) extra-sharp cheddar cheese, shredded
¼ teaspoon onion powder
⅛ teaspoon salt
⅛ teaspoon red pepper flakes
Directions
Place a pizza stone or heavy baking sheet in your oven, and preheat oven to 500° (keep stone or baking sheet in oven).
Season steak on both sides with ½ teaspoon pepper. Heat a large cast-iron skillet over medium-high heat. Coat the skillet with cooking spray. Add the steak to the pan; cook for 4 minutes on each side or until desired degree of doneness. Remove from pan; let stand 5 minutes. Cut steak across the grain into very thin slices.
Flour a clean, flat surface. Place the dough on the flour and roll into a 14-inch circle; pierce liberally with a fork. Carefully remove the pizza stone or baking sheet from oven, and sprinkle with cornmeal. Arrange the dough on the pizza stone/baking sheet. Bake at 500° for 10 minutes or until browned and crisp.
While the crust bakes, return the skillet to medium-high heat. Add the oil to the pan and swirl to coat. Add the onion and bell peppers; sauté for 3 to 5 minutes. Add garlic; sauté 2 minutes. Add steak; sauté 30 seconds or until thoroughly heated. Remove from heat; stir in remaining ½ teaspoon black pepper, onion powder and soy sauce. Arrange steak mixture over crust.
Combine milk and flour in a 4-cup glass measuring cup; stir with a whisk until smooth. Microwave on 100% power for 2 minutes or until thickened, stirring every 30 seconds. Stir in cheese and remaining ingredients. Drizzle the cheese mixture over pizza.
Cut into 8 wedges and serve.
Number of servings (yield): 4