Have you ever seen these in a grocery store and wondered what they were?
They're figs.
What are figs? They're a fruit. Not the prettiest or most appetizing-looking fruit. But, remember that "don't judge a book by its cover" lesson you learned (or were supposed to learn) as a child?
The only time I'd ever somewhat tasted a fig was inside a Fig Newton cookie. I thought they were a "winter" food ("Oh, bring us some figgy pudding, oh bring us some figgy pudding ..."). But it turns out, figs are in season from June through early autumn. (Sorry that I got Christmas carols stuck in your head.)
Last summer, I overheard someone asking for figs at Trader Joe's every weekend while I was grocery shopping. One weekend, I heard the clerk explain that they were so popular, they barely lasted five minutes each time they restocked the shelves.
So this year, when I saw one package left on the shelf during a mid-week stop at the store, I grabbed them. I didn't even know what to do with them, but I knew I wanted to taste them.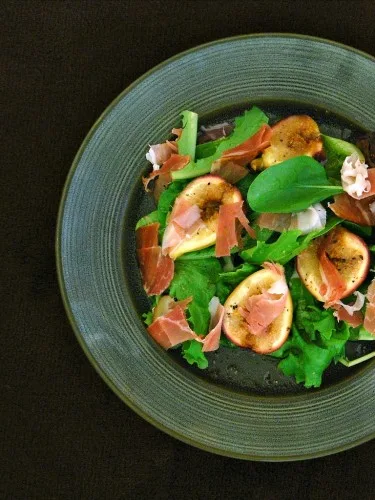 I asked about fig recipes on a cooking forum on which I post, and got a variety of replies, from appetizers to desserts, but the recurring theme I noticed was figs and goat cheese.
I did some searching, and found a savory salad that included both figs and goat cheese on MyRecipes.com, and decided to serve it for dinner. Figs are high in fiber, so I knew the salad would be filling enough on its own. But you could also serve this as an appetizer, or a side dish if you wanted.
The meal was so easy to put together, ready in under 30 minutes. The original recipe called for grilling the figs, but living in an apartment, we don't own a grill (not even a grill pan, since we have an electric range). So instead, I roasted the figs. A mixture of goat cheese, cream, and lime juice acts as the dressing.
This salad was the most delicious meal I have eaten in a long time. While one serving of the salad was satisfying enough, the flavor was so amazing, we each just had to have another helping.
I am a die-hard fig fan now, and will be stalking Trader Joe's to purchase more figs to try in different recipes.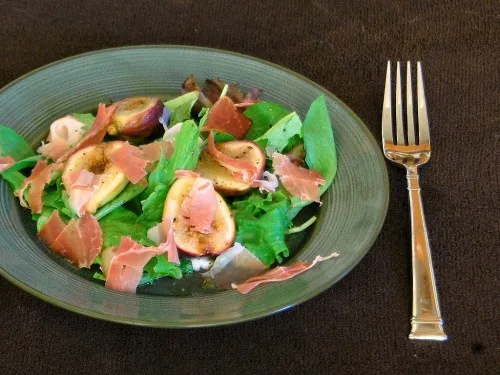 Roasted Fig, Prosciutto, and Goat Cheese Salad
Adapted from MyRecipes.com
Ingredients
½ cup extra-virgin olive oil
¼ cup red wine vinegar
2 tablespoon sugar
1 teaspoon kosher salt
½ teaspoon freshly ground pepper
12 fresh figs, stemmed and halved (Black Mission or Brown Turkey)
3 ounces goat cheese, at room temperature
¼ cup heavy whipping cream, plus more as needed
1 teaspoon lime juice
6 to 8 cups spring mix salad greens
3 ounces thinly sliced prosciutto, chopped
Directions
Preheat your oven to 350 degrees. Line a baking sheet with tinfoil.
Stir together the red wine vinegar, sugar, salt and pepper in a small bowl. While stirring, slowly pour in the olive oil.
Arrange the figs on the baking sheet, and drizzle 3 tablespoons of the vinaigrette over the figs, and set aside remaining dressing. Roast the figs for 2 to 3 minutes, then flip each one with tongs, and roast another 2 to 3 minutes, until tender. Remove from heat, and cut each fig half in half to make quarters. Set aside.
Combine the goat cheese, ¼ cup heavy cream and lime juice in a food processor, or medium bowl with an immersion blender. Process until well blended, stopping to scrape down sides. Add more heavy cream, a tablespoonful at a time, as needed until desired consistency is achieved.
Toss the salad greens with remaining vinaigrette. Spoon goat cheese mixture in the center of each plate. Top with fig quarters, prosciutto, and greens.
Preparation time: 10 minute(s)
Cooking time: 5 minute(s)
Number of servings (yield): 4