As I mentioned last week, it felt like the summer was getting away from me, and I hadn't really had the opportunity to take the fresh summer produce and do something with it besides snack on it.
I visited the Frecon Farms stand at the local farmers' market, and bought lots of blueberries and peaches. I made a pie out of the blueberries, but couldn't decide what to do with the peaches. Cakes and cupcakes didn't really appeal to me, but I still wanted something sweet.
Then I remembered hearing Jeni Britton Bauer speak at The Big Summer Potluck about her ice creams, and the various flavors they offer. She mentioned a fresh goat cheese ice cream, layered with roasted cherries.
I'm not a fan of cherries. I've tried. Tasted different varieties, in different dishes. I just don't like them. But I wondered how the ice cream would taste with a different stone fruit, like peaches. So back I went to the farmers' market, and visited Shellbark Hollow's stand, and got some fresh goat cheese. After visiting their website, I learned they specialize in goat's milk products. In fact, the goat's milk cheese I bought was likely less than a week old!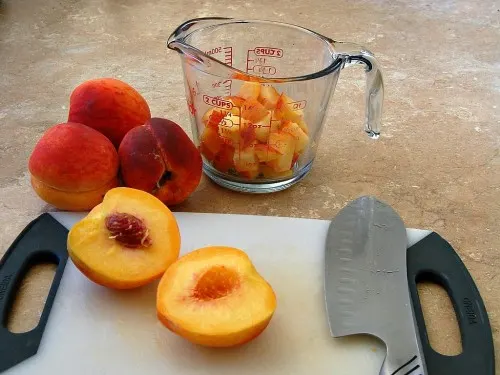 Well, in case you happened to be wondering, too, the answer is — it's amazing! The sweetness of the peaches is balanced by the tanginess of the goat cheese; the smooth texture of the ice cream is balanced by the chunks of peaches.
This is also a really easy ice cream to make, especially for beginners. There are no eggs, so no need to worry about getting the perfectly thick base without creating scrambled eggs.
The recipe makes a generous quart of ice cream, and considering the richness, a little goes a long way, so you'll be able to enjoy this recipe for a good while!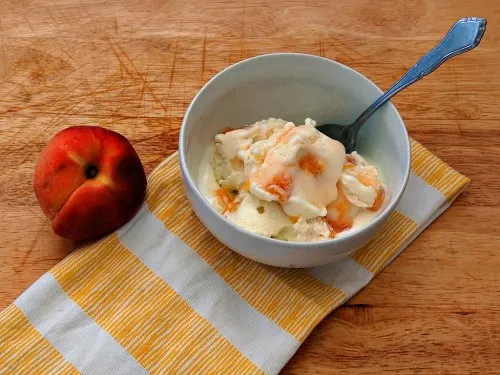 Goat Cheese Ice Cream with Roasted Peaches
Adapted from Jeni's Splendid Ice Creams via Epicurious
Ingredients
For the roasted peaches:
3 small peaches, skin left on, cut into 1-inch cubes
⅔ cup sugar
2 teaspoon cornstarch
For the ice cream:
2 cups whole milk
1 tablespoon + 1 teaspoon cornstarch
4 oz fresh goat cheese
1 ½ oz (3 tbsp) cream cheese, softened
¼ teaspoon sea salt
1 ¼ cups heavy cream
⅔ cup sugar
¼ cup light corn syrup
Directions
Preheat oven to 400 degrees.
Place the peaches in a medium mixing bowl, and sprinkle the sugar and cornstarch over top. Toss to coat.
Spread the peaches in an even layer in an 8-inch square baking dish. Roast the peaches for 30 to 40 minutes, until bubbly and juices have thickened into a syrup.
Set aside to cool, refrigerate until ready to use. Can be made a day ahead.
Whisk 2 tablespoon of the whole milk with the cornstarch and set aside.
In a large mixing bowl, whisk together the goat cheese, cream cheese and salt.
Combine the remaining milk, heavy cream, sugar and corn syrup in a large (4-qt) saucepan. Bring to a rolling boil, and cook at a boil for 4 minutes (briefly removing from the heat as necessary to prevent boil-over). After 4 minutes, remove the saucepan from the heat and slowly whisk in the milk/cornstarch slurry. Return the saucepan to the heat, and bring the mixture back to a boil and cook for 1 more minute, stirring constantly until thickened.
Gradually whisk the hot milk mixture into the goat cheese mixture and stir until smooth. Transfer the liquid to a 1-gallon heavy duty zip-top bag and refrigerate until thoroughly chilled, at least 4 hours, but preferably overnight.
Pour the ice cream into your ice cream maker and process according to the manufacturer's directions. When finished, spread the ice cream in a storage container, alternating layers of ice cream with layers of roasted peaches. Do not stir in the peaches. Press a layer of parchment, wax paper or plastic wrap onto the surface of the ice cream, then cover with the storage container's lid and freeze at least 4 hours or until hardened.