If you're looking for Monday Bites, I've decided to move it to Friday.
Thank you to all who've submitted answers to the First Annual Reader Survey so far! To those who haven't, there's still time to submit your answers! You could win a Starbucks gift card!
Now, on to the food.
As I've mentioned before, we're trying to eat more meatless dishes in our household, mostly for the money savings. Dave is even willing to go entirely vegan, but I just can't make that leap myself. As much as I've tried to like them, I just can't get past the texture of most beans.
Chickpeas are one exception, and even then, I prefer them to be mixed in with lots of other flavors and textures. I can't eat them on their own (unless they're pureed into a tasty hummus).
But combined with the slight bite of the al dente pasta, and the softness of the sauteed onions and fennel, there were enough textures that the texture of the chickpeas didn't stand out too much.
The flavor was fantastic. Lots of tomato-y goodness, with a touch of heat from the red pepper flakes.
The recipe as written below is vegan (dried pasta is usually vegan, but read the package label just to be sure). If you're not vegan, go ahead and add a sprinkle of parmesan cheese just before serving. But whether you're a meat eater or not, this is a flavorful, filling dish that's still light enough for even the warmest summer evening.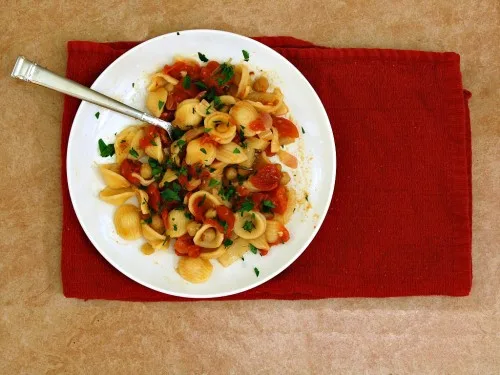 Orecchiette and Chickpeas in Rustic Tomato Sauce
Barely adapted from Today's Parent
Ingredients
3 tablespoon olive oil
½ of a medium red onion, diced
½ of a fennel bulb, chopped
2 cloves garlic
1 generous pinch of red pepper flakes
1 (28-oz) can diced tomatoes with juices
1 (15-oz) can chickpeas, drained and rinsed
1 pound box orecchiette pasta (medium shells would work well, too)
¼ cup Italian parsley, chopped
Directions
Bring a large covered pot of salted water to a rolling boil.
In a large skillet, heat the oil over medium heat. Add the onion and fennel, and saute until soft, about 5 minutes. Add the red pepper flakes and the garlic, and saute another minute.
Add the can of diced tomatoes with their juices to the skillet and bring to a simmer. Cook for 10 minutes. Meanwhile, add the pasta to the boiling water and cook according to the package directions to al dente.
After simmering the skillet for 10 minutes, add the drained chickpeas and cook another 5 minutes.
Reserve 1 cup of the pasta water. Drain the pasta. Add to the skillet and toss with the sauce to coat, adding the reserved pasta water by the ¼-cupful to loosen the pasta if needed.
Sprinkle with pasta before serving.
Preparation time: 15 minute(s)
Cooking time: 25 minute(s)
Diet type: Vegan
Number of servings (yield): 4