It's recipe swap time, hosted by A Taste of Home Cooking!
If you've noticed a decrease in swap posts, it's because our swaps have dropped to once a month instead of once every two weeks. Our swap theme for August was Summer Salads.
I was intrigued when I received my assigned recipe. I had never had quinoa before (though it's been on my radar to try, and I had a bag of it in my pantry). Most people call quinoa an "ancient grain," but it's actually a seed, though it resembles cous cous and often takes the place of a grain in a meal.
The inclusion of other ingredients — mango, avocado, red onion — almost sounded like ingredients for a fruit salsa. Combined with lime juice and honey, I really wasn't sure I was going to like the way it tasted.
I was pleasantly surprised that it turned out to be a good dish. It's probably not a recipe I would have ever picked out for myself. My quinoa was still slightly warm when I added the avocado, mango and red onion, and the avocado softened almost into a creamy coating on the quinoa.
The recipe is vegetarian as-written, and you could easily substitute agave syrup for the honey to make it vegan.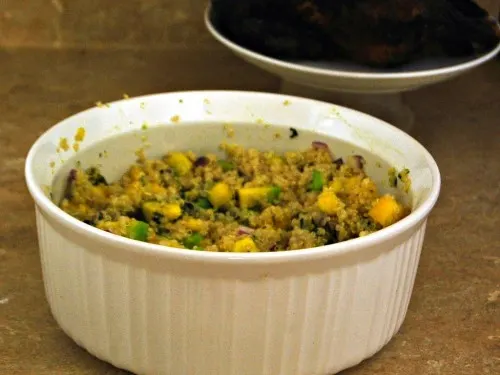 Mango Avocado Quinoa Salad
Recipe source: Cheese Curd in Paradise
Ingredients
1 cup uncooked quinoa
1 ripe mango, peeled and diced
1 ripe avocado, diced
½ of one red onion, diced and soaked in ice water for 10 minutes
½ cup chopped cilantro
Juice of 2 limes
1 teaspoon honey
Salt and pepper to taste
Directions
Cook the quinoa according to the package directions. Once fully cooked, scrape into a medium serving bowl and set aside to cool.
Gently fold the mango, avocado, red onion and cilantro into the quinoa.
In a small bowl, whisk together the lime juice and honey. Pour over the quinoa and gently stir to coat the salad.
Season to taste with salt and pepper. Can be served immediately or chilled until needed.
Diet type: Vegetarian
Number of servings (yield): 4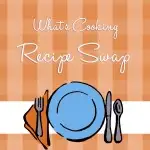 To see other recipes from the swap, click on any of the images below!