White chocolate apricot oatmeal cookies are crisp at the edges and tender in the middle, and loaded with delicious white chocolate chips and dried apricot pieces.
I try to keep healthy snacks on-hand at home. The fridge is always loaded with fresh fruit and low-fat dairy snacks like yogurt. The pantry has dried fruit, fat-free popcorn, applesauce, and graham crackers. Sometimes though, you just need a classic comfort snack.
It took me a while to warm up to oatmeal cookies. My mom always made them at Christmas, but I wouldn't eat them. For some reason, I couldn't get the idea out of my head that they were the texture of prepared oatmeal, even though, duh, they obviously aren't.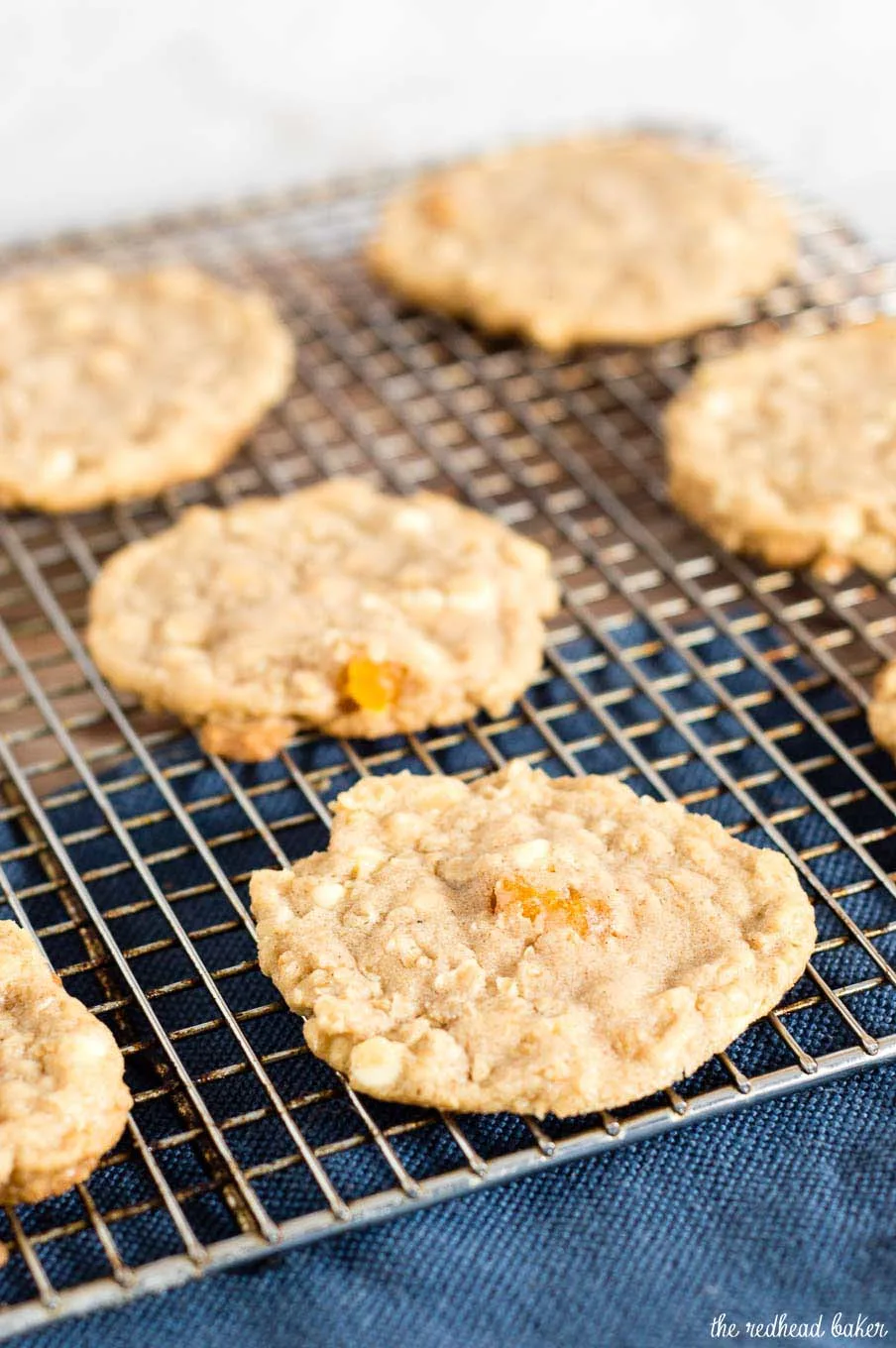 Now, chocolate chip cookies are still my favorite. But oatmeal cookies come in a close second. These ones are pretty standard, as far as oatmeal cookies go: butter, two kinds of sugar, egg, vanilla, flour, oatmeal. They also have subtle spice from cinnamon and nutmeg.
Then, they get a dose of deliciousness with white chocolate chips and diced dried apricots. While regular oatmeal cookies remind me of Christmas and winter time, oatmeal cookies with white chocolate and apricots makes me think of spring.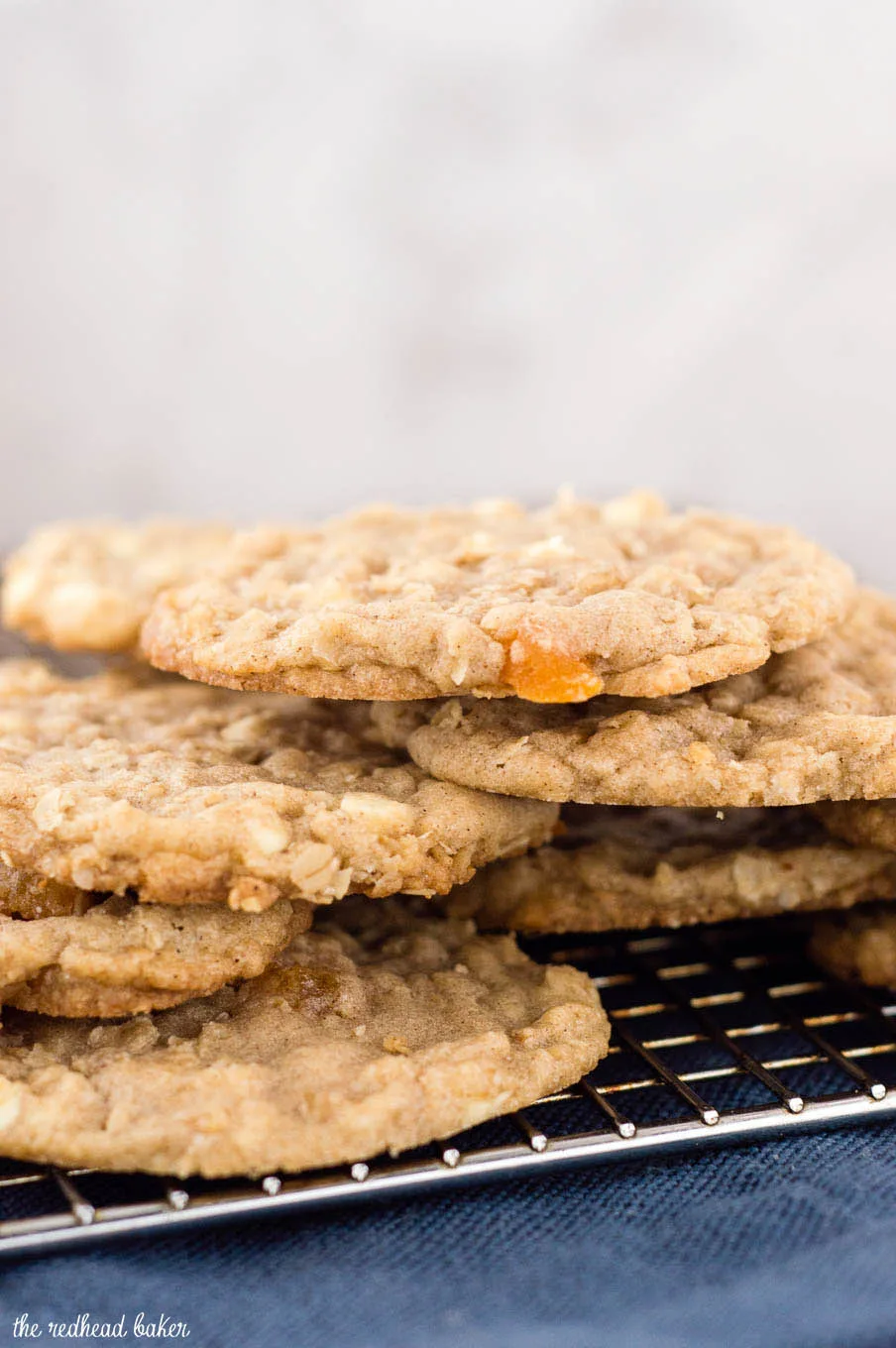 My son, who prefers fruity snacks over chocolatey ones, proclaimed these white chocolate apricot oatmeal cookies "the bestest cookies in the world!" And obviously, a five-year-old is an authority on cookies. But seeing as he usually refuses to taste most cookies that I bake, I'll take that as a win. I think it was the apricots (one of his favorite fruits) that won him over.
Like most drop cookies, the dough mixes quickly, then scoop, drop and bake. Once cooled, store the cookies in an airtight container or zip-top plastic bag at room temperature for up to a week. These cookies also freeze well.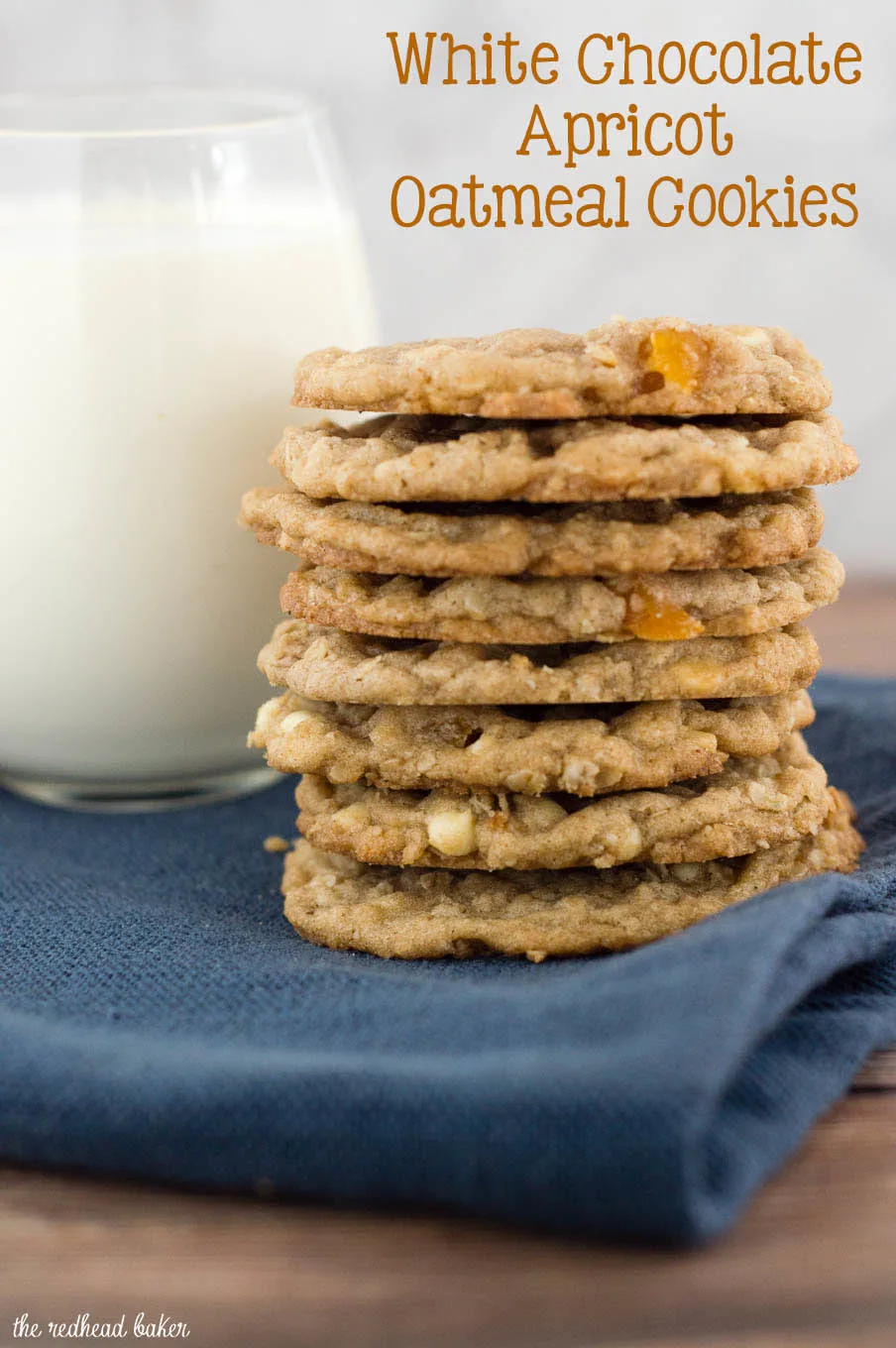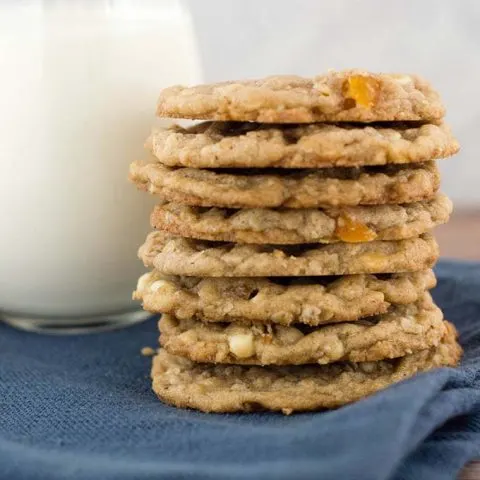 White Chocolate Apricot Oatmeal Cookies
Ingredients
1 cup unsalted butter, softened, 8 oz, 2 sticks
1 cup sugar, 7 oz
½ cup dark brown sugar, packed, 3.75 oz
1 large egg
2 teaspoon vanilla extract
1 ⅔ cups all-purpose flour, 7 oz
1 teaspoon cinnamon
¾ teaspoon baking soda
1 teaspoon salt
⅛ teaspoon baking powder
⅛ teaspoon nutmeg
1 cup dried apricots, diced, 4 ½ oz
1 cup white chocolate chips, 6 oz
1 ½ cups quick-cooking oats, 4 ⅝ oz
Instructions
Preheat oven to 350 degrees. Line two sheet pans with parchment paper or silicon baking mats. Set aside.
In the bowl of a stand mixer, cream together the butter and sugars until light and fluffy. Add the egg and vanilla, beat until well-blended. Scrape down the sides of the bowl.
In a separate bowl, stir together the flour, cinnamon, baking soda, salt, baking powder, and nutmeg. Add the dried apricot pieces and toss with the flour mixture to coat (this prevents them from sticking together).
Add the flour/apricot mixture to the mixing bowl along with the chocolate chips. Mix just until combined. Add the rolled oats and mix just until combined.
Scoop the cookie dough onto the prepared sheet pans using a medium cookie scoop, spacing the cookies two inches apart (they spread a lot). Dampen your hands with water, and press down on each ball of dough.
Bake the cookies for 8 to 10 minutes, or just until the cookies begin to turn dark brown at the edges.
Let cool for 5 minutes on the sheet pans, then transfer to a wire rack to cool completely.
You may also like these cookies recipes: