Baking cookies is fun, no matter the time of year. They are easy to make, pleasing young and old alike. There are hundreds, if not thousands, of recipes from which to choose.
But there's something about baking cookies at Christmas time that is extra-special. Maybe it's a special recipe you only make that time of year. Maybe it's the Christmas music playing in the background. Maybe it's the aroma of baking cookies mixed with the scent of fresh pine and crisp winter air.
For me, it's knowing that the cookies I'm baking will be shared with others. One of my favorite ways to show I care for others is to cook or bake for them — to nourish them. I love watching others bite into something I've made and hear them say, "Wow!"
I can't wait to share this experience with Liam when he's a bit older. Right now, his idea of "helping" is to steal my utensils and nom on them.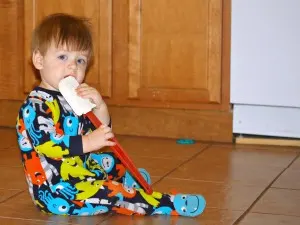 Maybe next year, he can stir the dry ingredients or scoop a few cookies with me.
My love of sharing food is partly why I signed up for not one, but two cookie swaps this year! Yes, the other reason is because I would get yummy cookies, too. The recipe below was made for a swap among some members of an online cooking board on which I post (the other swap is the second annual Great Food Blogger Cookie Swap, which I'll post about on Wednesday).
My swap recipient expressed a preference for nutella, caramel, and chocolate, among other flavors. To be quite honest, I don't remember exactly how I found these cookies from My Kitchen Addiction but I knew they'd be perfect.
I halved the recipe, and still got a LOT of cookies (I sent more than the dozen that were required, and probably had even more left over!), which was a good thing, because they are addicting! They are moist and soft fresh out of the oven, but as they cool, they crisp up on the outside, but remain tender on the inside.
I had a little cookie dough left over after I ran out of Milk Duds, so I made a few without the candy center, and they were still delicious! If you're not a fan of caramel, feel free to leave the Milk Duds out. The baking time will remain the same.
[gmc_recipe 1478]