Last year, I had a fantastic experience with the Great Food Blogger Cookie Swap. Hundreds of food bloggers from around the world signed up, baked a batch of cookies, and sent one dozen to three different assigned recipients. In return, they received a dozen cookies from three different food bloggers.
So when I received the email that sign-ups for this year were open, I didn't hesitate. What made it even better is that this year, Lindsay and Julie had partnered with OXO to turn the cookie swap into a fundraiser for OXO's Cookies for Kids' Cancer. Each food blogger that signed up donated a small amount to the charity as part of their registration, and in return, received an orange "Be a Good Cookie" spatula.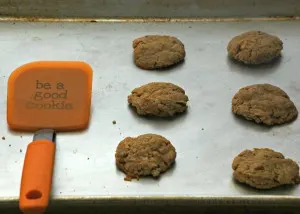 I want to thank both of them for organizing and hosting this gigantic swap, not once but twice! I can't imagine the time and effort it must take to put something like this together.
Now let's talk cookies. I was placed in the nut allergy "category." I don't actually have nut allergies, but I do have weird intolerances of some whole nuts (I can't eat whole peanuts, almonds, or pecans or else I get an upset stomach; but I can eat peanut butter, things cooked in peanut oil, etc.). But anyway, for simplicity's sake, I just requested no nuts.
This also meant that my swap recipients had requested no nuts. So, off I went in search of a cookie recipe. Delicate cookies, like tuiles, were out, because they wouldn't ship well. I wanted to send something a little more . . . well, exciting than a standard chocolate chip cookie.
On November 23rd, I received an email from MyRecipes.com, featuring a recipe for a lightened-up version of a classic holiday cookie. Oatmeal cookies have been on my Christmas baking list forever, but this recipe had a twist: it contained chopped up dried apples and bits of caramel. A caramel apple oatmeal cookie! Bonus? Each cookie has 83 calories and 2 grams of fat.
I thought I would end up having to make my own dried apple slices for this recipe, but I was able to find a bag of them at Target, with the raisins and other dried fruit. One 2.2-ounce bag is more than enough for this recipe. Kraft makes a bag of caramel bits, so if you can find them, get them! Chopping up 16 soft caramel candies was tedious and left me with blisters on my hands.
I recommend using a cookie scoop to form these cookies. Being low-fat, it's a dry and crumbly dough, and you need to pack it into the scoop to keep the raw cookie from falling apart. And finally, make sure you use old-fashioned, not quick-cooking, rolled oats (Quaker makes both kinds). I don't understand why, but if you use quick-cooking, the cookies won't spread.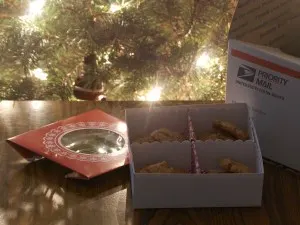 I shipped my cookies to the bloggers at Doggy Dessert Chef (lots of pet-friendly treats!), Confessions of a Farmer's Daughter, and Russell Street Stories. In return, I received cranberry-orange shortbread cookies from JellyToast, coconut shortbread from JeannieBee Bakes, and cherry chip tea cookies from Red, White and Blueberries. These were all new cookies to me and all were delicious!
[gmc_recipe 1310]