Homemade egg nog is easy to churn into egg nog ice cream, a delicious Christmas treat.
It's here: Week 12 of 12 Weeks of Christmas Treats, hosted by Meal Planning Magic. I hope you've enjoyed the posts, and found some new treats to try this Christmas. I'm sad to see the link-up end, but to be honest, I'm also somewhat relieved. I was starting to run out of ideas. I wanted to come up with something impressive and unmistakably Christmas-y for my last link-up post.
I tried getting ideas from The Mister. His suggestion was gingerbread men, but I'd already done a gingerbread-flavored treat. So, I put the question to my Facebook readers: "The dessert or treat that immediately makes me think of Christmas is ___________________." And reader (and friend!) Stephanie C. reminded me of egg nog.
Now of course, I wasn't satisfied with just egg nog. I had to go and do something with it, take it a step further. Egg nog is a custard. What do you get when you churn custard? Ice cream!
Yes, ice cream in December. No, I'm not crazy.
I had made Alton Brown's recipe from the "School of Hard Nog" episode of Good Eats last year, and (Food Network gods, forgive me) I wasn't a fan. It wasn't creamy enough. So, off I went in search of a different recipe.
The recipe I found is rich and creamy, and tastes like you poured store-bought egg nog into the ice cream maker and churned it (which I've heard is possible, but that would make for a boring blog post, wouldn't it?). If you want to keep this kid-friendly, use 1 teaspoon of rum extract instead of 2 tablespoons of alcohol.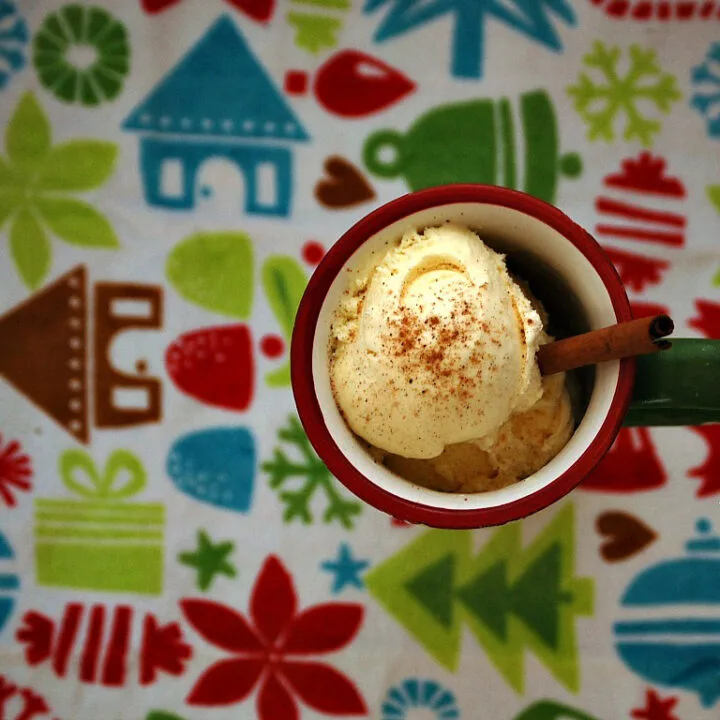 Egg Nog Ice Cream: Week 12 of 12 Weeks of Christmas Treats
Ingredients
2 cups heavy whipping cream, divided
1 cup whole milk
4 cloves whole
1 teaspoon nutmeg, freshly grated is preferable
¼ teaspoon cinnamon
Pinchof salt
⅔ cup sugar
6 egg yolks
1 teaspoon vanilla extract
2 tablespoons rum, brandy or bourbon
Instructions
Combine the milk, 1 cup of the heavy cream, the cloves, nutmeg, cinnamon and salt in a medium saucepan. Heat just until scalding (until tiny bubbles form around the edge), then cover and remove from the heat. Let sit for one hour.
Scoop the cloves out of the mixture (strain through a fine-mesh sieve if you can't find them), and return the pan to the stovetop, over medium-low heat. Add the sugar to the mixture, and stir until the sugar dissolves.
Pour the remaining 1 cup of heavy cream in a medium mixing bowl. Place several ice cubes inside a large mixing bowl, and set the medium one inside the larger one, on top of the ice cubes. Position a fine-mesh sieve over the medium bowl (see recipe source for a photo).
Place the egg yolks in a small mixing bowl. Whisk together until thick and pale yellow. Slowly pour half of the hot cream/sugar mixture into the egg yolks, whisking constantly. Pour the entire egg mixture back into the saucepan of hot cream (this process is called "tempering").
Increase the heat under the saucepan to medium, and cook the cream/egg mixture, stirring with a wooden spoon, until the mixture thickens and coats the back of a wooden spoon. The mixture is ready when you can run your finger across the back of the coated spoon and the mixture does not run (see recipe source for photo).
As soon as the mixture is ready, immediately remove it from the heat and pour it through the sieve into the mixing bowl with the cold cream. Stir together until fully combined. Cover and chill for at least four hours, up to overnight.
When ready to churn, remove the mixing bowl from the refrigerator, and stir in the vanilla and the rum, brandy or bourbon. Process the mixture according to the manufacturers' instructions for your ice cream machine.
Scrape ice cream from the machine into an airtight, freezer-safe container and place in the freezer for a few hours to harden. Let soften at room temperature for about 10 minutes before scooping.
Recipe from Simply Recipes