Jack-o-Lantern sandwich cookies are like pumpkin pie in cookie form—a great treat for a Halloween party! These cinnamon cut-out cookies are sandwiched with pumpkin ganache filling.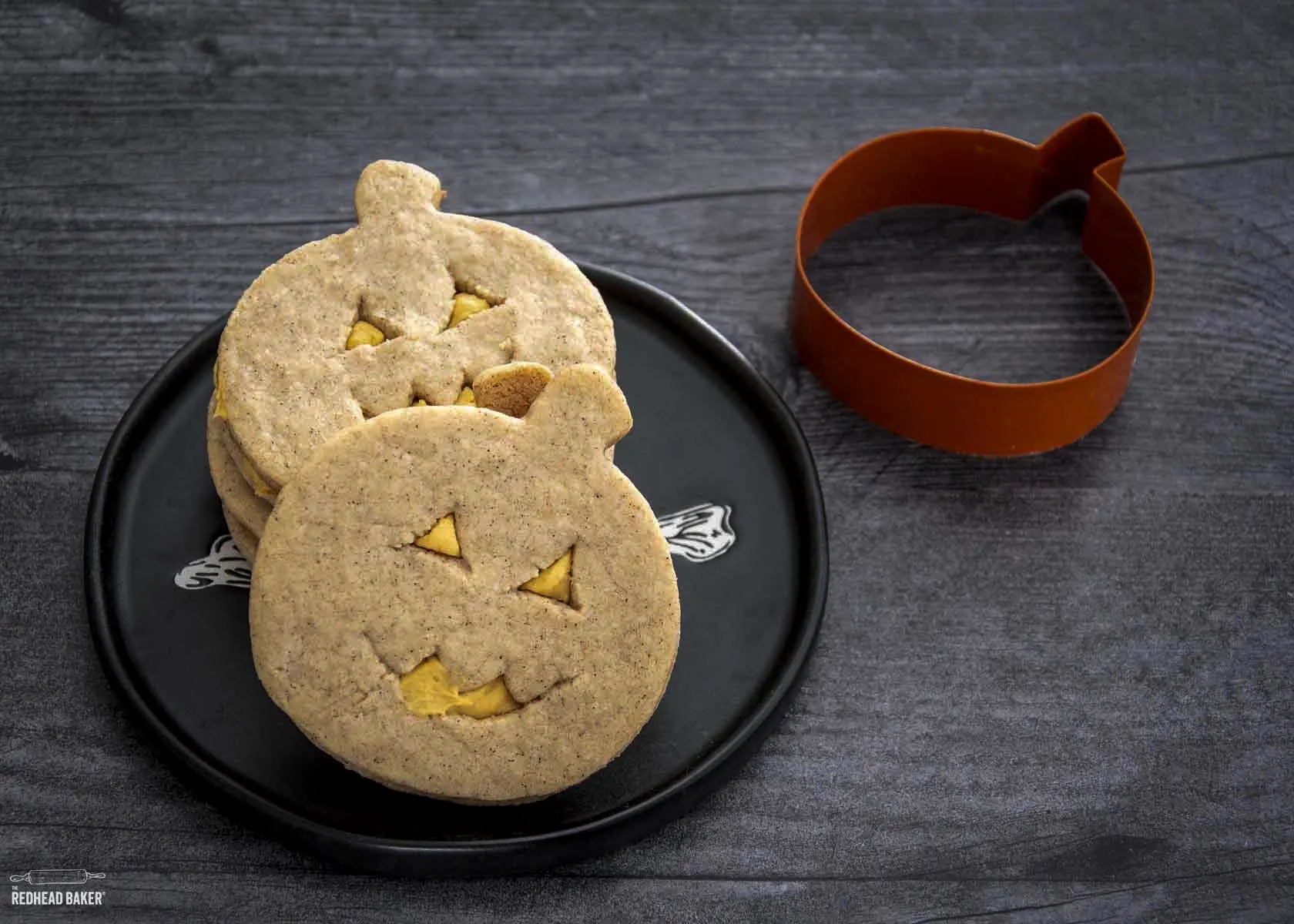 When my husband bit into one of these jack-o-lantern sandwich cookies, he paused a moment. Then he said, "this is like pumpkin pie in cookie form."
I have to agree. The cinnamon cookie evokes a similar texture, though not quite as flaky, as the crust. The filling is smooth, and creamy, and full of spiced pumpkin flavor.
Jump to:
Ingredients
The cookies are cinnamon sugar cookies, rolled out and cut with a pumpkin cookie cutter. I hand-cut the faces with a paring knife, and removed the cut-out parts with a toothpick.
You may opt to leave the pumpkin cookies "un-carved," or even draw the jack-o-lantern faces on with a food-safe marker, like I did with my pumpkin macarons.
The filling may be my favorite part, though. It is white chocolate ganache flavored with pumpkin puree and pumpkin pie spice.
Ganache is a mixture of chocolate and cream. It has many uses -- it can be poured on as a glaze, chilled and scooped into truffles, or whipped and used as frosting or filling.
Instructions
Try to roll the cookie dough out to an even thickness, so that your cookies bake evenly. Rolling pin guides can help with that. Cut your shapes as close together as possible, using as much of the rolled dough as possible, so you keep the re-rolling to a minimum. Re-rolling too much can result in tougher cookies.
Use a sharp paring knife or craft knife to cut jack-o-lantern faces out of half of your pumpkin cookies. Remove the pieces with a toothpick. Freezing the cookies before baking helps ensure the cookies keep their shape.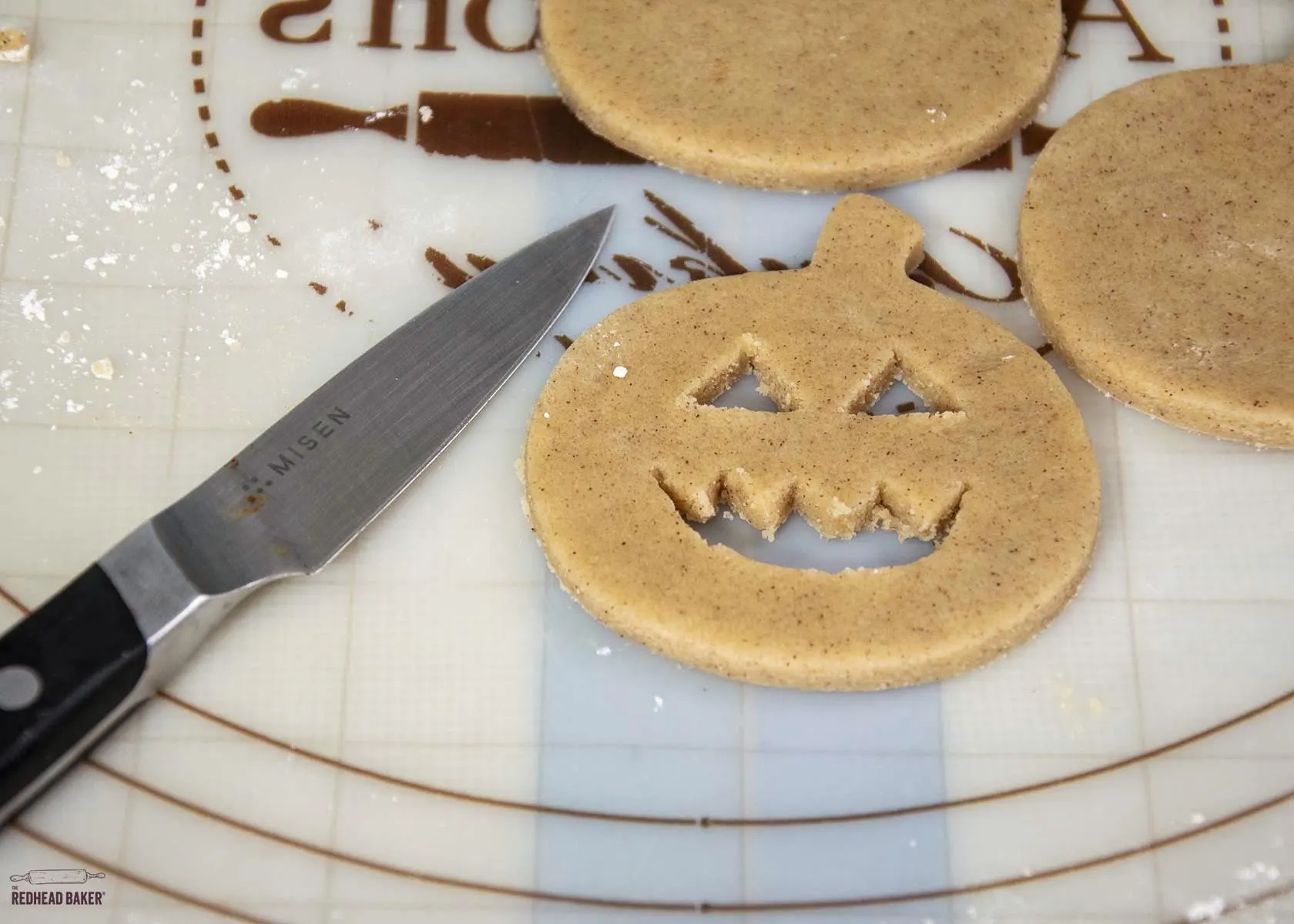 While the cookies are freezing and then baking, you can make the pumpkin ganache. Place the cream in a small pot, and bring just to scalding over medium heat. Do not let the cream boil, because then your cream won't mix smoothly with the chocolate.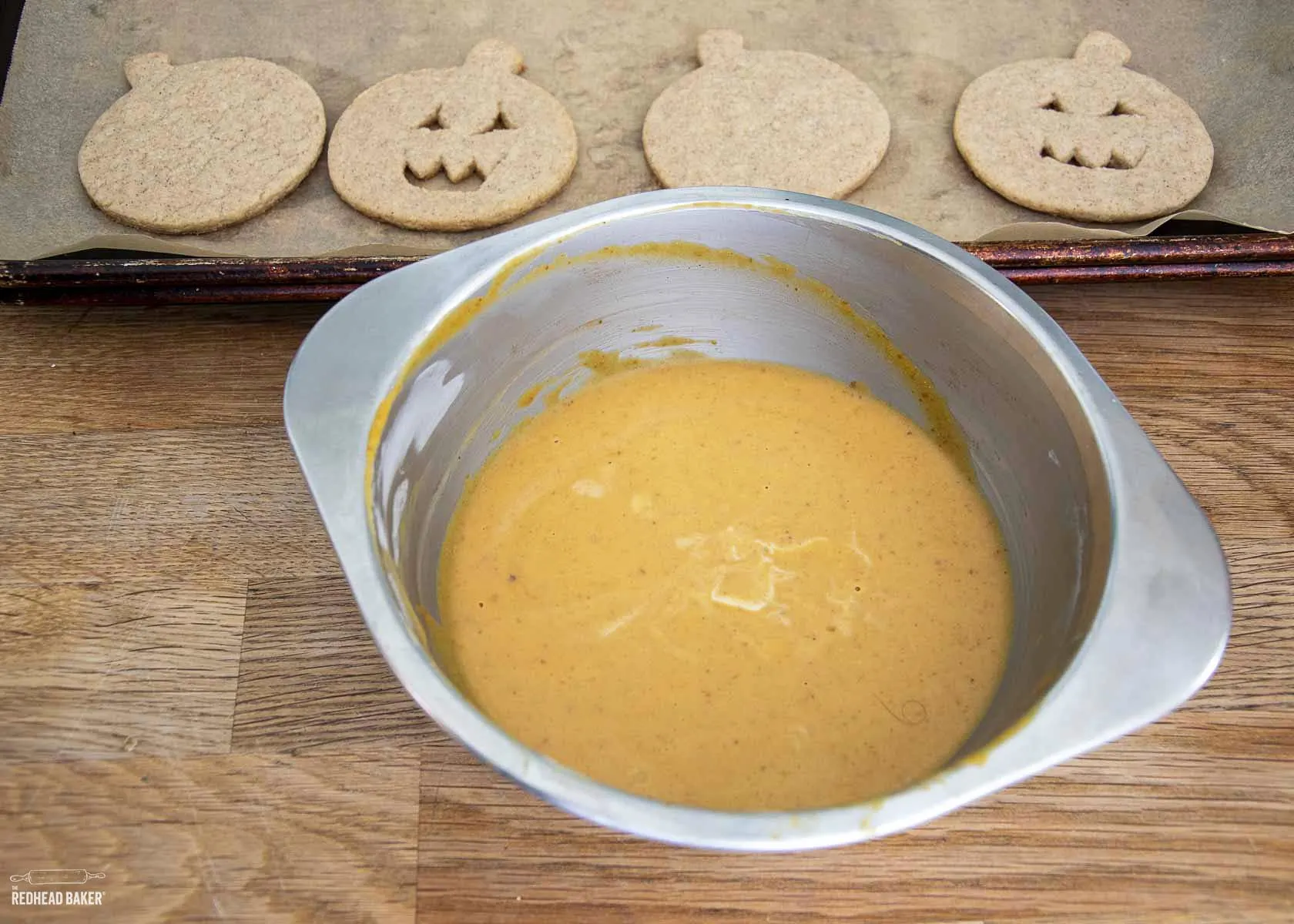 If your chocolate doesn't fully melt after mixing with the hot cream, you can bring an inch of water to a simmer, then place the bowl of ganache over it to warm it. Stir until smooth. Remove from the heat, then stir in the pumpkin and spices. Chill the mixture before trying to whip it.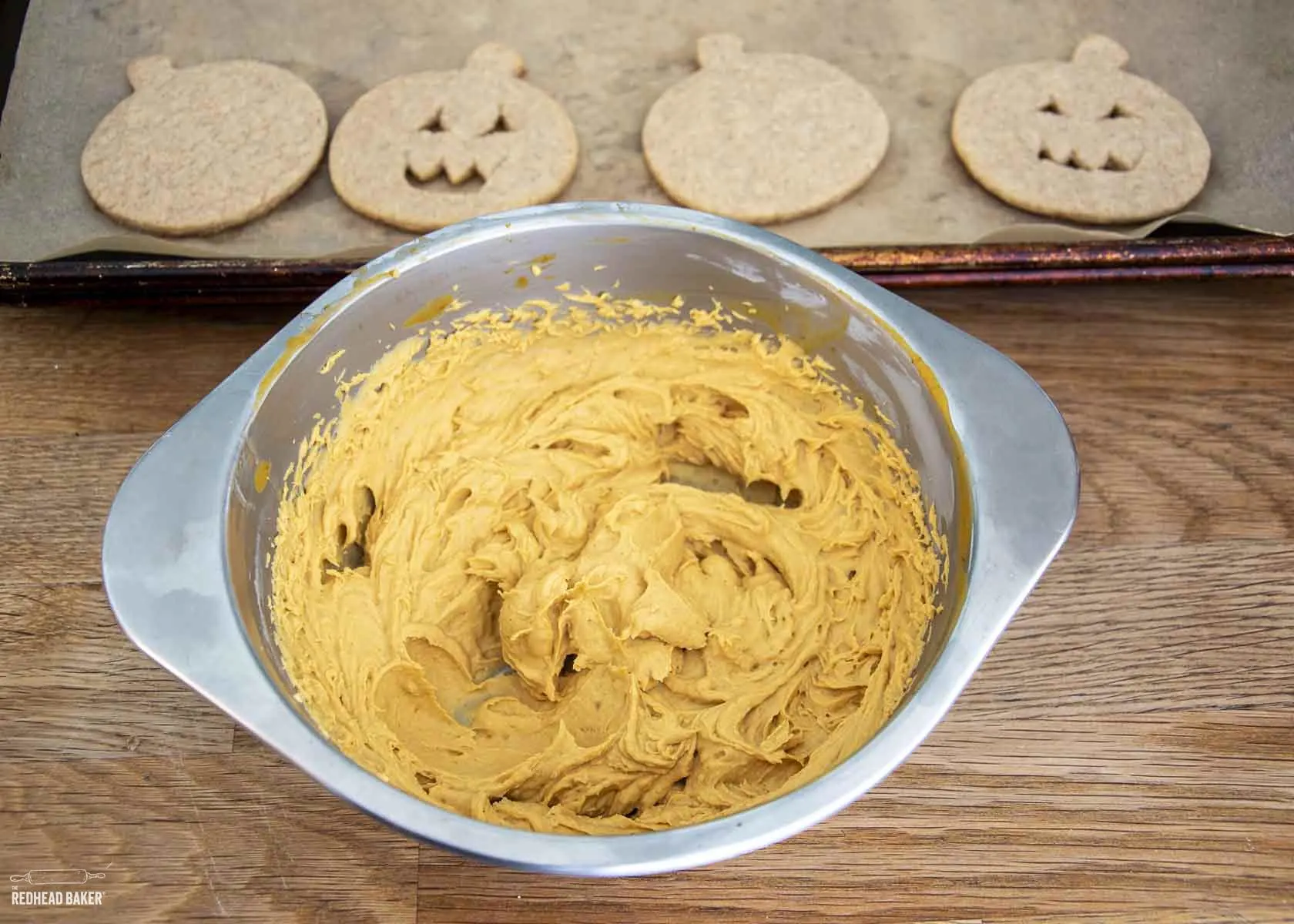 Equipment
I made this cookie dough in my KitchenAid stand mixer, then rolled it out on a non-slip pastry mat (great for easy clean-up!) with my trusty wooden rolling pin.
You may get a different yield of cookies, depending on your cookie cutter size. I used a pumpkin cutter that is 3-inches wide.
Storage
Before sandwiching, the cookies can be stored at room temperature wrapped in plastic wrap or in an airtight container. The ganache (and therefore, the sandwiched cookies) needs to be stored in the refrigerator.
The finished jack-0-lantern sandwich cookies will keep about 3 to 5 days in the refrigerator.
Top tip
It's a little tough to see when these cookies are done baking, since they're already a somewhat golden color before baking! Use an oven thermometer to make sure your oven is set to the correct temperature.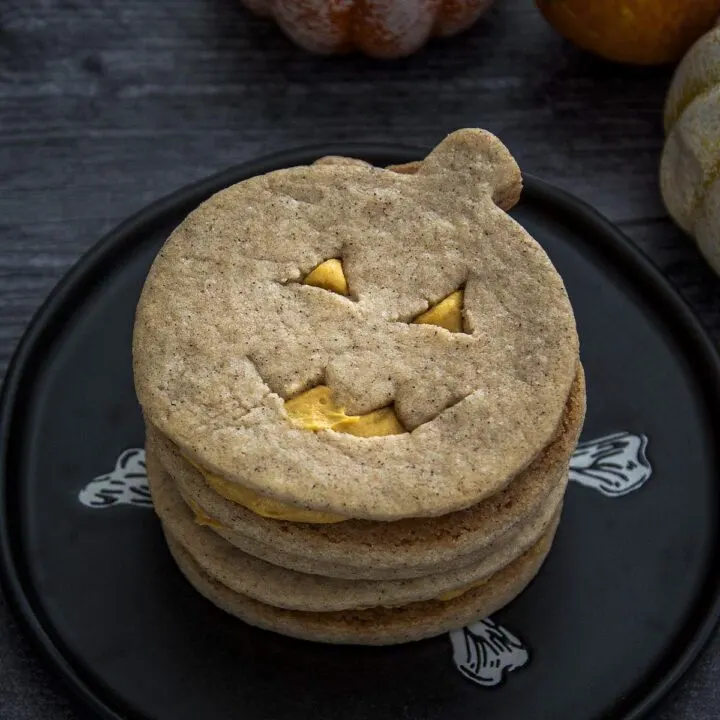 Jack-o-Lantern Sandwich Cookies
Yield:
12 sandwich cookies
Freezing Time:
10 minutes
Jack-o-Lantern sandwich cookies are like pumpkin pie in cookie form—a great treat for a Halloween party! These cinnamon cut-out cookies are sandwiched with pumpkin ganache filling.
Ingredients
For the cookies
1 ¼ cup (8.75 oz/248 g) sugar
¾ cup (6 oz/170 g) butter, room temperature
1 large egg
1 teaspoon vanilla extract
2 ¼ cups (9.5 oz/270 g) all-purpose flour
1 teaspoon cinnamon
½ teaspoon baking powder
¼ teaspoon sea salt
For the filling
4 ounces (113 g) white chocolate
¼ cup (4 fl oz/118 mL) heavy whipping cream
½ cup (4 oz/113 g) pumpkin puree
½ teaspoon pumpkin spice blend
Instructions
Add the sugar and butter to the bowl of a stand mixer and use an paddle attachment to beat on high speed for about 2 minutes. It should be fluffy and lighter in color.
Add the egg and vanilla and beat again until well combined.
Add the flour, cinnamon, baking powder, and salt to the bowl. Mix again until the flour has been well incorporated and the dough is well mixed. It will be slightly crumbly but hold when pressed between finger and thumb.
Turn the cookie dough out onto a lightly floured work surface. Roll the dough with a rolling pin about ¼-inch (6-mm) thick.
Cut the dough with a pumpkin cookie cutter. In half of the cookies, cut jack-o-lantern faces with a paring knife or craft knife.
Place the cut-out cookies on a baking sheet lined with parchment paper. Place the sheet in the freezer for 10 to 15 minutes.
While the cookies are chilling, preheat the oven to 350 degrees F (180 degrees C).
Place the tray of cookies in the oven and bake for 9-11 minutes, or until the edges are very lightly golden. Repeat for the remaining dough.
Remove the cookies from the oven and cool on the baking sheet for 5-10 minutes.
Remove the cookies from the tray and let them cool completely on a wire rack before sandwiching.
Make the filling: place the white chocolate in a bowl. Heat the heavy cream in the microwave until it is very hot. Pour the heavy cream over the chocolate. Allow this to sit for 3-5 minutes. Mix the heavy cream and chocolate together until it is completely combined. The mixture will be smooth and shiny.
Add the pumpkin puree and spices, mix well.
Place the ganache in the refrigerator to chill for an hour. After one hour, whip the ganache with a hand-held mixer until it becomes fluffy.
Place the non-jack-o-lantern cookies face-down on a clean work surface. Spread a tablespoonful of the ganache on each cookie, and top each with a jack-o-lantern face cookie.
Store in an airtight container in the refrigerator until ready to serve.
Notes
If the chocolate does not fully melt in the warm cream, place the mixing bowl over a pot with 1-inch of barely-simmering water (white chocolate scorches very easily) and stir until completely melted and smooth.
Recommended Products
As an Amazon Associate and member of other affiliate programs, I earn a small percentage from qualifying purchases.
Nutrition Information:
Yield:

12
Serving Size:

1 sandwich cookie
Amount Per Serving:
Calories:

108
Total Fat:

2g
Saturated Fat:

1g
Trans Fat:

0g
Unsaturated Fat:

1g
Cholesterol:

17mg
Sodium:

73mg
Carbohydrates:

20g
Fiber:

1g
Sugar:

1g
Protein:

3g
I am not a certified nutritionist. This nutrition information is automatically calculated by third party software and is meant as a guideline only.
#HalloweenTreatsWeek
HAPPY HALLOWEEN!!!
Welcome to 2023's #HalloweenTreatsWeek event!
If you're new here, Welcome! If you're a returning haunt, welcome back!
#HalloweenTreatsWeek is a yearly Halloween blogging event that is hosted by Angie from Big Bear's Wife . You'll find that this fun and spooky event is an online, week-long event that is filled with some frightfully fun Halloween treats and recipes from some fantastic Halloween loving bloggers!
For this year's 6th annual #HalloweenTreatsWeek event, we have 18 hauntingly talented bloggers that are sharing their favorite Halloween recipes throughout the week! You can following the hashtag #HalloweenTreatsWeek on social media to collect all of these frightful recipes to use at your own Halloween parties and events!
Make sure to check out all of the fun Halloween recipes that we're sharing this week!
Today's Halloween Offerings: