This post and recipe was created for #HalloweenTreatsWeek! This is a sponsored event but all opinions are my own.
Halloween macarons are a sweet treat made spooky! These macarons become jack-o-lantern cookies flavored with pumpkin pie spice and filled with sweetened cream cheese.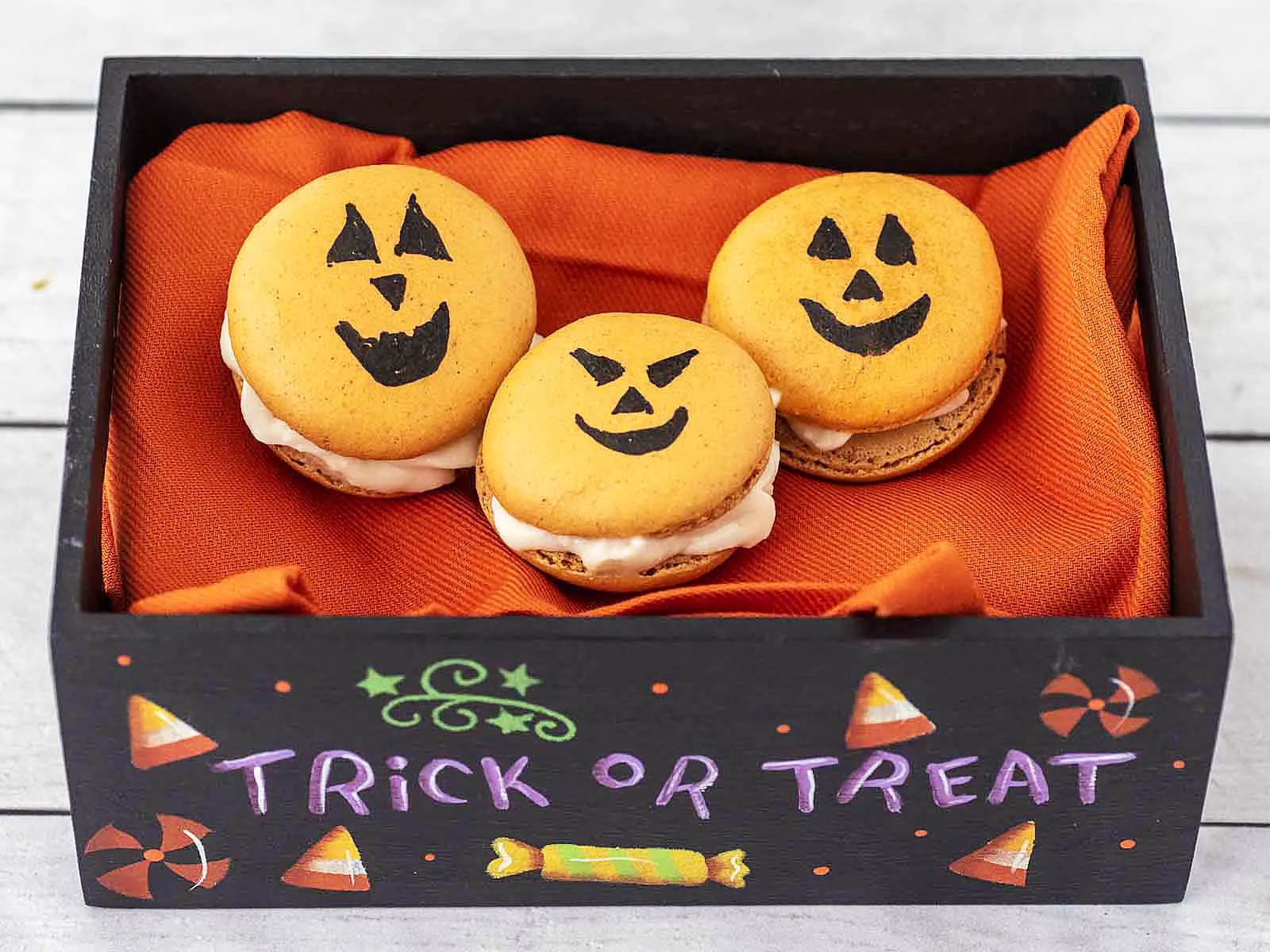 I love a good kitchen challenge, and macarons are definitely a challenge. But if you prepare with the tips in this post, you can have a good chance at macaron success.
These Halloween macarons are tinted orange, flavored with pumpkin pie spice, and decorated like jack-o-lanterns with food-grade pens. They are filled with a sweetened cream cheese frosting.
Don't forget to scroll down to the bottom of this post and enter our #HalloweenTreatsWeek giveaway for a chance to win a prize pack from our sponsor, Dixie Crystals!
Jump to:
Ingredients
Macarons are delicate cookies, and having properly measured ingredients is a must, so I strongly suggest you weigh your ingredients rather than measure by volume.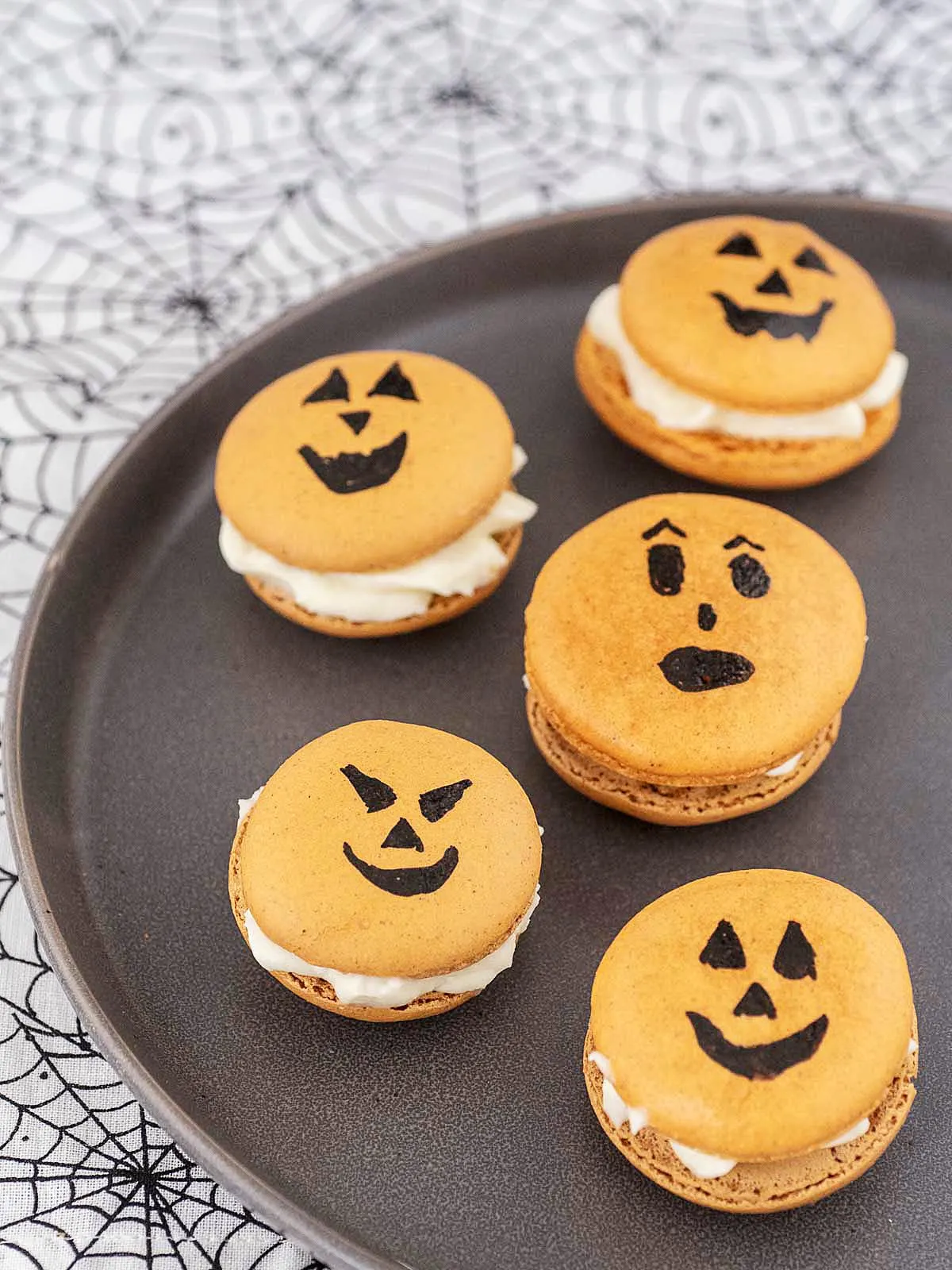 Egg whites: use large eggs. Some swear by "aged" egg whites, but whether they've been aged or not has never made a difference for me.
Granulated sugar: to combine with egg whites to make a Swiss meringue, a more stable base for the macaron batter.
Almond flour: finely ground almond flour made from blanched almonds (no skin, meaning fewer lumps).
Powdered sugar: sifted with the almond flour, it helps thicken and sweeten the batter.
Pumpkin pie spice: optional, but what other flavor would you add to jack-o-lantern macarons?? If you don't have pumpkin pie spice, you can combine 1 teaspoon of cinnamon, ½ teaspoon of ginger, ½ teaspoon of cloves and ¼ teaspoon of nutmeg.
See Halloween Macarons recipe card for quantities.
Instructions
As mentioned above, this method makes a Swiss meringue (with warmed egg whites) rather than a French meringue (raw egg whites). Israeli chef Alon Shabo swears by this method.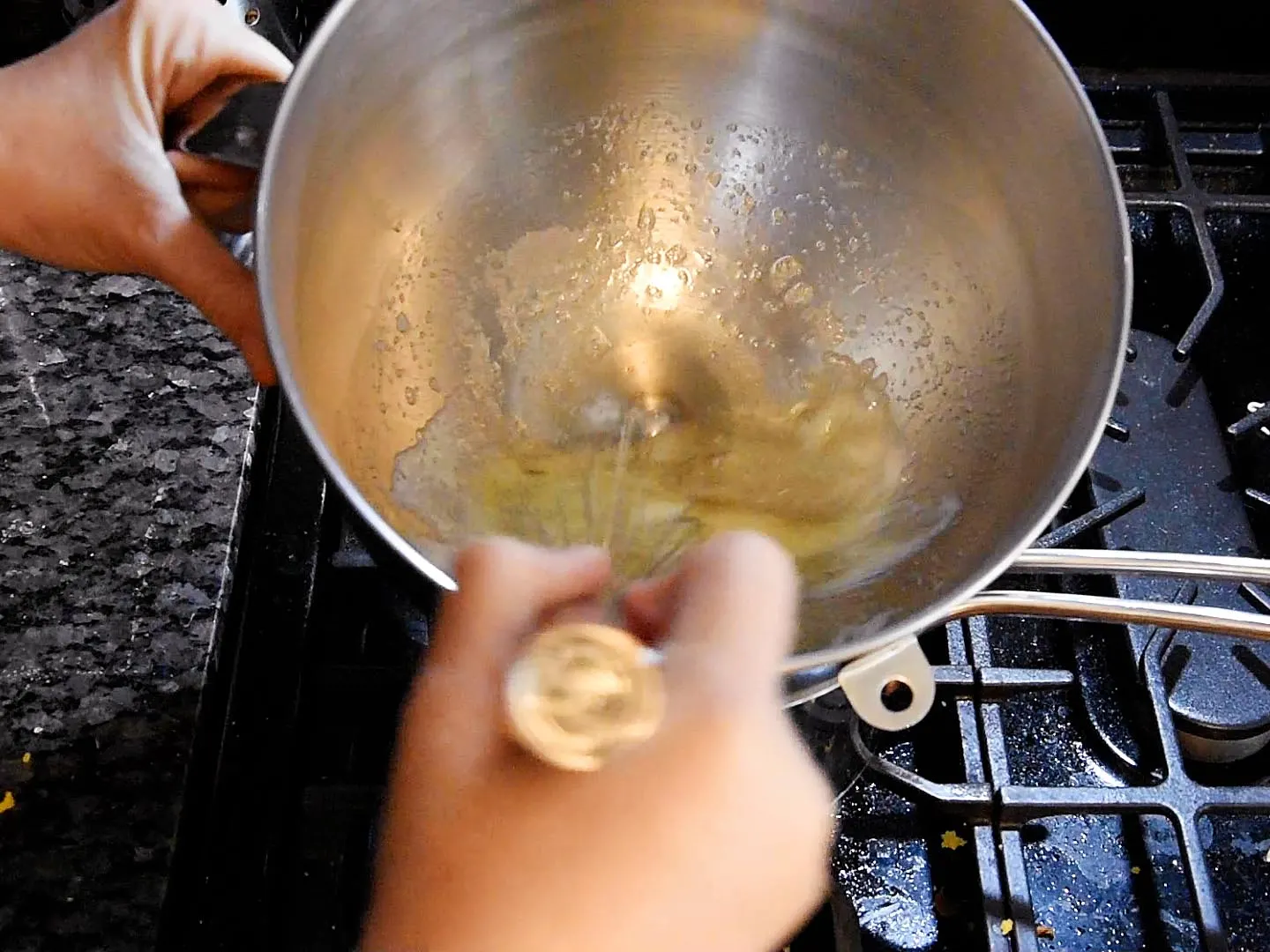 Whisk together the egg whites and some of the sugar over a double boiler until sugar dissolves.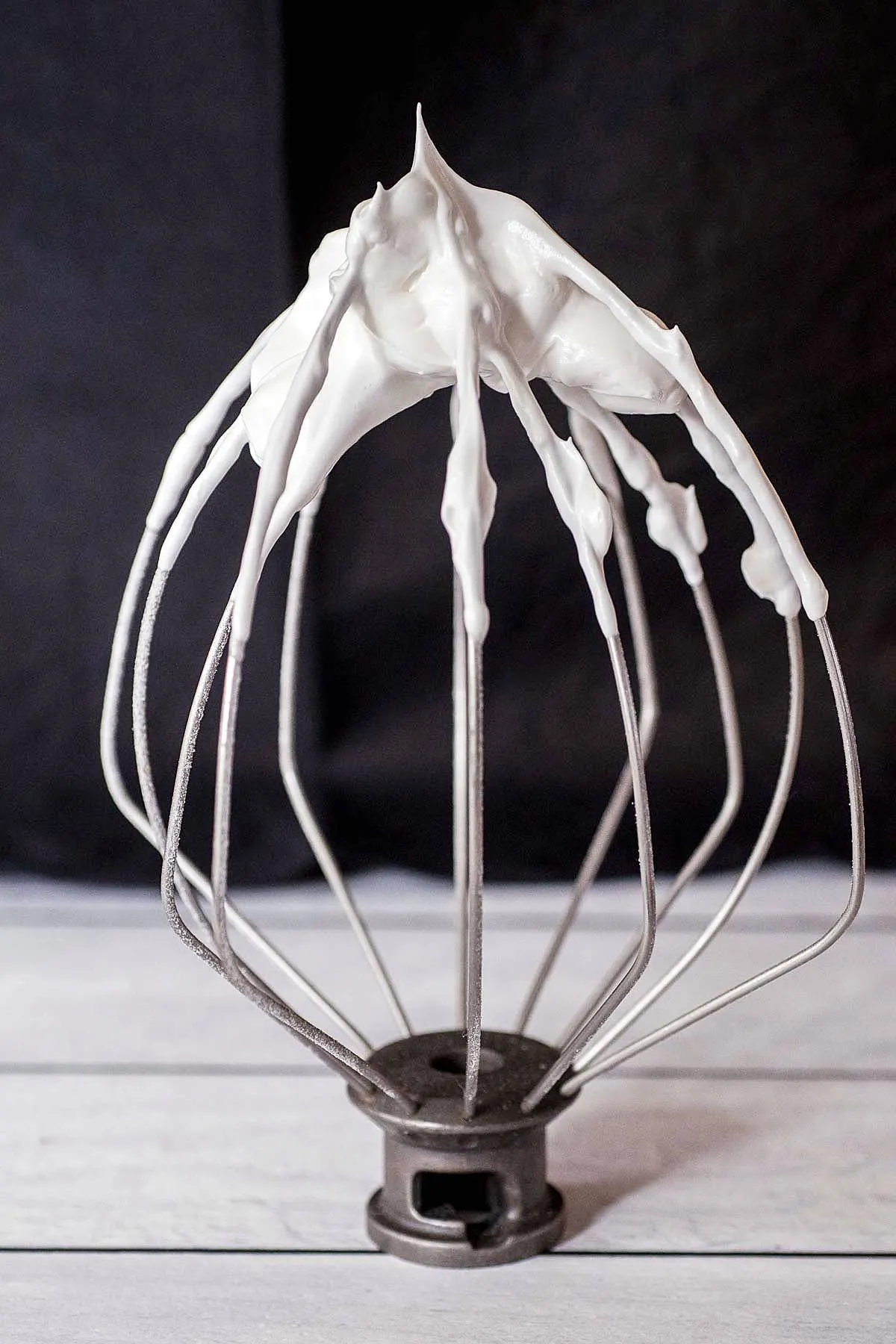 Whip the warmed egg whites on a stand mixer with remaining sugar to stiff peaks. Add food coloring during the last minutes of whipping.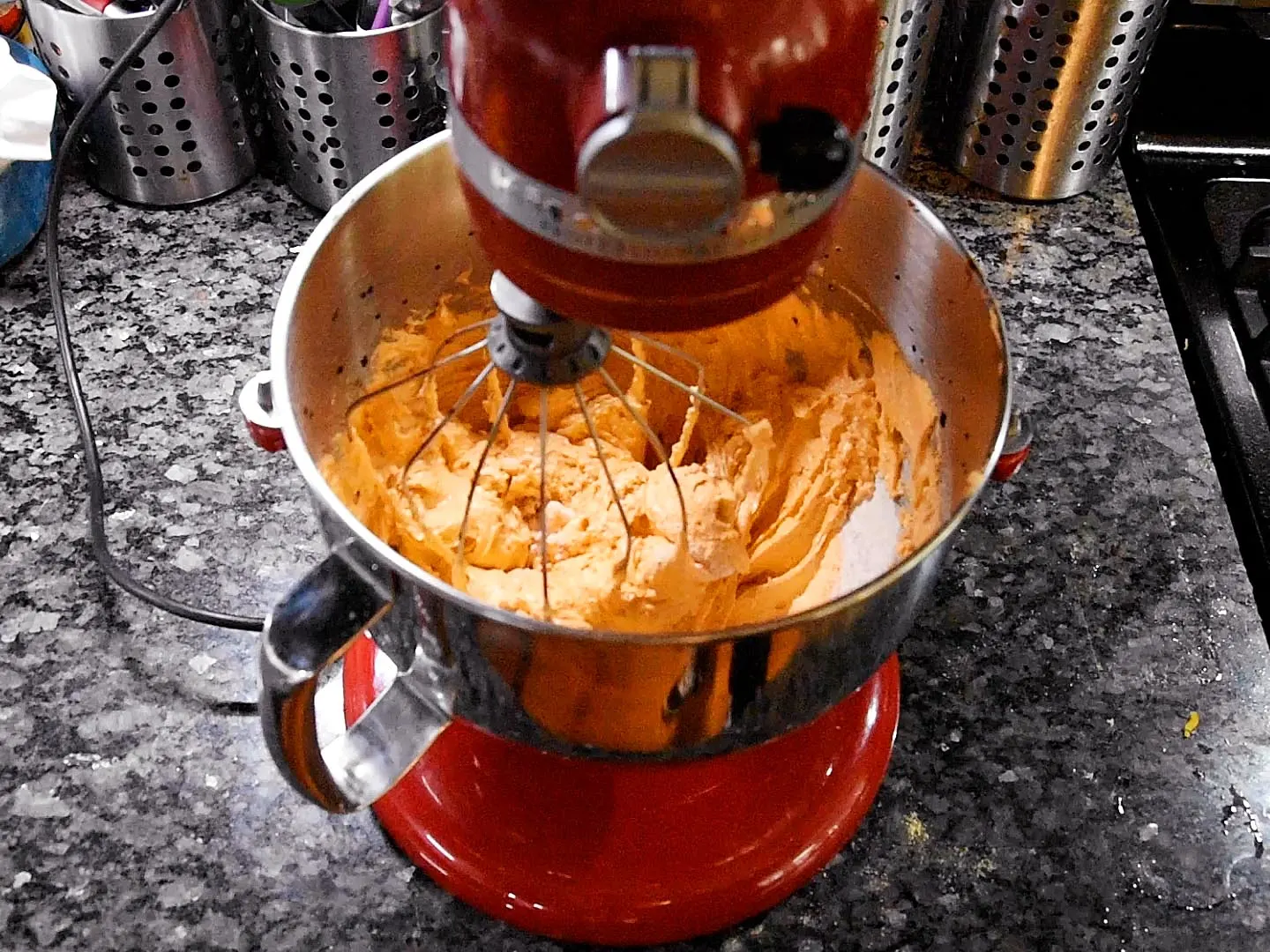 Sift almond flour, powdered sugar, salt and pumpkin pie spice together twice. Sprinkle over meringue. Whip at medium speed for 5 seconds.
Finish combining the almond flour mixture and meringue by hand, folding until the mixture resembles slow lava, and you can drip the batter from the spatula in a figure eight in a steady ribbon without the batter breaking.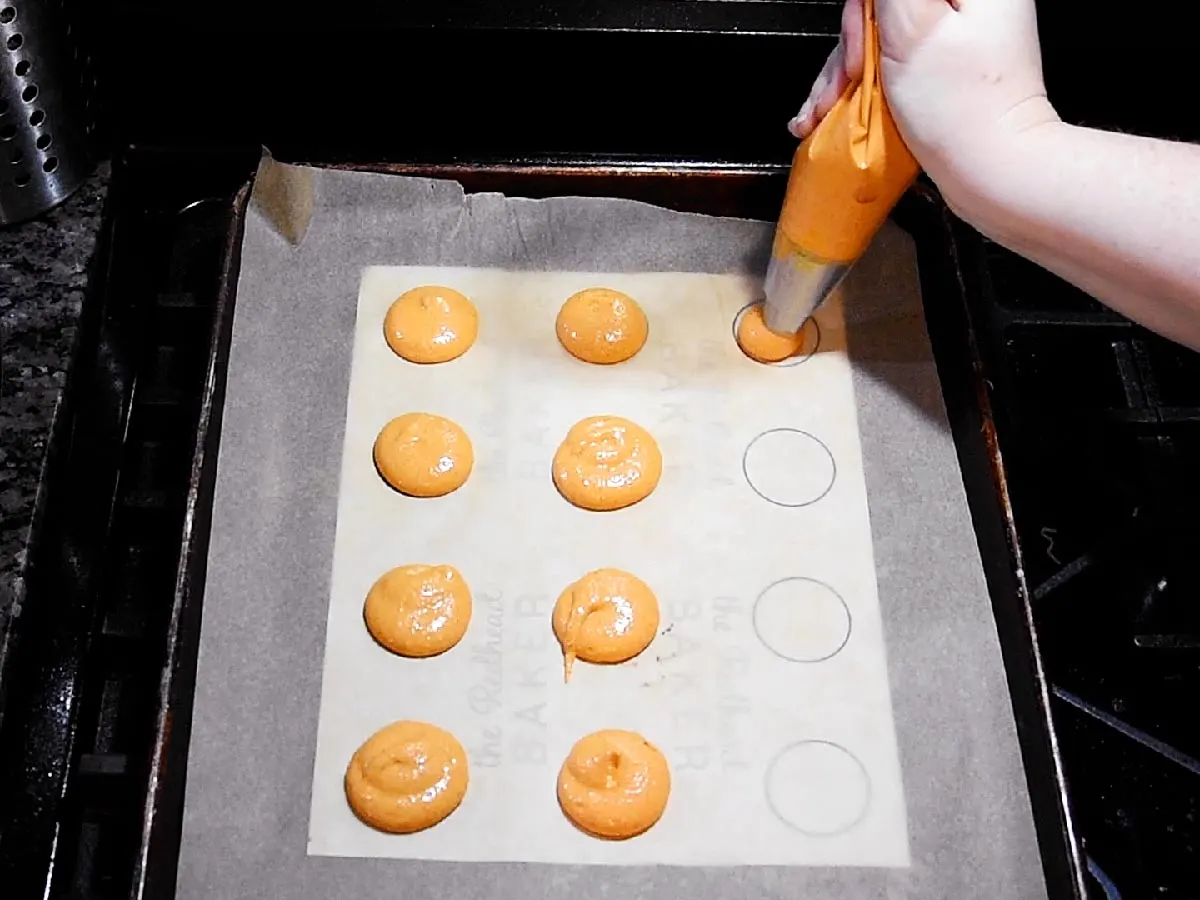 Transfer the batter to a piping bag fitted with a round tip and pipe 1.5-inch rounds onto a parchment lined baking sheet. Rap the sheet to remove air bubbles. Let the shells sit under a running range hood fan for 30 minutes to 1 hour. After resting, bake at 300 degrees for 20 minutes. Allow macarons to cool on the baking sheet to room temperature.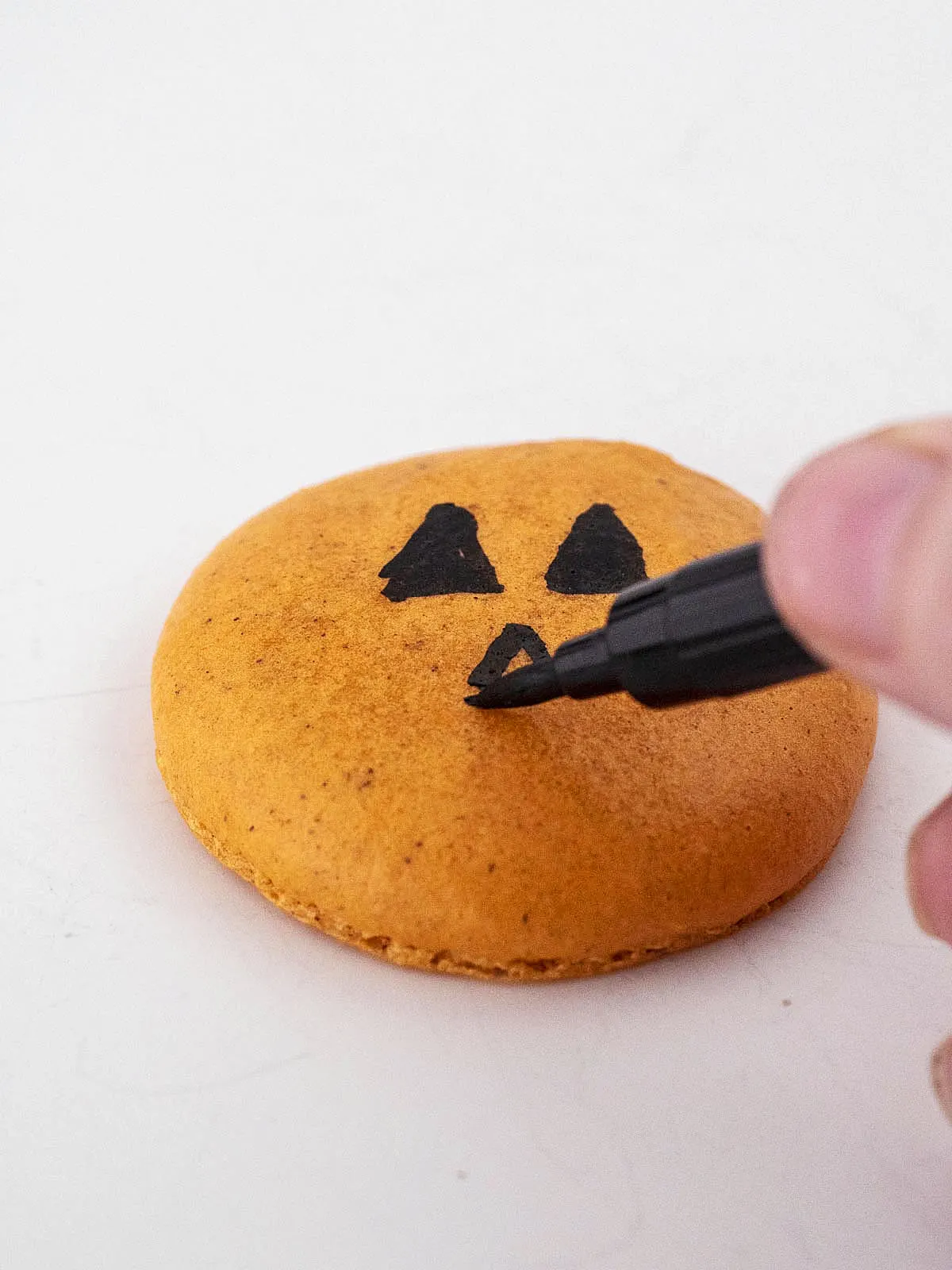 Very gently draw jack-o-lantern faces on half of the shells with a food-grade black food coloring pen. Pipe filling onto the other half of the shells, and top with jack-o-lantern faces.
Substitutions
You can omit the pumpkin pie spice if you choose.
You can change the filling to anything you think would complement the shells; for example, caramel buttercream would be delicious in these Halloween macarons!
If you have a bright orange gel food coloring, you can use that and add a few drops of brown food coloring to mimic the color of the pumpkin-orange food coloring I used.
No black food coloring pen? You can sprinkle black non-pareils onto the surface of the macaron shells after you pipe them but before you bake them. You won't be able to form jack-o-lantern faces but the black and orange will still be festive.
Equipment
A food scale is practically a must-have for making macarons. It is essential you have accurate amounts of each ingredient, and measuring by weight is so much more accurate than by volume.
Other helpful equipment: cake decorating bags (one for piping the macaron shells, the other for the filling), a plain round tip for piping the macaron shells, a star tip for piping the filling; and a macaron template for piping consistent shell sizes. Simply slip it under your parchment paper, pipe your shells, then slide it out before baking.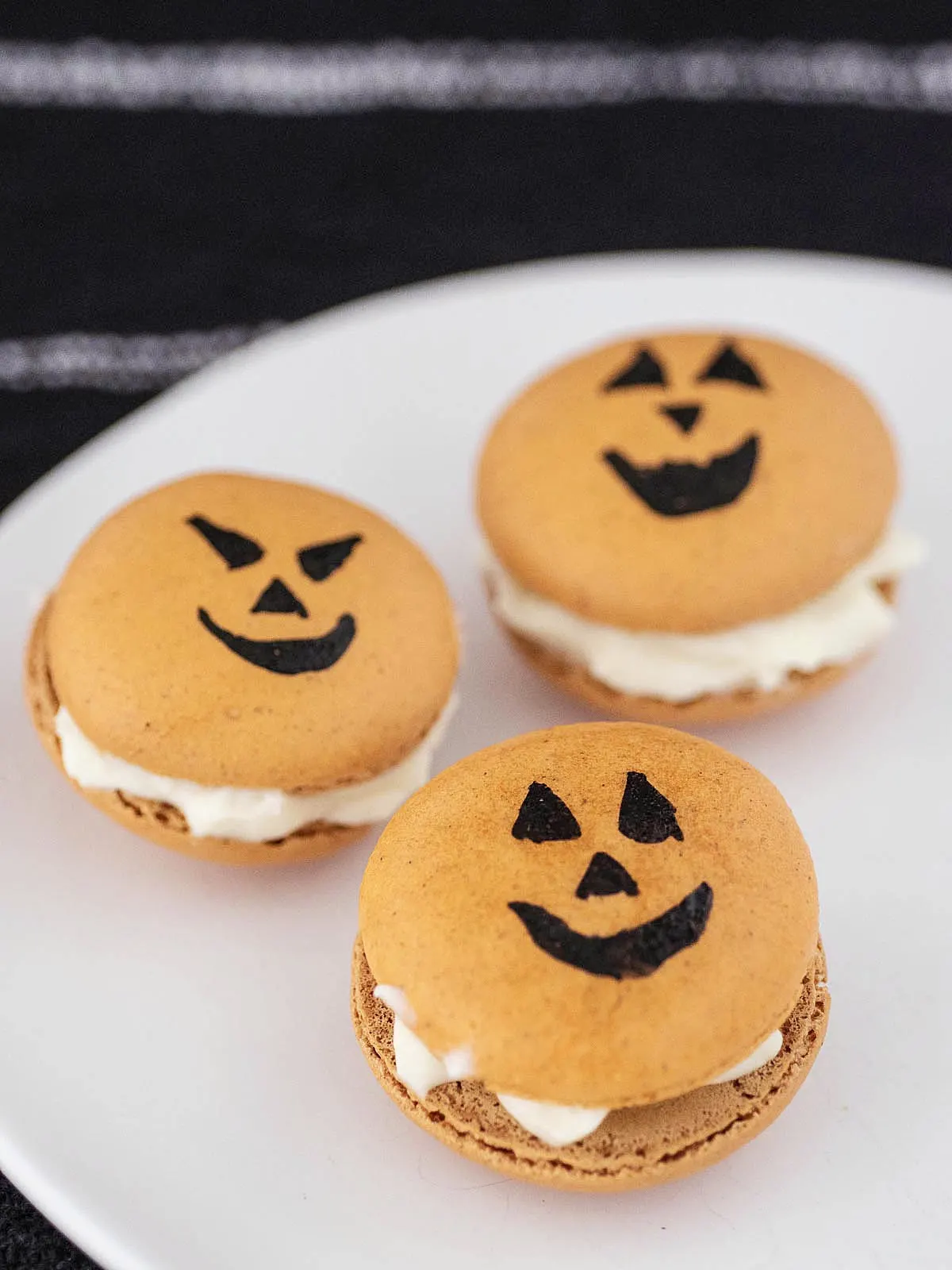 Storage
Store the filled macarons in an airtight container in the refrigerator. If you need to stack them, layer them between parchment paper, not wax paper. Macarons will stick to wax paper.
Macarons can be frozen as well! After chilling for 24 hours in the refrigerator, wrap the macaron in plastic wrap, and place in a freezer-grade storage container. They will keep for about a month.
Top tip
Believe it or not, the weather can have an effect on your macarons! If at all possible, avoid making your Halloween macarons on humid or rainy days.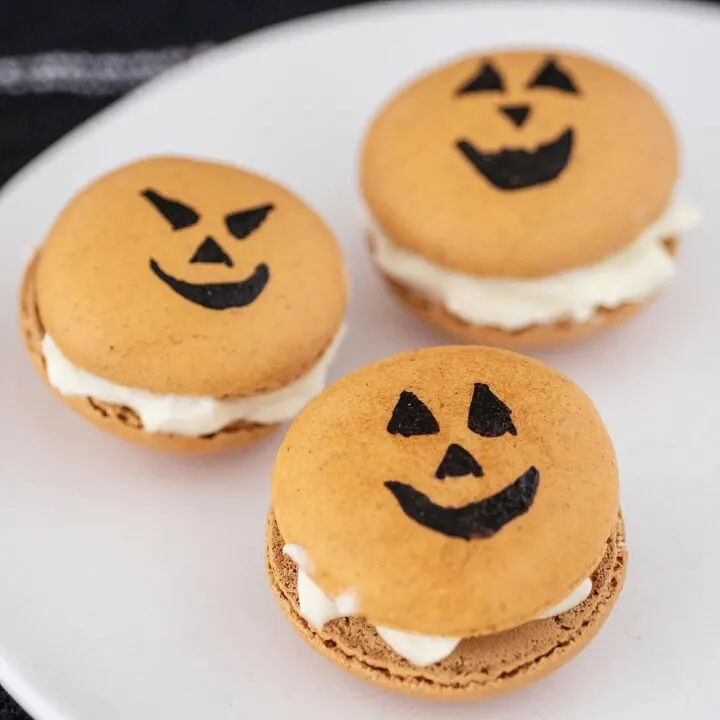 Halloween Macarons
Yield:
15 macaron cookies
Total Time:
1 hour
50 minutes
Halloween macarons are a sweet treat made spooky! These macarons become jack-o-lantern cookies flavored with pumpkin pie spice and filled with sweetened cream cheese.
Ingredients
For the macarons
3 large (3.5 oz/100 g) egg whites
½ cup (3.5 oz/100 g) Dixie Crystals granulated sugar
1 cup (3.5 oz/100 g) almond flour
¾ cup + 2 tablespoon (3.5 oz/100 g) Dixie Crystals confectioners' sugar
2 teaspoons pumpkin pie spice
Pinch of table salt
¼ teaspoon pumpkin-orange gel food coloring
Black food coloring pen
For the filling
1 cup (8 oz/226 g) cream cheese, at room temperature
½ cup (4 oz/113 g) unsalted butter, at room temperature
1 cup (4 oz/112 g) Dixie Crystals confectioners sugar
2 tablespoons milk
1 teaspoon vanilla extract
Instructions
Bring an inch of water in a saucepan to a boil. Lower the heat to keep the water at a vigorous simmer.
In the bowl of a stand mixer, combine the egg whites with 3 tablespoons of the granulated sugar. Place the mixer bowl over the simmering water and whisk vigorously and continuously until the sugar dissolves (about 1 minute).
Place the mixer bowl on the stand mixer. With the whip attachment, beat on high speed, gradually adding the remaining sugar, until medium peaks form.
Add the pumpkin-orange gel food coloring and continue beating until stiff peaks form and the color is uniform.
While the meringue is whipping, sift together the almond flour, confectioners sugar, salt and pumpkin pie spice. Sift a second time.
Sprinkle the almond flour mixture over the stiff meringue, and beat on medium speed with the whip attachment for 5 seconds.
Remove the mixing bowl from the stand mixer, and finish mixing the meringue and almond flour mixture by hand with a spatula. Fold the two together by scraping the spatula along the bottom of the bowl, flipping the batter over onto itself, and giving the bowl a quarter-turn. Repeat until the mixture flows like slow lava. You should be able to drip the batter from the spatula in a figure 8 without the batter breaking.
Line two cookie sheets with parchment paper. Fit a piping bag with a plain round tip, and fill halfway with macaron batter.
Drop 1.5-inch circles of batter onto the prepared cookie sheets. Turn on the hood fan of your oven range, and set the cookie sheets under it. Rap the cookie sheets against the counter twice, spin 180 degrees and rap against the counter two more times. Let the cookie sheets sit for 30 to 60 minutes.
Meanwhile, preheat your oven to 300 degrees.
After resting, bake the macaron shells for 20 minutes, rotating the pans 180 degrees and switching rack positions halfway through baking.
Remove from the oven and let sit on a wire cooling rack until shells are completely cooled.
Draw jack-o-lantern faces on half of the macaron shells.
Make the filling: cream together the cream cheese and butter until smooth. Add the powdered sugar, milk and vanilla; beat until creamy and fluffy.
Transfer to a piping bag fitted with a star tip and pipe the filling onto the plain macaron shells. Top each with a jack-o-lantern face macaron shell.
Store in the refrigerator until ready to serve. Store leftovers in an airtight container in the refrigerator for up to 4 days.
Recommended Products
As an Amazon Associate and member of other affiliate programs, I earn a small percentage from qualifying purchases.
Nutrition Information:
Yield:

15
Serving Size:

1
Amount Per Serving:
Calories:

139
Total Fat:

1g
Saturated Fat:

0g
Trans Fat:

0g
Unsaturated Fat:

0g
Cholesterol:

2mg
Sodium:

23mg
Carbohydrates:

32g
Fiber:

0g
Sugar:

25g
Protein:

1g
I am not a certified nutritionist. This nutrition information is automatically calculated by third party software and is meant as a guideline only.
Check out all of these great #HalloweenTreatsWeek recipes for today
The Giveaway
Welcome!!! It is almost Halloween which means it is time for this year's #HalloweenTreatsWeek recipe and giveaway event!!
#HalloweenTreatsWeek is a yearly Halloween blogging event that is hosted by Angie from Big Bear's Wife & its a creepy and haunting week-long event is filled with some amazingly wicked Halloween treats, recipes and some frightfully fun giveaways.
For the 4th annual #HalloweenTreatsWeek event we have 28 hauntingly talented bloggers that are sharing their favorite Halloween recipes throughout the week!
Follow the hashtag #HalloweenTreatsWeek on social media and look at the bottom of each post to see all of the Halloween recipes that we're sharing!
Prize #1 from Dixie Crystals
41 Pieces Silicone Bakeware Set
3 Piece Halloween Silicone Spatula Set
Nordic Ware Haunted Skull Cakelet Pan
a Rafflecopter giveaway
Giveaway open to US Residents 18 years or older. All entries will be verified. No PO Boxes Please. Prizes will be sent directly from sponsor to winner, bloggers are not responsible for prizes. This giveaway runs from October 11th - October 15th at 11:59PM EST. Winners will be selected soon afterward and contacted by e-mail. Winners will have 48 hours to respond or a new winner will be chosen. There are a total of 1 (ONE) prize pack and therefore we will have a total of 1 (ONE) winners. No purchase necessary. Void where prohibited by law.
Disclaimer: These posts and recipes are part of the week-long event, #HalloweenTreatsWeek but all opinions are 100% mine! We would like to Thank our amazing brand sponsors: Dixie Crystals that provided a prize pack for our giveaways and also sent some samples and products to the #HalloweenTreatsWeek bloggers to use in their recipes.