Delicate lemon macarons are filled with a lemon curd-based filling. Use these tips and tricks for macaron success at home!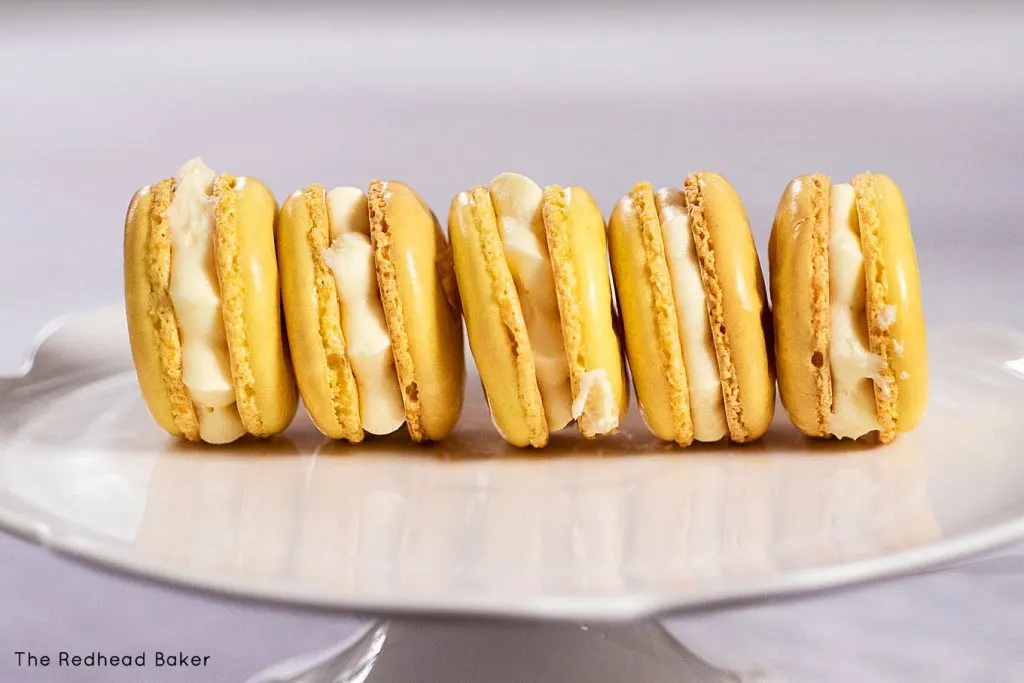 Welcome back to Progressive Eats, our virtual version of a Progressive Dinner Party. We took a hiatus for a while, but we're kicking things off again with favorite truck foods, and our host is Ansh who blogs at Spiceroots.
If you're unfamiliar with the concept, a progressive dinner involves going from house to house, enjoying a different course at each location. With Progressive Eats it's a virtual party. A theme is chosen each month, members share recipes suitable for a delicious meal or party, and you can hop from blog to blog to check them out. Come along and see all of the delicious Food Truck inspired dishes!
There's a food truck in Philadelphia called Sugar Philly, whose motto is gourmet desserts served curbside. They make the most delectable macarons! They have three staple flavors, and additional flavors vary depending on the day of the week, and the season. I decided to go simple for this recipe, and made lemon macarons.
Despite having a culinary school education, my macaron game is still at quite the beginner level. So, I did some research, and I've compiled a list of tips and tricks for macaron success at home.
One thing I will note: many sites will recommend aging your egg whites for 24 hours. I didn't do that, and you'll see from the photos that I still got some decent feet on my macarons. You can certainly take that step if you'd like; it can't hurt.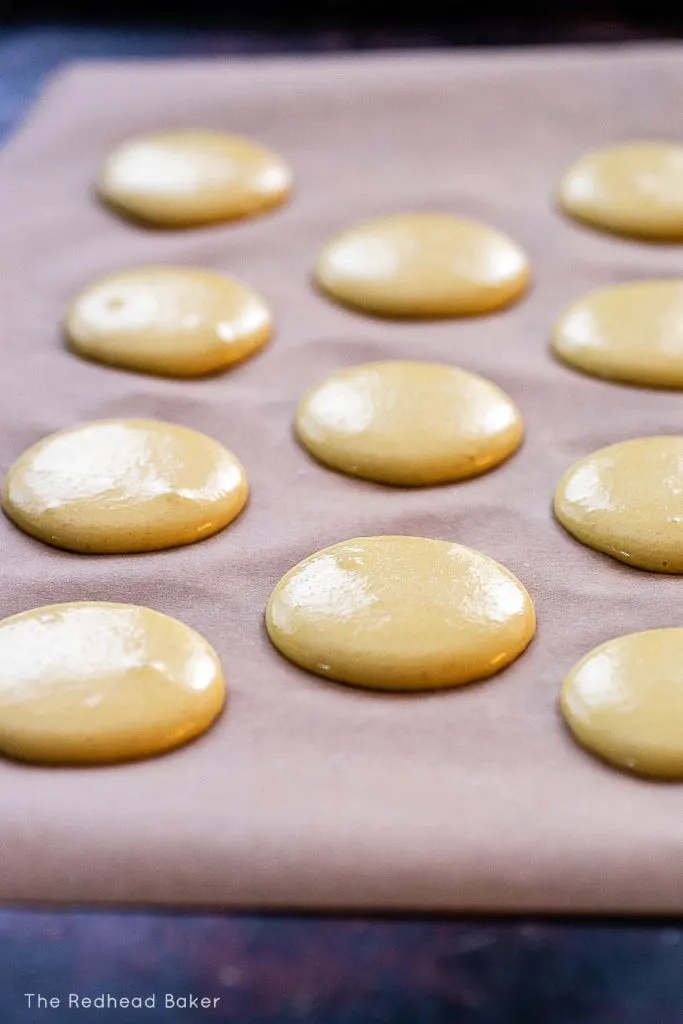 Macaron Tip #1: Prep your tools
Macarons are a type of meringue cookie. If you've read my other meringue recipes, you'll know that if even a speck of fat remains on your mixing bowl, your meringue will never whip. So, before you begin, wipe down your bowl and whip attachment with a paper towel dampened with lemon juice. Let them stand until dry. This is in addition to the lemon juice in the lemon macarons recipe.
Macaron Tip #2: Weigh your ingredients
Baking is as much a science as it is an art. Having the correct ratio of ingredients is crucial. Measuring by volume is never as accurate as measuring by weight. I use OXO's 11-pound digital scale. It has a pull-out display, a backlight, a tare button, and easily switches between metric and U.S. measurements. I use it for all of my baking, not just macarons. I reference King Arthur Flour's Ingredient Weight Chart for weights.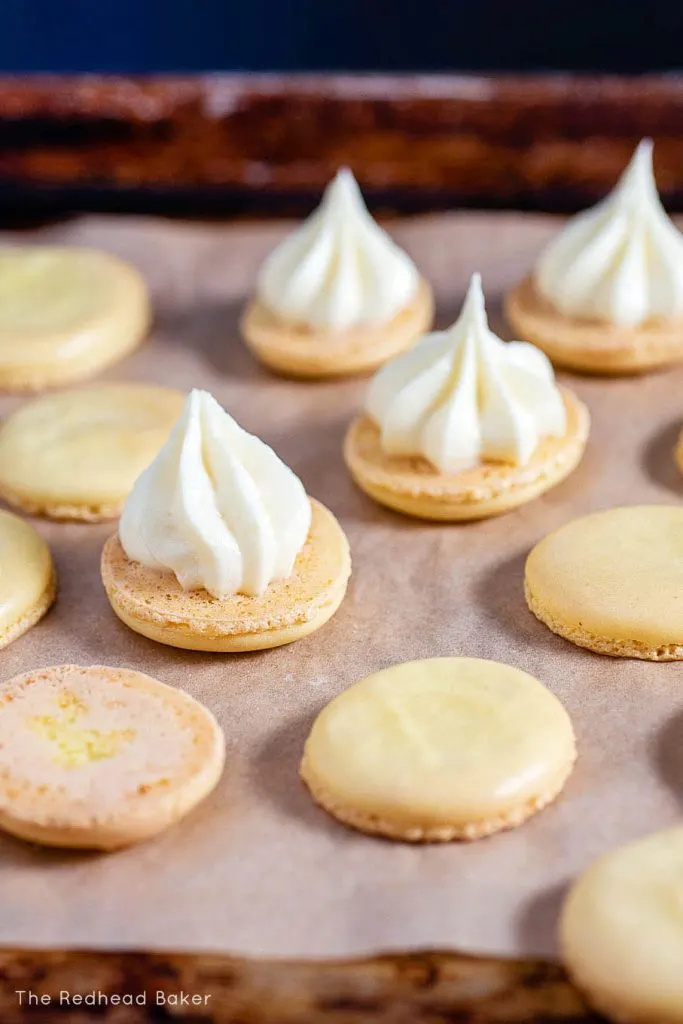 Macaron Tip #3: Sift, Sift, Sift
I sift my almond flour and powdered sugar three times. First, I sift them separately into a mixing bowl. Then I pour the mixture back into the fine-mesh sieve to sift them together. Finally, I sift them over the meringue before folding. Lumps in your dry ingredients will cause lumps in your macaron shells.
Macaron Tip #4: Use a template for consistent size
Not only does it make matching up shells for sandwiching easier, consistently-sized shells will bake consistently! Shells that are differently sizes will bake at different rates. You'd either end up with some perfect shells and some overdone shells, or some perfect shells and some underbaked shells.
You can download and print this template, lay a sheet of parchment over top and pipe your shells. Slide the sheet of paper out from under your parchment before baking. Alternatively, you can find an object 1.5-inches in diameter in your home, and trace it with a Sharpie marker on a sheet of parchment paper. Flip the parchment over, and pipe your macaron shells.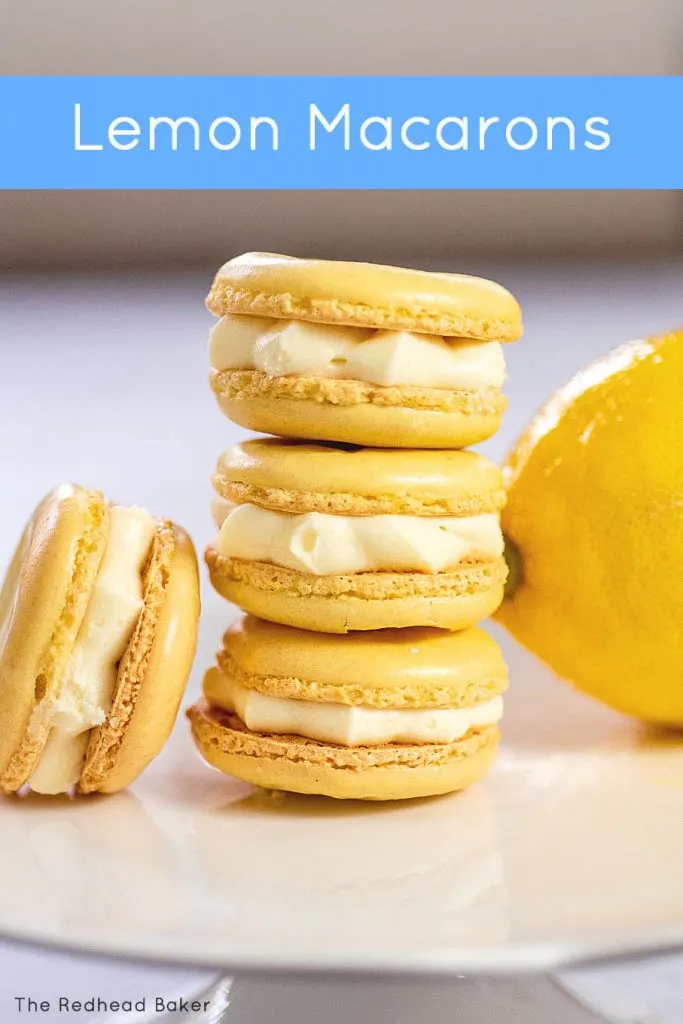 Macaron Tip #5: Check your oven temperature
Using an oven thermometer showed me that although I preheated my oven to 300 degrees F, it was only 250 degrees when the preheat "I'm ready!" beep went off! Ovens that run too hot will cause your macarons to over-brown. If your oven runs too cold, you may take your macarons out too early, before they're fully baked. A fully-baked macaron should peel cleanly off of the parchment.
Also, some ovens have hot and cold spots. To account for this, you should rotate your baking pan 180 degrees halfway through baking. If you're baking more than one sheet pan at a time, you should also switch the top pan to the bottom and vice versa.
Macaron Tip #6: Practice makes perfect!
It will take practice to know when you've mixed your macaron batter just enough. It should have the consistency of lava. It should flow from your spatula in a ribbon (not fall off in clumps), but still be rather thick. It should take about 30 seconds for the ribbon to sink back into the batter.
And even if your macarons don't turn out perfect visually, they will still taste delicious!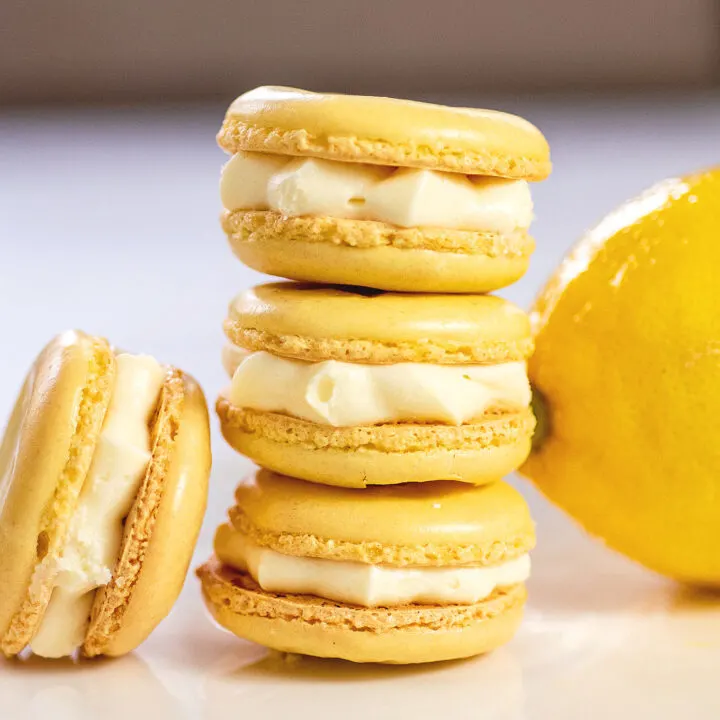 Lemon Macarons
Yield:
30 sandwich cookies
Total Time:
1 hour
50 minutes
Macarons are delicate French cookies made with almond flour. These are flavored with lemon zest, and sandwiched around lemon-curd based filling.
Ingredients
For the macaron shells
1 ¼ cup (130g/4.4 oz) almond flour
1 cup (130g/4.4 oz) powdered sugar
6 tablespoon (90g/2.8 oz) granulated sugar
4 large egg whites (100g/5 oz) egg whites
2 teaspoon lemon juice
Zest of 2 lemons
2 drops yellow gel food coloring
For the filling
⅓ cup (75g/2.6 oz) unsalted butter, softened
3 tablespoon (42g/1.5 oz) cream cheese, softened
1 cup (110g/4 oz) confectioners sugar
Instructions
Prep your mixing bowl and whip attachment by wiping them down with a paper towel dampened with lemon juice. Let stand to dry.
Place a printed template on two baking sheets, then cover with parchment paper. Set aside. Fit a #806 plain tip into a piping bag. Set aside.
Sift the almond flour and the confectioners sugar through a fine-mesh sieve into a mixing bowl. Transfer the mixture back into the sieve and sift again. Set aside.
In the bowl of a stand mixer, begin whipping the egg whites on medium speed until frothy. Add the lemon juice, and continue whipping on medium-high speed until soft peaks form. Slowly add in the sugar. Once all of the sugar is added, whip on high speed until the meringue forms stiff peaks.
Add the lemon zest and two drops of yellow food coloring, and whip until the color is uniform.
Remove the mixing bowl from the stand mixer. Sift the almond flour mixture over the egg whites. Using a clean spatula, begin folding the mixture by scraping the spatula under the mixture, then turning it over. Give the bowl a quarter-turn, and scrape the spatula under the mixture and then turn it over. Repeat until the mixture resembles lava, where it flows from your spatula in a ribbon but it still thick and the ribbon takes about 30 seconds to sink back into the batter.
Fill the prepared piping bag halfway with macaron batter. Pipe shells onto the parchment paper. Slide the template out from underneath the parchment.
Let the baking sheets sit at room temperature for 30 minutes to an hour, until they start to dry out and form a skin on top.
Preheat your oven to 300 degrees. Arrange the racks in the top and bottom thirds of the oven. You may wish to bake one tray first, to ensure adequate airflow around the baking sheet.
Bake the macarons for 18 to 30 minutes, rotating the pan 180 degrees halfway through baking. The cookies are done when they peel cleanly off of the parchment.
Remove the baking sheet to a wire cooling rack and cool the meringue shells on the baking sheet.
Make the filling: cream together the butter and cream cheese. Beat in the powdered sugar, then beat in the lemon curd.
Fill a piping bag halfway, and pipe dollops of filling onto half of your macaron shells. Sandwich with the other half of the macaron shells.
Store in a a single layer in an airtight container in the refrigerator.
Notes
Measure out all ingredients, and prep your piping bag and baking sheets before beginning.
Recommended Products
As an Amazon Associate and member of other affiliate programs, I earn a small percentage from qualifying purchases.
Nutrition Information:
Yield:

30
Serving Size:

1 sandwich cookie
Amount Per Serving:
Calories:

54
Total Fat:

2g
Saturated Fat:

1g
Trans Fat:

0g
Unsaturated Fat:

1g
Cholesterol:

29mg
Sodium:

34mg
Carbohydrates:

6g
Fiber:

0g
Sugar:

2g
Protein:

2g
I am not a certified nutritionist. This nutrition information is automatically calculated by third party software and is meant as a guideline only.
Adapted from Indulge with Mimi
Food Truck Food