Lemon curd is a spread similar to a custard made with eggs, lemon juice, lemon zest, sugar and butter. Don't buy it at the store when it's so easy to make at home!
Lemon curd is really hard to find in a regular grocery store, did you know that? I've only ever found it in Whole Foods, Trader Joe's, and Sur La Table. When I had trouble finding it, I looked up a recipe to see if I could make it myself.
Oh, boy, could I! If you've ever made custard, or an ice cream base for home-churning, you can make lemon curd. Like custard, eggs are cooked over a double boiler with lemon juice, lemon zest and sugar until they thicken. Butter is added off the heat to give the curd a smooth and creamy texture.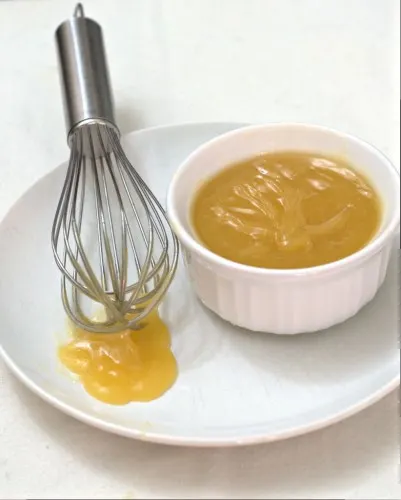 Unlike custard, lemon curd is rarely eaten alone. Okay, normal people don't eat custard alone, either. Dave always calls me a weirdo when I eat a bowl of Bird's custard for dessert. I guess it doesn't really help my case to say that I eat it alone because I don't like apple pie, does it? (Back story: my grandmother used to make custard to serve over apple pie. No apple pie for me = just a bowl of custard.)
But back to the point of the post: what can you do with lemon curd? The most popular application is probably to spread on toast or scones. It's also the star of lemon meringue pie. It's also quite tasty used as a filling for cake.
Curd isn't limited to lemon, either. You can make curd with just about any kind of fruit. Citrus is the most common, but you can also use berries, or tropical fruits like mango.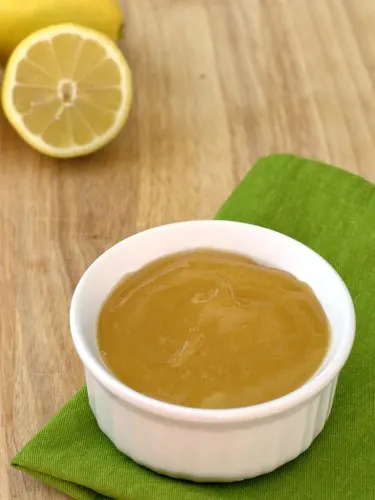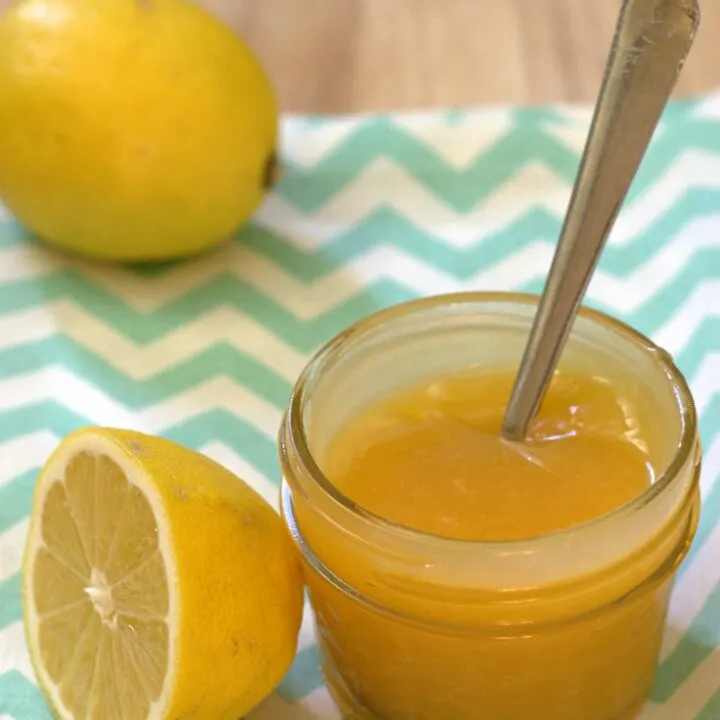 Lemon Curd
Ingredients
⅔ cup sugar, divided
2 tablespoon cornstarch
¼ cup freshly squeezed lemon juice
1 tablespoon freshly grated lemon zest
2 large eggs
2 large yolks
6 tablespoon unsalted butter, at room temperature
Instructions
In a large mixing bowl, whisk together ⅓ cup of the sugar with the cornstarch.
Set the mixing bowl over a saucepan of boiling water, add the lemon juice and zest, and bring the mixture to a boil.
In a separate mixing bowl, whisk together the eggs, egg yolks, and the remaining ⅓ cup of sugar.
Very slowly pour the hot lemon juice/sugar mixture into the egg mixture, whisking constantly. Once the two are completely combined, pour everything back into the first mixing bowl.
Lower the heat under the double boiler to medium, and continue cooking the curd, whisking constantly, until the mixture thickens.
Remove from the heat. Pour through a fine-mesh sieve into a clean mixing bowl, pressing down on the mixture to get it all through. Scrape the curd from the bottom of the strainer into the mixing bowl. Discard the solids left in the strainer.
Add the butter, 1 tablespoonful at a time, stirring until the butter is completely incorporated before adding the next tablespoonful.
Place a sheet of plastic wrap directly on the curd, and refrigerate until completely chilled. The curd will continue to thicken as it cools.
An original recipe by The Redhead Baker
Try these recipes that use lemon curd: