Hasselback potatoes look impressive but are very easy! These Spanish-style potatoes are seasoned with paprika and garlic, and stuffed with manchego cheese and serrano ham.
When most people meal-plan, they choose the main part of the meal. Maybe some choose side dishes as well, but I think most of us are guilty of just making them an afterthought. This meal was the first time I built the meal around the side dish.
This actually came about because I had a package of three Spanish charcuterie meats. I made one of my favorite pizzas, manchego chorizo. But I still had serrano ham and salchichon in the package to ... do what with?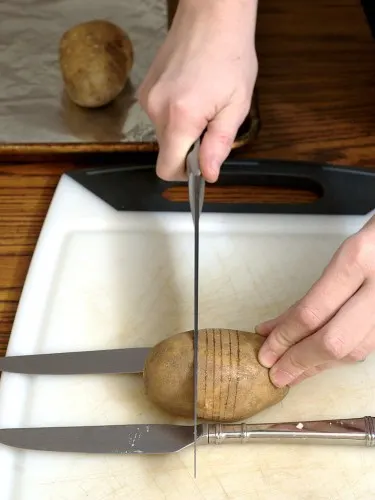 I remembered reading about Hasselback potatoes on a cooking forum on which I participate. They're a Swedish version of baked potatoes. They're supposed to combine the creamy flesh of baked potatoes with the crispy edges of oven-baked fries. Some simply brush them in herbed oil and bake, while others load them up with enough toppings to be a meal unto themselves.
So, I served my Swedish baked potatoes Spanish-style. "A la Mancha" means "in the style of La Mancha," a region southeast of Madrid, Spain, from where we get Manchego cheese and Don Quixote. After baking the potatoes drizzled with paprika-garlic oil, I stuffed them with strips of serrano ham and piled on the manchego cheese. I served them with a whole roasted chicken. Feedback from the family? "Why serve them any other way??" (translation: they were awesome).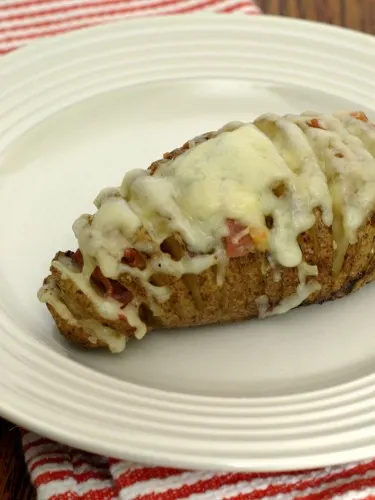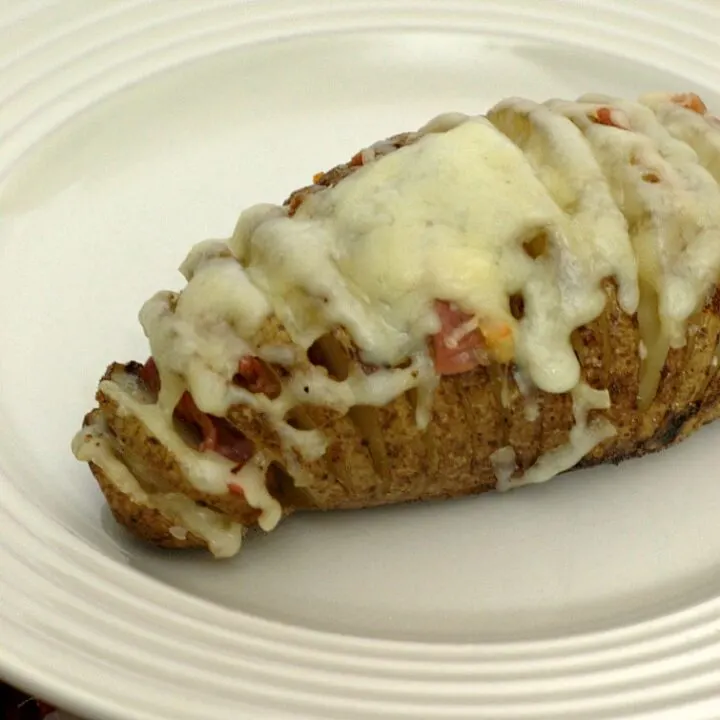 Hasselback Potatoes a la Mancha
Ingredients
4 medium russet potatoes
½ cup olive oil
1 teaspoon smoked paprika
1 teaspoon kosher salt
2 cloves garlic, peeled
4 ounces manchego cheese, grated
4 slices serrano ham, cut into strips
Instructions
Preheat your oven to 400 degrees. Line a sheet pan with tinfoil, spray with nonstick spray.
Place two butter knives, chopsticks or ¼-inch dowels on a cutting board. Cut a small sliver from one side of each potato, so they lay flat.
Place one potato between the butter knives (or chopsticks or dowels). Using a very sharp chef's knife, cut slits every ⅛th of an inch crosswise down the length of the potato. Place on the baking sheet. Repeat with the remaining potatoes.
In a measuring cup, combine the olive oil, paprika and salt. Use a microplane to grate the garlic into the measuring cup. Stir to combine. Use a pastry brush to brush the oil mixture all over each potato, letting the oil seep into the cuts.
Bake the potatoes for 45 minutes to an hour.
Gently and carefully fan out the potatoes. Place a strip of serrano ham in each cut. Stuff some cheese into the cuts and mound on top of each potato.
Bake another 5 minutes, until the cheese is melted and bubbly. Serve immediately.
An original recipe by The Redhead Baker