Start your day off with a spicy kick, or serve these corn muffins as a side dish to a Tex Mex entree.
I recently made this amazing carnitas chili by braising a pork shoulder in beef stock flavored with cumin, paprika, salt, chili powder, cilantro and garlic. I served cornbread alongside the chili. Sweet, buttery cornbread. I'll be honest — I had two pieces, and seriously considered having a third. That's nearly 300 calories right there, before having a bite of the chili.
When I want to find lightened-up versions of my favorite foods, the first place I look is Cooking Light. Sure enough, they had several different options for lightened-up cornbread. Many of them were corn muffins, which I thought would be a great way to maintain portion control.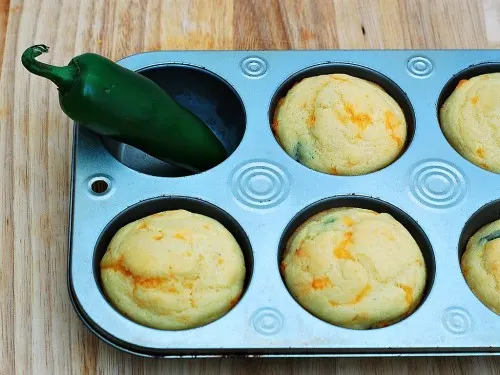 These muffins use reduced fat buttermilk, reduced fat Greek yogurt (for additional protein and moisture), and heart-healthy canola oil instead of butter. These muffins come out to be about 140 calories apiece, with only 7 grams of fat, 15 grams of carbohydrates, and 5 grams of protein (nutrition calculated by MyFitnessPal Recipe Nutrition Calculator).
They also get a kick of flavor from cayenne pepper, jalapeno pepper and Cheddar cheese. Use full-fat Cheddar — it melts better than reduced fat, tastes better, and there's such a small amount (only ½ a cup) in the muffin batter, that a few extra calories won't hurt. You won't even need to feel guilty for putting a dab of butter on these muffins!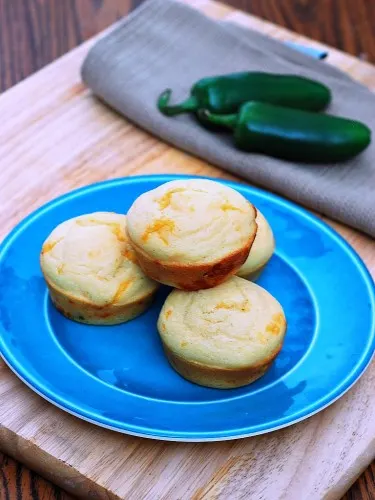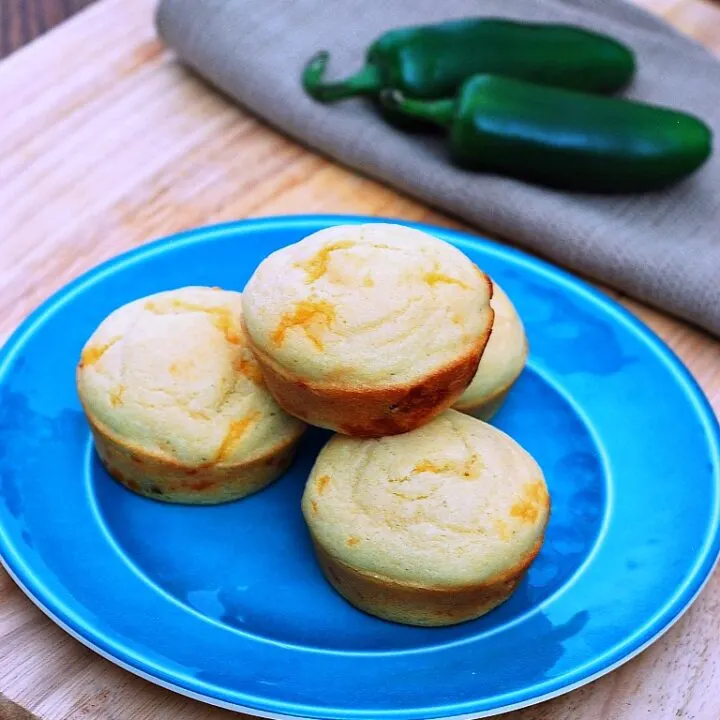 Jalapeno Cheddar Corn Muffins
Ingredients
¾ cup reduced-fat buttermilk
½ cup reduced-fat plain Greek yogurt or sour cream
¼ cup canola oil
1 large egg, lightly beaten
4.5 ounces all-purpose flour, 1 cup
¾ cup yellow stone-ground cornmeal
2 teaspoon baking powder
¼ teaspoon baking soda
½ teaspoon salt
⅛ teaspoon ground red pepper, cayenne
1 jalapeno pepper, seeded and diced
2 ounces shredded sharp cheddar cheese, ½ cup
Instructions
Preheat your oven to 400 degrees. Spray a 12-well muffin tin with nonstick cooking spray. Set aside.
In a 2-cup measuring cup, whisk together the buttermilk, Greek yogurt, oil and egg.
In a medium mixing bowl, stir together the flour, cornmeal, baking powder, baking soda, salt and pepper.
Pour the wet ingredients over the dry ingredients and whisk just until all the dry ingredients are moistened (batter will still be lumpy).
Gently stir the cheese and jalapeno pepper into the batter.
Portion the batter with a large scoop into the wells of the muffin pan.
Bake for 12 to 13 minutes, until golden brown on the top.
Immediately remove muffins from the pan and cool completely on a wire rack.
Adapted from Cooking Light