These chocolatey two-bite Irish Cream Truffles have only 5 ingredients. What a decadent way to celebrate St. Patrick's Day!
It's almost time for St. Patrick's Day! It's a fun holiday. Not just because I'm partly Irish. Because Irish cream is one of my favorite liqueurs.
And it's one of just five ingredients in these decadent Irish cream truffles.
I used to make ganache truffles by the hundreds when I worked at a restaurant nearly 15 years ago. They're relatively easy, and don't involve any cooking or baking.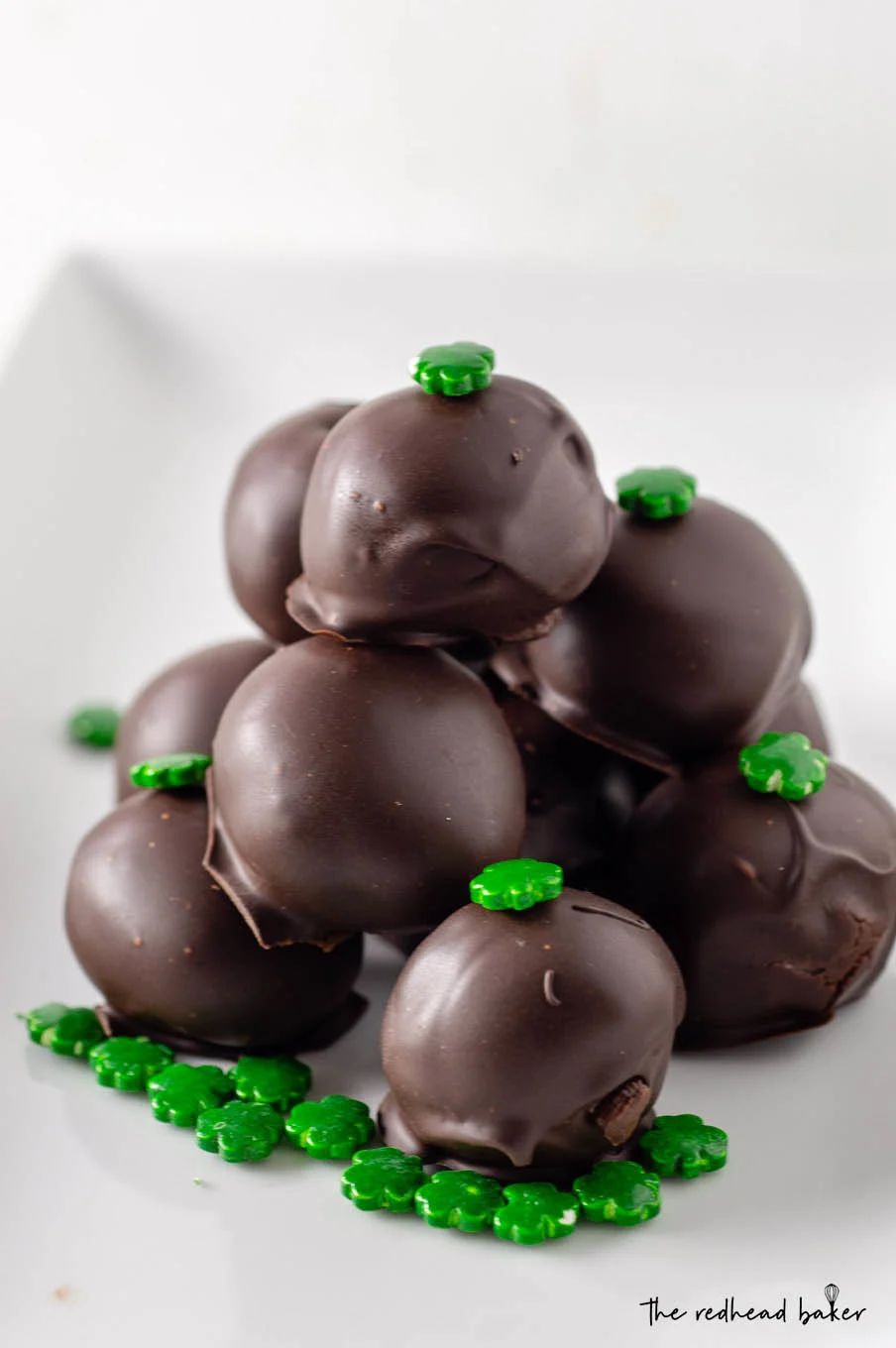 Ganache is a mixture of chocolate and heavy cream. I've talked about it in another recipes, where I've used it as a frosting and as a glaze. Butter is added to ganache when used for truffles to keep it from hardening too much. And finally, a shot (or two) of Irish cream for flavoring.
Since there are so few ingredients in these truffles, make sure you use the best-quality chocolate you can afford, since the flavor will be really prominent. I like to use high-quality couverture chocolate like Guittard, Scharffen Berger, or Valrhona (affiliate links, FYI), depending on what's available on Amazon.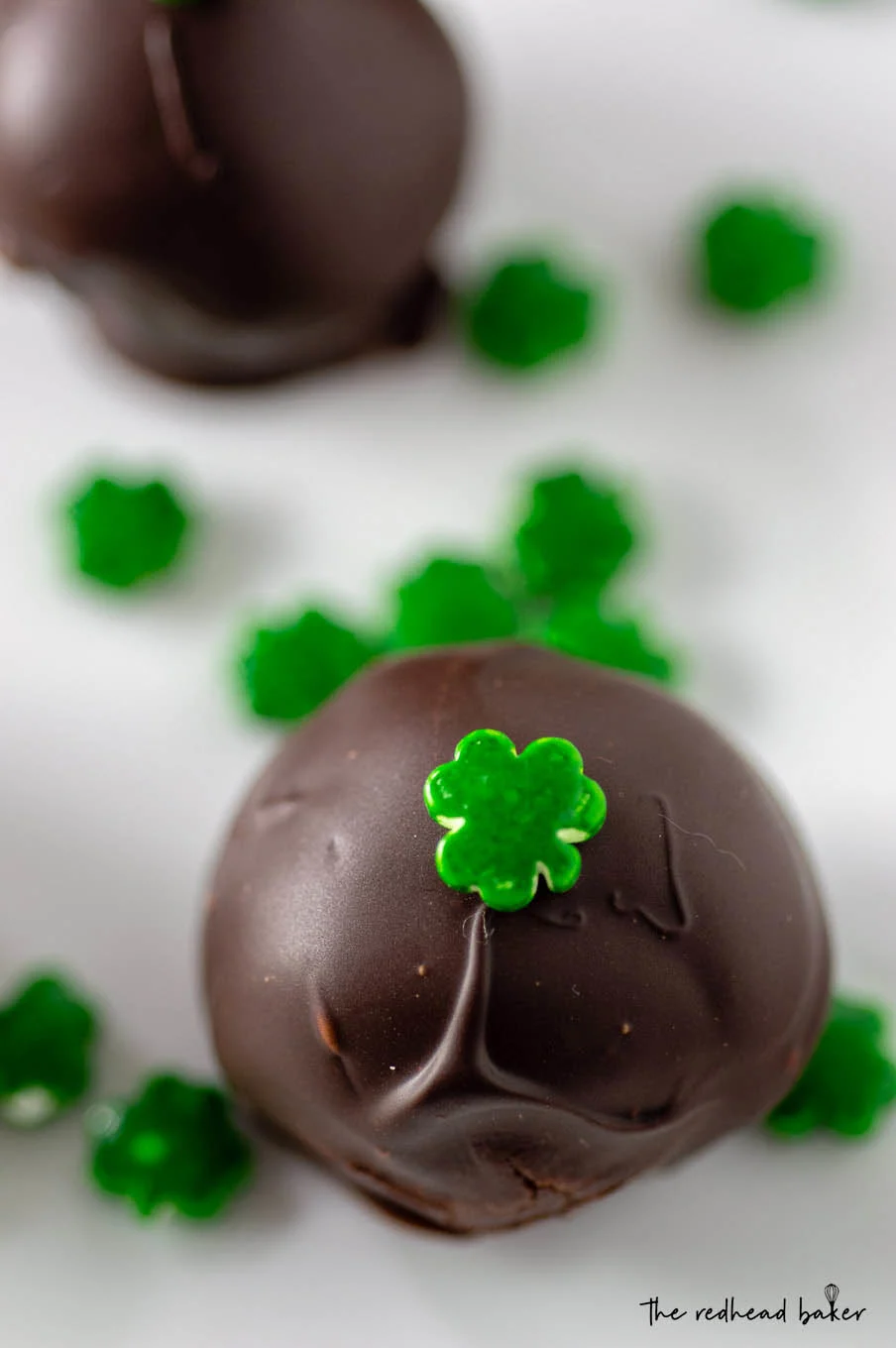 Now, let's talk about the coating. I used couverture chocolate (linked above) that is tempered. Tempering is the process of taking the chocolate through a temperature curve to line up the crystals in the chocolate, which is what gives a chocolate bar its shiny finish and satisfying snap when you bite into it. There are a few different ways to temper chocolate, but the easiest one (described in the recipe below) is seeding.
Seeding involves melting chopped chocolate to a certain temperature (about 114 to 118 degrees), then bringing the temperature down to 88 to 89 degrees by stirring in non-melted chocolate. Once your chocolate hits that sweet spot, you can begin dipping.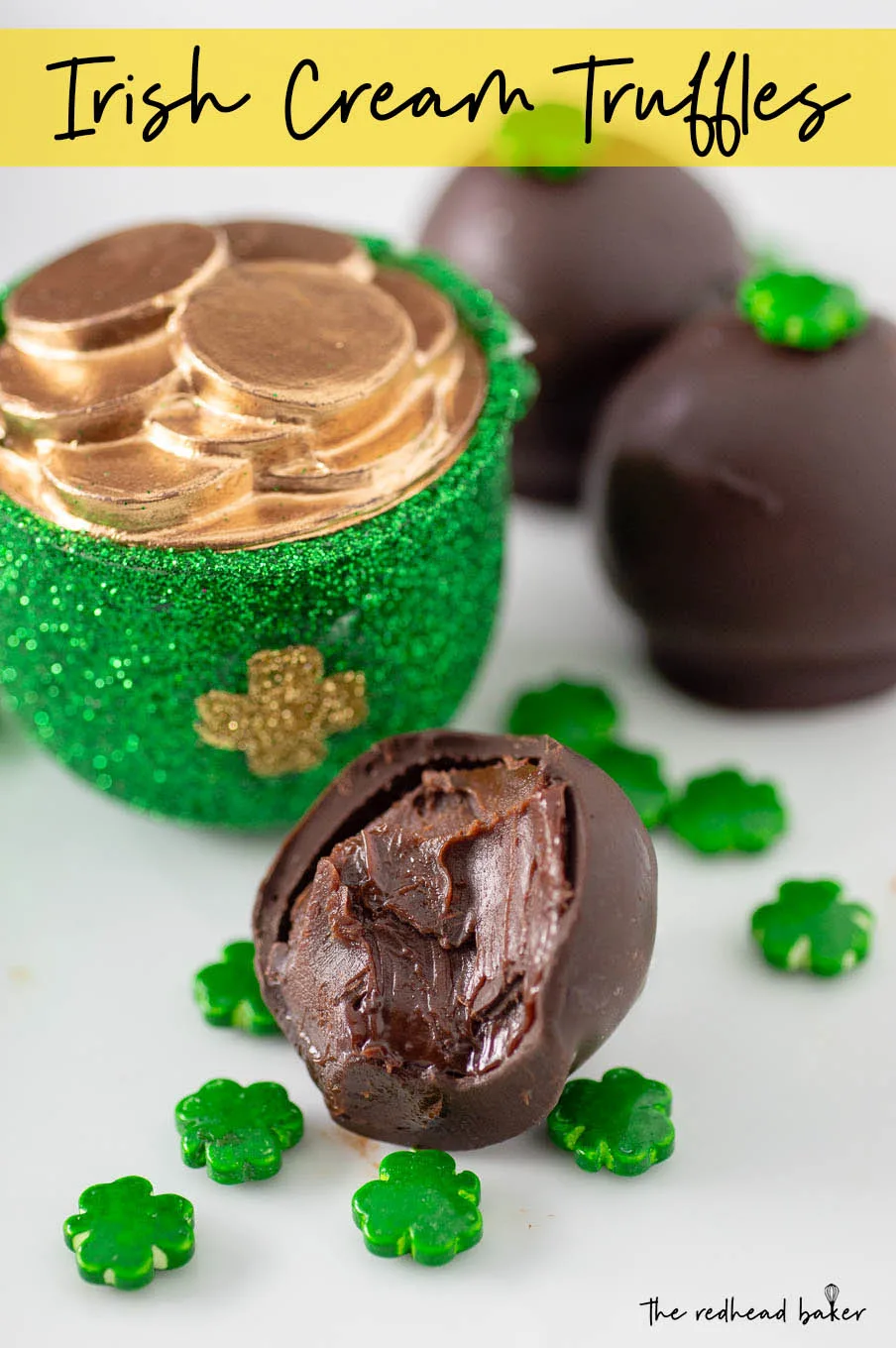 I always keep a pot of just-simmering water nearby, because as you dip your truffles, the temperatured chocolate will continue to cool, so after four or so truffles, I'll sit the bowl of tempered chocolate back on the hot water for a few seconds, never allowing the temperature of the melted chocolate to go above 90 degrees (if it does go over 90, it will lose its temper, meaning you need to start the tempering process all over again.
You might be thinking, that's an awful lot of work. And it is, but sometimes it's worth it (if you're making chocolates for a fancy event, or for someone you really want to impress). If that's not the case, you can always use chocolate candy coating, or simply coat the rolled balls of ganache in cocoa powder or powdered sugar! They will still be delicious.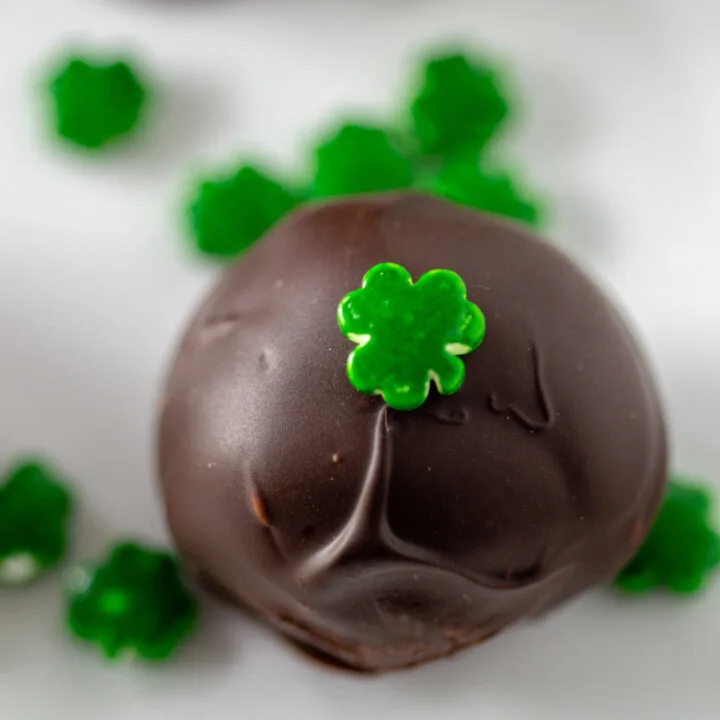 Irish Cream Truffles
Total Time:
4 hours
20 minutes
These chocolatey two-bite treats have only 5 ingredients. What a decadent way to celebrate St. Patrick's Day!
Ingredients
½ cup heavy cream
8 oz semisweet chocolate
2 tablespoon unsalted butter, room temperature
2 tablespoon Irish cream liqueur
16 oz semisweet chocolate (for dipping)
Instructions
Finely chop the 8 oz of semisweet chocolate and place in a medium-size mixing bowl.
Place the heavy cream in a small saucepan, and bring to scalding over medium heat (small bubbles form at the edge of the saucepan). Do not allow to boil.
Pour the hot cream over the chopped chocolate. Let stand for 1 minute.
Use a whisk to slowly stir the mixture until smooth.
Add the butter and Irish cream, and stir until incorporated.
Cover the mixture with plastic wrap and refrigerate until set (about 4 hours).
Line a baking sheet with parchment or wax paper.
Use a small scoop or melon baller to portion the mixture onto the prepared pan. Once all of the chocolate is scooped, refrigerate for 30 minutes.
Roll each portion of chocolate between your hands to form a ball. Refrigerate while you prepare the coating chocolate.
Bring an inch of water to a simmer in the bottom of a doule-boiler over medium-heat. Once the water comes to a simmer, reduce the heat to low.
Finely chop the remaining 16 oz of semisweet chocolate. Place two-thirds of the chocolate in the top of the double-boiler. Melt the chocolate, stirring frequently, until nearly all of the chocolate is melted, and the temperature reaches 114 to 118 degrees.
Remove the bowl of a chocolate from the double-boiler. Begin slowly adding the reserved chocolate, stirring to incorporate and melt it, until the temperature lowers to 88 to 89 degrees.
Once the temperature lowers to the desired temperature, begin dipping the chilled truffles using two forks to roll the ball in the chocolate, and tapping the fork on the side of the bowl to shake off any excess chocolate. Replace back on the baking sheet, and repeat with the remaining truffles.
Store chilled in an airtight container.
Notes
If you don't want to go through the process of tempering the chocolate (steps 10-12), you can use melted chocolate candy coating, or simply coat the rolled balls of gananche in cocoa powder, or powdered sugar.
Recipe adapted from Serious Eats
Recommended Products
As an Amazon Associate and member of other affiliate programs, I earn a small percentage from qualifying purchases.
Nutrition Information:
Yield:

24
Serving Size:

1 truffle
Amount Per Serving:
Calories:

166
Total Fat:

11g
Saturated Fat:

7g
Trans Fat:

0g
Unsaturated Fat:

4g
Cholesterol:

8mg
Sodium:

5mg
Carbohydrates:

19g
Fiber:

2g
Sugar:

16g
Protein:

1g
I am not a certified nutritionist. This nutrition information is automatically calculated by third party software and is meant as a guideline only.
More St. Patrick's Day Recipes