Get the Halloween spirit started at breakfast with these delicious mummy donuts. They're baked, not fried, and decorated with frosted mummy wrapping and candy eyes.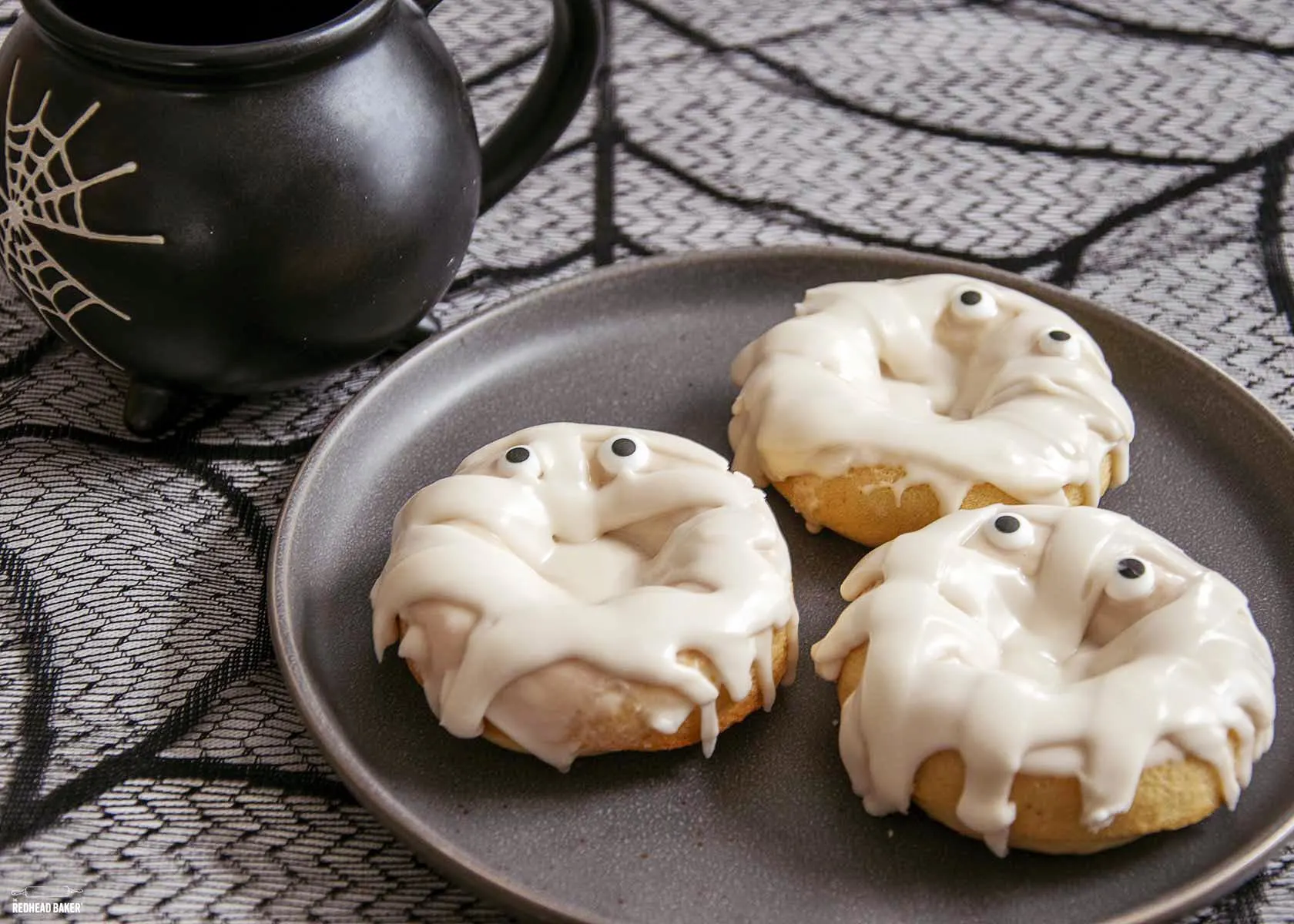 Why wait until nighttime to start the Halloween celebration? Serve these baked mummy donuts at breakfast on Halloween morning.
These easy donuts are baked, not fried. These are vanilla donuts, but you can choose whatever flavor you like (I've included three other options in the Variations section) and topped with vanilla icing and candy eyes.
Jump to:
Ingredients
This is a really easy recipe to make, no electric mixer required!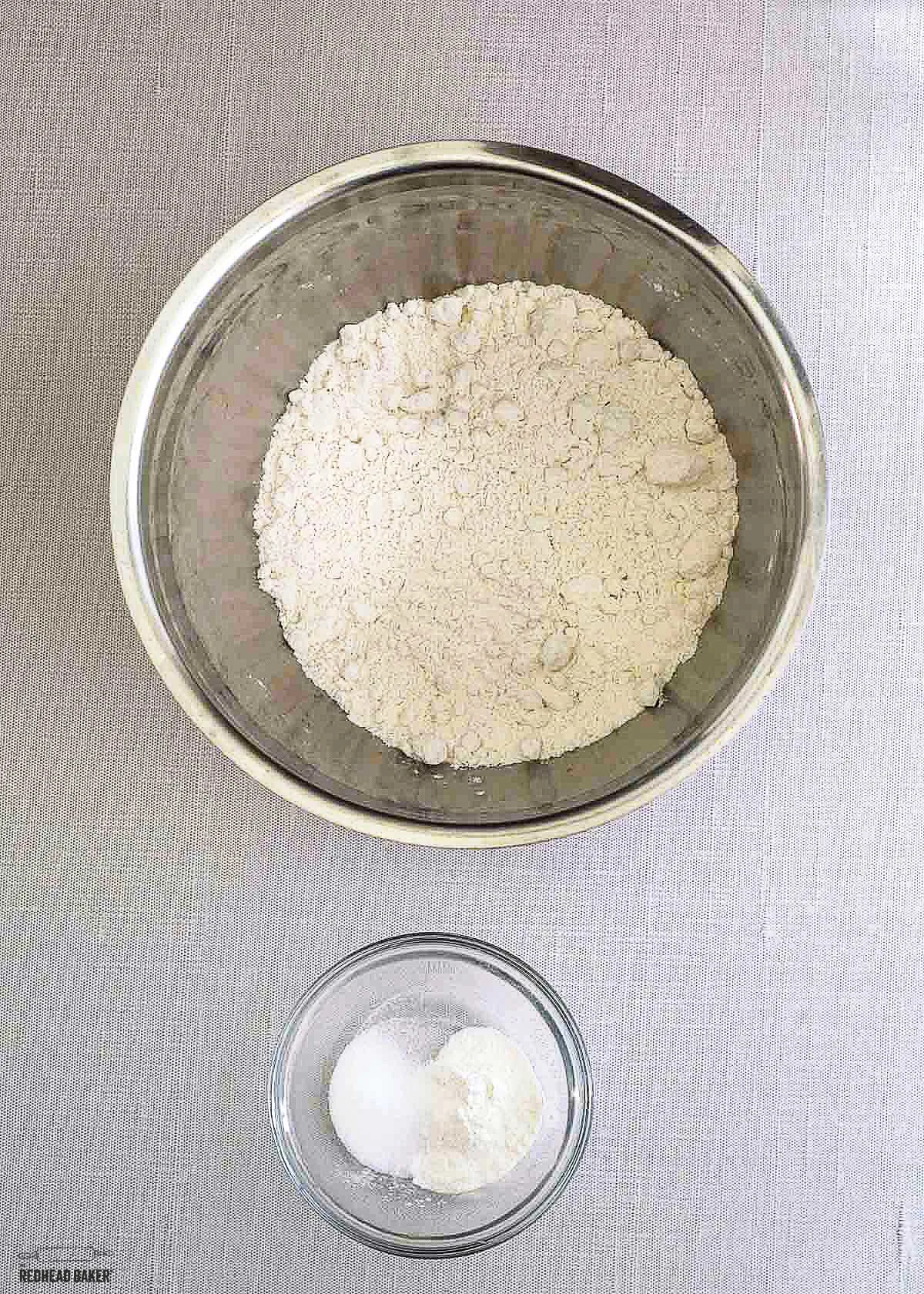 The dry ingredients
All-purpose flour: I strongly recommend weighing your flour rather than using volume measurements, because it's more accurate. Too much flour can result in tough donuts.
Baking powder
Salt: I used table salt in this recipe.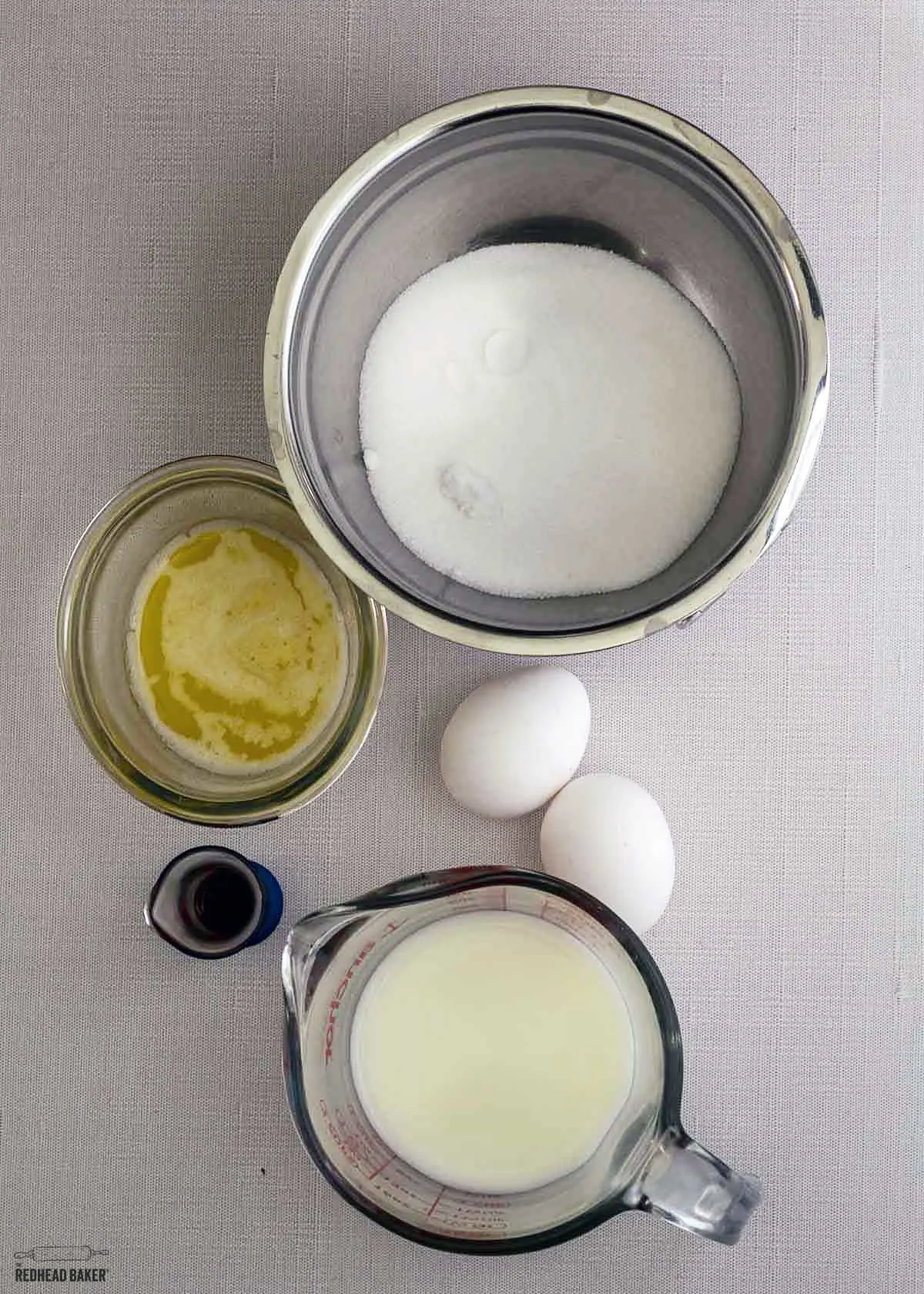 The wet ingredients
Sugar
Unsalted butter, melted. If you only have salted butter, omit the table salt from the recipe.
Large eggs
Vanilla extract
Buttermilk: if you don't have buttermilk, you can substitute an equal amount of Greek yogurt or sour cream, or place two teaspoons of lemon juice or distilled vinegar in a measuring cup and add enough milk to make ¾ cup. Let sit for 10 minutes before proceeding with the recipe.
Instructions
It's as simple as 1-2-3!
1: Mix the dry
2: Mix the wet
3: Mix the wet and dry together!
Decorating the donuts is pretty easy, too. First, dip the donuts in an icing glaze, and place two candy eyes in the wet glaze to attach them to the donut. Try to center them on the top of the donut; if they sit more on the curve, they will slide in the wet glaze.
Then, use the thicker frosting to pipe out "mummy wrapping." No worries if your piping looks a little sloppy—mummy wrappings are supposed to be uneven and raggedy!
The thicker frosting won't hold its shape very long. If you're making these ahead of time and need to store them before serving, dip the donuts in the glaze, attach the eyes, and then use canned vanilla cake frosting to pipe the mumy wrapping.
Variations
You can use any flavor of baked donuts for the base.
Pumpkin donuts: they are Halloween donuts after all!
Any other flavor you like
Equipment
Mixing the donuts requires only mixing bowls and a whisk. Baking the donuts requires a specialized donut baking pan, but they are available at most stores that carry cooking and baking supplies. You'll also need a cooling rack.
For decorating, I recommend sliding a piece of parchment or wax paper under the cooling rack to catch any icing drips. You'll also need a piping bag and a flat piping tip (or a basketweave tip with a flat side). I used an Ateco #44 flat tip.
Storage
You can store these donuts in an airtight container at room temperature for up to two days.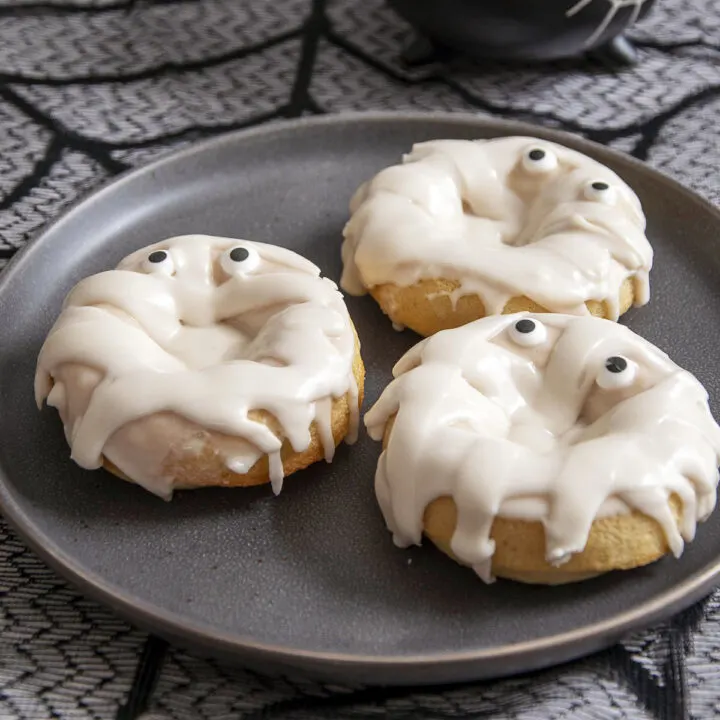 Baked Mummy Donuts
Get the Halloween spirit started at breakfast with these delicious mummy donuts. They're baked, not fried, and decorated with frosted mummy wrapping and candy eyes.
Ingredients
For the donuts
2 cups (8.5 oz/240 g) all-purpose flour
2 teaspoons baking powder
1 teaspoon table salt
¾ cup (6 fl oz/177 mL) buttermilk
¾ cup (5.25 oz/148 g) sugar
2 large eggs, lightly beaten
2 tablespoons unsalted butter, melted and cooled
2 teaspoons vanilla extract
For the frosting
2 cups (8 oz/227 g) confectioners sugar
1 teaspoon vanilla extract
2 tablespoons milk or cream
For decorating
Instructions
Preheat oven to 350 degrees F (177 degrees C). Spray two 6-cavity donut pans with nonstick spray. Set aside.
In a large mixing bowl, stir together the flour, baking powder and salt.
In a smaller mixing bowl, whisk together the buttermilk, sugar, eggs, melted butter and vanilla extract.
Pour the wet ingredients over the dry, and stir together just until combined.
Spoon the batter into the prepared pans, until each cavity is about two-thirds full.
Bake for 8 to 10 minutes, rotating each pan 180 degrees halfway through to ensure even baking. The finished donuts should feel springy, and a toothpick inserted into the donut should come out clean.
Let cool in the pan for 5 minutes, then invert the pan to remove the donuts and let them cool completely on a wire rack.
When the donuts are cool, make the frosting: Combine the powdered sugar and vanilla with a whisk in a medium bowl. Add the milk a few drops at a time. When the icing is thick enough to hold its shape when piped, divide into two bowls. In one of the bowls, add a few more drops of milk to make a thick glaze.
Dip each donut in the glaze. While still wet, attach two candy eyes to each donut. Let set.
Fit a small piping bag with a basketweave tip and fill with the thicker frosting. Pipe the on to each donut in stripes, holding the bag so that the flat edge of the tip is on top and the textured edge is underneath.
Serve immediately.
Notes
The thicker, piped icing won't hold its shape for long. If you want to store these to serve much later, follow the directions to dip the donuts in the glaze, but use canned cake frosting to pipe the mummy wrapping.
Recommended Products
As an Amazon Associate and member of other affiliate programs, I earn a small percentage from qualifying purchases.
Nutrition Information:
Yield:

12
Serving Size:

1 donut
Amount Per Serving:
Calories:

168
Total Fat:

4g
Saturated Fat:

2g
Trans Fat:

0g
Unsaturated Fat:

1g
Cholesterol:

39mg
Sodium:

277mg
Carbohydrates:

29g
Fiber:

1g
Sugar:

9g
Protein:

3g
I am not a certified nutritionist. This nutrition information is automatically calculated by third party software and is meant as a guideline only.
#HalloweenTreatsWeek
HAPPY HALLOWEEN!!!
Welcome to 2023's #HalloweenTreatsWeek event!
If you're new here, Welcome! If you're a returning haunt, welcome back!
#HalloweenTreatsWeek is a yearly Halloween blogging event that is hosted by Angie from Big Bear's Wife . You'll find that this fun and spooky event is an online, week-long event that is filled with some frightfully fun Halloween treats and recipes from some fantastic Halloween loving bloggers!
For this year's 6th annual #HalloweenTreatsWeek event, we have 18 hauntingly talented bloggers that are sharing their favorite Halloween recipes throughout the week! You can following the hashtag #HalloweenTreatsWeek on social media to collect all of these frightful recipes to use at your own Halloween parties and events!
Make sure to check out all of the fun Halloween recipes that we're sharing this week!
Today's Halloween Offerings: