Flank steak tacos use a lean cut of beef, tenderized with a chipotle chili-lime marinade, as taco filling in soft tortillas, topped with shredded lettuce and pineapple salsa.
Our family loves steak. We don't eat it often due to cost and health considerations. But once in a while, it's a nice treat, like this flank steak tacos.
Flank steak is a cut of meat from the abdominal area of a cow, a muscle that gets a lot of use, so it has more tough fibrous tissue and less fat. Flank steak benefits from acidic marinades, which help break down fibrous tissue and tenderizes the meat.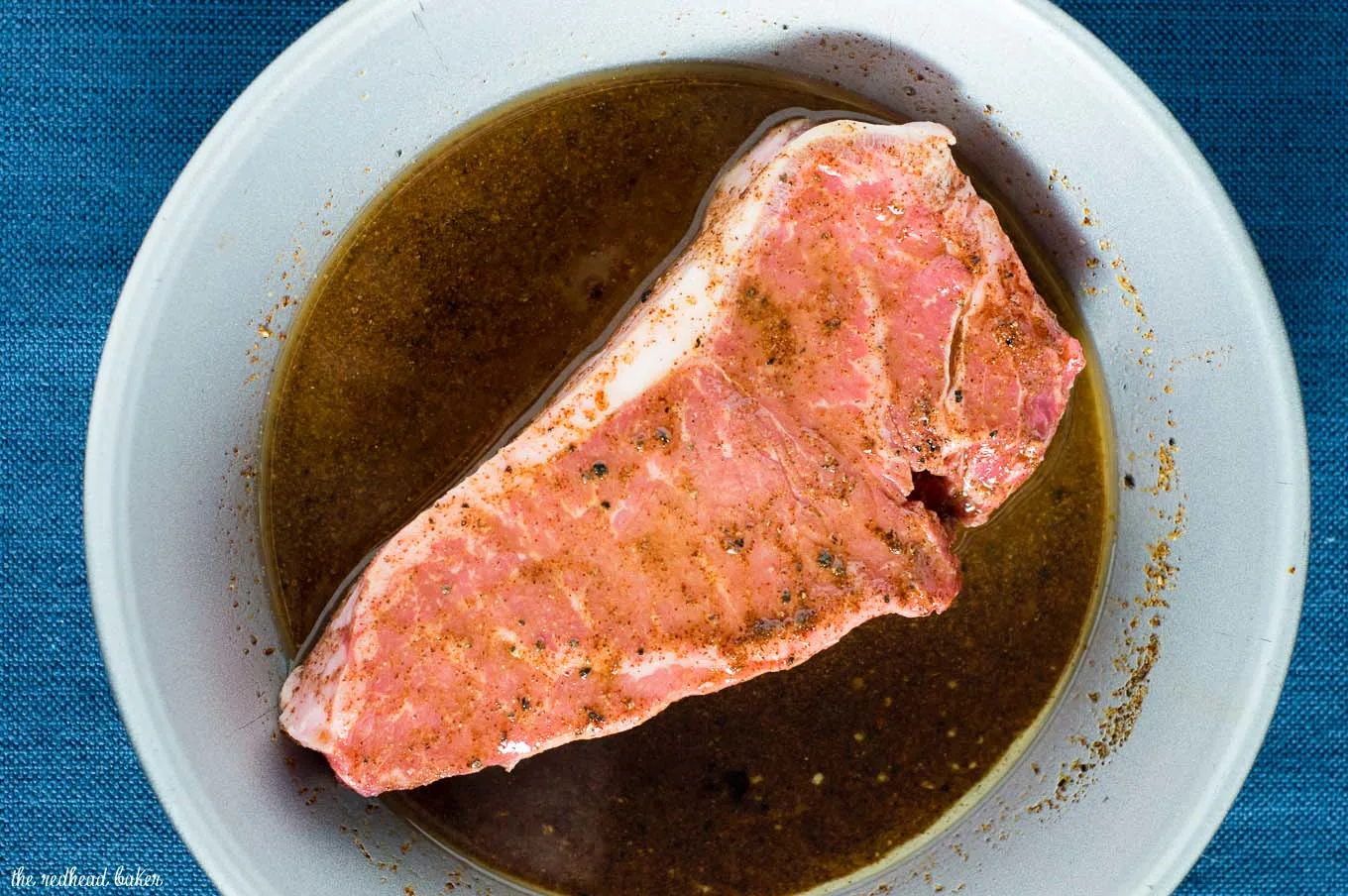 Most marinades don't penetrate more than a few millimeters into the meat, so give it at least one hour in the marinade for the acidic juices to break down the fibrous tissue. After about 12 hours, there isn't much more tenderizing or flavoring that will happen.
In addition to marinating the meat, flank steak shouldn't be cooked more than medium rare. That makes this a quick-cooking cut of meat. Just five to six minutes on each side, and it's done.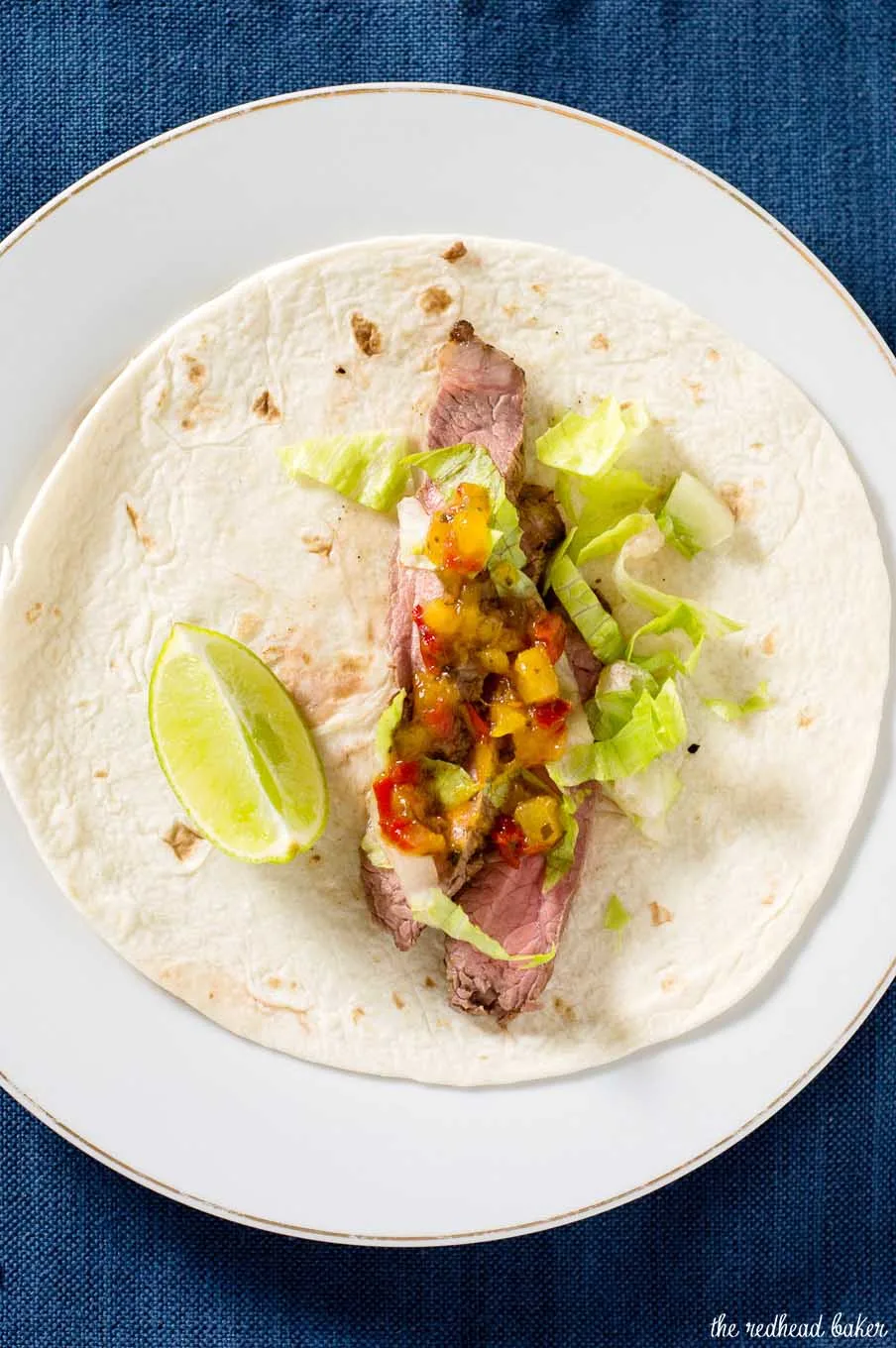 It's essential to let the meat sit for at least ten minutes after cooking to rest. If you cut it immediately, all of the juices in the meat will run out onto your cooking board, and leave you with tough, dry meat. All of the work marinating and cooking just to medium rare will be for nothing.
We loves these flank steak tacos served with minimal toppings, just shredded romaine lettuce and pineapple salsa. Pineapple salsa isn't common in stores, so you can make your own if you choose, or use another kind.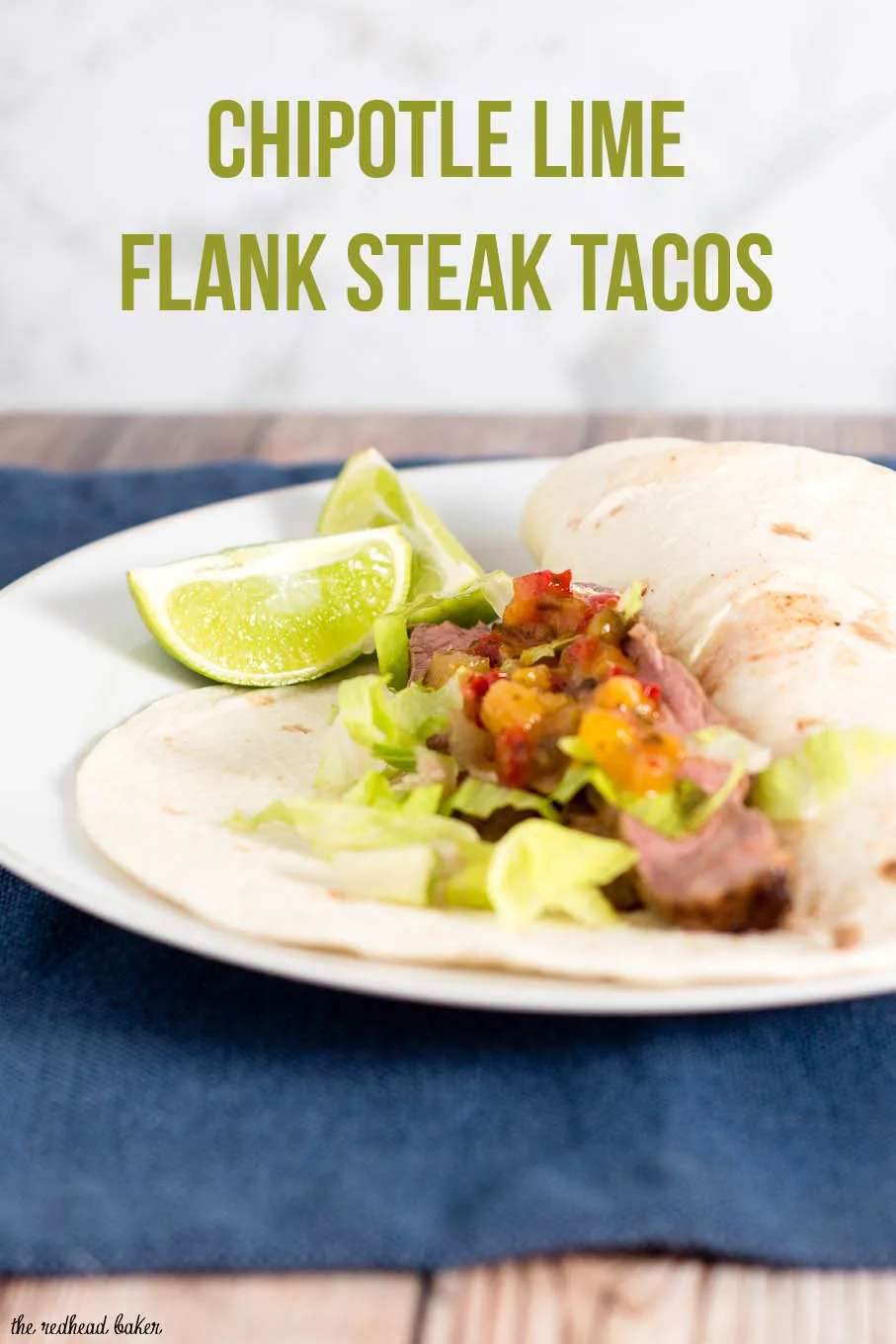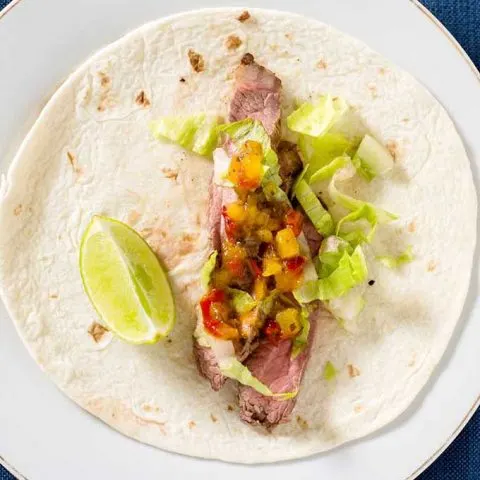 Chipotle Lime Flank Steak Tacos
Yield:
4 (2-taco) servings
Total Time:
1 hour
12 minutes
Ingredients
1 teaspoon chipotle chili powder
½ teaspoon ground cumin
½ teaspoon garlic powder
1 teaspoon kosher salt
½ teaspoon ground black pepper
2 tablespoon freshly squeezed lime juice
1 ½ lbs flank steak
8 taco-sized flour tortillas
Shredded lettuce, for topping
Pineapple salsa, for topping
Instructions
In a bowl, combine the chili powder, cumin, garlic powder, salt and pepper. Add the lime juice and mix into a paste.
Place the flank steak in a shallow dish, and rub the pasta all over the steak on both sides. Cover the dish and let the steak marinate for at least 1 hour, up to 8 hours (refrigerate if marinating more than 1 hour).
When ready to cook, if steak was refrigerated, let stand at room temperature for 30 minutes.
Preheat the broiler to high.
Line the bottom of a broiler pan (or a sheet pan) with tinfoil. Spray the top of the broiler pan (or a wire rack that fits inside a sheet pan) with nonstick spray and place the steak on top. Cook under the broiler for 4 to 6 minutes, depending on the thickness of your steak, then flip and cook on the second side another 4 to 6 minutes.
Remove the steak from the broiler and let rest for 10 minutes.
Place the steak on a cutting board so that the muscle fibers run horizontally. Slice the steak perpendicular to the fibers into thin strips.
Place a few strips of steak on each tortilla, top with shredded lettuce and pineapple salsa, and serve.
Adapted from Cat Cora
Discover more #SundaySupper Lean Beef Recipes!
Appetizers, Soups, and Salads
Lean Ground Beef Recipes
Mains
Sandwiches and Wraps
Steaks