Customize these freezer-friendly egg and cheese breakfast burritos however you like. In the morning, just unwrap, reheat and go!
Mornings in my household feel hectic. Sure, we could get up earlier so we don't feel so rushed, but I love sleep. I prioritize sleep over almost everything else. That includes breakfast.
My husband takes care of the dogs in the morning, and I take care of getting the 5-year-old up, dressed and getting him to school. He seems to have inherited my morning appetite. He will eat a cheese stick as soon as he wakes up, then he prefers to eat the main portion of his breakfast in the car on the way to pre-kindergarten.
Most often, those in-the-car breakfasts have included toaster waffles or frozen pancakes (without the syrup!), breakfast biscuits, like Belvita, or a baggie of Cheerios without milk.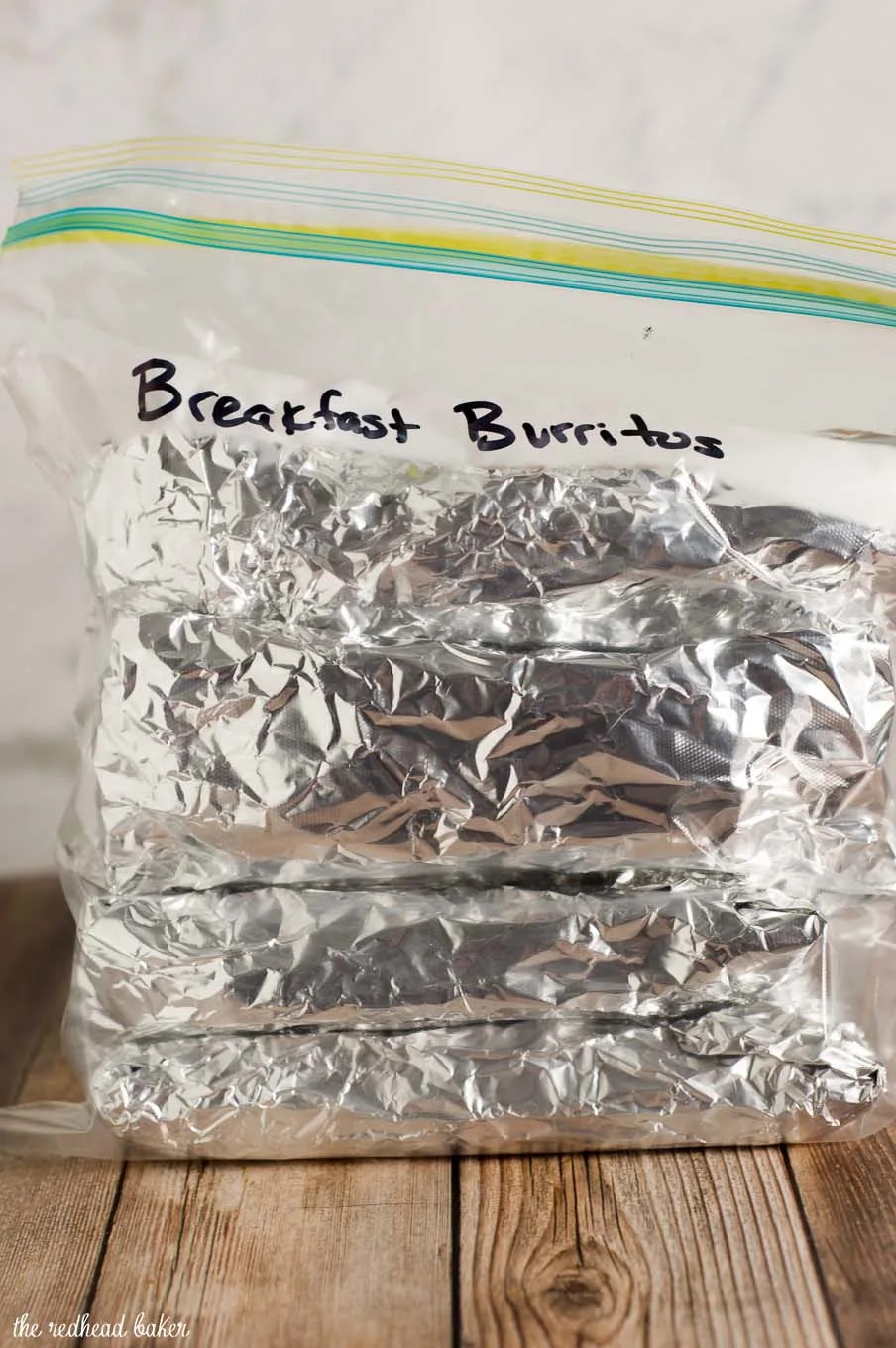 I've been trying to include more protein in everyone's breakfasts, but it's hard when none of us want to get up to cook and sit down to breakfast in the morning. Enter the freezer-friendly homemade breakfast burrito.
Our breakfast burritos start with a base of flour tortilla, scrambled eggs and shredded cheese. We vary the mix-ins with each batch we make, so that we don't get tired of eating the same thing day after day. Our favorite combination so far is ham, bell pepper, and onion with cheddar cheese.
It doesn't take long to cook and assemble the burritos on Sunday evening, and in the morning, it takes only 90 seconds to heat one burrito. I can heat everybody's breakfast in less time than it takes to brew a pot of coffee. And they're much more filling than a toaster waffle.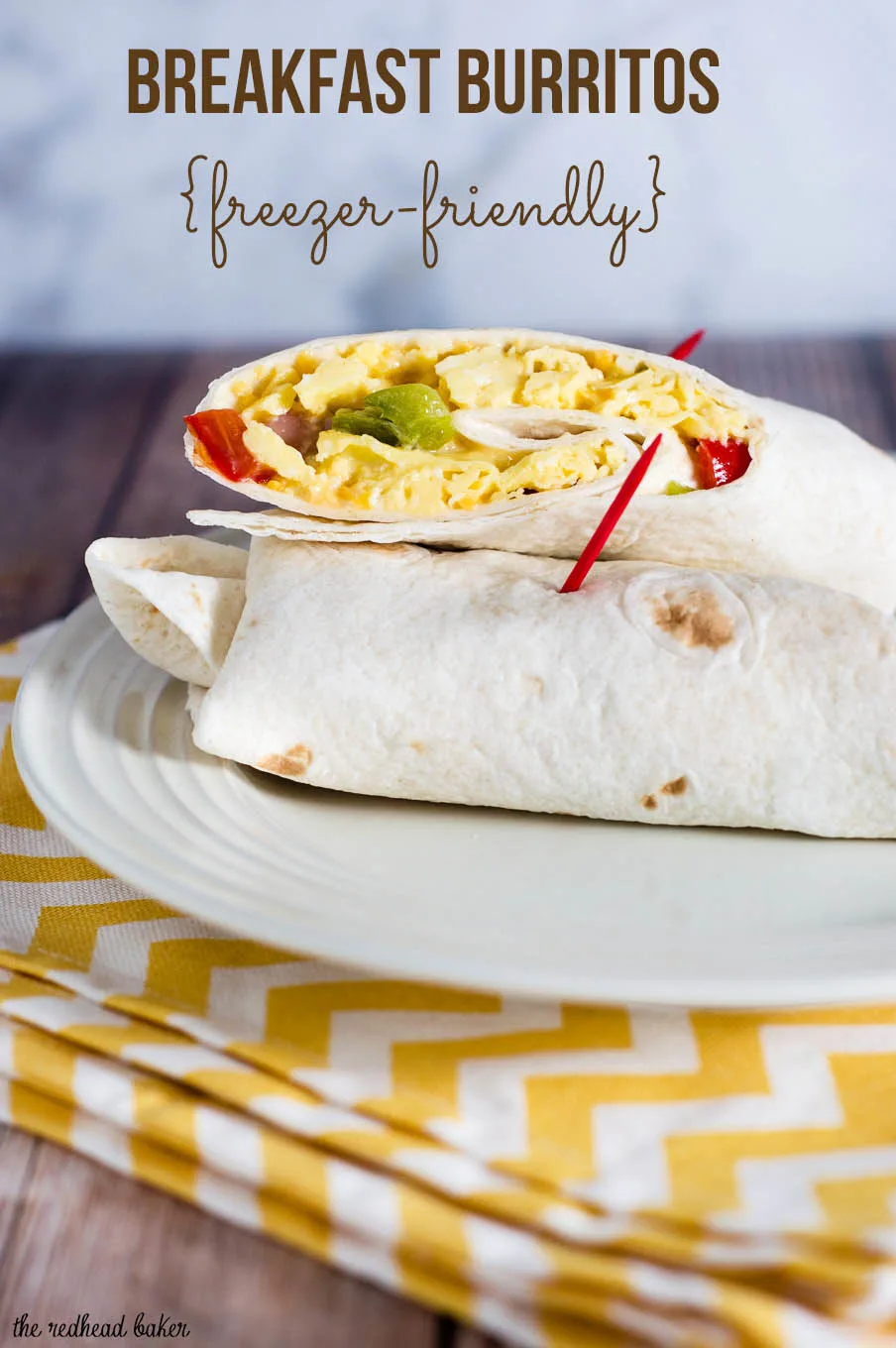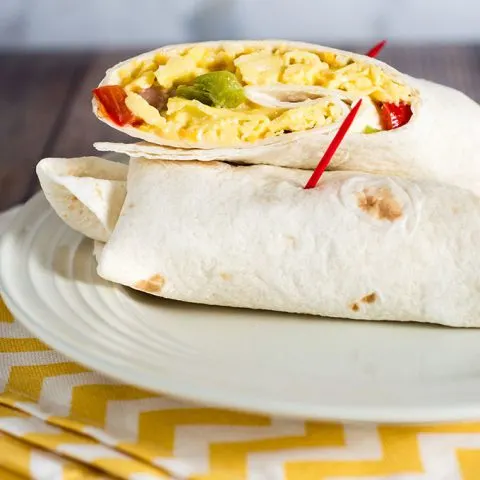 Breakfast Burritos
Yield:
8 breakfast burritos
Ingredients
For basic breakfast burritos:
12 large eggs, beaten
2 cups shredded cheese (Cheddar, Colby Jack, Mexican blend, etc.)
8 flour tortillas
Mix-in options (pick 2 or 3):
8 oz diced ham
8 slices cooked bacon, crumbled
8 oz bulk sausage, cooked and crumbled
1 oz can black beans, drained and rinsed, 14-
1 bell pepper, diced and sauteed
½ cup salsa
1 small yellow onion, diced and sauteed
½ cup diced roasted red peppers, drained
1 pkg frozen spinach, thawed and squeezed of excess water
Instructions
Place a large nonstick skillet over medium heat. Spray with nonstick spray.
Add the eggs to the skillet, and cook, stirring frequently, until the eggs are mostly set with some runny areas (four to five minutes), then season with salt and pepper.
Stack four tortillas on a microwave-safe plate, cover with a damp paper towel and heat in 30-second bursts until warm.
Combine the scrambled eggs with your choice of mix-ins.
Place 1 tortilla on a work surface and sprinkle some of the cheese in a horizontal line across the middle of the tortilla (see step-by-step photos below). Spoon some of the egg mixture over the cheese. Fold the sides of the tortilla in toward middle, then starting with the edge furthest from you, roll the tortilla to form a burrito. Wrap in tinfoil, if planning to freeze.
Repeat with remaining tortillas (warming 4 at a time), cheese and egg mixture.
Burritos can be eaten immediately or individually wrapped burritos can be placed in a freezer-grade ziptop bag and frozen. To reheat, unwrap the burrito, place on a microwave-safe plate, wrap with a damp paper towel, and microwave on high for 90 seconds.
Recipe by The Redhead Baker