A new year often brings a resolution of eating healthier. I lightened up these blueberry lemon donuts so you can snack guilt-free!
Have you made a resolution to eat healthier? You're not alone. My husband has resolved to eat better and exercise more. I suppose I should eat healthier, too, so to support him, I've resolved to start cooking healthier meals and keeping healthier snacks in the house.
But I just don't have the self-control that I had in my 20s. Back then, I cut out all refined sugar. I dropped the "freshman 15" and then some. At some point, I gained some of that weight back. I could go that same diet route again, but, well, I just don't want to. Life is too short not indulge at least once in a while.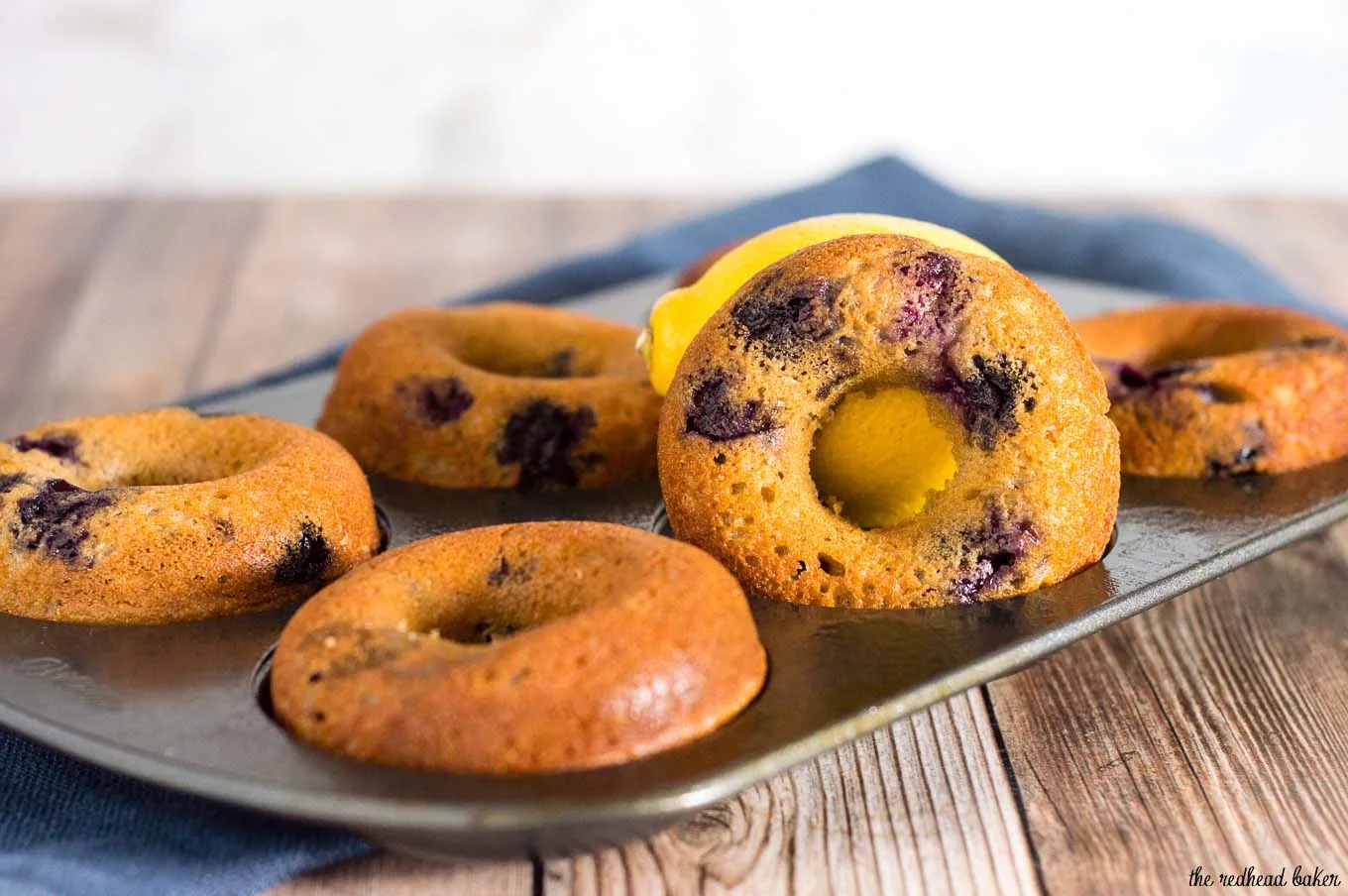 So, to compromise, I've lightened up one of my favorite blueberry lemon donuts. Citrus is in season during the winter months, and I like having a treat with lemon to brighten my day. Blueberries are not in season, so I used frozen. No need to thaw.
My first step in lightening these donuts was, obviously, to bake them instead of fry them. Next, I used white whole wheat flour instead of all-purpose. White whole wheat flour is milled from hard white wheat berries instead of the hard red wheat berries that's used to make all-purpose flour and regular whole wheat flour. White whole wheat flour results in a lighter flavor than regular whole wheat, but with added fiber.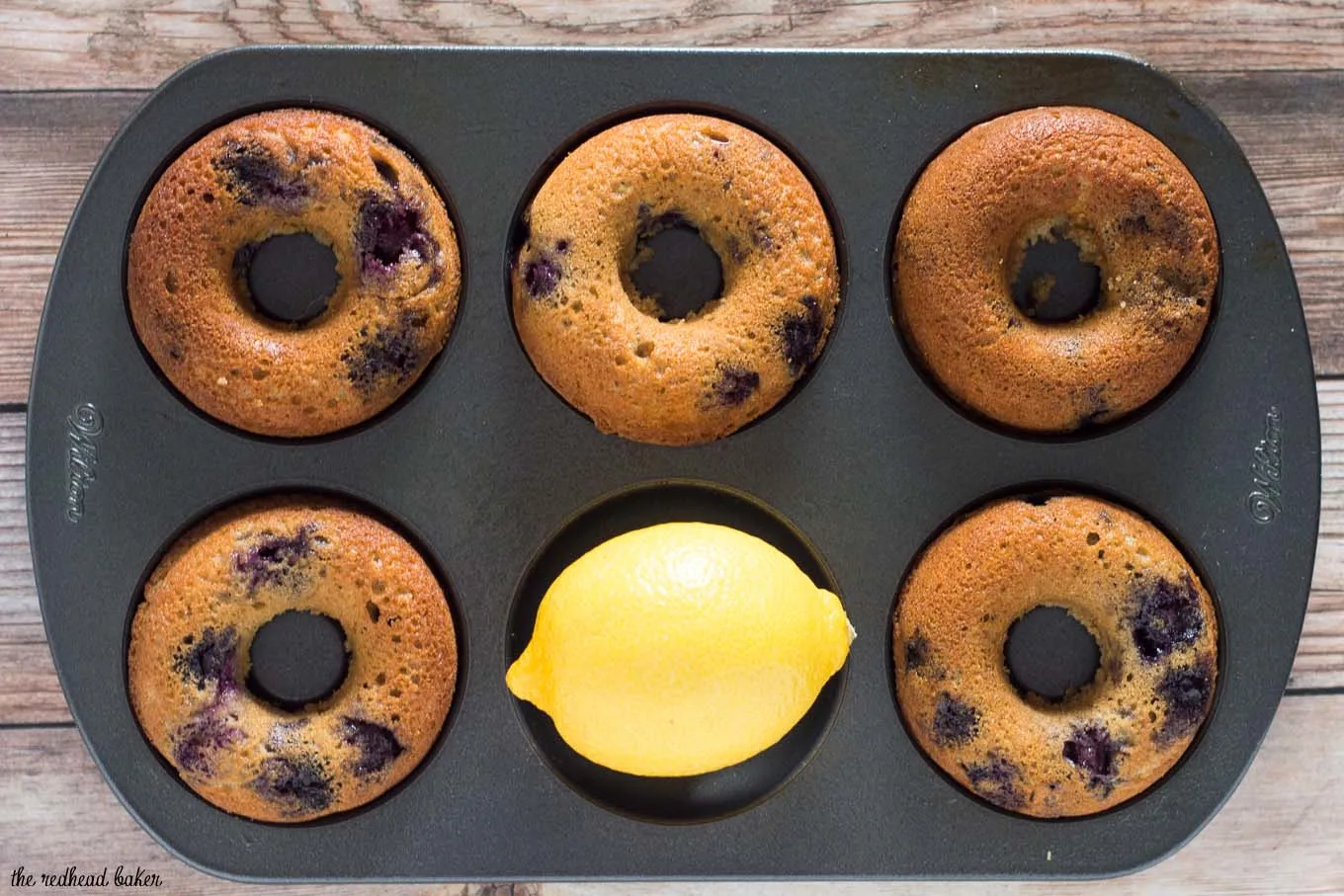 Next, I reduced the amount of sugar, and swapped half of what was left with dark brown sugar. The extra flavor makes up for the reduced sweetness. Most donut recipes contain melted butter, but I used melted coconut oil. Yes, it's still a fat, but research suggests it may help boost your HDL (or "good") cholesterol.
The recipe I adapted used applesauce, which can result in a denser, drier baked donut. Coconut oil helps keep the blueberry lemon donuts more moist, which means we can skip a sugary glaze on top, and shave off more calories.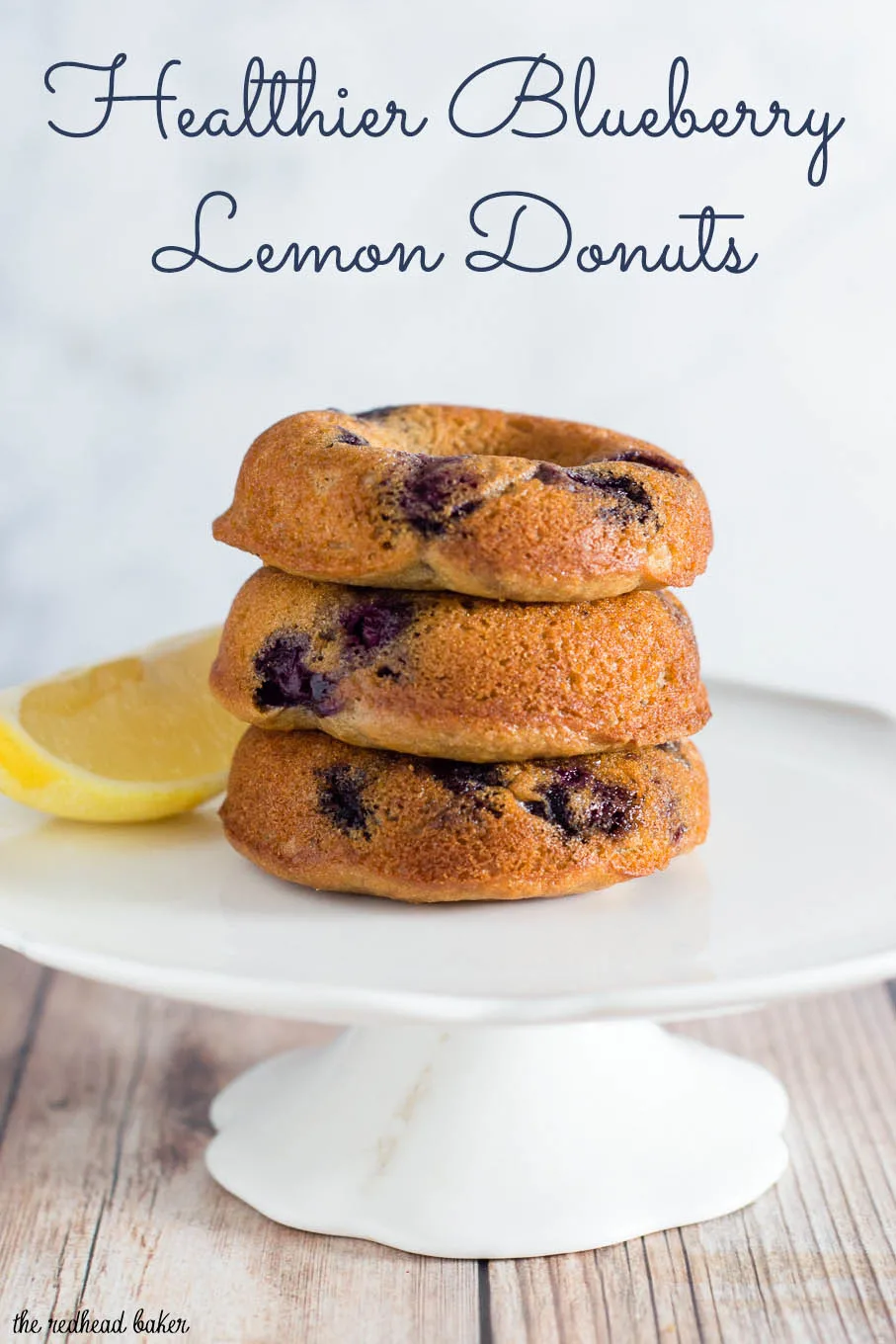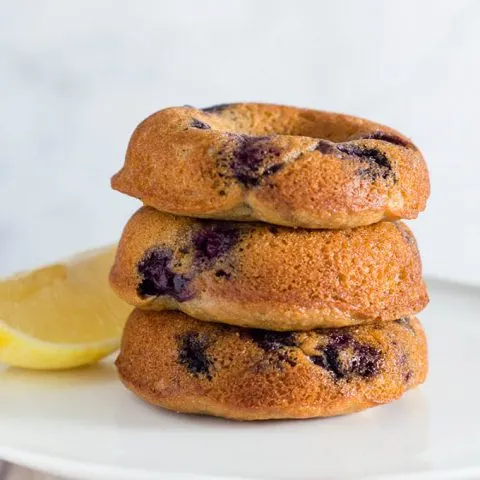 Healthier Blueberry Lemon Donuts
Ingredients
1 ½ cups white whole wheat flour, 6 oz
¼ cup sugar
¼ cup dark brown sugar
1 teaspoon baking powder
½ teaspoon baking soda
¼ teaspoon salt
1 large egg
1 cup nonfat Greek yogurt
3 tbsp1% milk
¼ cup coconut oil, melted and cooled slightly
½ teaspoon vanilla extract
zest of 1 lemon
1 cup frozen blueberries
Instructions
Preheat oven to 350 degrees. Grease two donut baking pans with nonstick spray and set aside.
In a large mixing bowl, combine the flour, sugars, baking powder, baking soda and salt. Stir to combine.
In a medium mixing bowl, whisk together the egg, yogurt, milk, coconut oil, vanilla extract and lemon zest.
Pour the wet ingredients over the dry, and whisk just until combined. Gently fold in the blueberries.
Scoop the mixture into a piping bag or a sturdy quart-size or larger plastic zip-top bag with a ½-inch hole snipped at the pointed end. Pipe the mixture into the prepared pans (alternatively, you can spoon the mixture into the baking pan).
Bake for 22 to 25 minutes. Cool the donuts in the baking pan for 5 minutes, then flip the pans over to remove the donuts and cool them on a wire rack to room temperature.
Nutrition Information:
Yield:

1
Amount Per Serving:
Calories:

141
Carbohydrates:

22g
Sugar:

10g
Protein:

4g
Adapted from Spoon Fork Bacon
Disclaimer: nutrition information is calculated with MyFitnessPal Nutrition Calculator and is an estimate only. For more accurate nutrition information, consult a registered dietitian.