Chicken piccata, ready in under 30 minutes! This dish uses quick-cooking chicken thighs instead of pounded-thin breasts, and skips the flour coating.
Happy 2017, readers! I hope you all had a fantastic New Year's Eve. We spent the early evening at Philadelphia's Franklin Square, watching the Electrical Spectacle Holiday Light Show, riding the carousel, and watching the 6 p.m. fireworks over the Delaware River. After my son went to bed, my husband and I ate appetizers, drank wine, and fell asleep before midnight, LOL!
Though 2016 sucked in many ways, I had a banner year here on the food blog, landed a regular full-time job that I love, and finally married my fiance. Here's to an even better 2017!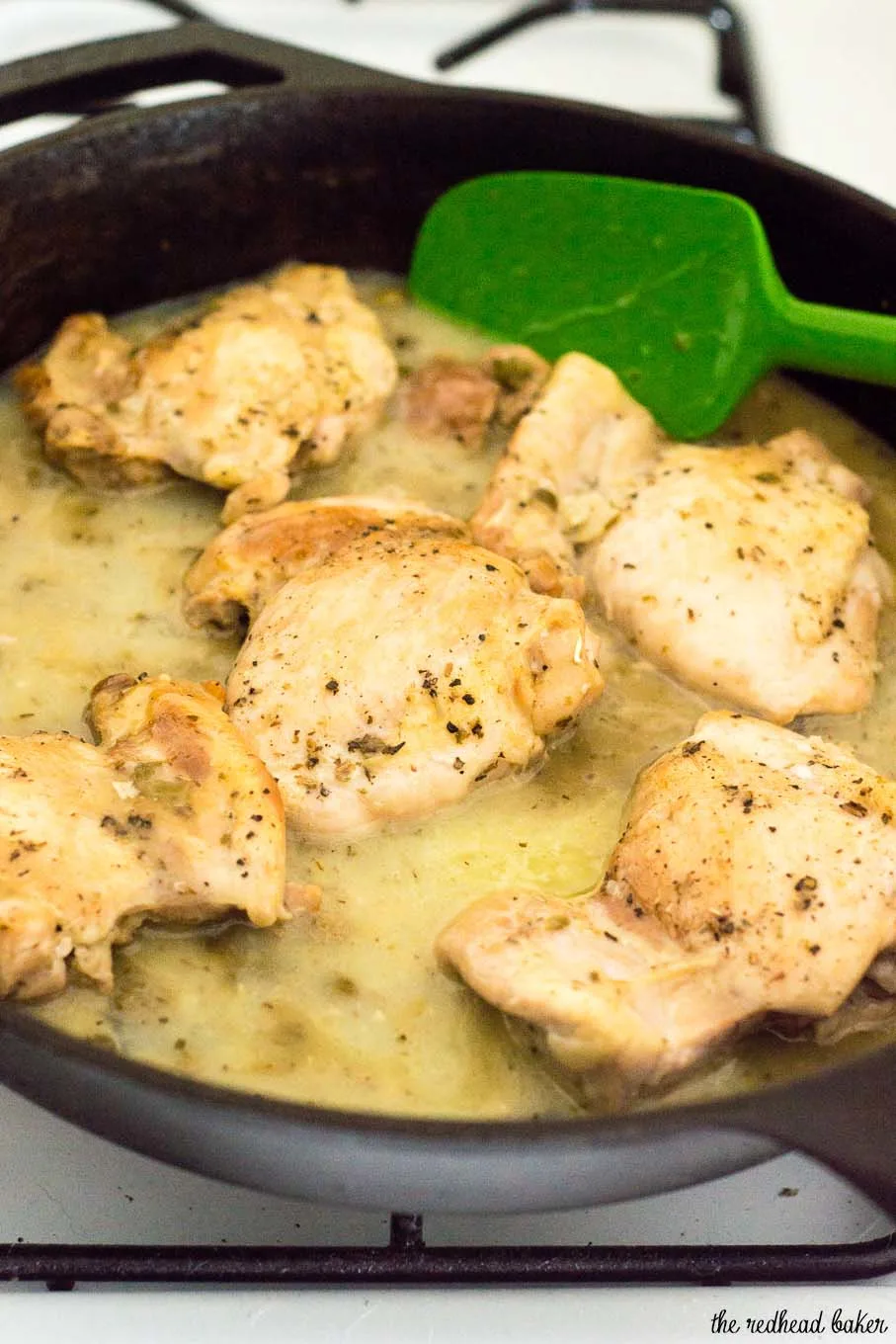 Is one of your resolutions to plan meals ahead? If so, add this one to your list of weeknight meals. Quick chicken piccata is ready in under 30 minutes, and is a deliciously different from other weeknight chicken meals.
Traditional chicken piccata doesn't take much longer than this quick version, but two things make it, in my opinion, better. First, it skips the flour coating, shaving off a few calories. Second, it uses chicken thighs instead of breasts, which are more flavorful, and more forgiving when cooking.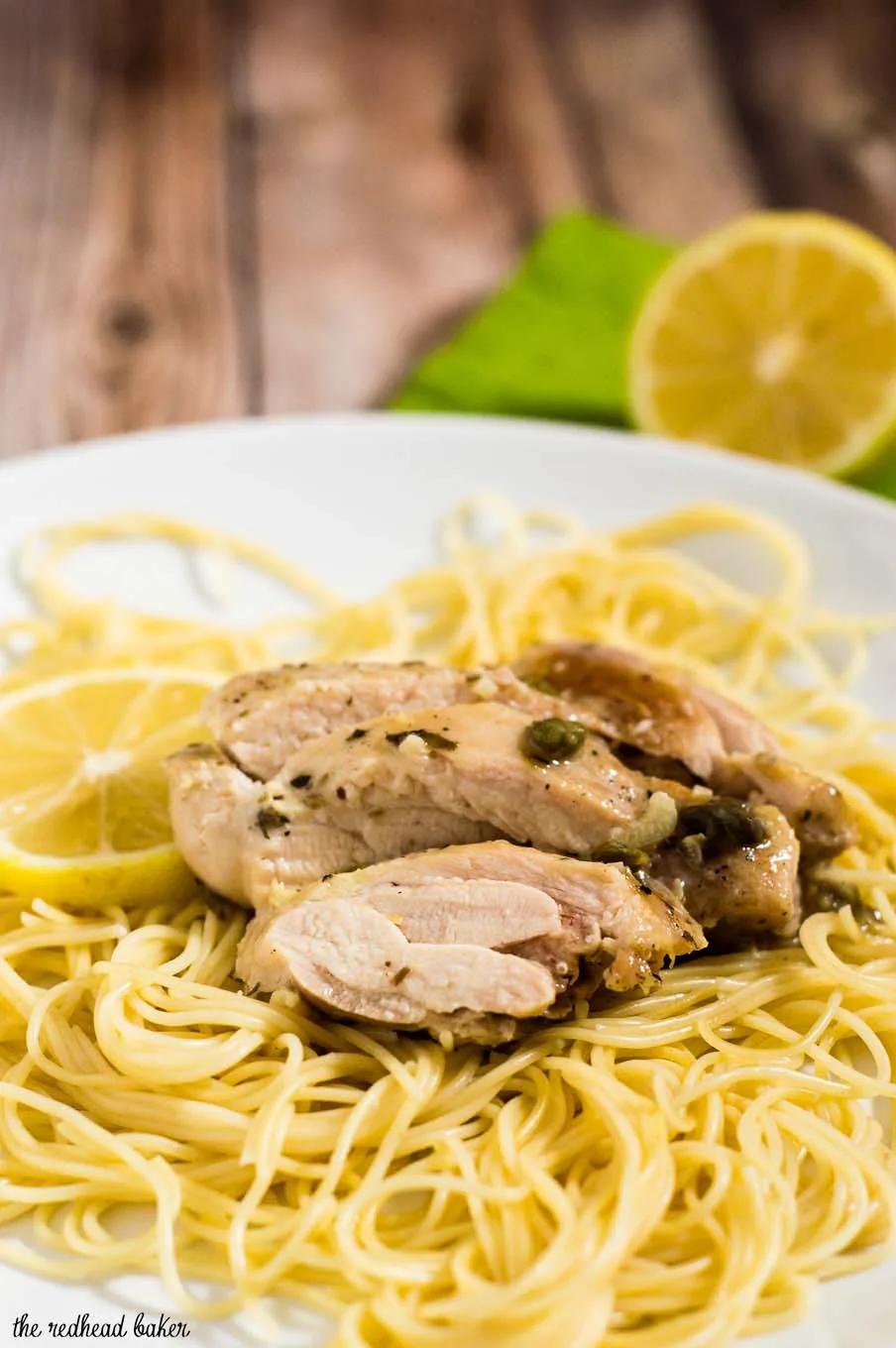 Boneless chicken thighs cook quickly, but unlike chicken breasts, they don't dry out if you cook them slightly too long. For a complete meal, I served steamed broccoli alongside the chicken and pasta, and added a lemon wedge to eat plate. My son loves squeezing his own lemon juice onto his chicken.
If you want to make weeknight cooking even easier, double the amount of chicken thighs (but nothing else). Once fully cooked, cool half of the thighs to room temperature, and refrigerate. You can shred them and use them in my chicken verde enchiladas, or any other recipe that calls for shredded chicken.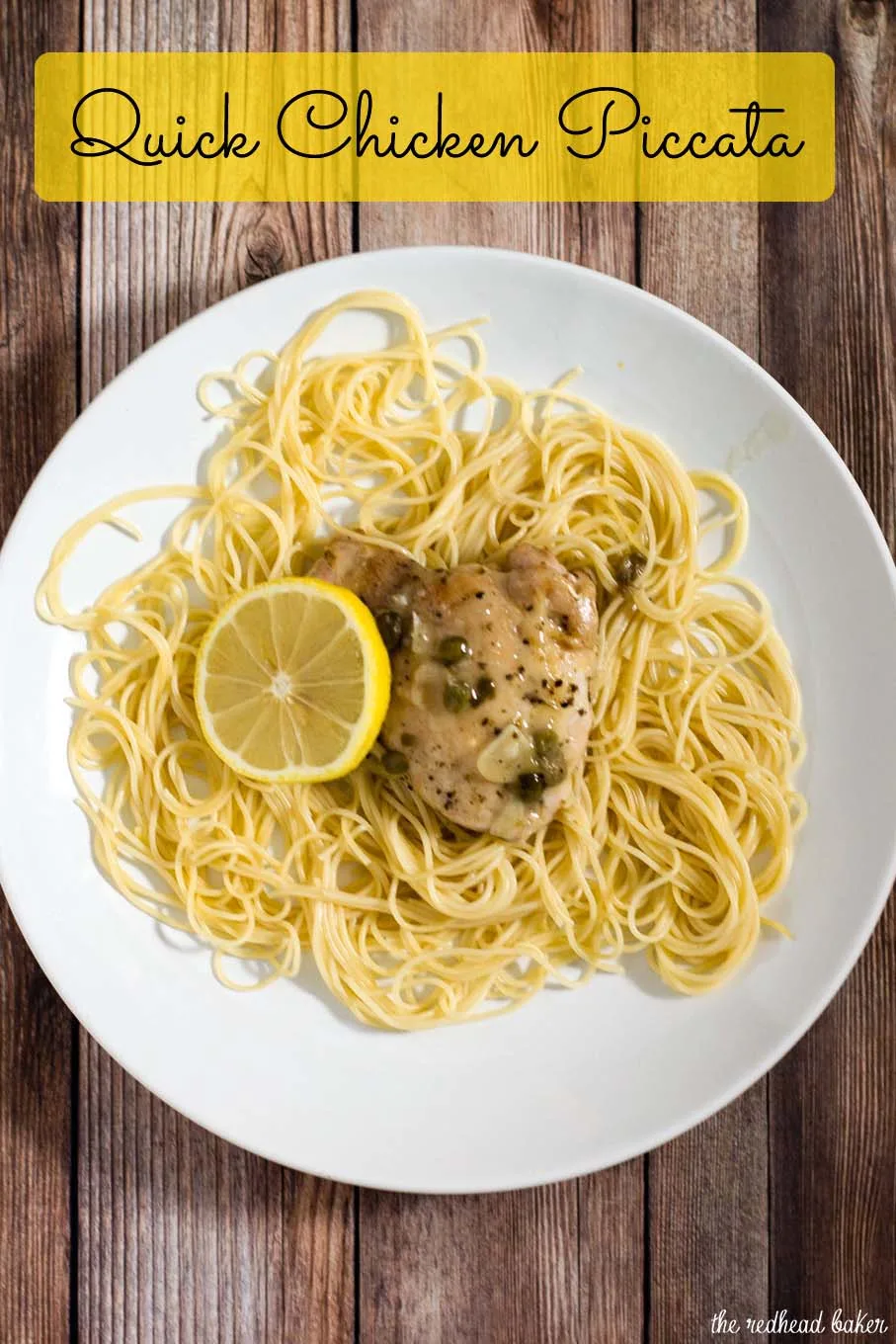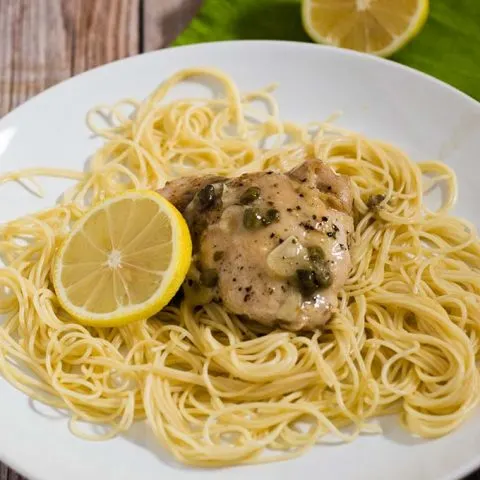 Quick Chicken Piccata
Ingredients
1 ½ pounds boneless, skinless chicken thighs (about 8 thighs)
Salt and pepper
2 tablespoon olive oil
¾ cup unsalted chicken stock, divided
2 tablespoon capers, drained
4 cloves garlic, thinly sliced
2 leaves fresh thyme sprigs, removed and stems discarded
1 tablespoon chopped fresh oregano
1 teaspoon cornstarch
1 ½ tablespoons fresh lemon juice
1 tablespoon unsalted butter
2 tablespoons chopped fresh flat-leaf parsley, for garnish (optional)
4 cups cooked angel hair pasta, from 8 oz dry
Instructions
Heat the olive oil in a cast iron skillet over medium heat. Season the chicken thighs on both sides with salt and pepper.
Cook the chicken thighs for 5 minutes on each side, or until cooked through. Remove to a plate and tent with foil to keep warm.
Add ½ cup of chicken stock to the skillet, along with the capers, garlic, thyme and oregano. Bring to a boil, then reduce heat and simmer for 7 to 8 minutes.
Combine the remaining ¼ of chicken stock with 1 teaspoon cornstarch. Add to the skillet, while stirring consistently, and bring the mixture to a boil. Cook at a boil for 1 minute.
Remove from the heat, and add the lemon juice and butter. Swirl the pan until the butter melts and incorporates.
Serve 2 chicken thighs over 1 cup of pasta, and top with the piccata sauce. Garnish with chopped parsley, if using.
Adapted from Cooking Light
Discover more #SundaySupper Easy Supper Recipes!
Chicken Suppers
Pasta Suppers
Pork Suppers
Sheet Pan Suppers
Soup and Sandwich Suppers
Stove Top Suppers