Beautiful swirled peppermint meringue cookies are a festive addition to your holiday party dessert tray! Bonus: they're naturally fat-free!
It's one week until Christmas, and if your family is anything like mine, you still have at least one Christmas party to host or attend.
Whether you're hosting or attending, make a batch of these peppermint meringue cookies. They are beautiful, delicious and festive, the perfect addition to any dessert table.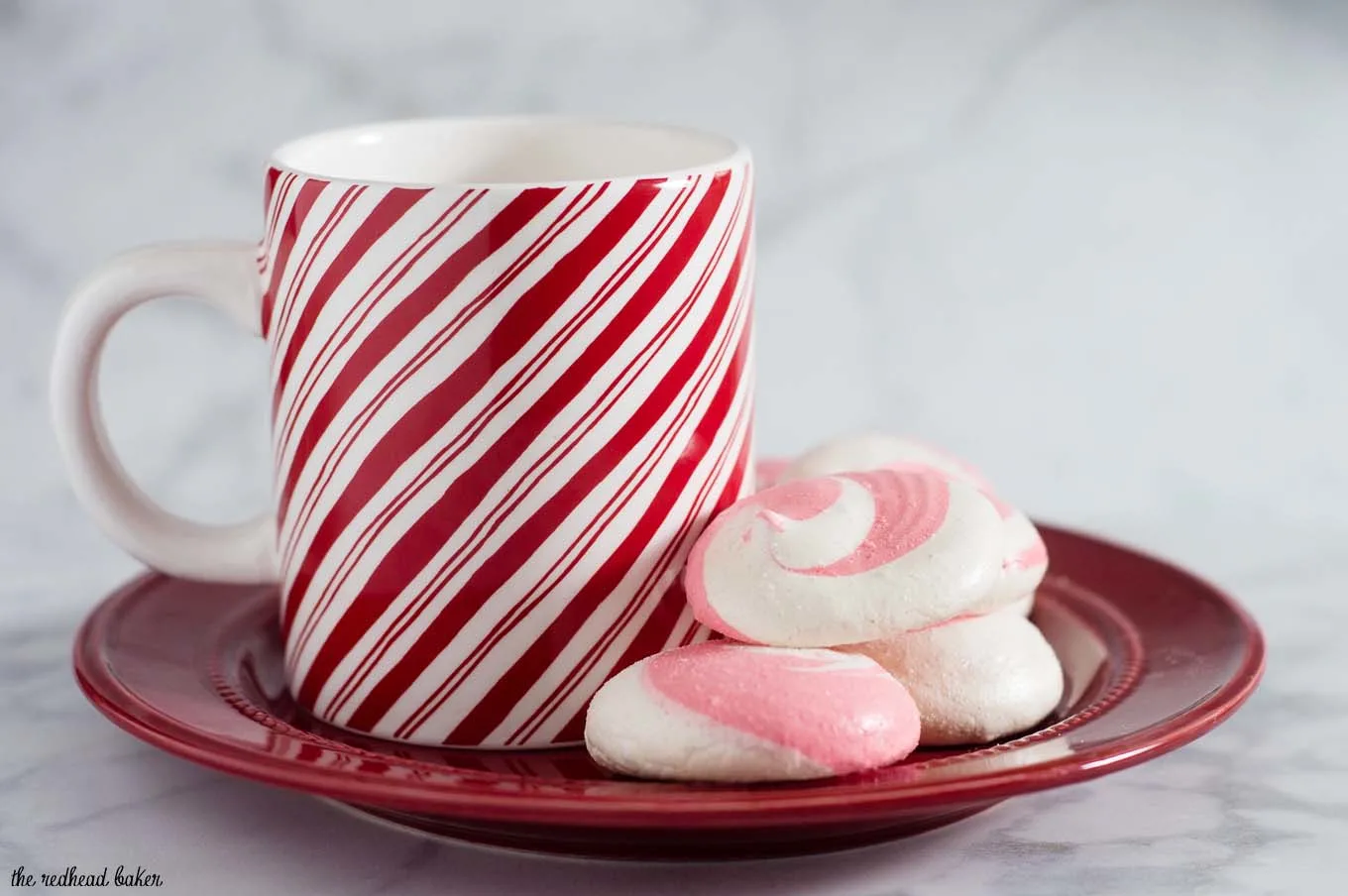 Meringue cookies aren't like most other cookies. They are made with egg whites, sugar, salt and flavorings. This means they are naturally fat-free. If you've never had a meringue cookie before, you'll be surprised at how light they are when you first pick one up.
Like any other meringue, your mixing bowl needs to be bone-dry, and clean of any kind of fat, which would prevent the meringue from whipping. The same goes for your whisk attachment or handheld whisk. These cookies need to be baked on parchment or a silicon baking mat. If using parchment place a dab in each corner of the baking sheet before laying down the parchment, to prevent the parchment from moving while piping the meringue.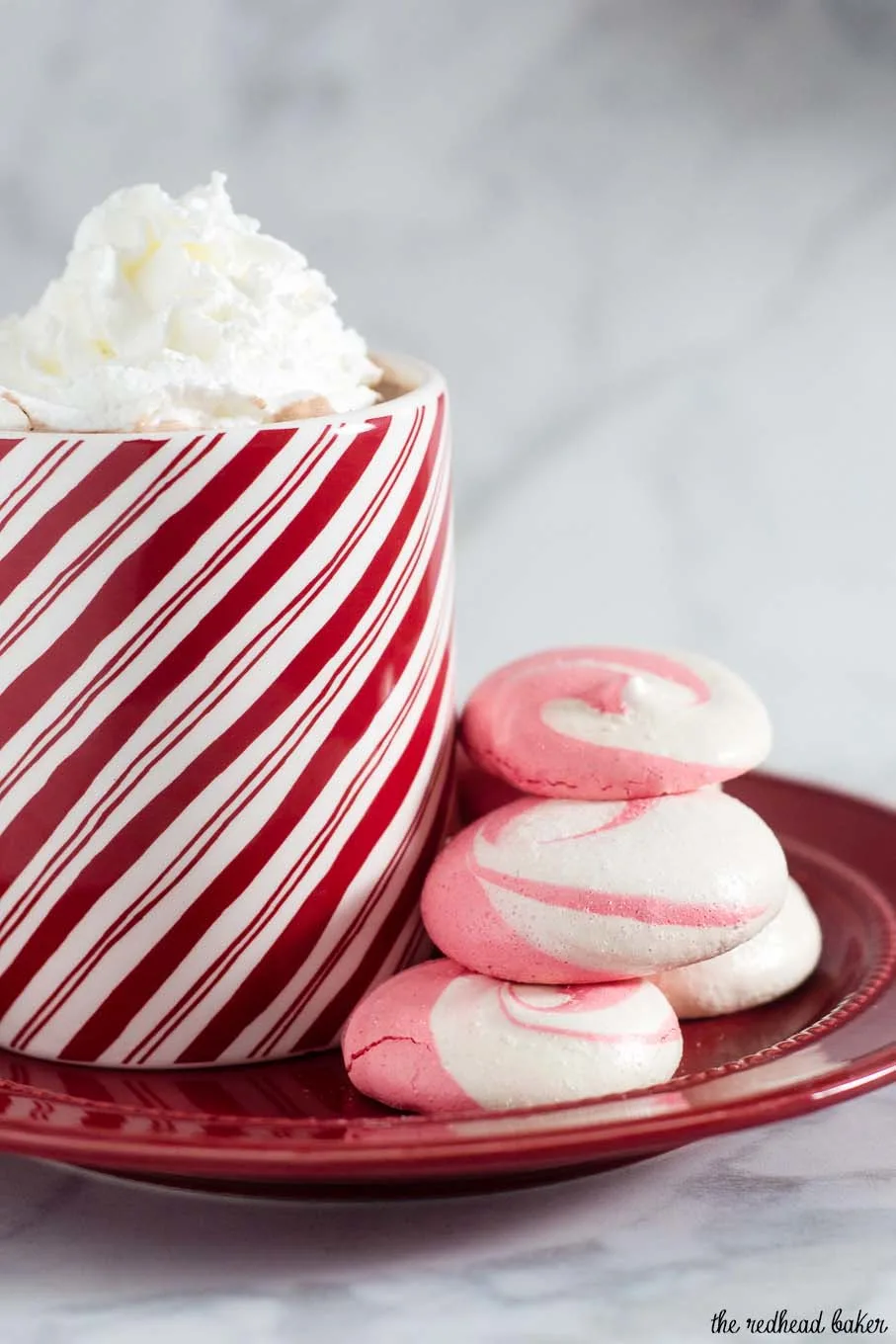 To make these cookies swirled, as shown here, involves multiple piping bags. It's not difficult, but if you don't have multiple piping bags, you can either leave the batter white, or color it all red. I've included instructions for both ways in the recipe below. No matter what, they will be delicious!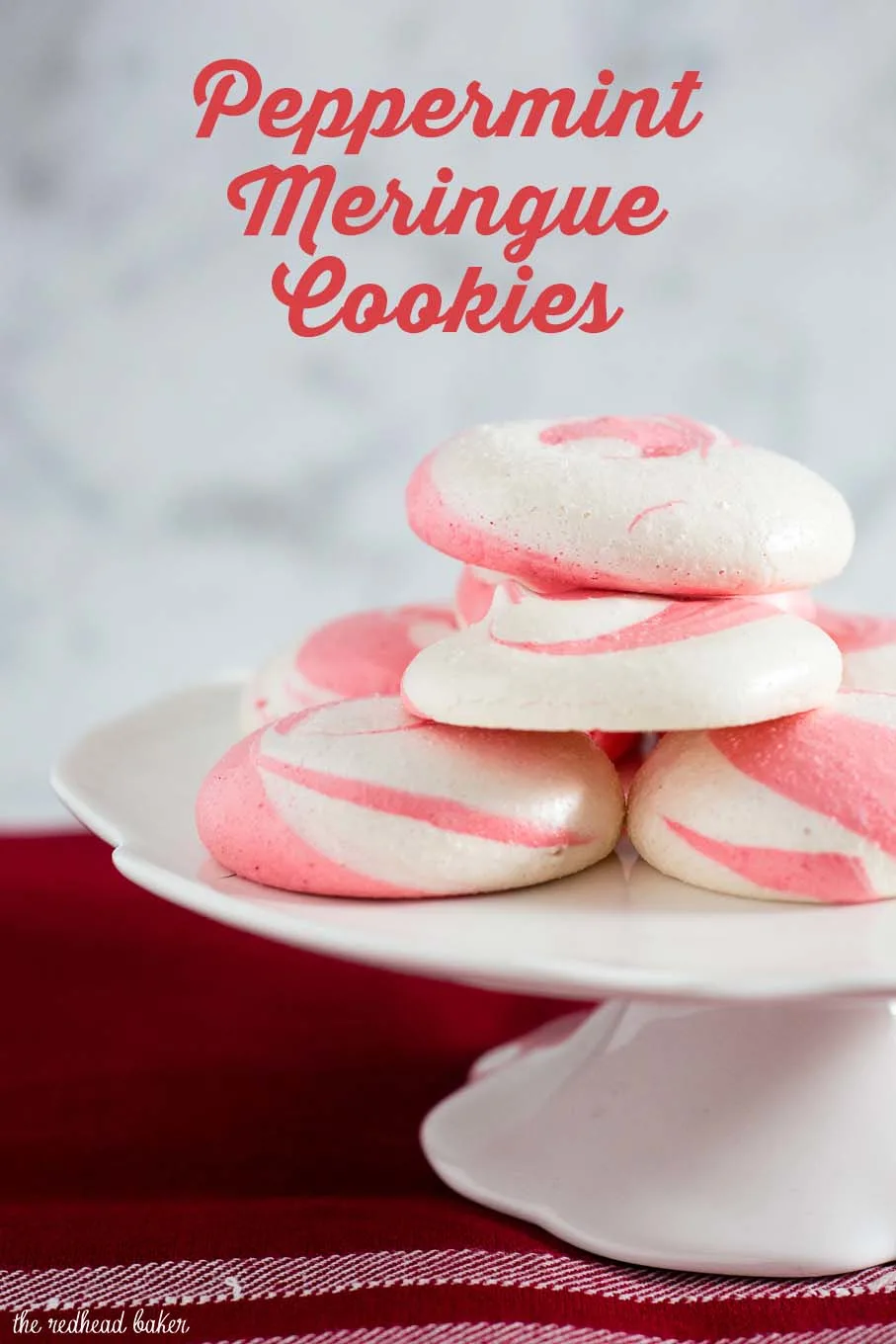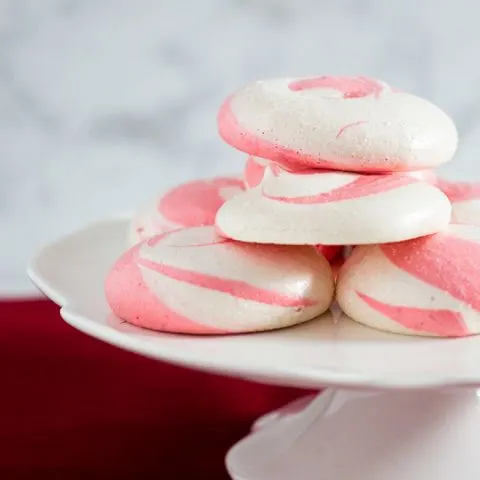 Peppermint Meringue Cookies
Cook Time:
1 hour
30 minutes
Total Time:
1 hour
50 minutes
If you want to create swirled peppermint meringue cookies as pictured here, you'll need one large (18-inch) piping bag, a piping tip (plain or star), and two smaller (12- or 16-inch) piping bags.
Ingredients
3 large egg whites
¼ teaspoon cream of tartar
¾ cup sugar
⅛ teaspoon peppermint extract
Red gel food coloring, optional
Instructions
Preheat oven to 200 degrees. Line a baking sheet with parchment paper or a silicon baking mat.
In a clean, dry bowl, whisk the egg whites until foamy. Add the cream of tartar, and whisk on high speed until soft peaks form.
Lower the speed to medium and with the mixer running, add the sugar. Return the speed to high and whip until stiff peaks form. Add the peppermint extract and beat another few seconds to incorporate.
If desired, remove half of the meringue to another bowl, and add a drop or two of red or dark pink food coloring. Beat until the color is uniform. Add another drop or two of food color at a time until desired color is achieved (remember that the color will darken as the cookies bake).
Fill one 12- or 16-inch piping bag halfway with white meringue, and another with pink or red meringue. Place a plain or star piping tip in the bottom of an 18-inch piping bag. Snip the tips of all three piping bags, and slide the two smaller bags into the larger bag.
Pipe the mixture in a swirling motion, keeping it about 1.5 inches in diameter. Repeat until all of the meringue is used up, refilling the piping bags if needed.
Bake for 1 hour 30 minutes to 2 hours, until the meringue is dry and easily peels off the parchment or silicon baking mat. Cool completely on a wire rack, and store in an airtight container at room temperature.
If using only one color, either leave the meringue white or color the whole batch red, then simply fit a large piping bag with a plain or star tip, and fill halfway with meringue. Pipe the cookies onto the baking mat, and bake as directed above.
Recipe by The Redhead Baker
Discover more #SundaySupper Holiday Party Recipes
Appetizers
Beverages
Desserts
Finger Foods
Mains