Recado rojo shrimp make an easy, incredibly flavorful appetizer when paired with guacamole and served in scoop-shaped tortilla chips.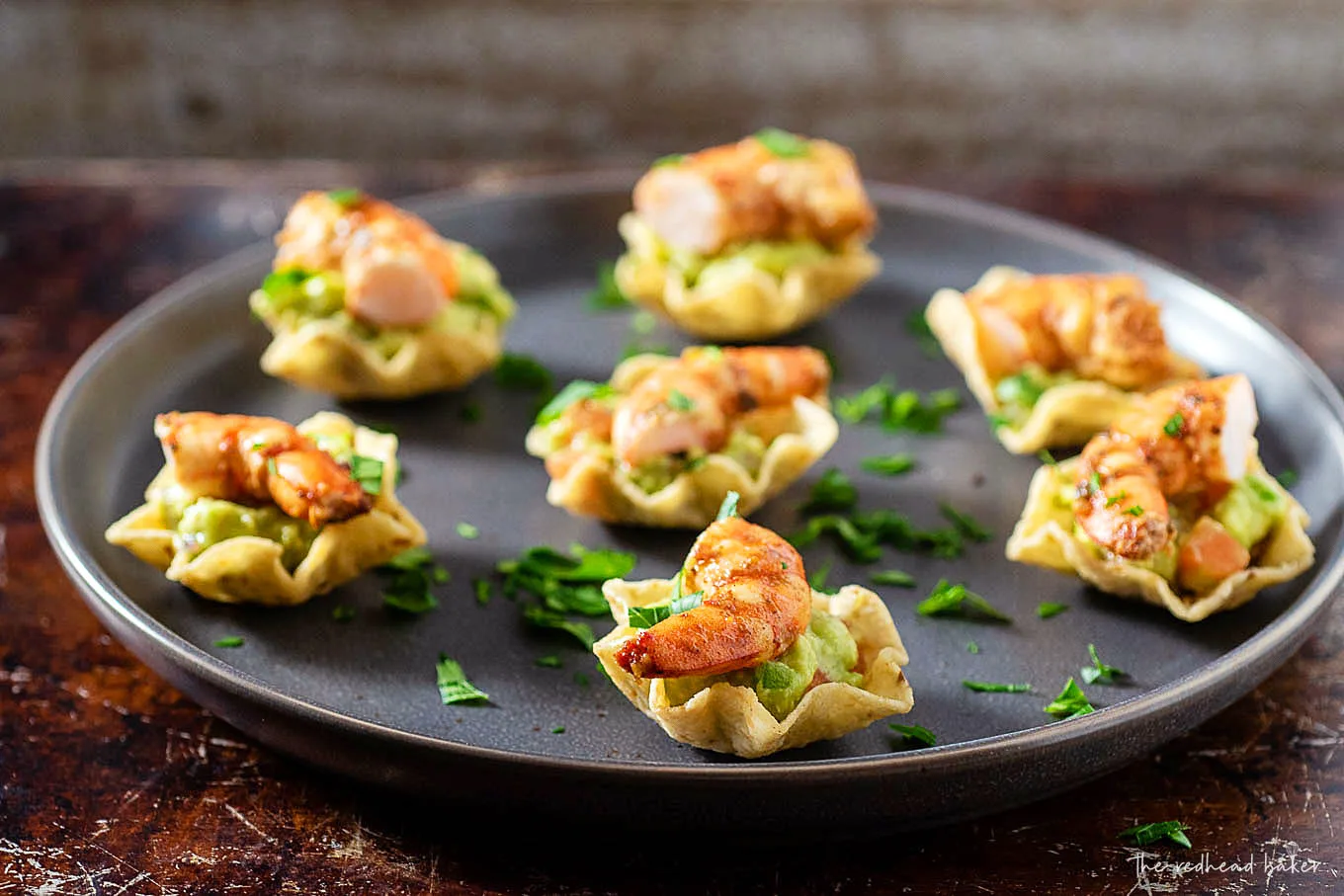 Two of my favorite things are food and books. And every once in a while, I get to work with the Book Club Cookbook to combine those two loves, such as making crab rangoon from the Unofficial Mad Men Cookbook.
So, this time around, the recipe involves TV, but books are involved here, too. You see, the creators of The Book Club Cookbook, Judy Gelman and Vicki Levy Krupp, have created a line of spices, blends and rubs based on books, TV shows & movies, and songs! They have clever names like The Joy Luck Rub, Schitt's Greek, and Lucy in the Pie with Diamonds.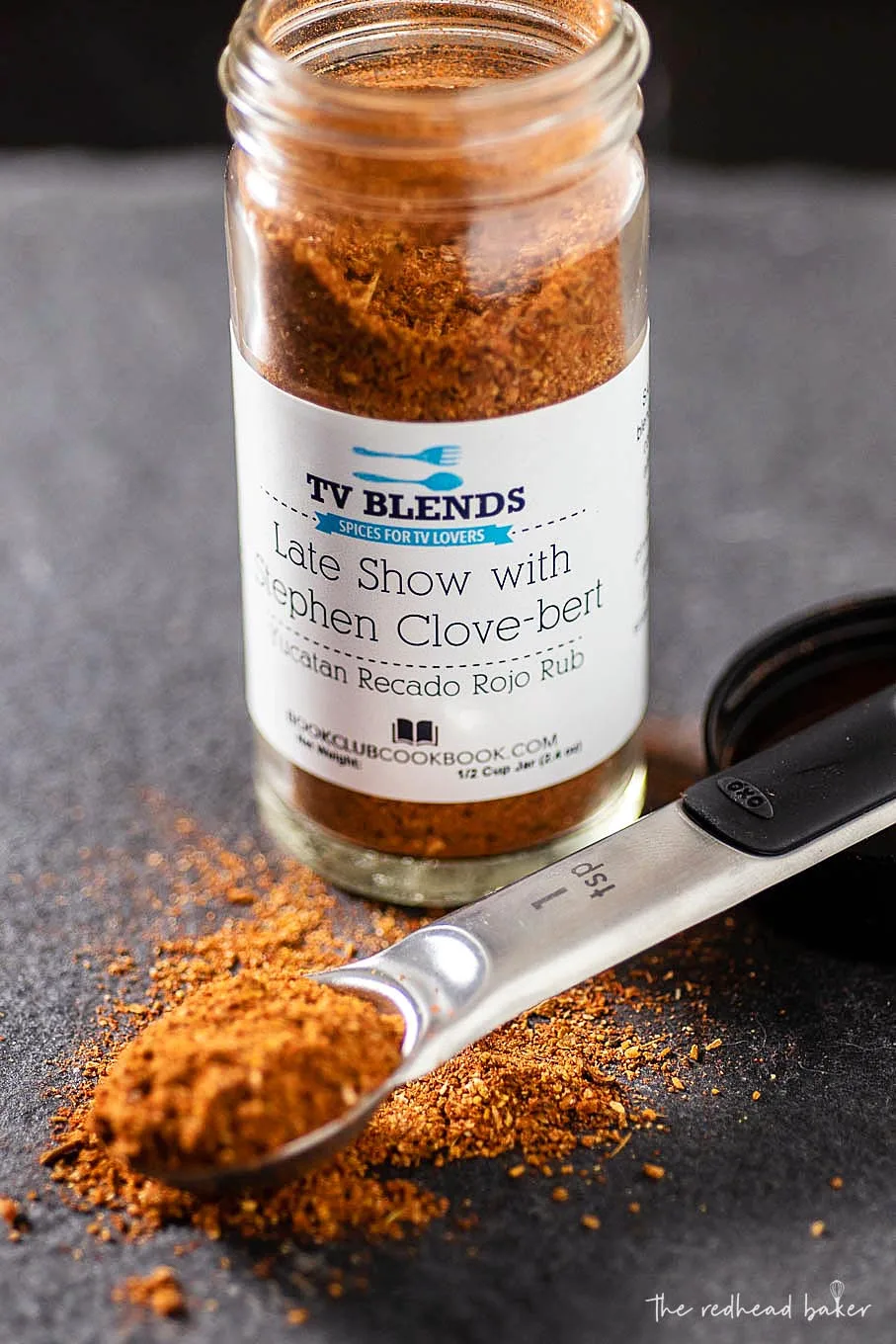 I received bottles of The Late Show with Stephen Clove-bert (a Yucatan Recado Rojo Rub) and Where the Crawdads Zing (a Gulf Coast Bay Seasoning blend).
I was really intrigued by the Stephen Clove-bert rub, because I wasn't familiar with the Recada Rojo blend before. It's a combination of achiote, coriander, cumin, allspice, Mexican oregano, black pepper, garlic, cinnamon, lemon peel and cloves.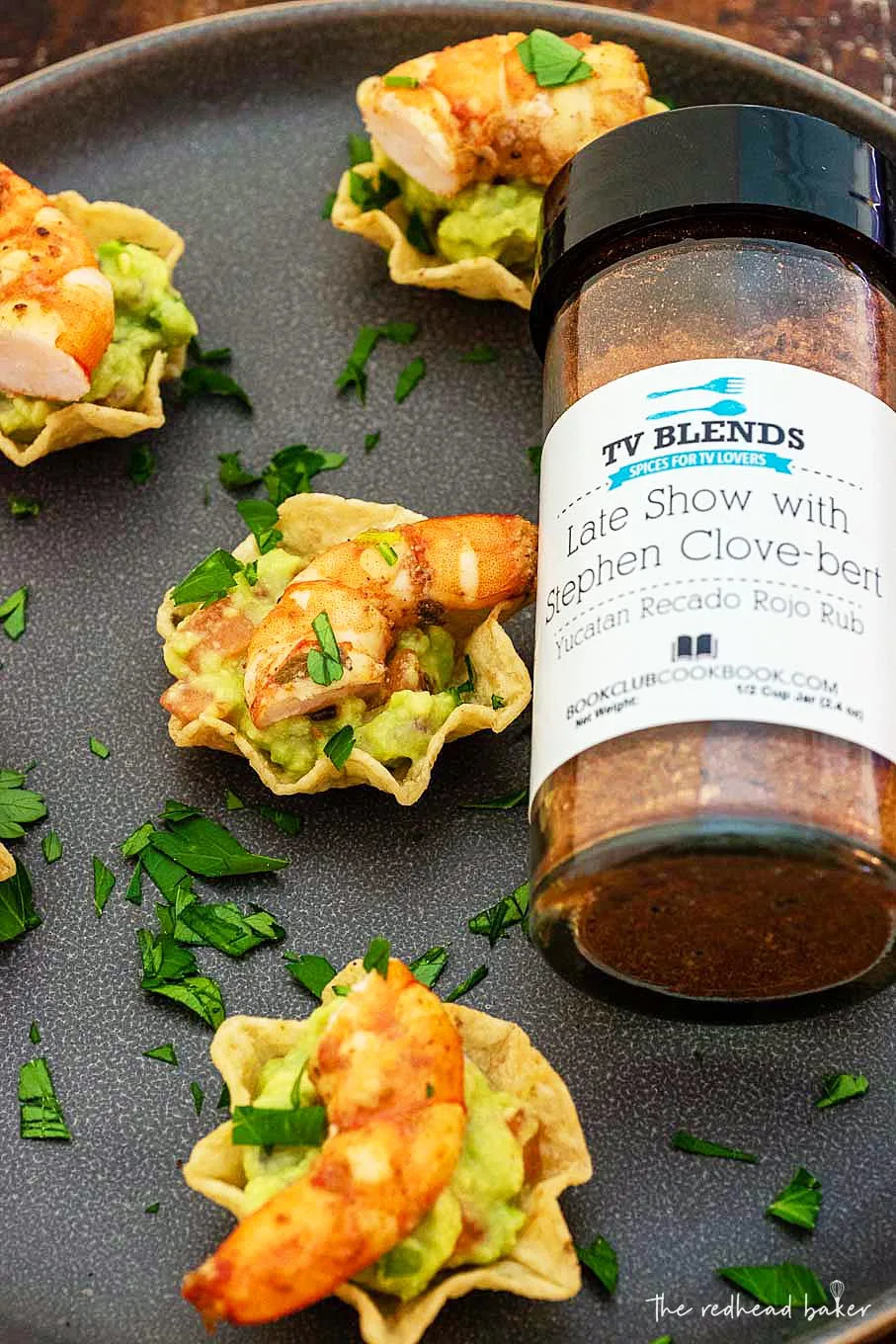 It sounded somewhat spicy, so I thought pairing it with guacamole would make a good appetizer. Rubs are really easy to turn into marinades with the addition of acidic liquid and olive oil. On its own, the flavor wasn't quite strong enough for me, so I added some ancho chile powder and cayenne, along with garlic, because, well, everything (well, everything savory) is better with garlic.
The good thing about marinating shrimp is that it can take as little as 30 minutes. You can leave it longer, up to 8 hours, and the longer it goes, the more intense the flavor becomes. It also cooks really quickly, so if you need a last-minute appetizer, this is a great option.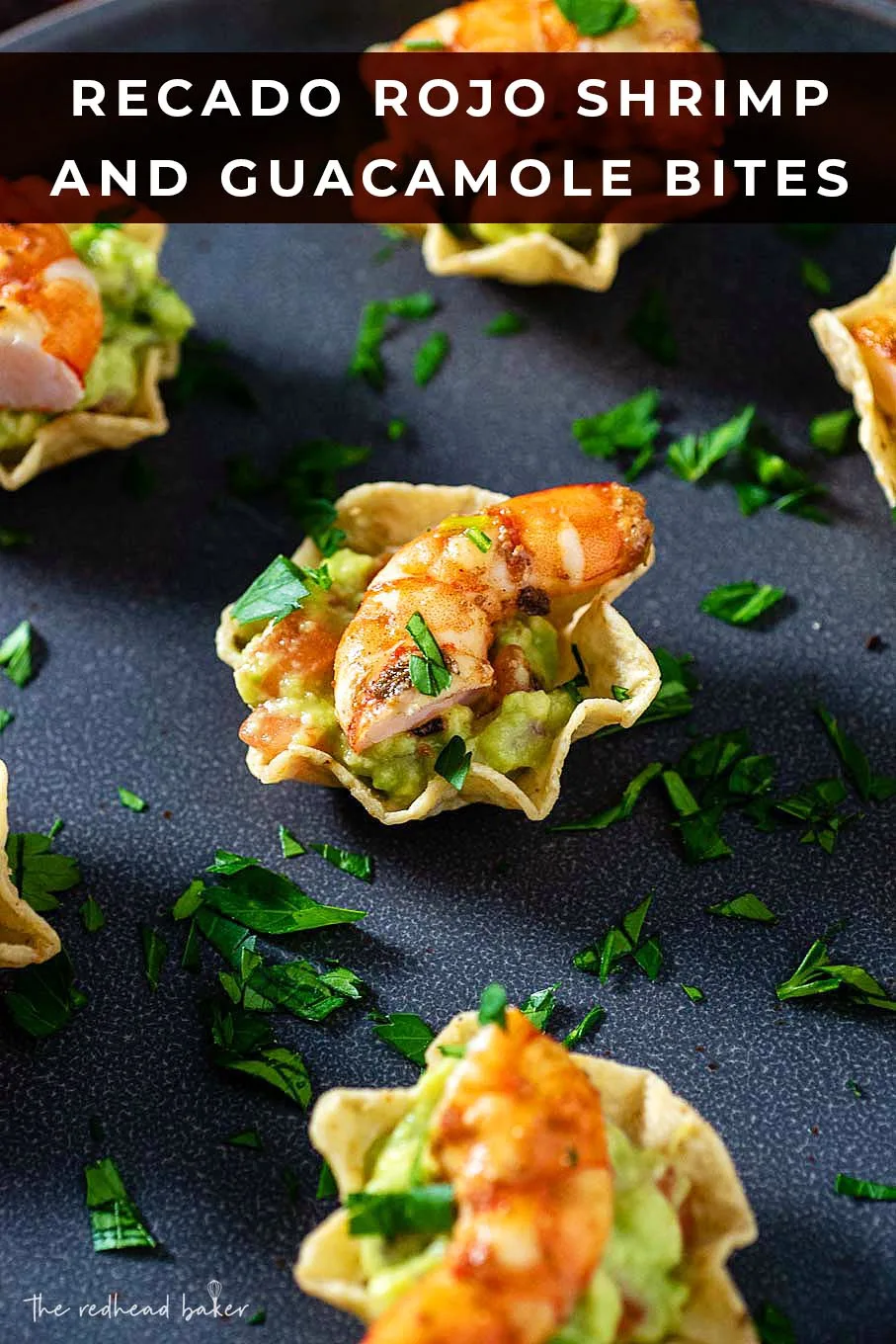 The flavor of these recado rojo shrimp was incredible. Not as spicy as I was expecting, but lots of deep, rich flavor. I plan to make these again, and serve them in tacos, or over rice.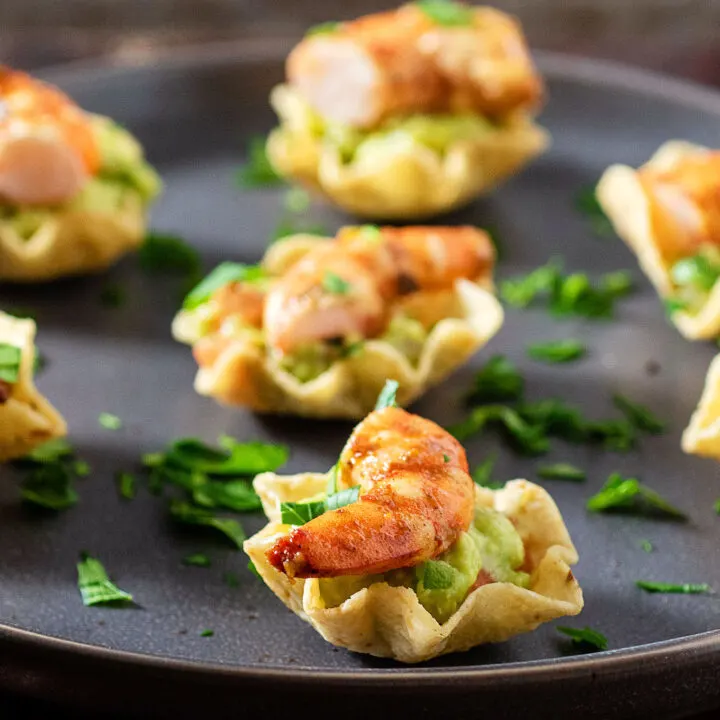 Recado Rojo Shrimp and Guacamole Appetizers
Marinating Time:
30 minutes
Total Time:
1 hour
10 minutes
Recado rojo shrimp make an easy, incredibly flavorful appetizer when paired with guacamole and served in scoop-shaped tortilla chips.
Ingredients
For the shrimp
1 lb large shrimp, peeled and deveined
1 tablespoon The Late Show with Stephen Clovebert spice blend (see Notes)
2 cloves garlic, sliced thinly
2 ½ tablespoon freshly squeezed orange juice
1 tablespoon freshly squeezed lemon juice
1 teaspoon ancho chile powder
⅛ teaspoon cayenne pepper
2 tablespoon extra-virgin olive oil
For the guacamole
1 avocado
Juice of ½ lime, plus more if needed
Kosher salt
3 tablespoon red onion, chopped
1 small roma tomato, seeded and diced
¼ jalapeno pepper, seeded and diced
Small handful of cilantro, chopped
For the appetizers
Scoop-shaped tortilla chips
Instructions
Marinate the shrimp
In a small bowl, combine the Late Show with Stephen Clovebert spice blend, garlic, juices, chile powder and cayenne pepper. Drizzle in the extra virgin olive oil and whisk to combine.
Place the shrimp in a plastic zip-top bag. Pour the marinade over, seal the bag, squeezing out as much air as possible, and make sure all the shrimp are coated. Refrigerate for 30 minutes to 1 hour.
Make the guacamole
In a small bowl, mash together the avocado, lime juice and salt. Stir in the
red onion, tomato, jalapeno pepper and cilantro. Taste, and add more salt and/or lime juice as needed.
Place a piece of cling wrap directly on the surface of the guacamole, and refrigerate.
Cook the shrimp
Place a nonstick skillet over medium heat. Add a tablespoonful of olive oil, and cook half of the shrimp. Cook until pink and opaque on one side, then flip and cook until opaque on the other side. Remove to a plate.
Repeat with remaining shrimp. Let all of the shrimp cool, then cut in half.
Make the appetizers
Arrange 32 scoop-shaped tortilla chips on a serving plate. Place a dollop of guacamole in each chip, then top with half of a shrimp. Garnish with additional chopped cilantro and serve.
Recommended Products
As an Amazon Associate and member of other affiliate programs, I earn a small percentage from qualifying purchases.
Nutrition Information:
Yield:

32
Serving Size:

1 appetizer
Amount Per Serving:
Calories:

41
Total Fat:

2g
Saturated Fat:

0g
Trans Fat:

0g
Unsaturated Fat:

2g
Cholesterol:

30mg
Sodium:

158mg
Carbohydrates:

2g
Fiber:

1g
Sugar:

1g
Protein:

3g
I am not a certified nutritionist. This nutrition information is automatically calculated by third party software and is meant as a guideline only.
You might also like