For April's What's Baking theme, our host, Kate from Kate's Recipe Box, chose baking with cheese. What a fun theme!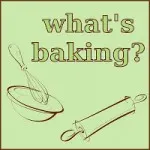 This was the perfect opportunity to make something I've been wanting to try for quite some time: gougères.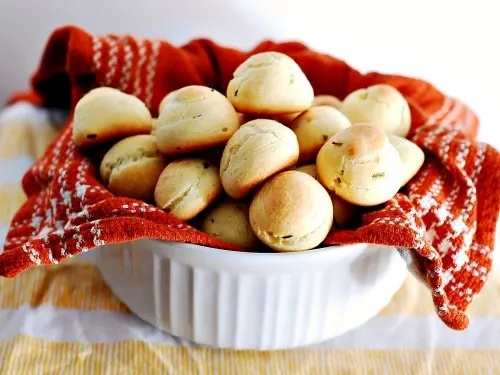 Gougères are made with the same pastry as profiteroles (you may know them as cream puffs) and eclairs. The technical name for the dough is pâte à choux. As this dough bakes, steam forms a hollow center. After the pastries are finished cooking, you can fill that space with something sweet or savory.
While profiteroles are sweetened with sugar, gougères are flavored with cheese, and sometimes herbs, spices or other flavorings. Traditionally, the cheese used in gougères is Gruyère, or other grated semi-hard cheese. In this version, however, I used crumbled goat cheese and a touch of grated Parmesan.
These gougères have a mildly tangy, slightly oniony flavor which would suit just about any savory filling: herbed cream cheese; a savory mousse; tuna or crab salad ...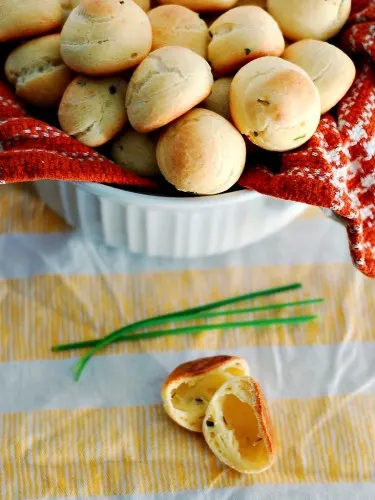 Goat Cheese and Chive Gougères
Slightly adapted from Eggs on Sunday
Ingredients
1 cup milk
4 oz (1 stick) unsalted butter
1 teaspoon kosher salt
1 cup all-purpose flour
4 large eggs
4 oz crumbled goat cheese
2 tablespoon chopped chives
2 tablespoon freshly grated Parmesan cheese
Directions
Preheat the oven to 375 degrees. Line two baking sheets with parchment paper. Set aside.
In a medium heavy saucepan set over medium-high heat, combine the butter, milk and salt and bring to a boil. Add the flour all at once, then whisk until the flour absorbs the liquid and forms a ball. Continue whisking for another minute or two, until a film forms on the bottom of the pan, to cook out more moisture from the dough.
Remove the pan from the heat, switch to a wooden spoon, and add the eggs one at a time, stirring to make sure each egg is fully incorporated before adding the next. The mixture will appear to separate, but continue stirring and it will come together again.
Stir in the goat cheese, Parmesan and chopped chives.
Scrape the dough into a piping bag fitted with a large plain round tip. Fill the bag no more than halfway.
Pipe the batter onto the baking sheets, making each about the size of a golf ball. Try to make each one about the same size to ensure even baking.
Place the sheets in the oven and bake for 10 minutes or until the gougères are fully puffed. Reduce the heat to 350 degrees and continue baking for another 10 to 15 minutes, until the tops are lightly browned.
Transfer baked puffs to a baking sheet to cool completely before filling.
Puffs can be stored unfilled in a zip-top freezer bag for up to 3 months.
Yield: about two dozen